With those waterproof soles and leather upper, Sorel Boots are the warm hug that you need in shivering cold.
And such chilly weather brings various adventure trips like hiking along with it.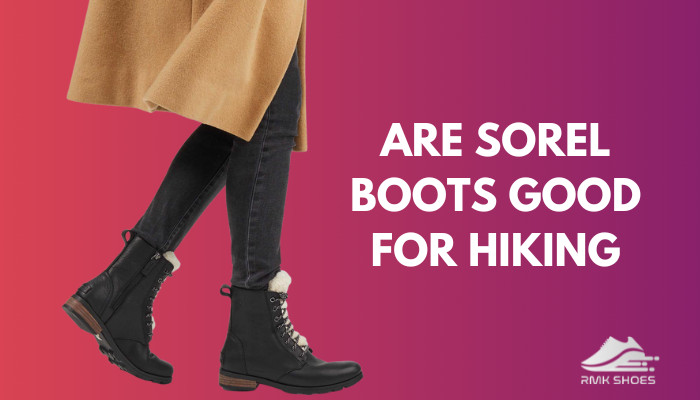 So, with outstanding cold protection features, can Sorel Boots take the pressure of a hiking trip is a question for sure! I have a pair of Sorel, and I am in love with these boots.
Now, I'm about to tell you what I think of them while packing for hiking.
You'll know whether or not you'll feel as comfortable during hiking as you usually feel while grabbing Starbucks on a snowy morning.
So my friend, stay tuned.
Are Sorel Boots Good For Hiking?
No, these outstanding winter boots are not a good match for hiking. You see, the rubber bottoms keep away external moisture while providing a good grip on muddy and thick snowy surfaces. But Sorel Boots are not good enough for sharp, slippery hiking roads.
But again, there's no question that Sorel Boots are the perfect definition of a winter boots!
The manufacturers paid most of their attention to the features like insulation, comfort and brought out the best winter footwear experience you can ask for.
With material quality, there is no doubt Sorel has it all.
However, these boots have the upper, insulation, and a waterproofing facility. Just the sole is where they lack a bit!
When it comes to hiking, your footwear must have a sturdy sole build that can provide maximum traction and grip. Slip resistance is also a required feature.
Unfortunately, Sorel boots are not made with such essential features.
Their sole is not durable enough to hold the grip on the rough surface of dangerously slippery hiking roads.
However, Sorel Boots are mainly the number one choice as a long-lasting winter boot if you can take good care of them. But very poor for hiking!
Check out our separate post: Kamik VS Sorel.
What Makes Sorel Boots A Bad Hiking Choice?
To be a winter hiking boot, the first requirement is traction, which is required for walking on slippery and hard rocky surfaces.
However, Sorel boots have a good outsole to keep your feet dry no matter what. Unfortunately not grippy enough for tracking.
The manufacturers designed Sorel Boots as a high-quality winter boot. The materials and features they offer are hard to resist.
Even Kate Middleton rocked in Sorel Tivoli Boots while playing bandy hockey.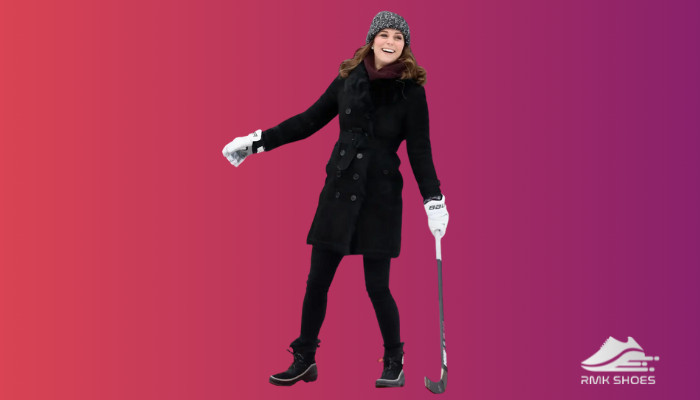 There is no doubt Sorel Boots are well constructed. Moreover, with the thick rubber outsole and leather-made upper, these boots are perfect for taking a short walk, running errands, and, generally, less adventurous activities.
When you are out in the cold, your footwear should be insulated to the fullest.
And Sorel Boots are insulated to give you a warm hug your foot deserves but just not enough to survive the hiking in the mountain cold.
Follow our guide to know are Doc Martens good for hiking.
Considering Factors While Buying A Hiking Boot
There is no doubt that you need to be careful about your footwear choices in winter. And when it comes to hiking, your feet need extra protection while roaming around in such a harsh setting.
So, you need to think thoroughly before purchasing a boot for hiking.
Here are the features you should consider before buying hiking boots:
Insulation
Normally most of the hiking trips are arranged in the cold months. And the valid reason is the weather is best to move long hours.
But, the cold makes walking hard if your feet are not protected enough.
Apart from the sturdy outsole, winter hiking boots must have proper insulation to provide a long time of comfort. Without an insulated boot, there is no way you are going to have an enjoyable trip.
So before jumping to any conclusion, check if your boot is insulated enough.
Outsole And Traction
When it's about choosing a hiking pair, the first and foremost concern should be on the outsole.
The outsole usually takes all the pressure you put on your boots. And they provide traction to hold the grip of the rocky surface.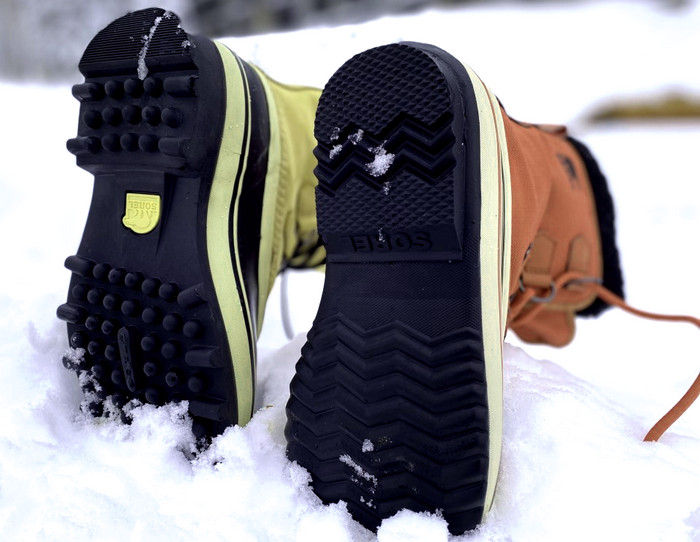 In terms of the outsole feature, your hiking boots should contain outsoles made of thick rubber to keep the snow and large lugs away for better grip.
You can't take the risk of falling on those dangerous slopes. Can you? Well, we both know the answer!
If you use hiking crampons and microspikes, that's a different case, but being careful is no loss.
Waterproofing
When you walk for hours on snowy roads, it's obvious that your boots will get wet.
On my last hiking trip, it snowed the whole time, and there was no escaping. Luckily my boots were waterproof, but my friend's weren't. As a result, he suffered from wet feet. His trip was practically ruined.
So, when you are choosing your hiking boots, make sure they are waterproof.
Warmth
The major necessity of winter is warmth. For hiking boots, there is no exception. Like your full body, your feet deserve the coziness.
There are various options of insulation in hiking boots. And you need to take a good look before purchasing if the one you are into even has the proper insulation.
If you walk long hours, your boot's insulation should be good enough to hold the warmth.
These are the specifications that good winter hiking boots should have, and you also need to have proper information about them to enjoy your hiking trips.
Read more on why do special forces wear hiking boots.
Are Sorel Boots Good Quality?
Well, Sorel Boots are popular for their outstanding quality and features. Among celebrities, this brand is hyped.
Even though these boots are expensive but worth every penny.
Let's dig deeper.
When I bought my first pair, I was just looking for comfort and warmth during winter. Of course, these booties are damn comfortable to walk on.
Apart from comfort, Sorel Boots are durable. And with proper care, they will last you for over ten years. I'm in my third year with Sorel now, and they are still shining as it was when I purchased them!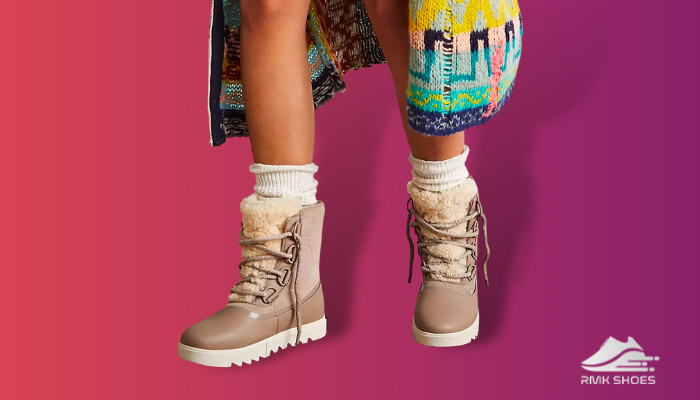 Moreover, you don't have to worry about cold snow melting on your feet in the snow, as these boots are waterproof.
The upper is made out of leather that can repel water. You can also use water-protecting spray to be safer. This spray dries transparent and doesn't leave any marks.
So, why not give it a try?
From my experience, I am satisfied and also planning to buy Sorel Women's Harlow Chelsea Rain Boot this year!
Check out our separate post: when to replace hiking boots.
Are Sorel Boots Good For Short Walks?
Yes, Sorel Boots are the best fit for taking short walks. They are fussy, comfy, hold the temperature well and are long-lasting, to begin with. The materials that go into the making of these boots are winter climate-friendly.
Personally, I am not the taking-a-long-walk type of person. So, you can guess how much I appreciate my Sorel Booties!
I love that these have the proper traction to walk in thick snow. They are so well-insulated that I usually don't wear socks with them.
I grab them, and I'm good to go!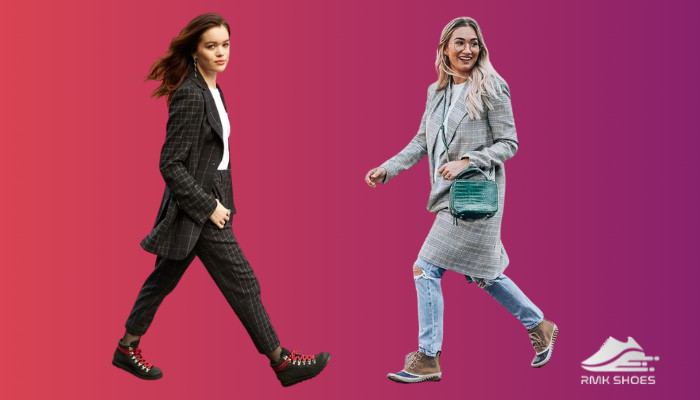 Another point worth mentioning, Sorel Boots are also waterproof.
So, while walking in the snow, the waterproof leather upper is gonna prevent any water from saying hi to your feet.
The rubber sole plays a vital part in keeping your feet dry and comfy.
You know how cold it gets in Montana during winter. But I never had cold feet wearing my Sorel Boots.
There are different types of insulation, so be wise and choose your boot according to the temperature outside to get the maximum warmth and comfort.
You may also like to read: do i need hiking boots for sedona.
Final Thoughts
Sorel Boots have it all in one pack to be a proper winter lifesaver. And I couldn't agree more. But these babies are not the perfect fit for rough activities like hiking. They just lack in gripping.
However, I was not disheartened at all, nor did the Princess of Wales, while enjoying bandy hockey!
Even though you can't hike in Sorel Boots, they are more than enough for the other activities I mentioned.