Doc Martens are a classic and traditional pair for US and European Folk.
If you are not a pro hiker or are new to hiking, then it is obvious that you won't have a proper hiking pair.
In such a case, you can think about hiking with your existing pair of Doc Martens. Or maybe as multipurpose shoes, you can be surprised with the question, 'Are Doc Martens good for hiking?'
Well, I had the same question too. So I tested Dr. Martens practically and researched them in depth.
You can verify all your queries with functional experience by reading this article.
Hang tight till the end.
Can You Hike In Doc Martens?
In short, Doc Marten is not ideal for hiking. Though docs were made as a work boot earlier, they are not that comfortable in the hike.
As a Dr. Martens lover, you can have a trip into the woods. It will not be wise if you meet any steep slope.
When you start your travels, you can't feel the problem with it. After some time, it will begin to feel stiff and rigid, which can cause severe blisters. Dr. Martens is not breathable and comfy for rough use.
Some people who are new to hiking don't know about the uncertainty of terrain, so they can consider Doc Martens as a hiking boot by thinking about the traction and support.
But that is ultimately a wrong idea.
Check out our separate post: Can I Wear Dr. Martens To Work.
What Features Are Mandatory In A Good Hike Boot?
Hiking is a discreet and hattrick but enjoyable activity. You will love your journey on terrain when you don't need to bother with any extra events.
To ensure this smooth journey, you need proper equipment setting where boots play the most vital role.
There are some parameters to consider a boot as a perfect hiking boot.
Here are the essential features of any good hiking boots:
Traction
You must need a nonslip pair to walk on an uneven surface or rocky path. This slip-resistant property refers to traction.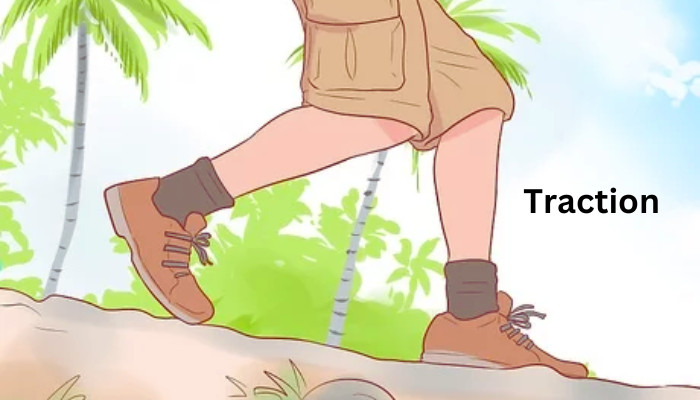 When your pair has enough grip and traction, you can consider them ideal for hiking. The traction results from the rubber outsole and the deeper thread design of the outsole.
In the mountains, you might travel through mud, rock, slope, moreover uneven earth. So you need high traction.
Perfect Fitting
You must walk on a rough and rugged plain in hilly terrain. So your shoes should be in the perfect size. The size should not be like popping out your feet and not even twisting your toes.
A loose-fit shoe can cause an accident, and a tight fit will give you pustules and cuts.
You should follow the toe rule to identify the perfect fit. According to the rule, your longest toe should be 0.5 inches behind the inner wall of the toe box.
Perfect fitting is mandatory for a hiking pair.
Read more on how to Tell If Doc Martens Are Real.
Breathability And Comfort
Breathability and comfort are other keys to calling a pair of hiking pairs. Breathability allows your feet comfort and a cozy feeling.
If you feel a burden with your boots, it will spoil your enjoyment of travel. Whether hiking is already a challenging activity, you should ensure the comfort of your feet anyhow.
Breathability depends not only on the boots' material but also on the fitting. And this character is essential for hiking boots.
Support and Stability
As hikers cover a long distance at once, it needs to provide enough support and stability through their boots.
In a stony slope, you need excellent ankle support to survive. Though ankle support is essential for prolonged standing, hiking also has a pretty need for it. It will prevent you from taking the wrong step and affect your gait.
Another name for stability is flexibility. For hiking, flex is enjoyed so much. Because stiff and tight shoes can provide you discomfort. But extra flex makes your shoes less protective.
Water resistance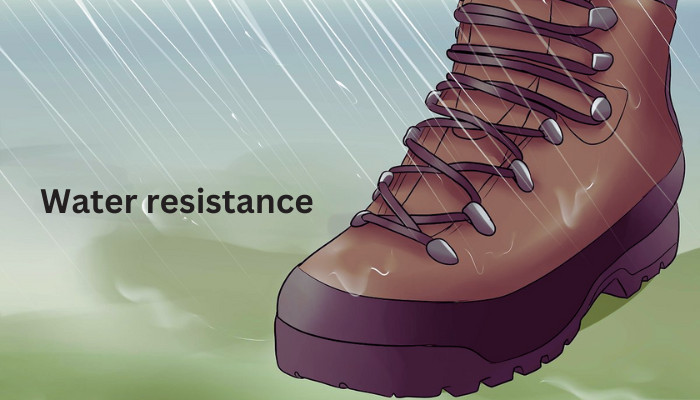 While camping or hiking, it is uncertain that you will meet water bodies, muddy areas or catch the rain.
So water resistance of hiking boots is crucial. It will keep your feet dry and happy.
Protection
Protection in many aspects is needed in a trial. You may need protection from insects, trees, thorny bushes, sharp stones, etc.
So, your hiking boot should also have a protective vamp, heel and soles.
Even twisting feet or crushing any object is expected in the hike. You need ankle and toe support to get rid of them.
Weight
This character of a shoe sounds quite odd. But if you think practically, you can understand that heavy-weight shoes are unsuitable for hiking or travel.
Bulky shoes limit your motion. You will feel tired quickly when you walk with a heavy pair. Which is not acceptable in travel or hiking.
So hiking boots should be lightweight as you can walk like flying.
Check out the key differences between Vegan Doc Martens Vs Regular.
Are Doc Martens Good As Hiking Boots?
If you are a Docs user, you practically know your boots' features. I went for a proper hike with my Dr. Martens and identified the property, which will determine if Doc is good at hiking boots or not.
I will share my experience below:
If you consider the traction, Doc Martens is perfect for hiking. The sole of Dr. Marten is made of rubber and has an excellent grip. It will change your experience in a safety issue. The edges and outsole Make Docs slip-resistant. So, Doc Martens are perfect for hiking.
Finding a perfect fit in Docs is easier. You will find a vast size range and standard size chart according to US standards. The breaking period is quite long. After that, your Docs will give you the proper fit.
Though Doc Marten is known as a comfortable and cushioned pair, they are not breathable enough for hiking all day. Docs use pure leather vamp, and it gives a stiff fit after a while. Generally, trails demand more comfort and breathability from your boots while you're hiking, and Doc Martens can't provide that.
As Doc Martens appeared as work boots, it gives beautiful support and stability in prolonged walking and hiking. The making method of these boots makes them tough.
Doc Martens are pure leather boots. You cannot go to a watery or muddy place with your Docs. In this section, Doc Martens loses a point as a hiking boot.
The rugged leather surface and steel toe model of Docs provide protection, but regarding flexibility, Dr. Martens is not enough for hiking.
Purpose-building hiking boots are lighter than Doc Martens. So you won't feel comfortable wearing Docs while hiking.
Overall, I will mark Dr. Martens as a non-hiking boot. But in some cases or for remote terrain, you can wear them.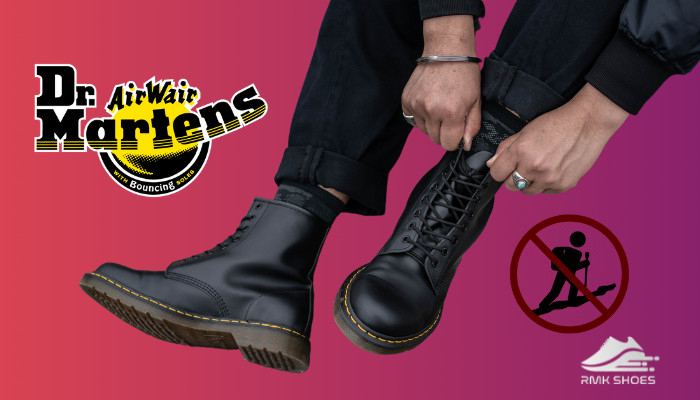 Advantages of Hiking With Doc Martens
You can hike in Doc Martens sometimes. But they are not built as hiking boots at all. However, some people find some advantages to Doc Martens in hiking.
Here are the Advantages of hiking in Dr. Martens:
The shape of Docs is user-friendly. You will enjoy a thinner heel which provides more flex. So walking with it will give you a better posture.
Doc Martens are undoubtedly good-looking. The leather vamp and puffy heels add an excellent outlook to any outfit. The classy look of Doc makes it a dress boot as well. If you want to look bright hiking, you can choose them.
The fitting upper vamp and good-quality leather ensure standard hiking or walking protection. Dr. Martens will guard your feet from twisting or from any harmful objects.
You can move quickly in your Docs because they have a classic all-leather upper and non-slip outsole. So, Dr. Martens will increase your motion in hiking.
The upper part of Docs is durable enough. It will allow you to take a heavy load. Dr. Marten will protect your feet from cold and warm weather conditions.
You may check out our epic guide to know Are Doc Martens Waterproof.
Draw Back of Hiking With Doc Martens
Hiking in Doc Martens has some disadvantages too. After all, Docs are not hiking boots. They are actually dressed in boots.
Here I will list the drawback of Doc Martens in hiking:
Doc Martens gives a slick look. They come in a slim fit, which becomes a hard fit after a while. Finding a perfect size for hiking in Dr. Marten is not so easy.
Some Docs are lighter than usual hiking boots. It is not welcomed in hiking because it cannot carry the load. And the upper and sole can damage easily in tough trails.
In the ankle area, these shoes have a restrictive fitting which can create blisters. This is because of its high-top style. The rugged fit in the ankle and vamp area is a severe issue in hiking.
Doc Martens become Uncomfortable after some time. Because the leather upper feels hard while climbing. Before breaking in, Docs are really hard. Moreover, this pair soaks moisture and becomes uncomfortable.
Doc Martens is somehow overpriced for some people. Docs have a brand name, limiting the supply to maintain the price. You will find a small number of styles and count available in the market. So it can be out of your budget.
Follow our guide on how to Break in Doc Martens Overnight.
Are Doc Martens Good For Traveling?
Doc Martens are comfortable for traveling. But you will find them enjoyable after the break in. Otherwise, Docs will give you cuts and blisters.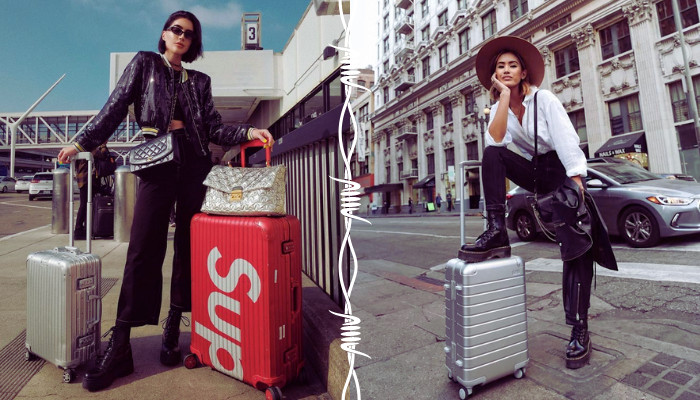 This is a good brand where you can find perfect travel pairs. Docs are comfortable, durable, and slip-resistant. Likewise, Dr. Martens looks so classy and smart to wear. You can create your fashion complement with a pair of Docs.
Some people are so fond of Doc Martens and consider them the only pair traveling. I think they are not wrong at all.
Dr. Marten is an ideal pair for traveling.
Are Doc Martens Good For Walking All Day?
The making purpose of Doc Martens was to work boots. Working boots allow prolonged standing and walking.
Doc Martens are perfect for walking all day. The midsole of Docs is cushioned. So they feel excellent standing for a long time.
For me, Doc Martens are a good pair for walking all day, but the leather upper becomes tight after a couple of hours. It scares me as I have sensitive skin. So I like them for a short city tour or a night party.
Pro tips:
From my personal experience, I found some ways to make your Docs more useful in hiking.
Here are the tips:
Make sure your boots are tight to your feet. They should not move around while walking or climbing.
Allow your Docs the break-in time first. Never go with your brand-new pair.
Use thick socks. You can wear double socks if you don't have thick ones.
Use a long lace, as you can also tie them with your legs.
Choose an easy climb or, mostly even trail.
Final Thoughts
Doc Martens cannot be ignored as hiking boots as they have many good features. Docs serve great in a light hike or small woods. You can go on a long trip with them.
The making of Dr. Martens has not targeted hiking. So there will be some trouble choosing Docs in long and challenging hiking. You can follow the tips if you are totally in Docs.
The good news is Doc Martens has launched their new line of hiking and go-to boots. You can easily go for them if you like the brand.
So, comment below and let me know about your experience with Doc Martens.