The application of athletic shoe technology in Western and English riding boots made Ariat an iconic brand.
Being the most extensive equestrian footwear and apparel company, Ariat offers the best quality product possible. And they are improving every year.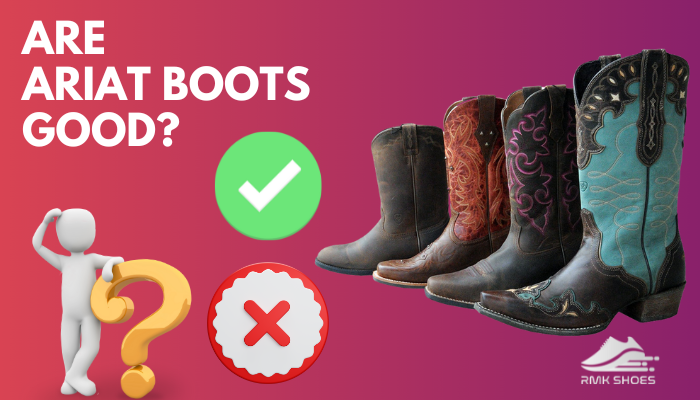 If you want to buy Ariat Boots, you must have questions about their quality and practicality.
Don't worry. I am here to clear all of your confusions.
After reading this article, you will know all about these world-famous riding boots and the fantastic features they offer to stay on top.
Keep reading till the end to clear out your doubts and queries troubling you along the way.
Is Ariat A Quality Brand?
Ariat is the name of a quality brand that makes western cowboy boots for men and women. They are providing premium footwear from their launch till now.
The brand name is after the fastest racing horse, Secretariat. It is an old saying that Secretariat had an unusually large heart, which was the primary fuel behind his speed.
Visiting any barn or bullfight is impossible without spotting Ariat boots.
The manufacturers of Ariat Boots focus on design, comfort and a combination of sports and fashion at the same time.
Also, check out our separate post on Justin vs Ariat.
What Features To Look For While Getting Ariat Boots?
Except for dress boots, Ariat offers you all types of footwear you can ask for. They mastered every category out there.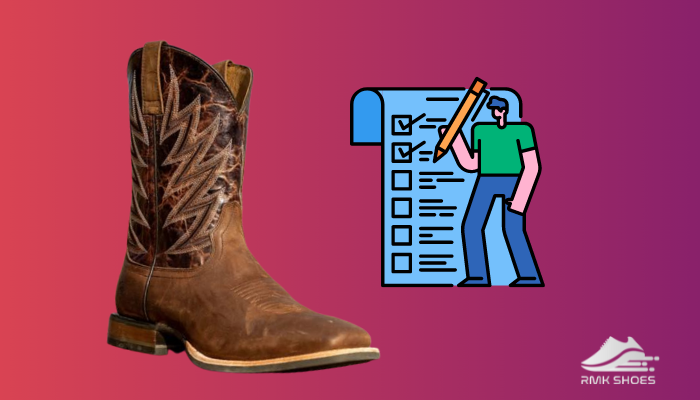 Ariat used to launch a separate line of models, two24, which were only focused on lifestyle and show off to be more specific for those who wear boots to jazz up their outfits.
Now-a-days, Ariat is more focused on work boots that take the pressure of countryside harshness.
A friend of mine recently bought a pair. Do you know where he got the reference from? A 60 years old construction worker he knows. And according to him, Ariat boots is the best so far while working.
So, you can understand the trust these boots have gained over the years.
Here are some other features of Ariat boots you should know:
Durability
Craftsmanship quality assurance
Waterproof feature
Shock absorption
Perfect fit
Short break-in period
Do Ariat Boots Offer Waterproof Features?
Most traditional Ariat boots are not waterproof. You can apply waterproofing spray after purchase to wear then while it's raining.
The waterproof version of Ariat boots can be identified from the regular ones.
However, Aariat boots also offer water-resistant features. The upper leather of these models has a waterproof coating to save them from liquid damage.
This feature offers comfort and keeps the owner's feet dry. It also protects the boots from damage and stain. These models are as durable as regular versions.
The most popular waterproof Ariat models are Savannah, Sadie, Wexford, Kingham and Wexford Brogue.
Are Ariat Boots worth the money?
Yes, Ariat boots are worth your money.
Most of the best seller Ariat boots are over 100$. And the customer ratings is surely going to help you make a purchase faster. Not only that, their women's bestseller boots cost less than 100$. To be exact, 99$ with 4.5 star rating.
Some factors define if a certain boot is worth it or not. And Ariat definitely has them all. These boots are durable, true to size, versatile and not to mention comfortable.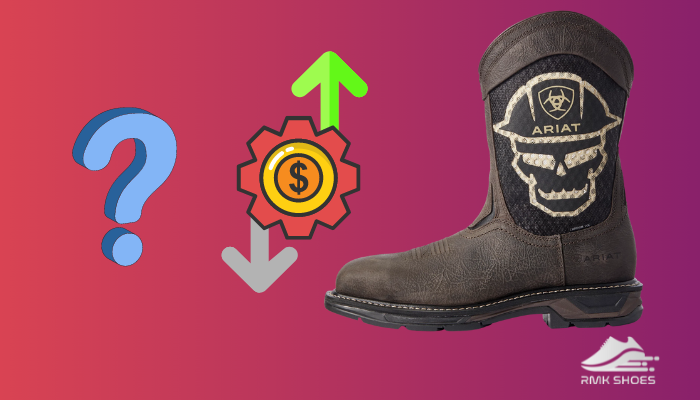 From looks to longevity to price range to durability, you name it, Ariat features them all. And they are improving on these factors as well.
So, they are leaving no stone unturned.
Except for the fact that Ariat Boots are the most comforting western boots, they offer quality worth the high price.
Are Ariat Boots true to size?
Like any other renowned brand, Ariat Boots offer various sizing ranges. But they can be a little bit larger than usual.
So, if you are planning to get your own Ariat pair, you can buy your exact size or half a size smaller. Another fact is, when you are trying a new pair, do it when you are sitting or standing correctly. It will help you to get the proper fitting.
But if you have wider feet, you can follow the size chart provided by Ariat to avoid poor fitting.
| LENGTH OF FOOT | US | UK | EUROPE | JAPAN |
| --- | --- | --- | --- | --- |
| INCM | | | | |
| 9.56 | 7 | 6 | 39 | 22.5 |
| 9.75 | 7.5 | 6.5 | 40 | 26 |
| 9.88 | 8 | 7 | 41 | 26.5 |
| 10.06 | 8.5 | 7.5 | 41.5 | 27 |
| 10.25 | 9 | 8 | 42 | 27.5 |
| 10.38 | 9.5 | 8.5 | 42.5 | 28 |
| 10.56 | 10 | 9 | 43 | 28.5 |
| 10.75 | 10.5 | 9.5 | 44 | 29 |
| 10.88 | 11 | 10 | 44.5 | 29.5 |
| 11.06 | 11.5 | 10.5 | 45 | 30 |
| 11.25 | 12 | 11 | 46 | 30.5 |
| 11.56 | 13 | 12 | 47 | 31.5 |
| 11.88 | 14 | 13 | 48 | 32.5 |
| 12.25 | 15 | 14 | 49 | 33.5 |
Ariat Boots tend to loosen up a bit after a while, indicating that you got the perfect fit. Wear your pair for a couple of days, and they will fit you like a glove.
Are Ariat Boots Good For Work?
Ariat Boots are a perfect fit if you want to purchase them as a work boot.
People who work for an extended period tend to choose Ariat Workhog.This model is waterproof with an ATS insole which is designed to give comfort and support to your feet for a long time.
Workhog versions are made with full-grain leather and are also capable of resisting water.
So, you don't need to be worried if they are a bit wet.
The most famous Ariat work boots are:
Ariat Workhog
Ariat Midtown Rambler
These work boots are hardcore, durable, and slip-resistant. And the best part is they don't need much care to maintain, so you can focus entirely on getting the work done without worrying about your boots.
Are Ariat Boots Comfortable?
Yes, Ariat Boots are extremely comfortable. For the manufacturers, comfort is the first priority, and till now, they are rocking in this field.
Not only that, they offer various numbers of pairs for you to choose from.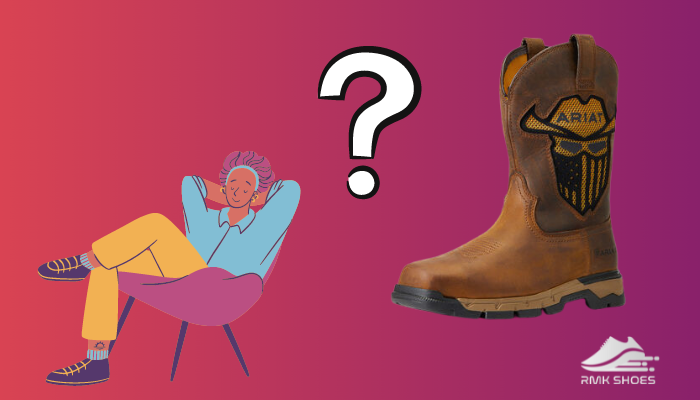 I have researched for hours and found that Ariat lovers have their preferred picks from all the variations.
Let's take a tour, shall we?
What Are The Most Comfortable Ariat Boots?
Ariat focuses mainly on providing comfort for riding boots which can also work as regular wear. You can buy one pair and be tension free.
Here are the most popular comfortable models of Ariat Boots so far:
Ariat Probaby Lacer
If you are looking for balance and support, Probaby Lacer is your pick. It features ATS technology and cushioned outsole to meet your expectations.But these boots are not waterproof and are shorter than usual.
Though it takes a bit of time to break in; After that time is over, it is a reward for your feet.
Ariat Heritage Lacer
Heritage Lacer is for those who want western cowboy looks. These classically styled western paddock boots are great for working, riding and wearing around. If you want a more English look while wearing these boots, just remove the fringed tongue.
Ariat Cruiser Slip-On
This particular model is not a boot. It is a slip-on made with soft suede, rubber sole, and side stretch elastic panel. They also feature sock absorption along with a cushioned insole. Ariat Cruiser is perfect for everyday casual walking.
Ariat Fatbaby Western Boot
Fatbaby Western Boot is the most popular boot so far by Ariat. It is a dream boot for wide feet users. These models come with tons of color choices and patterns.
You can choose any version to match your colorful outfit.
Ariat Terrain H20 Hiking Boot
If you want to go for a ride without compromising your comfort, this boot is for you. It features a heel that is suitable for hiking and riding.
This boot have moisture-wicking mesh lining with waterproof properties. These work very well with aching feet. You can do heavy work and hiking with these bad boys.
3 Alternative Brands Of Ariat Boots
There are several brands that have similar boots, like Ariat.
These brands have their own specifications and yet can be a perfect alternative if you don't like the design of Ariat boots for some reason.
Let's see which brands are offering quality boots like Ariat:
Red Wing
Red Wing always uses the best quality materials. Their shoemakers design each pair with care and perfection. Red wing boots can be a bit pricey but they are worth the money too. Red Wings DynaForce is quite similar to Ariat WorkHog Boot.
The name Redwing comes on top for people looking for boots that can work as both working footwear and something to wear when going out.
Justin Boots
When you are looking for an alternative pair that can provide the same service as Ariat, go for Justin Boots.
This western footwear company handcrafts its boots and uses only quality materials and the finest leather. Their designs and embellishments are eye-catching.
The Buck models have classic embroidery and the perfect representation of cowboy boots.
Tecovas
Tecovas is known for making dressier boots of dressier versions. They ensure premium quality materials. Boots of this brand are made out of ostrich, full grain calfskin leather, alligator, lizard and more.
So, the best alternative for Ariat riding Boots can be Tecovas Leather Western Boots.
Do Ariat Boots Last?
There's a saying that if you take care of things, they last.
The same goes for your footwear too. If you take it from former Ariat owners, it can last up to 5 to 15 years, depending on how they used and took care of these boots.
Ariat boots are well known for their longevity. The materials that go into the manufacture of these boots are perfected in every aspect possible.
You can make your pair last long by maintaining these simple steps:
Clean immediately with a damp cloth after every use.
Avoid direct heat to dry these even if they are wet to prevent cracking.
Use leather conditioner on a regular basis.
Polish your boots after using conditioner and store them in a dry place.
Make sure your shoes are getting proper air circulation.
Are Ariat Boots Good For Hiking
Yes, Ariat Boots are on the top list of hiking boots made with leather and are adored by hiking lovers all over the globe.
Ariat makes their boots with full-grain leather, which is highly torn and wear-resistant. These boots are braced with a waterproof membrane which is an essential feature for hiking boots.
Ariat Terrain is a perfect hiking boot. It's budget-friendly, comfortable and gives proper support. On a wet surface, it provides traction to avoid any accidents.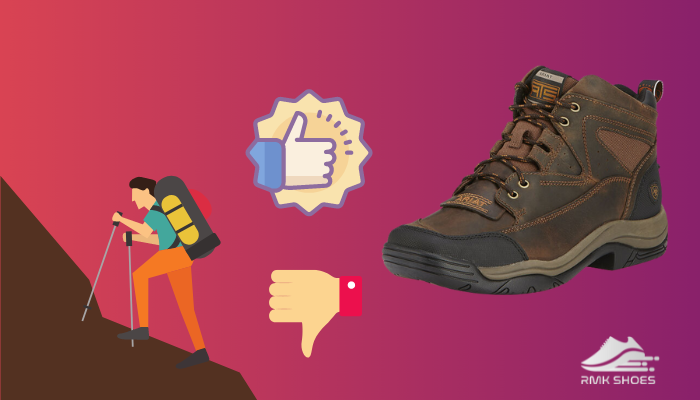 The best features of Ariat Terrain are
Exclusive ATS technology
Moisture-wicking lining
Slip-resistant outsole
Comforting orthotic footbed
Cordura upper
Durable full-grain leather
But still, some users complained about the poor stitching quality.
Are Ariat Boots suitable for snow?
Leather cowboy boots are not totally waterproof but water resistant. If you want to wear them during snowy weather, you must use a proper leather-protecting conditioner.
Hybrid Rancher boots from Ariat are the perfect western cowboy boots with the liquid-resistant feature. The Waterproof PRO Technology takes care of your wet feet problems.
Like any other brand, Ariat also offers water and snow-resistant cowboy boots.
Should You Get Ariat Boots?
Ariat Boots offer the best quality cowboy boots out there. They have everything that you will look for when investing in a quality boot.
However, if you want to purchase them or not is totally up to you. So many famous brands are manufacturing high-quality products that can be an alternative or even better option than Ariat.
If you want to experience the ultimate comfort, and the budget is not an issue; give Ariat Boots a try without any further thought.
You won't regret it.
Final Thoughts
Ariat boots are, without any doubt, a trustworthy brand for premium quality footwear. In the world of western cowboy boots, Ariat is a name of trust, versatility and lifestyle icon.
I am hoping that this whole discussion was helpful in the process of your searching for a suitable boot.
If you have previous experience of owning Ariat Boots, you are welcome to share your experience in the comment section below.