When you decide to invest in your footwear you definitely search for a trusted one. The most traditional, aristocratic and industry-leading brand will be your first choice. Keeping that in mind Justin and Ariat can be your safe options.
Justin is a traditional brand of boots. On the other hand Ariat is also a brand of equestrian athletic boots.
When both renowned brands offer you the same options of footwear, you must be confused. Which one is the best? And Which one should I get?
No worries! I am here with a complete comparison of Justin and Ariat. This article will help you to fix your shopping list of footwear.
Keep reading till the end to find which shoe is better for you.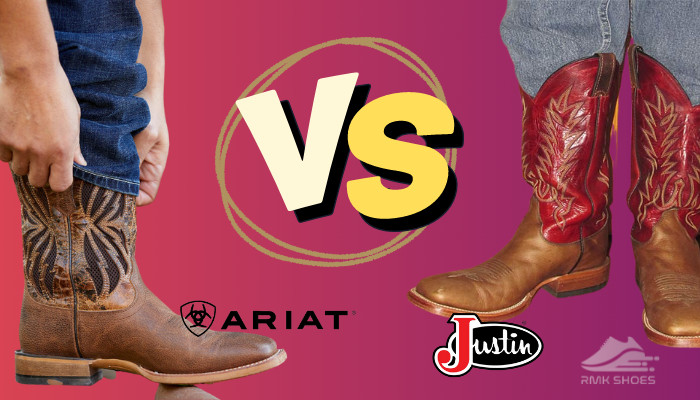 An Overview of Justin Boots
Justin is a market leading boot company established in 1879 by H. J. Justin. The main attraction of this brand is their hand crafted boots. They started with the carpentered boots by the master of boot making.
From then till now they have become a signature brand for crafted boots and western footwear.
Justin uses quality material from the beginning. The main features of justin's are rear illustration, hand tooling, colorful leather and threads used for styling.
Along with, Justin boots are the first choice of hard workers like cleaners, electricians etc.They are fond of Justin because of its safety purpose.
Moreover Justin makes  traditional, qualityful and iconic boots. For that reason Justin became a brand of trust for traditional western families.
An Overview of Ariat Boots
Ariat is a well known brand of athletic boots. It was established in 1992 by Pam Parker and Beth Cross. Ariat started with a motto 'a new breed of boots'.Their boots are sewed in China. They have mixed up the technology of athletic boots into the traditional one.
They have come up with the basic western boots integrating the new sports technology in it.
Ariat boots are basically made for equestrian athletes.
Ariat's non-negotiable product quality and innovative technology make this an excellent outdoor and work brand.
Also, check out our separate post to know How Long Do Cowboy Boots Last.
What are the Differences Between Justin and Ariat?
Jastin and Ariat both are well known brands for boots. But they are not similar in all way.The method of manufacturing,material, style, comfort and so many aspects make them diverse.
Here are 7 key to differentiate between Jusin and Ariat boots:
Material
Justin boots are made of high quality leather.For me, The world class part of cow leather with different types of lessing and colorful thread is so attractive.This boot is made in the USA. The quality of leather gives it toughness.
On the other hand, Ariat boots are made of cowhide.The cow leather may be grained or oiled. Ariat boots are a great blend of technology and high quality material.
Both of the shoes are made of finest material and world class leather.
Comfort
Justin boots use the J-Flex Flexible Comfort System. This technology makes these boots the most comfortable for your feet.
On the other hand, Ariat applies 4LR technology. In this technology there are 4 layer footbeds, user specific outsole and light weight shank.This property makes Ariat a luxury of feet.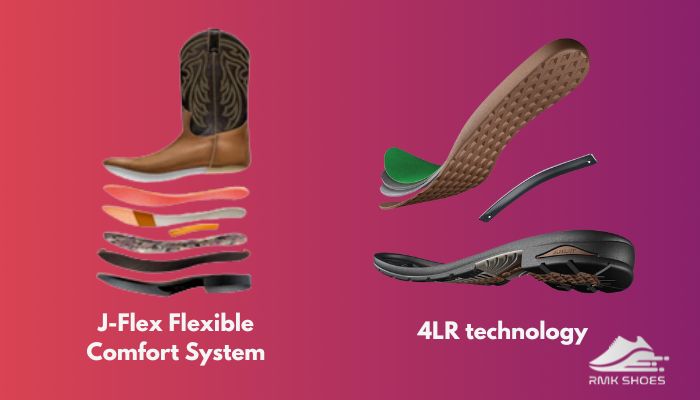 Durability
According to my personal experience Both boots last for a long period of time. But in comparison Justin boots are more durable then Ariat.
Justin boots are made for heavy work and rougher use.This boots are quite tougher.
Ariat boots are mostly loved for their look and style. Although it is durable, it is not similar to Justin.
Styling for Men and Women
Both Justin and Ariat offer boots for men and women as well as kids.In both brands you can find a lot of options.
Jusin boots are available in cowboy boots, work boots, dress boots,and casual boots in western style.Justin have a huge collection for men and women.In the kid section they have western boots.
Ariat also has many options for men's boots, women's boots and kids boots.ariat have a plenty of boots for their customers. Which includes rider boots, hiking boots, dress boots, work boots, chelsea boots.
Even for women they have booties, western boots, work boots, riding and hiking boots, fashion boots.in the kid section there have western boots,riding boots and casual boots.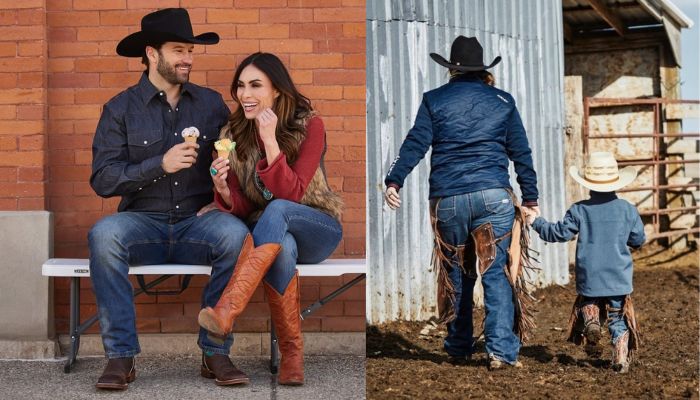 You can have boots in both brands for all types of styling.But Ariat gives you some more choice.
Sizing
Sizing of Justin boots and Ariat boots are the same as the USA standard size. You can depend on your existing pair for buying a new one.
After all, sizing always slightly varies from brand to brand. For example, Justin boots are better for less wider and narrow feet. And Ariat boots are better for wide feet.
Never forget about the toe rule before deciding your size. Your index toe should not touch the boot's toe box.The toe box should be 0.5 inch bigger from your toe
But sometimes the sizing depends on the design.So it will be wise to check the size carefully before buying boots.
Check out our separate post: Are Tactical Boots Good Work Boots?
Safety
For work boots safety plays a crucial role to select a good pair of boots.So in Safety aspects both brands are zero tolerable. Justin and ariats both are waterproof and electricity proof.
Ariat boots are snow proof too.it will provide you warm and dry feeling in winter and rainy season.
In my personal experience Justin boots are waterproof but it demands good maintenance after getting wet.If you want a long durative performance from your pair of Justin,there is no alternative of properly maintaining it.
Price
In the price segment I found that Justin boots have a wide price range.It has come with the starting rate of $100 to $200 and so on. You can also find some options for under $100.
For kids Justin boots will come from $90 to $150.
Ariat's price range is not so wide.I have noticed that the starting rate is around  $100 and $250.But if your budget is under $100 you can't get enough options to choose.
For kids,Ariat offers the same price range as mens and womens boots.
Compared with the price, both brands are almost similar. Moreover, the pricing depends on the style and designs.
What are the pros and cons of Justin and Ariat?
Usefulness of Justin and Ariat boots varies person to person.Someone might find Justin most durable, on the other hand someone might like Ariat more for the same reason.
When it comes to comfort,the debate remains the same.
So,on the basis of my experience I find some common pros and cons for you.
Here are the pros and cons of Justin and Ariat boots based on my experiences.
Pros of Justin boots:
»

Long lasting and waterproof.

»

World class leather is used for Justin.

»

King of comfort according to public views.

»

Range of boots is huge
Cons
»

Safety is quite weak.

»

Sometimes you can feel that Justin is quite rough and hard.

»

Demands good take care.
Pros of Ariat boots:
»

Ariats are comfortable and more safe.

»

This boots are durable for long run

»

Only premium leather is used for Ariat boots

»

Ariat boots are waterproof.
Cons
»

Sizing of Ariat boots is a better choice for normal and narrow feet.
Available Option other than Boots in Justin and Ariat
Mostly Justin is known for cowboy boots.But there are a huge option other than cowboy boots in this brand.You can find a perfect pair of boots for any occasion in the rack of justin.
Also, Ariat provides a large number of varieties to its customer.Which includes a range starting from athletes boots to dress boots.
In Justin boots you can find some excellent pairs of boots for men, women as well as kids.You can select from western boots, casual boots and work boots. More specifically rider boots, exotic boots, roper boots, gypsy boots and so on.
On the other hand, from Ariat boots you can pick some awesome pair for your special occasion like marriage.
Besides that Ariats have different collections in men, women,kid, western and english categories. In this category there are a lot of boots. For example casual, fashion and dress boots,hiking boots, chelsea boots, steel boots and more and more.
Also, read our post to know the difference between Karting Shoes Vs Auto Racing Shoes.
FAQ
Is Justin waterproof?
Yes, Justin boots outsoles are waterproof. Justin uses their own waterproofing technology. So the exterior is greatly safe from water.
Is Ariat waterproof?
Yes, Ariat is waterproof from the outer side of the boots. They use waterproof pro technology for their boots. Even Ariat is snowproof also.
Is Ariat run as long as Justin?
The durability of both of the brands is quite pleasing. Although Justin is more long lasting in hard work.
Are Justin sizes similar to Ariat?
Ariat sizing is a bit larger than Justin. While Justin is best fit for wider feet and Ariat is for normal to narrow feet. You should follow the thumb rule for buying Ariat.
Is Justin made in America?
Yes, Justin boots are completely made in America with the finest material and leather.
Are Ariat made in china?
Yes, Ariat is made in china. Though it became a trust for rider athletes over the years.
Is Justin Boots going out of business?
No, they are not.But only 2 factories of Justin in Cassville and Carthage have closed down due to COVID19.
Verdict
As per above discussion, it is clear that Justin and Ariat both are mostly similar in the quality. In this case mostly the choice depends on your purpose and personal opinions.
Comfort,durability,price,safety are equally great in both of the brands. So, your choice can be different on the basis of tradition or availability of options.
To sum up,I am suggesting you Justin boots for traditional handcrafted work boots with a classic look.
On the other hand if you have normal to narrow feet,you should choose Ariat boots.
I can ensure that it is only your call to buy one from them. Go with your preferences before buying your one.
If you're looking for something else, then check out Luna Vs Bedrock Sandals: Which Sandal's Better For You?
Let me know which one you decided to buy and why in the comments.