While dominating the sneaker world, Yeezys have been at the peak of fashion for a long time. But why are Yeezys so damn popular? What's in these sneakers that people can't get enough of?
I was caught up with these questions quite for a while just like you.
Don't worry. After extensive research and being a Yeezy user for 3 years, here I am to disclose all the reasons behind this crazy hype.
Tag along!
What Makes Yeezys So Popular?
With the collaboration of Adidas and Kanye West in February 2015, the new Yeezy sneakers instantly took over the glamor world.
Since its first launch, Yeezy has become the top leading and hottest sneakers brand. In the first production, they distributed 9000 pairs, and all those were sold out within 10 minutes!
Such limited-edition stocks created a hunger for their sneakers among the people. Even superstars promoted their fancy footwear by wearing it on different occasions.
However, Yeezy is known for its distinctive sense of style as well. And apart from celebrity exposure, it includes many more to compete with world-class companies. Let me uncover them shortly here.
Here are the reasons for Yeezys' high demand:
1. Attractive Marketing Approach
People go crazy over anything a celebrity wears. Who doesn't wanna get their hands on Kanye West's sneakers? Personally, I wouldn't miss it!
As a highly influential and controversial figure, Kanye's involvement with the Yeezy brand is one of the main reasons for creating buzz and interest around the brand. However, you can call him the king of marketing. Wanna know why?
Because he crossed all the boundaries while marketing his designer sneakers, from promoting Yeezys on social media to giving premium collections to other celebrities to wear, he left no stone unturned.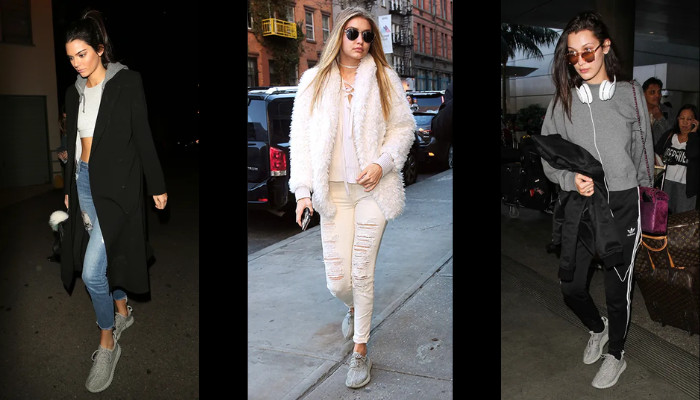 The crowd went crazy when many celebrities like Kim Kardashian, Rihanna, Diddy, and Joe Jonas wore them. In my opinion, the huge fanbase of Kanye West and his marketing policy is the main reason behind the Yeezys craze.
2. Fashionable Style and Design
Another reason for the popularity of Yeezys is the use of innovative designs in its sneakers with various colorways. Their designs are, frankly, appealing and fashionable at the same time.
With the unique look, you can wear these stylish pairs with every outfit you have. Moreover, seeing someone wearing a pair of Yeezys signals their fashion sense and taste.
So, being an iconic fashion statement explains the popularity of Yeezy Boost!
However, the Yeezy gets creased with wear sometimes. Commonly Yeezy 500 and 700 have such tendencies. And you must know the methods to remove them.
But that's for another day's topic. Now let's continue with its popularity!
3. Social Media Advertisement
Mr. West utilized social platforms to spread the story of Yeezys' success, which drove people to the brand massively.
Kanye West tweeted every detail on social platforms, which helped in building the connection between the consumer and Yeezy.
Besides the connectivity, social platforms made trust issues easier.
Yeezy earned almost 1.8 million with their first boot (Yeezy-1) from the largest sneaker platform – 'Rare,' That was the beginning of their success.
From then on, Yeezy didn't need to look backward in creating the strongest and most popular business line.
4. Exclusive Release
Let's talk about scarcity now.
What would you do if you heard your favorite edition of sneakers won't be released ever again?
You would buy them as soon as possible, right?
The hype of Yeezys is actually for this reason. A lot of them are limited in stock, releasing less than 20k. In addition to it, Most of them won't be re-released again except the "Pirate Black" 350s making them more popular in the secondary market.
Getting hands-on Yeezys for reselling feels like winning an award! Gives a taste of victory. That's why More than 500k People wait in line on the release day just to get a pair of Yeezys.
As a whole, with the iconic designs and quality along with Kanye's tremendous influence, Yeezy is now a cultural phenomenon, not just any other sneaker.
Are Yeezys Comfortable?
Yes, Yeezy shoes are very comfy as long as they are not too tight. The use of boost technology in the sole provides bouncy cushioning.
Moreover, the boost soles with compressed foam absorb shock and reduce fatigue in the feet, making Yeezys so comfortable for running and walking.
Additionally, the sneakers have a stretchy and flexible upper. That means, no matter what your foot's size or shape, these flexy sneakers can make room for it.
Overall, the comfort and fit of Yeezys are highly praised by casual wearers and die-hard sneaker fans. Even in terms of comfort, Yeezy shoes are comparable with Ultraboost.
So, if you want a designer sneaker with great comfort and fit, Yeezy is the right choice for you.
What Makes Yeezys So Special?
The Label of Kanye West, its limited stock, comfortable features, and fashionable yet casual looks – altogether contributed to its reputation as being "special"!
The brand is one of a kind just because it was designed by a famous influencer like Kanye West. With their unique style and limited availability, Yeezys are so popular among sneaker collectors and fashion enthusiasts.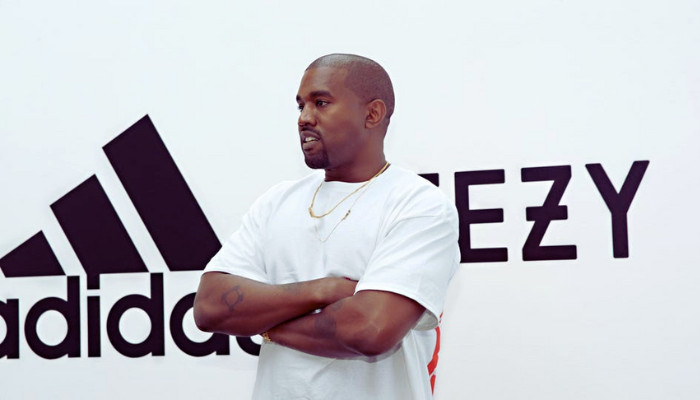 Wanna make your friends jealous of you? Just get a pair of Yeezy!
The thing is that people are willing to pay whatever the price is just to get a pair of these beasts for themselves, as these iconic shoes are seen as a status symbol.
Why Are Yeezys So Expensive?
Yeezys are one of the most expensive ones in the sneaker world. They can be as pricey as $3,300 for a single pair, and resale prices are even more.
But why are they so pricey? You gotta find out the reasons, right? Well, I'm gonna give you just those.
Here are the reasons that made Yeezys so expensive:
A limited number of shoes in stock makes them so rare and difficult to get. Restricted supply creates exclusivity while increasing the demand.
The "Designed by Kanye West" tag makes these sneakers the coolest in the eyes of all fans. They desperately want to wear them as a symbol of class and fashion sense.
The influence of other celebrities is another reason for its vast popularity and huge expense. Everyone wanna get at least a single pair of Yeezys as their icon wears them.
Besides, Yeezys' interesting designs, lots of models, and colors made it an expensive brand in the market.
Don't worry if your outfit is not that good for the day; these fancy sneakers will make you look classy with their eye-catching style and color.
The use of the boost technology can be a reason for their high price which also makes them comfy for walk-ons.
Overall, the combination of limited availability, high-quality materials and construction, celebrity collaboration, and effective marketing contributed to the high price of Yeezys.
However, another iconic name is Nike Air Max. Read our separate article to know what makes Nike Air Max so expensive.
How Much Do Yeezys Cost?
The cost of Yeezys varies with each style and model. Some affordable ones, like Yeezy Boost 350 V2s, can retail for around $280. However, prices can rise from there to thousands of dollars for certain exclusive and rare ones.
For example, the Yeezy Boost 700 Wave Runner has a retail price of around $300, and Yeezy Boost 350 Pirate Black has a cost of $3,400, which can be sold for a much higher price in the secondary market.
Kanye West's Nike Air Yeezy 1 Prototype, which he wore at Grammys, broke all the records and became the highest-selling with an auction price of $1.8 Million in 2021.
You can purchase Yeezy Boost 750 "OG premium"  for $1,675 on the resale market.
Besides, more popular ones like Yeezy Boost 350 V2 Zebra,- released in 2017, can be sold for more than $1000.
Even so, Their prices can vary depending on where you are buying. For example, they cost more in retail shops than on the official Adidas website.
3 Most Popular Yeezy Sneakers?
You can find a variety of Yeezy sneakers in the market. A massive number of them were released over the years. But what are the most popular among them?
In my opinion, the 3 most popular ones are:
Yeezy Boost 350 V2: This version of the Yeezy Boost 350 got huge popularity among youngsters with a different pattern on the Primeknit upper and a different sole design.
It has been released in a wide range of colorways, including Zebra, Beluga, Sesame, Cream White, and more. With iconic colorways, Zebra and Beluga 2.0 are the most popular ones among them.
Struggling with the tight fit of the Yeezy 350? Just follow the methods of the linked article and get the right fit.
Yeezy Boost 700 Wave Runner: The Wave Runners can be described as bulky and chunky shoes with a not-so-classic look. With a crazy color selection, these shoes brought back the dad shoe trend.
Yeezy Boost 750: The Yeezy Boost 750 features a suede upper with a rubber sole. The sneaker has been released in a number of colorways and is often limited in production, which has contributed to its popularity. With distinctive designs, Yeezy Boost 750 OG, Triple Black, and Grey Gum are the most popular among them.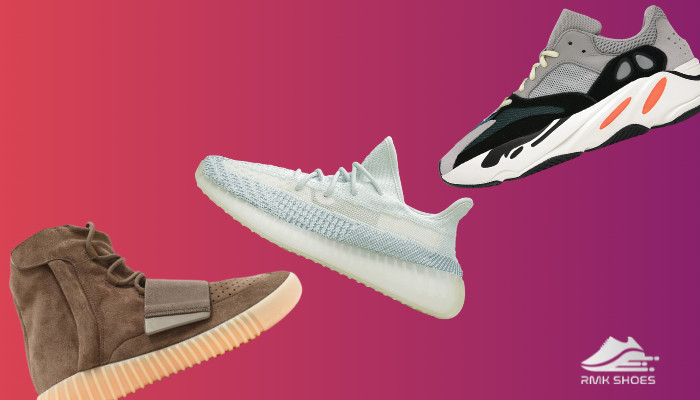 The hype of Yeezys has been going on for years since its first release. All of the Yeezy variations are popular for their variety of designs with the Kanye touch. You can choose your favorite one and get a classy look right away.
5 Cheapest Yeezy Models And Their Prices
Most of the Yeezys do not come cheap; you have to lose a fortune just to get a single pair of them. Though you can buy some from the secondary market at a cheaper rate, the reselling price can go beyond your pocket.
So, you gotta find an affordable option, right?
Don't worry, I'm giving you the list of the 5 most affordable Yeezy models with their prices.
Here's the list of 5 cheapest Yeezy models you can easily get:
Yeezy 380 Boost Hylte: Yeezy 380 is one of the cheapest footwear of this expensive brand. They will cost you only $68 to $177 for each pair. This version of 380 was released in 2020, featuring a fading grey gum-rubber outsole with an iconic yellow camo-print upper and traditional laces.
Yeezy Foam Runner Onyx: The Runner onyx is another reasonable Yeezy shoe that comes from $80 to $160.
Made with EVA foam, these shoes are lightweight and feature a skeleton-like futuristic upper with open vents and a soft inner sole.
Are you rather a boot lover and searching for the cheapest option for the Muck boots? Read my article on it.
Adidas Yeezy 500 High Sumac: Though the launching price of the Yeezy 500 High Sumac was $220 now you can bid them even at $91 to $179.
This colorway of Yeezy 500 features a mesh-like midfoot, suede upper with red leather and brown overlays. With an earthy color tone, this stylish sneaker is good for everyday wear.
Yeezy Quantum Barium: The retail price of a pair of Yeezy Barium was around $250. After dropping the range, they are now available in resale platforms only at $108-$385.
At this lower price QNTM, Barium is the most stylish one with its grey Primeknit upper and translucent dynamic sole. Besides, the black ankle collar and heel support give it a trendy look.
Yeezy 500 High 'Slate': Yeezy 500 slate was Kanye and Adidas's first collaboration shoe model. They were in top sales for months! Now you can get it for only $126-$220.
This high-top silhouette is designed with neoprene and suede upper. A combination of black and blue color and white rubber outsole completes the look.
However, these cheaper versions may not be as popular as other Yeezy lines 350 V2, 700s, or 750s.
They are Yeezys with a decent look and affordable price. So, just choose the right one among them without any worry.
Overview Of Kanye West And Yeezy
In 2015, West and Adidas made a partnership and released the first edition of 'Yeezy season 1'.
From the first edition, Yeezy and West achieved unbreakable success by producing stylish and comfortable shoes.
In June 2022, West claimed that Adidas promoted 'Yeezy day' sales without his permission. Consequently, West declared to break the partnership with Adidas in September.
On October 7, after making ugly antisemitic remarks through Instagram, Twitter, and other online platforms, Kanye West and Adidas ended the deal.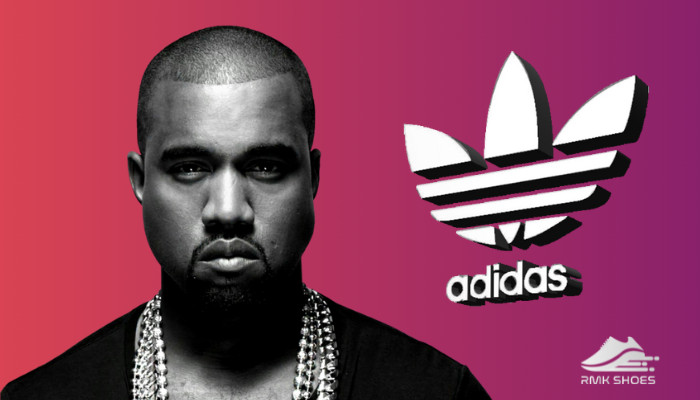 That's the backstage story behind the most controversial news today!
After terminating the Adidas and Kanye west partnership, One question must stand here: Can Adidas sell Yeezys without Kayne?
Well, Adidas has announced that they will continue selling west-designed shoes without using the name – Yeezy.
It means that Yeezy fans will get their desired product under Adidas production.
Final Words
Undoubtedly, Yeezy is one of the most popular and expensive brands. From their first release with Nike and then with Adidas, both lines got huge popularity right away.
Besides wild Kanye hype, Yeezys are one of the best sneakers to give you a fashionable yet comfy look.
While reading this article, I hope you got all your questions answered. So, don't get stalled thinking about Yeezy's popularity, just get a pair of your own.
Leave a comment below if you have more queries!