Big fan of Adidas sneakers? Do you want to know which ones's the best between two of their best sellers (Yeezy and Ultra Boost).
In that case, you've come to the right place!
Based on my countless hours of intense research and analysis of the materials and functionality of both styles, I found which is more comfortable among these man made marvels.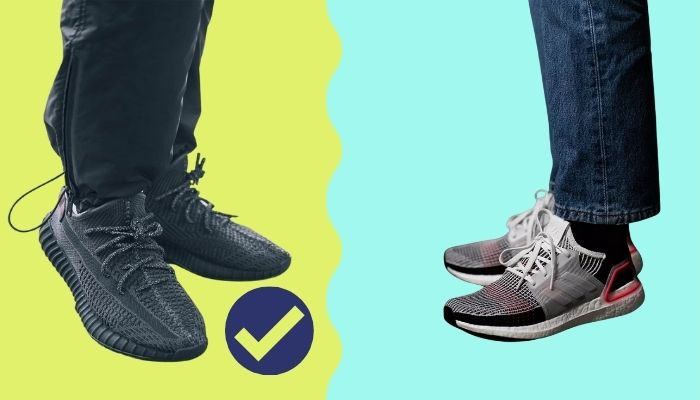 So, first thing first, are Yeezys more comfortable than Ultra Boost?
Yeezy and Ultra Boost are both very comfortable. Yeezy and Ultra Boost are created for different purposes, so the type of comfort they deliver is not the same. Adidas incorporates Boost technology in both Yeezy and Ultra Boost, providing plush comfort to the feet.
Want to know more about Yeezy and Ultra Boost? So, read till the end and to clear all your confusion.
Are Yeezys More Comfortable Than Ultra Boost?
Adidas has created some great sneakers with one particular aspect in mind! What's that? It's comfort! That's right, comfort is one of Adidas's signature aspects.
Yeezy and Ultra Boost are top-tier sneakers of Adidas that wrote their name as the most comfortable pairs of shoes.
Most of you probably wonder which style is most comfortable for your feet. Well, there is no definitive answer to this question. It's more of a subjective matter.
Because, after looking through several forums, I discovered that there are two groups of people.
One that prefers Yezzy over Ultra Boost and the other who favors Ultra Boost for different reasons.
Yeezy and Ultra Boost are worn for different purposes, but they offer unmatched comfort due to their Boost technology. To get the most out of both shoes, you need to know where to wear them.
For example, Yeezys are better to wear when working out at the gym or going for a walk.
Ultra Boost is more of running shoes and supports the feet fantastically while running.
So, in terms of comfort, it's a tie; Yeezy and Ultra Boost are both winners. As both of them are made for a different purpose, and both the footwear serve their purpose just right.
Follow our guide to know Crocs Vs Yeezy Slides
What Makes Yeezy And Ultra Boost Comfortable?
The Yeezy and Ultra Boost are designed in such a way that your feet will be comfortable inside the shoes all the time.
Not only are Yeezy and Ultra Boost comfy, but they are also sturdy and flexible. All of these features are only achievable thanks to the Boost technology.
Adidas sneakers without Boost are now equivalent to a body without a heart.
I'm not exaggerating when I say that Boost has been a game-changer for Adidas shoes.
So, what exactly is Boost, and how does it make the sneakers so comfortable?
Read more on Adidas Pure Boost VS Ultra Boost
Boost is made by expanding thermoplastic polyurethane particles to form enclosed cells surrounding small air pockets. This Boost is then put into shoes, resulting in a master creation.
Boost has a multitude of advantages for the foot, but the high level of comfort is what caught everyone's attention.
The Boost is cushioned, so your feet feel as if they're walking on a fluffy surface.
Furthermore, Boost restores the energy created by the foot while running, so your performance won't be hampered even if you run miles after miles in Yeezy and Ultra Boost.
So, you should really thank the Boost technology for making the Yeezy and Ultra Boost so comfy, durable, and nimble all at the same time.
Check out our separate post: Can Yeezys Get Creased
Are Yeezy and Ultra Boost Comfortable For Running?
If you're choosing between the Yeezy and the Ultra Boost, go for the Ultra Boost if you're search is for a pair of running shoes.
You may run in the Yeezy, but only for a limited distance, as they are not designed for running or high-performance activities.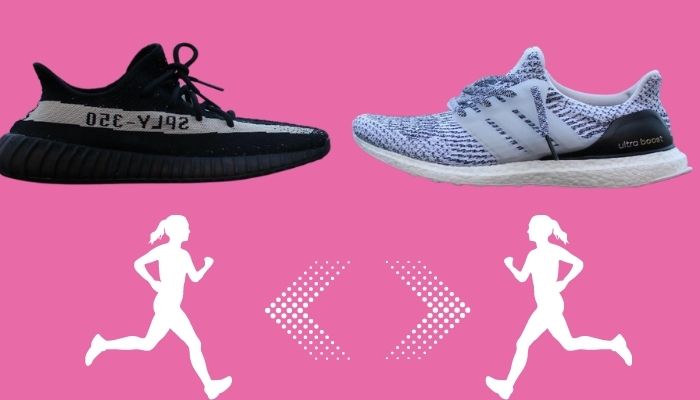 Yeezys are more fashion oriented shoes, commonly worn as a status symbol due to their high price.
On the other hand, Ultra Boost is the favorite shoe of many runners and joggers.
Ultra Boost is the perfect shoe for runners because of the cushioned heel and elastane midsole technology, which allows them to cover long distances while keeping their feet comfy and pain-free.
Also, check out to know is Yeezy 350 Tight On Toes
Are Yeezys Comfortable For Wide Feet?
No, Yeezys are not comfortable for wide feet. The toe box of the Yeezy is quite narrow and tight. Wide feet crammed into a tight toe box will cause excruciating discomfort in front of feet. If you have broad feet, buy a size larger than your normal size; only then can you enjoy the Yeezy.
If you have large feet, never wear narrow shoes since the constriction not only hurts your feet but also creates many foot deformities. As a result, if your feet are broad, always select a half to full size larger Yeezy.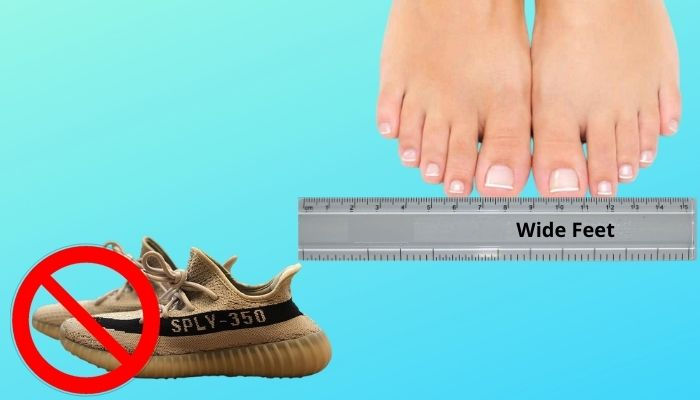 However, avoid sizing up if you don't have broad feet because Yeezy runs true to size, and sizing up will make the sneakers overly big.
So, go with your actual size, not one size up or down, for the best fit.
You may also like to read: Are Ultra Boosts Comfortable
What Is The Difference Between Yeezy And Ultra Boost?
Both the Yeezy and the Ultra Boost are excellent shoes, but some differences in their features make them perform differently.
Here are the differences between Yeezy and Ultra Boost:
Yeezys are not an ideal choice for long-distance running. They can be easily torn or worn out if you wear them for high-performance activities. For light exercises at the gym, Yeezys are ideal.
Whereas Ultra Boost is the epitome of a running shoe. You can walk for kilometers in the Ultra Boost; they will keep up with you on all terrains and endure for years.
Yeezys have a narrower toe box, which is problematic for persons with wide feet. That's why Adidas advises broad feet to get one size up Yeezy than their actual size to prevent this problem.
Ultra Boost shoes are made with a standard toe box that fits both broad and narrow feet, so there's no need to size up or down; instead, opt for your actual size.
Yeezy's structure differs from that of Ultra Boost. Without a doubt, both shoes are really comfortable, but Yeezy lacks several aspects that cause foot discomfort.
Yeezy does not have the elastane heel technology that Ultra Boost has. Elastane heel technology ensures that your heel does not hurt when walking or running.
Yeezys are far more expensive and act as a status symbol that you only wear once in a while, while Ultra Boost is not.
The Ultra Boost is a more affordable option that you can wear on a daily basis.
Related guides: How To Fix Squeaky Boots, How To Fix Heel Slippage In Boots
Before You Leave
Yeezy and Ultra Boost have different technologies, so their comfort also varies. Both are comfortable; you just need to know the correct place to wear them.
If you want long-lasting comfort for strenuous activities at an affordable price, go for Ultra Boost, or pick Yeezy if you wish to wear more stylish yet comfortable shoes in the high price range.
Yeezy, Ultra Boost, or both, I'm sure you'll have the best experience in either of them; after all, they're from Adidas. German Class, after all.
This concludes today's discussion; if you have any questions, please leave them in the comments area.
Thank you very much!