The limited edition of Jordans is reselling at more than $10,000, while other brands like Yeezy Boosts are reselling at only near $1000.
Usually, Nike Air Jordans are priced higher in retail. And when it comes to reselling, the price goes insanely above the border!
Have you ever wondered what caused such a price hike? And how it became a staple in the footwear industry?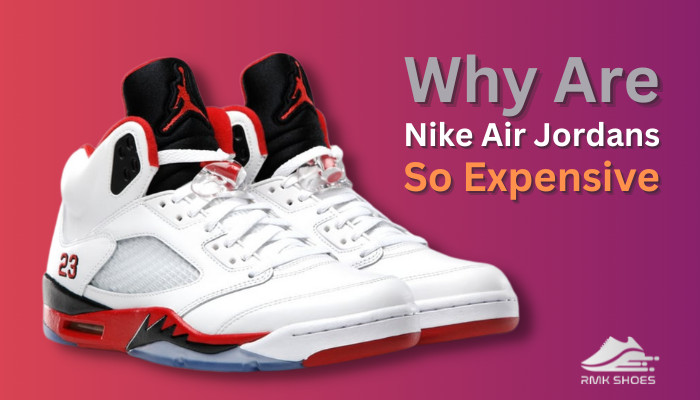 Is it only because of Michel Jordan's legacy or is there something else behind the scene?
Well, there are more than such simple causes that made Air Jordans "The Air Jordan." And today, I'll uncover all those key reasons why Nike Air Jordans are so expensive.
So, stay with me till the end and be enlightened with some interesting facts about these statement shoes.
Backstory of Jordans
It started in 1985 when Nike signed a deal with then-unsung NBA player Michel Jordan.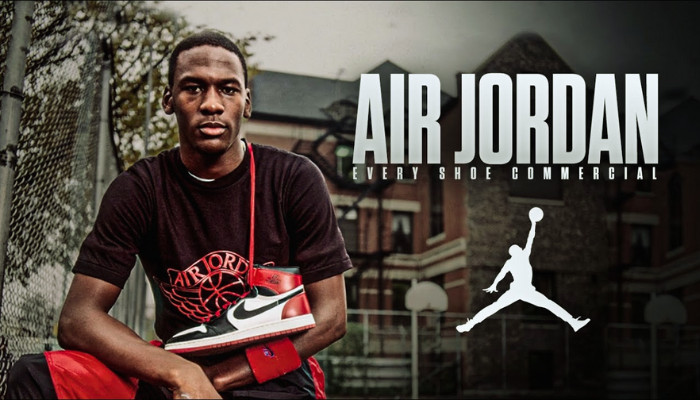 Nike launched the Air Jordan on September 15. And just a month later, the NBA threw them out from the court on October 15, stating that it violated their rules.
But the mighty MJ was stubborn and wore the sneakers anyway!
As a result, the NBA imposed a fine of $5,000 for each game he played wearing an Air Jordan 1. Nike saw the viral marketing opportunity and kept paying the fine!
Soon Air Jordan 1 became the rebellious brand that inspired youth and emerged as the staple for NBA sneakers!
In their first season with Air Jordan 1, Nike made more than $100 million in revenue.
Since then, the MJ brand has never looked back. Air Jordan became the most popular brand, and Michel became the great of all time!
With Michel Jordan's fame and Tinker Hatfield's Air Max technology, Air Jordan is now the staple footwear for basketball athletes.
What Makes Nike Air Jordan So Expensive?
Compared to similar shoe brands, it costs an arm and a leg to grab a Nike Air Jordan for your court.
While a usual basketball sneaker's average price travels between $100-110, Jordan's price is around $150! And it's increasing day by day.
However, Nike doesn't charge such a load, only because they spend a fortune on Michel Jordan. There's more to add to its high price.
Let's see those 5 key reasons why Jordans are too pricey:
1. Brand Value
Air Jordan is not just a name for sneakers. It's a brand. The brand whose value has skyrocketed since its emergence.
Brand value can uplift a product line or an entire brand.
Likewise, the Air Jordan line has got a huge shoutout and become one of the most valuable series in the expensive Nike productions.
People buy these shoes more than usual because of the value of the Jordan brand.
Additionally, Nike was able to grab the market at the right time in the right place. Collaborating with an insanely popular athlete made the brand sustainable.
The consistency with celebrity endorsement and clever marketing paid off instantly. And that's how brand value made Nike Air Jordan the most expensive sports sneaker of all time!
2. Higher Quality- Air Max Addition
If you think that Air Jordan got such a bump in price only because of their brand value, you're wrong.
Nike hasn't left any stone unturned to ensure its quality. Their shoes are trendy for their high-end build. And when it comes to Air Jordan, Nike went the extra mile.
The build quality and the design are both perfect for any athlete.
After some drawbacks in the sole quality, Nike implemented the Air technology and teamed up with Tinker Hatfield, the key person of the Air tech.
Air sole was the breakthrough in the sneakers industry, making sneakers a perfect fit for athletics activities.
Therefore, implementing the Air technology in the Jordans shoes made them more powerful and demanding.
3. Iconic Endorsement with Michel Jordan
One of the biggest reasons the brand value of Air Jordan reached its peak is undoubtedly the name labeled on it!
Yes, I'm talking about none other than the mighty MJ!
Nike started this iconic brand on the basketball court by playing with the superstar Michel Jordan.
Michel Jordan is considered the greatest basketball player of all time. Before becoming a star, Nike acquired him to launch their revolutionary athlete shoes.
Since then, the legend has been entwined with the brand!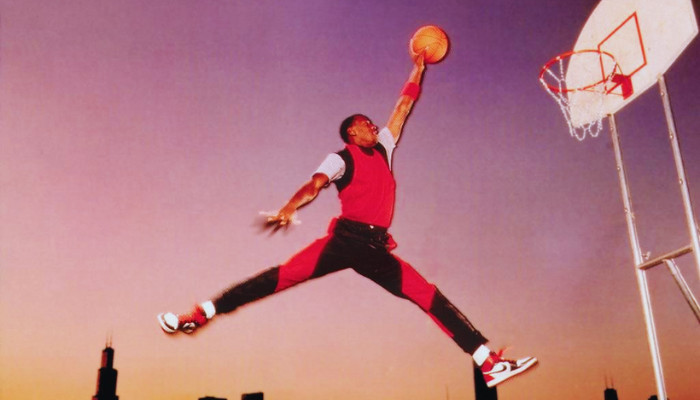 However, Nike left enough room for MJ to take an active part in the design and quality of Air Jordan.
Most of the designs were personally tweaked by MJ himself that represent his talent and luxury. This collaboration with MJ has helped Jordans surpass AirFroce and become an iconic stamp in the sneakers world.
And when you find the touch of your idol in your wearables, wouldn't you want to spend a fortune to get it?
4. High Demand, Limited Supply
Everybody wants to collect those rare items that are hard to get. Thus, launching a limited edition always creates a supply shortage.
Nike has been applying this philosophy since the launch of its Jordan shoes.
Each time, the company only produces a limited number of shoes of a particular Air Jordan edition. And those few sneakers stock out within a few days.
Thus, it becomes priceless to those who really want them!
After shoes went out of stock, the crazy fans used to go to different reselling shops to get a good deal. And such sales will start from at least $2000, which is at least ten times higher than the retail price!
An original Air Jordan 12 (Flu Game) resold at $104,000!
That's how the brand creates a huge demand that will never match the supply!
And with the demand increasing, the price will always remain at its high!
5. Luxury – Symbol of Status
Nike Air Jordans have become the symbol of status. Wearing a limited edition Air Jordan will show luxury and class.
One who has the original Autographer Air Jordan I boast himself as a proud owner!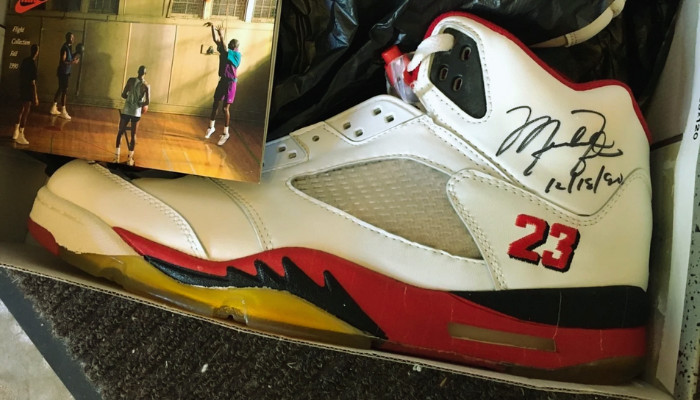 Especially for that lower-income young who want to show that they belong to an upper class by wearing Jordans!
This brand's buzz was so huge that people committed suicide and got murdered over a pair of Air Jordan back in 1990!
However, many say this brand is more for showing and less for functioning. Thus, owning a pair of Air Jordan represents class and implies belongingness!
Moreover, it shows compassion towards the Jordans as a skater, basketball players, or fans.
Business Insider- So Expensive | Why Nike Air Jordans Are So Expensive
The popular Youtube Series of Business Insider named "So Expensive" featured the Nike Air Jordans. There they captured and presented a comprehensive documentary on the brand.
Here you can watch it to see the visual representation:
Why Nike Air Jordans Are So Expensive | So Expensive
7 Most Expensive Jordans So Far
When Nike launched a new edition, the previous editions became priceless in the resale market. Some vintage Jordan sneakers even sold for $100k bucks!
Here is a list of the seven most expensive Air Jordans with their reselling price:
Air Jordan 12 (Flu Game) – $104,000
Air Jordan 12 OVO – $100,000
Air Jordan Silver Shoe (Autographed) – $60,000
Air Jordan 5 Retro Transformers Sample – $52,900
Air Jordan 2 OG – $31,000
Air Jordan I (Autographed) – $25,000
Air Jordan 11 Blackout Edition – $21,780
Is Air Jordans Worth the Hype?
Fashion, comfort, quality, statement, emotion, luxury, and overall self-satisfaction – all goes well in a box of premium Jordan pairs! So, there's no doubt that Air Jordans are totally worth the hype. And spending a bunch to grab this pair isn't a regret at all for the sneakerheads.
There are so many editions Nike has released under the Jordan brand. This over-saturation made some people say Jordans are not worth the hype.
But the product details and reviews from real consumers imply the difference!
There are very few things you'll find missing in a Jordan sneaker. They have unbeatable quality, numerous variety, and iconic statements. So, the price is understandable, right?
All things considered, Air Jordans are worthy as basketball sneakers or regular casual wear. In fact, they're the best sneakers you can also wear outside the court.
A Penny For Your Thought
Nike Air Jordan is by far the most popular and lavish name in the sneakers world.
Among all the other sneakers, they are the most expensive pair symbolizing luxury and class. And the reasons behind such a pricey statement are valid.
However, your opinion must have developed after reading all about the key reasons behind Air Jordan's high price.
Do share that with us in the comment section below.
Also, let me know if you're an Air Jordan fan like me!