Switching between shoe brands may give you a new running experience. But, when it comes to comparing their sizes, this may make your head spin.
Likewise, to switch between brands like Nike and Saucony, you may wonder how they compare in sizing.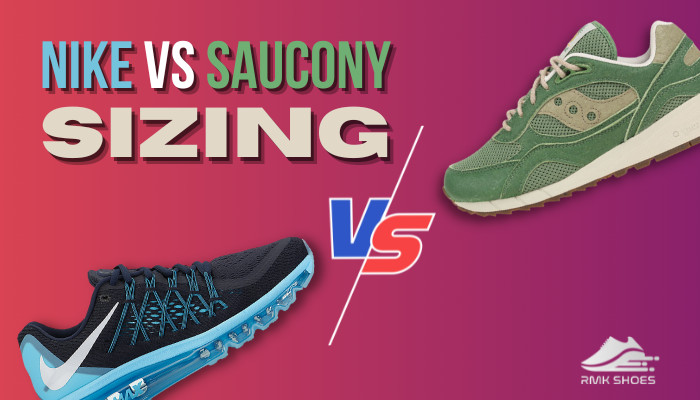 Well, don't get dizzy! While reading this side-by-side size comparison from a runner's point of view, all your queries will be gone.
So, get set and keep reading!
Nike vs Saucony: How They Compare in Sizing?
While thinking about how running shoe brands compare in sizing, you have to pay attention to both their length and width. Then, how do Nike and Saucony shoes compare in both length and width? Let's check it out!
In terms of length, both Nike and Saucony are similar for men. But, for women's size, there's a slight difference. For instance, a US 7 at Nike is 24 cm, but a US 7 at Saucony is 23.5 cm. But this difference is only up to size 7 after that, both brands offer the same shoe size.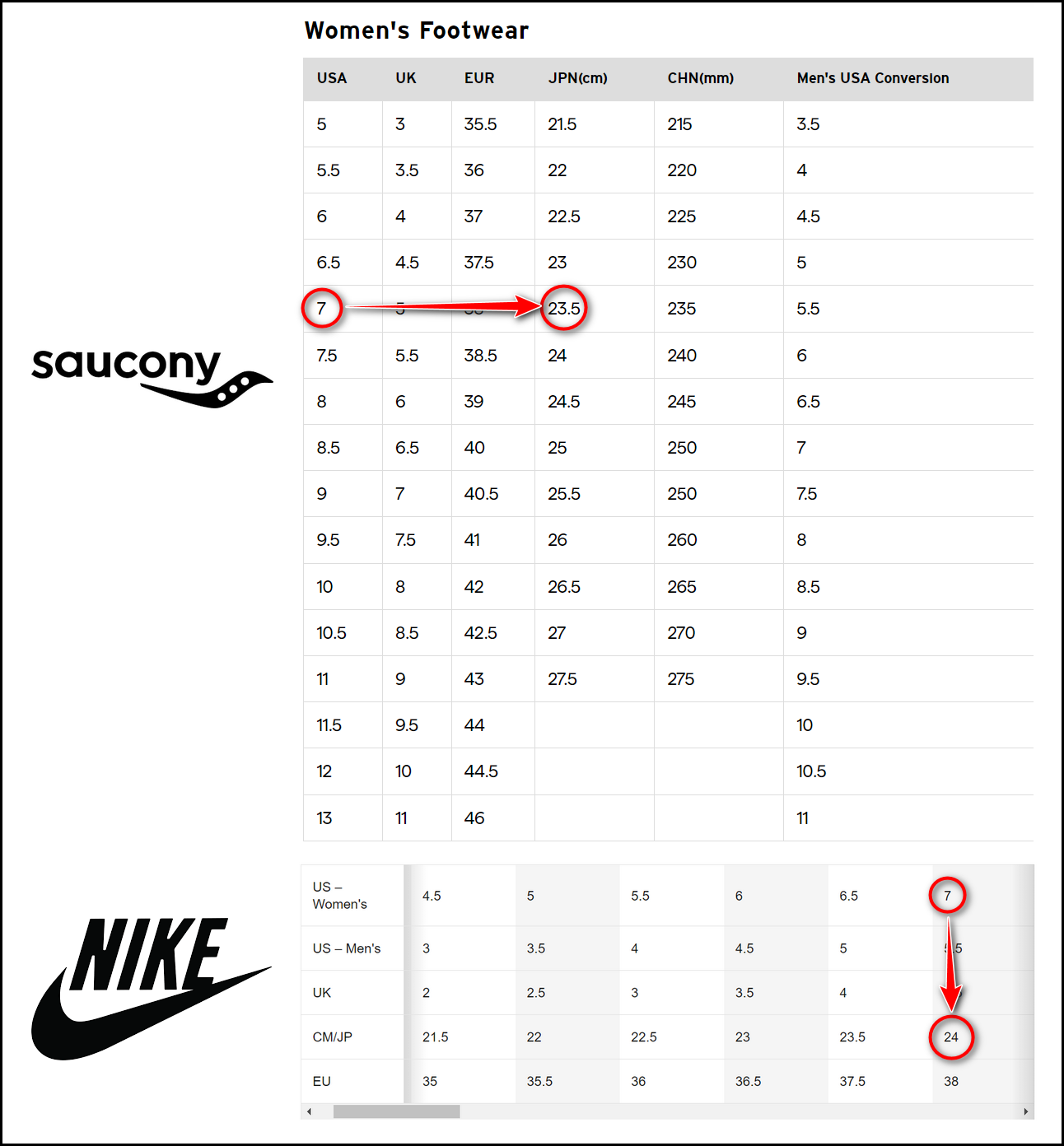 That means, Saucony women's shoes are somewhat shorter than the Nike ones. The difference is so minor that it won't impact your casual wear. But, to wear for athletic activity, you should choose the size carefully, as this might affect your performance.
Though the US men's size is similar for both brands, you can find a slight change while converting the US shoe size to the UK size.
Likewise, while converting the US size to a UK size for Nike shoes, you need to go down for a half size. But to do the same with Saucony, you need to go with a full size down.
For example, a US size 6 for Nike converts into a UK size 5.5, but a US size 6 with Saucony converts into a UK size 5.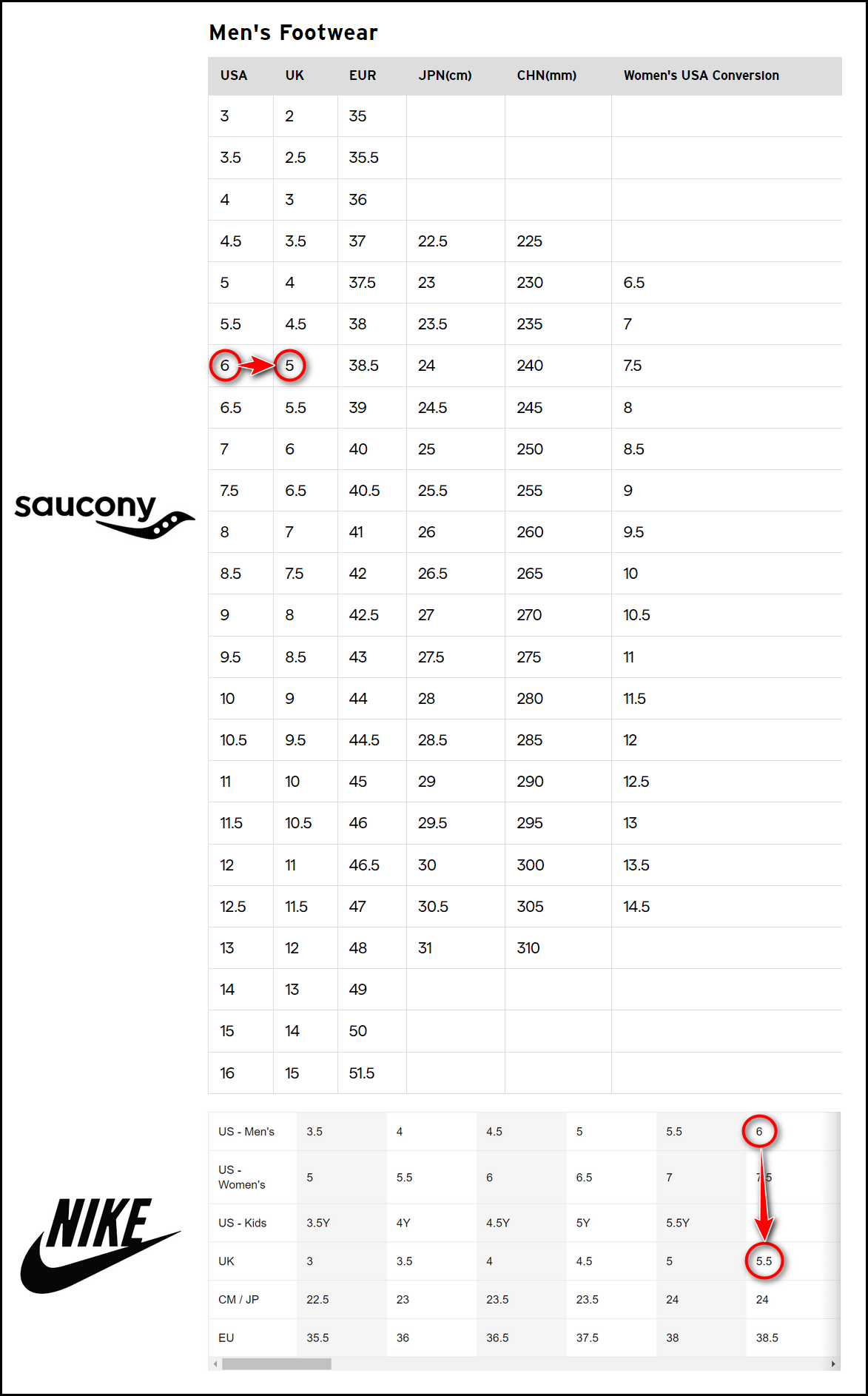 And now, in terms of width, both brands have their medium and wider sneaker versions. But, if you have wide feet, Nike shoes may feel slightly narrower than Sauconys. And after researching for thousands of hours and from my own experience, I found out that– with Saucony, you need to go down half a size than your standard one.
For example, if you wear size 11 with Nike, then go for size 10.5 with Saucony.
So, choose the size carefully while purchasing. And, trying the shoes out before buying them, will help you to get the perfect fit.
How Nike And Saucony Shoes Should Fit?
An imperfect fitting or sizing of shoes may hurt your legs or ruin your activity. So, it's crucial to choose the right-sized shoes when buying a new one.
However, to get the right size, you must know the size difference between the brands you are thinking of switching. And as for Nike and Saucony, they also differ to some extent.
So, let's acknowledge how Nike and Saucony shoes compare in terms of fitting:
Which One Fits True To Size?
Usually, both Nike and Saucony shoes fit true to size, but there are exceptions as well. As you know, how the shoes will fit also varies with each model.
However, according to many users, Nike models run a little narrower than the Saucony ones. Though most Nike models like Nike Blazers are true to size, some wider ones are there too. For example, Nike Tanjun, Pegasus, Air Monarch IV, and Revolution 6 run a bit wider than others.
And in the case of Saucony, they also run true to size but offer wide models like Endorphin Speed 3, Men Tempus Wide, Triumph 20, Men's Omni Walker, and Men's Integrity Walker 3.
Note: Saucony also has some extra wide models too, like Men's Echelon 9 Extra wide and Men's Echelon Walker 3 Extra wide. And they will give a comfy and snug fitting to your super wide feet.
However, like most sneaker folks, you may also tempt to buy bigger shoes that feel comfy to wear at first. But, if you are an athlete, you must go with the size that fits you snugly. A snug fitting will secure your foot movement inside the shoes, no matter how vigorous activity you do wearing them.
So, while switching between Nike and Saucony shoes, you should buy the ones that give you a cozy fitting.
Which One Runs Narrow?
While comparing both Nike and Saucony shoes regarding the sizing, I found out Nike shoes run a little narrower than Saucony shoes. So, if you are shifting to Saucony from Nike, go at least half a size down from your normal size.
Most of Nike's models like Huaraches run small and are already a bit narrower. Despite this, they also offer dedicated shoe lines for customers with narrow feet.
For instance, Air Zoom Pegasus 37, Epic React Flyknit, Lunar Guide 2 Flywire, and other flyknit and flywire shoes are made smaller to secure a snug fit to your narrow feet while running.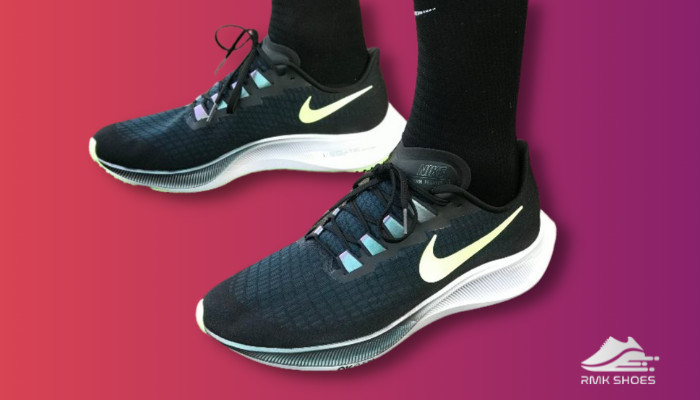 However, unlike Nike shoes, Saucony doesn't offer a dedicated narrow shoe line for men. But don't get too upset with your narrow feet, as you can easily go with a half-size down with them to get a perfect fit.
Although for the women, they do have a narrow shoe line like Women's Integrity Walker 3 Narrow.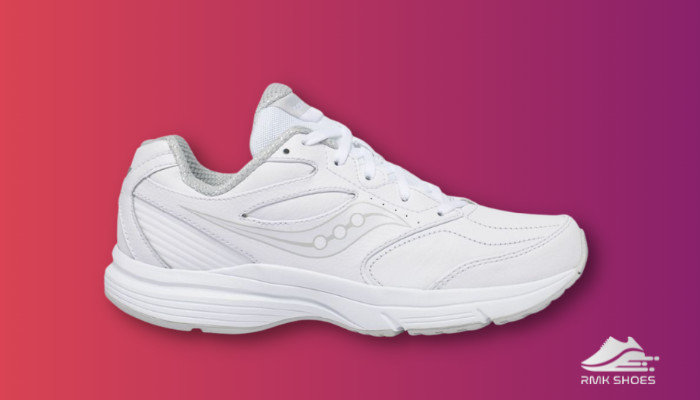 Which One Is Good For The Wide Feet Between Saucony And Nike?
While purchasing a running shoe, It's quite irritating when you can't find the right size for your extra wide feet. Then, how to choose shoes of the right width for your wide feet? Let's get a closer look at it.
As suggested by most Saucony and Nike users, Saucony is a good option for wide feet among the two brands. This is because Saucony's shoes are usually wider than Nike's.
But it is also possible to find wide Nike shoes in case you still wanna go with the brand for your wide feet. Well, that's because Nike actually offers wide shoes for large-footed customers. For example, shoes like Nike Air Zoom Pegasus, Air Max, Air Monarch IV, and VaporMax are wider than the other models.
Yet, as the models are quite limited, there's a chance that you might not get the wider version of your favorite Nike model.
However, in the case of Saucony, though all their shoes are pretty wide, they also offer a wide and extra-wide version of their models. But just like Nike, Saucony's wide models are limited as well.
Though Saucony may feel comfier to wide feet than Nike, you can look for your favorite shoe model in any of the two brands as you like.
How To Get A Perfect Fit With Nike And Saucony?
If you wear an ill-fitted pair of shoes constantly for a long time, you may end up with unbearable leg pain, injuries, or even foot conditions. So, it's very important to choose the perfect shoe size while buying.
However, no matter whether you wanna buy shoes from Nike or Saucony, you better consider these things to get the right fit:
Try before you buy: While buying new shoes, you must try them out with your regular socks on. This will help you to determine which shoes fit you perfectly. You may walk, jump or run wearing them and find out how comfy they feel on your feet. And, obviously, get the ones that feel better.
Get the measurement: Measuring your feet from time to time before buying can help you to secure a perfect shoe fit. You should update your feet' measurements because the ligaments of feet tend to loosen over time.
Hence, don't use the previously measured feet size to get the right fit.
Wear socks: you can wear thick socks with your sneakers if they are a bit large for your feet. Pairing socks with loose shoes will give you a snug fit by seizing the extra space.
Don't guess the size: Don't buy shoes just by guessing the size. Instead, measure your feet before buying. To check if my shoes are good to go, I simply use the thumb rules. And it works for me every time.
By bearing these easy techniques in mind, you can find your perfect shoe fitting without any difficulty.
Final Thoughts
Choosing the ideal-sized shoes will provide you with ultimate comfort while saving you from injuries you may get with an ill-fitted one.
However, to find the perfect size from two famous brands– Nike and Saucony, this article will help you to the end. So, buy your next pair wisely, while keeping in mind all the info about both brands I've mentioned earlier.
Comment below if you got more queries in your mind. Happy Choosing!