Don't wanna wet your leather boots after rain? Whether it's winter or summer, Muck Boots are there to save your day.
But what about their sizing? Before investing, you must know if they offer an accurate size option.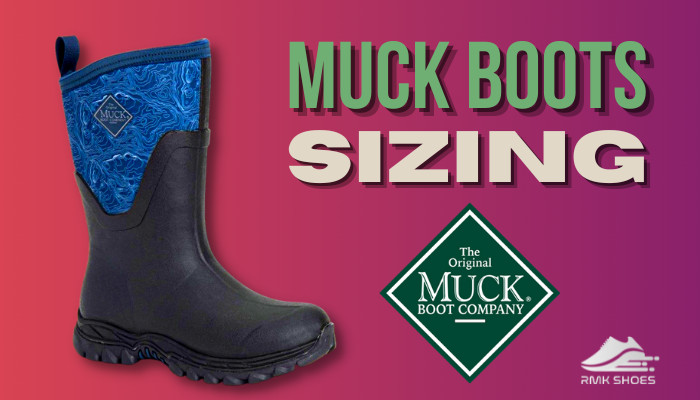 In this write-up, you will get the proper idea about Muck Boots sizing and tips to get a proper fit.
So, stay put.
Muck Boot Sizing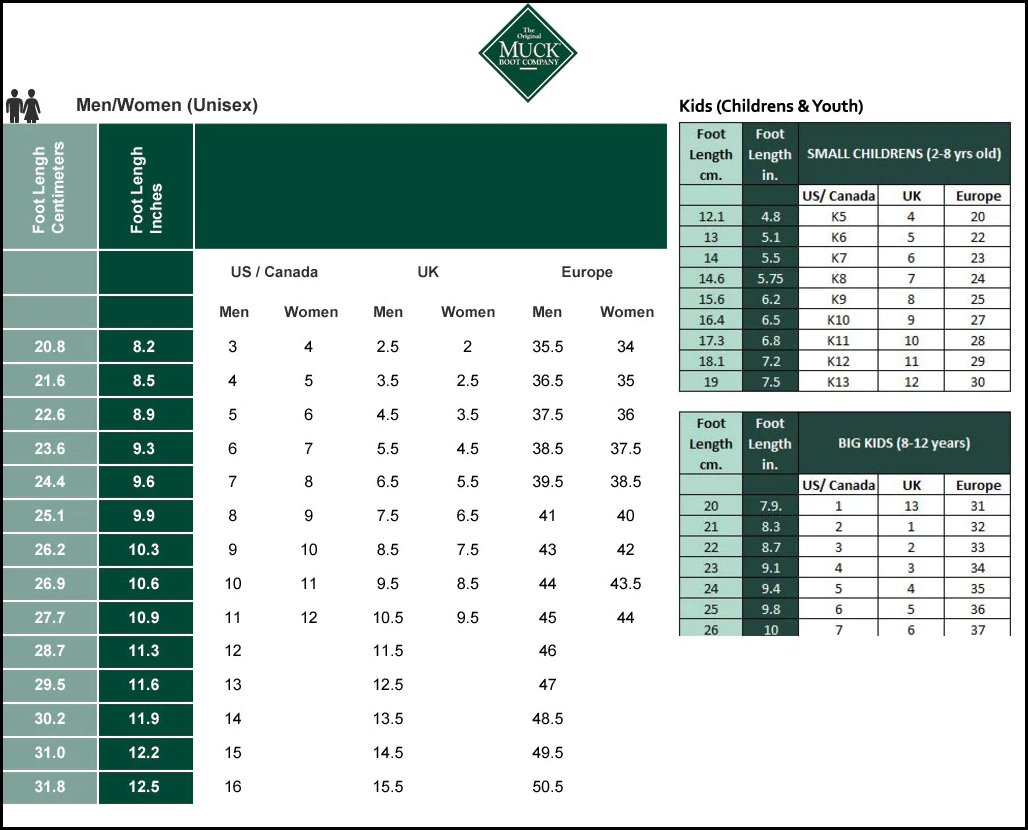 Muck boots come in full sizes, but there is a 15 mm toe allowance built during the manufacturing process. For men with half feet sizes, buy the next size up and for ladies, get the next size down.
The best part, Muck boots have many of their best-selling pairs for both women and men, which are called unisex shoes.
My sister's long-cherished wish was to wear gender-neutral boots. So I ordered a Unisex Forager Convertible Boot for her. From the men's size chart, I choose one size down for her, and the pair fits just fine.
My younger sister has the Kids Element Boot. One thing my mother kept in mind while shopping, is that kids grow up before you even notice. So, she bought one size bigger and my sissy has been wearing them for a year now.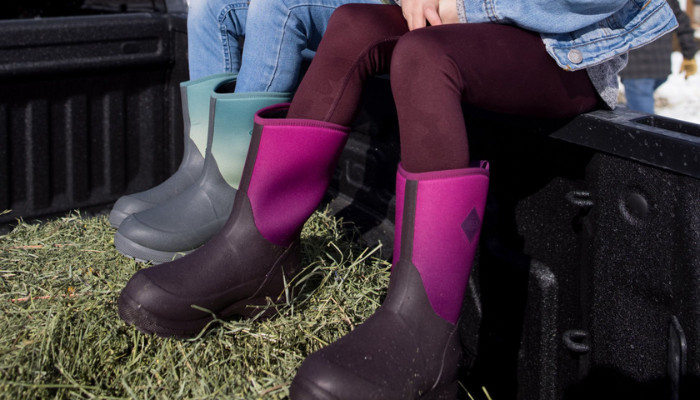 This particular model is available in little kids sizes from 8-13 and big kids sizes 1-7.
To get your baby the exact size, check the kid's sizing chart i am giving beneath.
Another boot I bought recently is the Red Wing Boots. The sizing guide of Red Wing Boots were a great help to get the proper fit for my tiny feet.
How Should Muck Boots Fit?
Your Muck boots should fit you ideally. This means you will have room in the toe box for the extension of your foot. And in the meanwhile, your heel will have a snug fit without the tension of slipping.
So to get a proper fitting, you may have to size up or down, but it's not an issue.
Muck boots offer various sizes and make sure you are getting what you came for. My aunt, for her daily outdoor chores, got a pair of Women's Arctic Sport II Ankle Boots, and they fit her medium-width legs perfectly.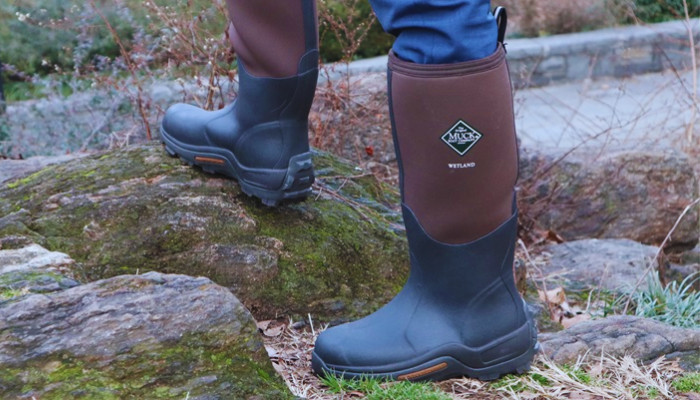 She is a fan of cool weather lining and the traction these comfy boots provide.
Not only just outdoor boots but also your work shoes also need to fit in such a way that you will get proper support and comfort.
Tips to make sure your Muck Boot fits well:
Make sure to try out different styles and sizes before buying.
Find a comfortable pair and wear that for a while and make sure they don't become loose over time.
Try another size or model, if the boot you are wearing starts to feel loose.
Wear the boot with and without socks and determine which way is cozier for you.
Do Men's Muck Boots Run True to Size?
Yes, men's Muck Boots run true to size. So, you don't have to worry about the measurement, as the size guide of this company is quite effective and to the point. If your foot size is in between, all you need to do is order one size up.
Most men are concerned about their wide feet. The manufacturers also paid attention to this problem and used Neoprene for the stretch after a few uses.
One thing you should remember is that size and fit are not the same. Your fit depends on the style and design you are choosing.
For example, a laced shoe will give you a customized fit. But without lacing, the same size can be loosely fitted for you. So, be cautious and try on your boots before purchasing.
Because there will always be confusion for big brands such as Adidas, if they are true to size or not.
Do Muck Boots Come in Half Sizes?
Yes, for those who are in between sizes and don't want to go a full size up or down, Muck Boots have a half-size option to ensure them a perfect fit.
Sometimes going a size bigger can cause foot issues like blisters and pain.
In such situations, choosing half sizes are wise. My brother owns the Outscape Low, this slip on shoe comes in half sizes and is an excellent pair for regular use.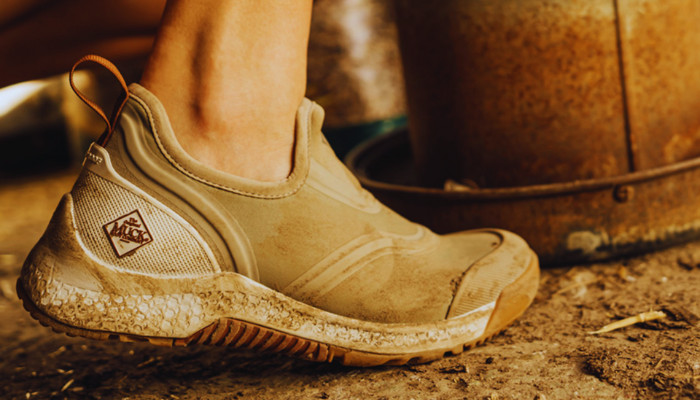 Plus, you don't have to worry about the quality or building materials, as Muck Boot manufacturers take pride in their building process. So, you will get the same materials, and features don't matter whatever size you pick.
Note: Only Men's shoes come in half sizes, so be aware of that if you are looking for the same in the women's section.
Moreover, like slip-on shoes and boots if you need a properly fitted sandal, make sure you check whether your favorite pair of crocs come in half sizes.
Do Muck Boots Fit Wide Feet?
Yes, Muck Boots fits wide feet perfectly. The manufacturers made sure to keep a standard width and the materials of your boot will stretch even up to EEE. So, don't worry about the snug fit at first, it will expand later and make room for your toes to move easily.
However, if you have narrow feet, the extended interior of your boots can be a bit uncomfortable.
In that case, wear a thick pair of socks or use sock liners to fill up the extra space.
My brother-in-law has huge feet so, before getting his first pair, he made sure his Muckmaster Wide Calf offers wide options or not.
Also did the same while buying his Nobul shoes whether they are good for his wide feet. It saved him time and money.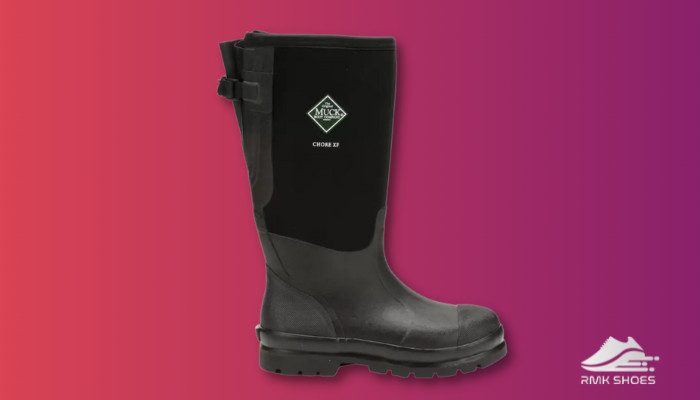 On the other hand, my sister wears her husband's Muck shoes with double-thick socks, and she also puts insoles to fit her correctly. Creative!
How To Choose the Right Size Muck Boot
To get the perfect fit, there is no alternative to the right size boot. So far you understood, Muck Boots come in various sizes and options. So, you need to choose the pair according to your feet's measurements, not based on eyeballing.
To measure the size of your feet, you will need,
A piece of paper.
A pencil.
Ruler.
Cello tape.
Let's see how you can find the right-sized Muck Boot:
Place a piece of A4 paper on the floor to start the scaling process.
Wear socks if you wanna pair socks with your boots.
Place your feet on the paper firmly with your heel touching the floor and make sure you are standing on both feet.
Trace your foot's outline exactly. Have someone help you with a proper measurement, as the pencil can tilt, and the lines can come out inaccurate.
Repeat the same process with your other leg the same way.
Finally, compare your taken numbers with the size chart from Muck Boots, and you will get your perfect fit.
Another easy way is to draw a line behind your heel and another in front of your longest toenail.

You can take your measurements either in inches or centimeters, but be ready to convert them from one unit to another because the sizing charts may vary.

It's common that your one foot is longer than the other, so use the longer foot to measure. 

Also, if you are buying Muck boots for a child, keep in mind they grow up very fast, so getting a larger size will be helpful in the long run.
Final Words
Muck boots are a great option for your heavy outdoor duties, and you will find them in all sizes, including the half-size options for men.

Though women don't get to choose the sizes in between, the issue can be resolved by getting one size smaller boots.

This is everything about the sizing of Muck Boots and the solution to particular issues. Thanks for engaging.