Hey Dude, or Sanuk? Sanuk or Hey Dude?
Confused which one to choose from?
Not anymore! I am here to clear all your doubts.
Hey Dude and Sanuk may be very good brands for slip-on shoes, but each has some pros and cons that make them the best of the other.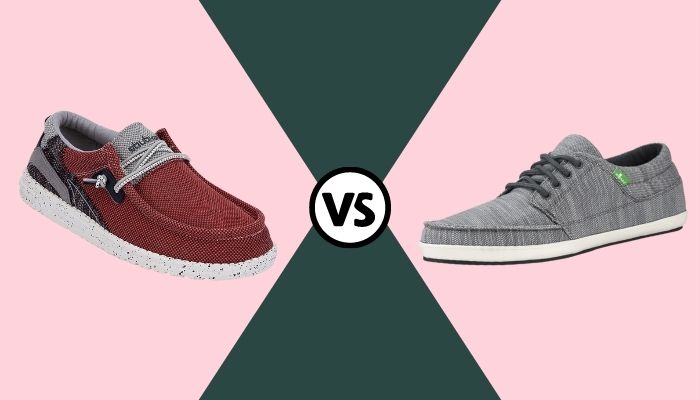 That's why I have done a thorough study on Hey Dude and Sanuk shoes and found their differences and similarities, which I have revealed in this article.
Make sure to read the entire article so that you can make a wise decision at the end.
So, let's get started.
Hey Dude Vs Sanuk: Key Differences
Now that you've learned about the similarities between Hey Dude and Sanuk let's look at their contrasts.
There aren't many significant variations between them, but whatever there are will assist you to differentiate between the two brands.
Stitching
Hey Dude and Sanuk are sewn quite differently, and if you don't know, the stitching method also impacts how robust the shoes will be.
The upper of Sanuk shoes includes double-reinforced stitching, which not only makes the shoes endure longer but also prevents water from entering the shoes.
Hey Dude shoes, on the other hand, Hey Dude shoes lack this specific stitching, making them less durable than Sanuk shoes.
However, the stitching on Hey Dude is quite tidy and professional, so they don't appear to be significantly different.
Check out our separate post: 5 Cheaper Alternatives To Sanuk Shoes.
Support
Talking about the foot support, Hey Dude shoes come out on top. It's not that you will frequently stumble wearing the Sanuk shoes, but your feet will be in discomfort.
Sanuk shoes feature very low and flat arches, which might be uncomfortable for feet with high arches. Furthermore, there is no lining in the heel area, which pinches and chafes the ankle and heel.
Hey Dude, on the other hand, is not in this category. Hey Dude shoes include a memory foam insole with high arches that hugs the arch of the foot and avoids discomfort.
They also feature comfy liners inside the shoes to prevent your feet or ankle from scratching.
Insole
Sanuk's shoe insoles are not detachable, but Hey Dudes are. This can be a severe issue for persons with high arches, as Sanuk insoles are flat and not removable, so you cannot add orthotic inserts.
Meanwhile, Hey Dude is brilliantly designed with a high-top and detachable insole, allowing you to modify the arches to your liking.
Furthermore, because the insoles are removable, they may be cleaned when they get dirty.
But then again, Sanuk shoes are excellent for flat feet, whereas Hey Dude might be problematic.
Fitting
Both Hey Dude and Sanuk say that their footwear fits true to size. While Sanuk fits true to size, Hey Dude does not. A slew of buyers complained about Hey Dude's size.
Some Hey Dude styles run small or large, making it challenging to select the correct size.
As a result, always choose a size that fits your foot snugly, neither too big nor too small. If you're in the in-between of a size, go up a size to get the best fit.
Follow our guide to know Sno Seal VS Obenauf's.
Hey Dude Vs Sanuk: Similarities
Don't Hey Dude and Sanuk have a similar look? Not only do they have a similar appearance, but they also share a few features in common.
Let's have a look at the similarities between Hey Dude and Sanuk:
Comfortable and Lightweight
Hey Dude and Sanuk shoes are everyone's favorite because of their high-level comfort. The secret of their immense comfort is hidden in their insole.
Both Hey Dude Sanuk and Sanuk feature an EVA footbed in their shoes, which has a number of advantages for the feet.
EVA footbeds are highly flexible and provide great shock absorption, giving your feet a cushioned feel and allowing you to wear your shoes for longer periods of time.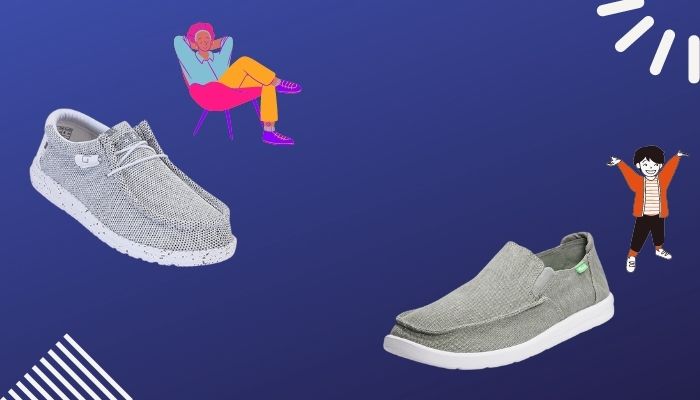 Because both soles are constructed of incredibly soft and flexible EVA foam, they are lightweight. Hey Dude, and Sanuk shoes weigh no more than 6 ounces so that they won't add heaviness to your feet.
You may also like Training Shoes Vs. Running Shoes.
These ultra-lightweight shoes allow your feet to work more efficiently without tiring them.
Not to add, Hey Dude and Sanuk are excellent shoes for hot weather since they enable air to circulate within the shoes, keeping your feet fresh and sweat-free.
Material
No, Hey Dude and Sanuk are not made from the same material; however, the properties of each material have very similar functions.
Hey Dude is produced from recycled fibers, including plastic and garbage from the environment. Hey Dude has done a great initiative to decrease environmental trash and transform it into something helpful.
Sanuk shoes, on the other hand, are constructed of hemp. Sanuk shoes are organic and cruelty-free since hemp fabric is manufactured from the cannabis Sativa plant.
Though Hey Dude and Sanuk's shoes are made entirely of natural recycled materials, they are quite durable and may last a long time.
So, if you're seeking vegan shoes, go no further than Hey Dude and Sanuk.
Check out my new post Wolverine Buccaneer VS Raider.
Waterproof
Hey Dude, and Sanuk says their shoes are waterproof. But after reading reviews and testing them for myself, I discovered that while you may wear Hey Dude and Sanuk near water, they will not keep your feet dry.
Please keep in mind that suede and leather can be ruined in water; therefore, don't wear suede or leather fabric shoes in the water, whether they are Hey Dude or Sanuk.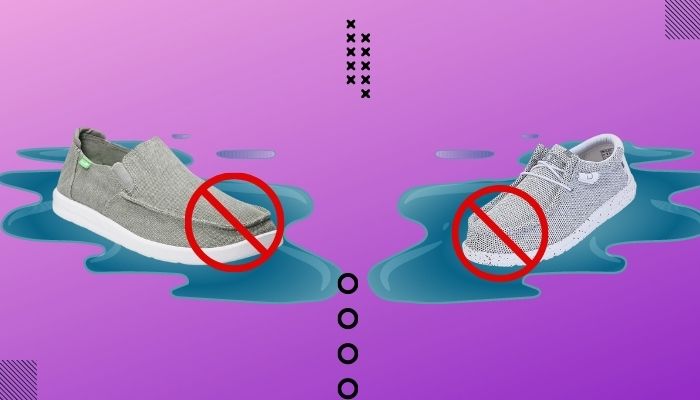 So, why do companies advertise that their footwear is waterproof?
Hey Dude and Sanuk are more water-resistant than waterproof if that's what you want to call them. Because when you wear them in deep water for a lengthy period of time, the shoes, as well as your feet, become wet.
Easy to Wear
Both the shoes are very easy to wear; just slip on the shoes, and your feet are safe and secure for the day.
Hey Dude uses elasticated laces to adjust the fitting of the shoes, while Sanuk includes elastic at the tongue area.
Because of the difference in the lacing system, the shoes may appear to be different.
However, in terms of functionality, the laces and elastic tongue serve the same purpose: keep the feet in place and prevent them from slipping off the shoes.
Do check our latest post on the Tony Lama VS Lucchese.
Hey Dude VS Sanuk: Which One Should You Choose?
Did you go through all the differences and similarities between Hey Dude and Sanuk? Assuming you did, which brand did you find to be the best?
If you ask me which is the best, I'd say they're both excellent because Hey Dude and Sanuk have unique characteristics that make them the best individually.
The final decision is yours. If you have high arches, go with the Hey Dude shoes; if you have flat feet, go with the Sanuk shoes.
For durability, Sanuk is better, while to enjoy immense foot support, Hey Dude is preferred.
So, select the one that best suits your needs in order to get the most out of the shoes.
Parting Thoughts
Whatever brand you select, I assure you won't be disappointed since Hey Dude and Sanuk are excellent shoe brands that provide maximum comfort.
I tried to include all of the details about both brands so that you could effortlessly determine which one to choose. So, tell me in the comments which one you're going to buy: Hey Dude or Sanuk, or both.
Best of luck!