If you own a pair of shabby boots and are in dire need to clean them but don't know how to clean and what to use, you have landed on the correct page because this article will answer all your questions.
Boots are meant to look posh and enhance your outfit, so why to compromise with them. To maintain the appearance of the shoes and to clean them saddle soap can be a great pick.
If you are unknown what saddle soap is and how to use it to clean the boots, then continue reading this article because here you will find all the spectacular ways you can quickly get your shoes cleaned.
Follow our other guide to know Are Tactical Boots Slip-Resistant
What Is Saddle Soap Made Of?
Saddle soap is a soap which is mainly made of lanolin and beeswax. Most of you are familiar with beeswax, but those who don't know about lanolin are also a waxy material that expels from wool-carrying animals like sheep. There are different types and variations in saddle soap with other brands, but the essential ingredients lanolin and beeswax will be present.
Saddle soap is used in cleaning boots because it contains all those ingredients which help to condition the shoes and keep them moisturized, preventing the shoes from drying. The saddle soap works as a conditioner, but it also kicks off any dirt or mud from the boots. To achieve a polished look from the shoes, you can use saddle soap without any hesitation.
Along with boots, you can also use saddle soap on leather jackets, trousers, belts, and shoes. Saddle soap is a magic product to revive the look of your old and shabby stuff.
But before that, you check out why are Lucchese Boots So Expensive
How To Cleanse Boots With Saddle Soap?
Now that you know all the deets about saddle soap, it's time to know about its usage. So let's learn how you can use it to clean and condition your boots. Well, it's pretty straight forward!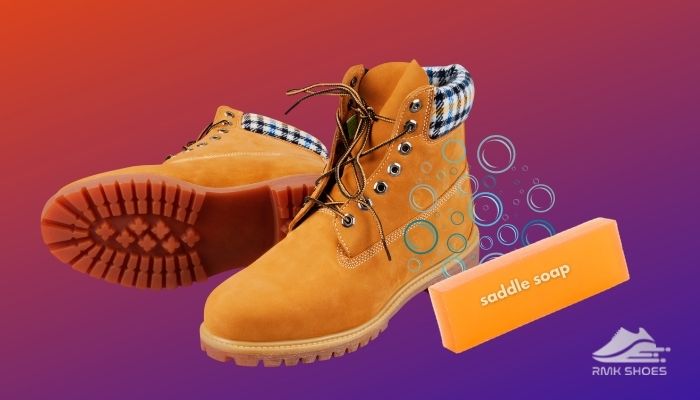 Things you'll need:
Two pieces of cloth(one for washing and one for drying)
A polish brush
Sponge
A pot of water
Saddle soap
Any conditioner if you want to use
Here are the steps of wiping boots with saddle soap:
Before you jump on to use saddle soap, you have to clean the boots first. Unclean boots will not let the soap to absorb in. Start by brushing the shoes; brushing will remove the excess dirt and lift embedded dirt if there is any. You can also use a toothbrush in areas where the polish brush's bristles cannot reach to remove the dirt and mud.
Take a clean cloth and wet it with clean water. Wring out the extra water, you should not soak the fabric entirely in water; rather, it should be damp and wipe off the boots' surface.
Take a sponge or cloth and apply little saddle soap on it. In dabbing motion rub the soap on the surface of the boot. It is better to divide into sections while using saddle soap. When you rub the soap on the boot, you will see the soap starts to disappear; that is, the leather boot absorbs the soap. Evenly cover the entire boot with the soap.
Remove the excess soap from the boot with a dry cloth.
It's time to dry the boots so that all the products get soaked in. Keep the shoes in a well-ventilated place and let them dry overnight or once they are completely dry. Do not place the boots in direct heat or sunlight. Too much exposure to heat can make the shoes cracked.
When it is dried, take a moist cloth and clean the boots. For shine, you can polish the shoes.
For extra protection, you can apply water-repellent spray on the boots, which will prevent them from getting wet. Saddle soap itself contains conditioning properties, but if you want to condition the boots furthermore, you can use good quality leather conditioner. Conditioner will make sure the shoes are moisturized and prevent any cracking.
You are done cleaning the boots.
Follow our guide to know Are Tactical Boots Good For Snow
How To Wash Leather Boots With Saddle Soap?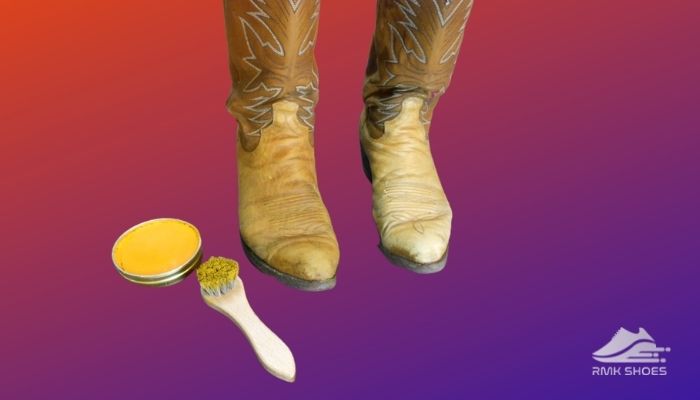 The cleaning process of leather boots with saddle soap is precisely the same that I have discussed earlier.
Take a clean cloth and rub saddle soap in it until lather forms. Rub the lather into the leather boots; make sure you brush off the dirt and mud. Now let it sit overnight for drying.
Wa-lah! You are good to slay in your boots.
But before that, go through our epic guide how to Break-In Cowboy Boots
Best Saddle Soaps For Shoes
You are in luck in this case because there is a wide range of saddle soaps in the market. You can choose your desired one or the one which suits your boots. Below I have discussed some saddle soaps which may help you in selecting the right one.
Kiwi Saddle Soap
The most quality-full saddle soap is the Kiwi saddle soap. The soap contains wax of top-notch quality. The high-quality wax not only makes the boots waterproof but also make them stain-resistant. The soap keeps the pore of the leather clear by stopping any dirt or salt particle from settling in.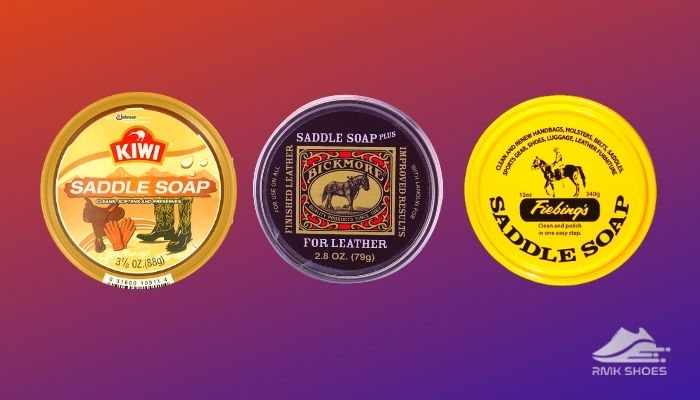 Kiwi saddle soap contains ingredients that have essential oils in it, which nourish the leather. Moreover, if your boots are old, the soap can make them retrieve their authentic look and regain the shine on it.
Kiwi saddle soap removes any embedded dirt or mud from the boot's surface, making the shoes' texture soft and supple.
The cherry on top is that Kiwi saddle soap doesn't leave any residue on the boots, whereas some soaps don't flush away on their own, making the leather weak.
Check out our separate post on Clark Desert Boot Sizing
Bickmore Saddle Soap Plus-With Lanolin
Bickmore saddle soap is made with lanolin and neatsfoot oil, which are great ingredients for keeping the boots moisturized. It cleans away any dirt particle, mud, and salt stains from the boot.
The soap keeps the boots soft and gives the surface a smooth finishing.
Bickmore saddle soap works best when used along with Bick 4 leather conditioner. The conditioner rehydrates the leather preventing them from drying.
Do not use Bickmore saddle soap on suede, uneven, or napped leathers.
Fiebing's Yellow Saddle Soap
Fiebing's yellow saddle soap is the best in case of cleaning. The soap cleans the boot in such a way that there is no trace of dirt.
The soap contains some ingredients which increase the strength of the leather and makes it soft and supple.
Due to excessive wear or exposure to heat, boots tend to become dry and fragile. Fiebing's yellow saddle soap can remove the boots' fragileness and dryness, keeping them soft and moisturized.
Pros And Cons Of Saddle Soap
Saddle soap is the best nutrition for boots only when you use it correctly.
Below are the pros and cons of saddle soap:
Advantage
»

Without any doubt, saddle soap changes the look of shabby old boots by regaining their charm.

»

Condition and keep the boots moisturized by providing the boots with enough nourishment.

»

Prevents boot from over-drying and decrease the fragileness.

»

Saddle soap increases the longevity of the boots.
Cons
»

Do not use saddle soap too frequently on the boots. Instead of doing good, it will damage the shoes. Use saddle soap once two to three months for deep cleaning.

»

Always use a little amount of soap. An excessive amount of saddle soap can kill the charm of the boots and make it look dull.

»

Do not use saddle soap only; always use a leather conditioner after using saddle soap to moisturize the boots.
Frequently Asking Questions
Is saddle soap bad for leather?
To clean and condition the leather saddle soap is a great choice. Saddle soaps are very cheap and almost used by everyone. But saddle soap is not an everyday use product because it is highly alkaline, which can ruin the leather and make the leather color dark. Use the saddle soap once two to three months.
Do you wash-off saddle soap?
You don't need to wash off the saddle soap; instead, you have to wipe it off with a damp cloth. Take a bowl of warm water and wet a clean cloth and wring out the excess water. Now wipe the soap with the wet cloth. Let it sit overnight so that the soap dries out.
How often should you use saddle soap?
You can use saddle soap for deep-cleaning boots or other leather materials. Do not use saddle soap too frequently. Use it once two to three months.
Conclusion
Now that you know all the information about a saddle soap and know the using process, why waste time? Buy any saddle soap of your favorite brand and deep-clean your boots; make sure to remember the dos and don'ts while cleaning.
We tried to add all the necessary details in this article, and we hope it will help you achieve a clean pair of boots.