While looking for a comfortable work boot, both Chippewa and Redwing have their own specific qualities.
For workers, it is very mandatory to have footwear that would provide comfort along with durability and flexibility. But, both of these boots are so similar that it is quite tough to differentiate between them.
So, when you are going to look for work boots, both of these can be a proper choice, but still they have their own variety.
Which one should you get?
Well, I  am here to provide you with the latest practical information so that you can find a pair of boots according to your preference.
By the end of article, you'll know specific details about these two work boots and enjoy your work time tension freely.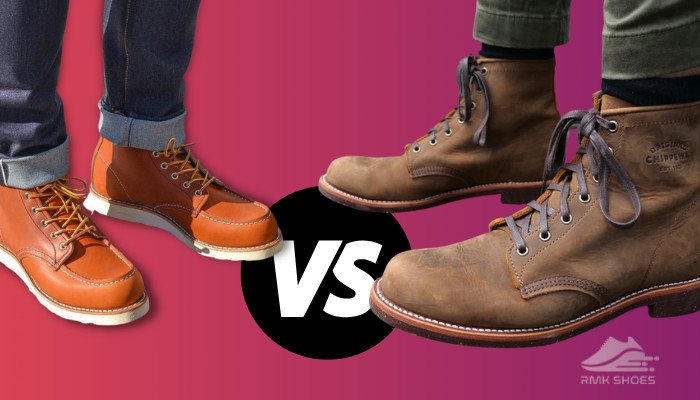 The History Of Chippewa Shoe Brand
The brand Chippewa was established in 1901, targeting the vast population of workers like loggers and engineers as they work a long time. They were focused on making durable boots that owners can wear for a vast amount of time and will provide ultimate comfort.
Still today, Chippewa is maintaining its motto of making high-end working boots which have made them one of the top boot makers around the globe.
Also, follow our epic guide to know Red Wing Boots vs. Georgia Boots: Which Is The Best For You?
In terms of pricing, they are second to none. From the beginning till now, they have maintained a reasonable price point.
Due to their budget-friendly option, it is quite easy to buy them. Most workers can not provide highly-priced work shoes, and in this sector, they have made it budget friendly for everyone.
The History Of Red Wing Shoe Brand
The Redwing manufacturers have been offering the best quality materials possible since 1905. The finest fact about Redwing is they have their own source of quality materials.
They are offering a vast variety of durable footwear.
As Redwing are confirming the best quality materials, their shoemakers are designing each pair with care and perfection. They can be a bit pricey but worth the cost too.
This is the main reason even today they are on the market with their old glory, shining more brightly than ever.
Chippewa Boots Overview
Chippewa boots first became known as service boots as they have similar features. The use also depends on what type of work you are going to do wearing these pairs. Mostly they are used for fieldwork.
Qualities of Chippewa Boots
Chippewa boots serve a more minimalist look than other work boots. They have more of a simple service aesthetic.
Here are the qualities Of Chippewa Boots you should know:
Comparatively slim.
Has a plain toe, 6 inches tall.
The outsole is quite a grip to it.
The midsole is made out of cork.
The insole has a leather interior.
Good shock absorption quality.
Check out our separate post: Red Wing Boots Sizing Guide
Different types of  Chippewa Boots:
Here you are being introduced to top Chippewa boots available in the market. This list is sorted based on its prices, quality, and durability.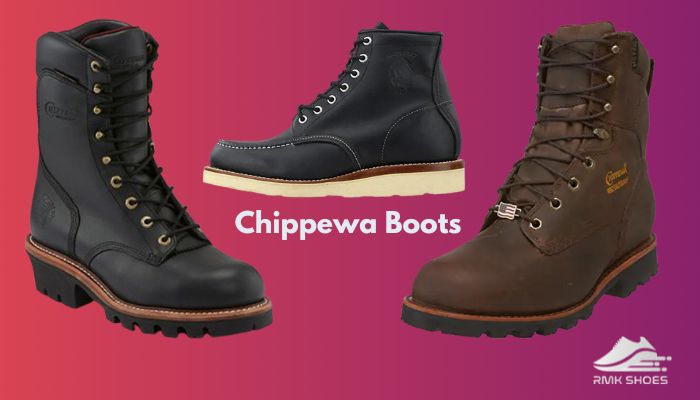 Here are  the 5 types of  Chippewa Boots:
The service utility Chippewa boots feature a lace-up design with contrast topline piping. They are made of rich chocolate-colored leather, and these are functional with a plain toe.
These are excellent flight-duty boots for warmer weather.
Chippewa Waterproof Boots
Chippewa waterproof boots have a classic black polished leather exterior. The absorbing rubber midsole saves the feet from electricity, and at the same time, they have inside cushioning for optimum comfort.
Chippewa 8 –inch waterproof insulated boots are made of 100% leather with a synthetic sole. They have a classic leather finished look.
They have waterproof technology to keep your feet dry.
These lighter shoes also use synthetic soles. They are made of premier raw material and superior craftsmanship to ensure performance, quality, and durability.
These shoes are highly recommended for those who work on construction sites.
Chippewa 6- inch Handcrafted Boots
The lace-up shoe features a contrasting midsole. They may not be the top quality but the company made sure they do not break so easily.
They offer superior comfort, durability, and style. Overall they are just what you need to get by on any tiring work day.
Follow our guide to know Red Wing VS Caterpillar: Who Makes The Best Boots?
Overview of Red Wing Boots
Red Wing brand is well known for their best quality of materials and more fashion appeal. With these features, they are giving their work benefits better than before.
For people who are looking for boots that can work both as working footwear and something to wear while not working and still can be seen polished, the name Redwing comes on the top.
Recently the company has expanded its collections and is now producing Oxfords, Chukka, and Hiking boots that are more in style.
Qualities of Red Wing Boots
About the quality of Redwing, it can be said with closed eyes that this boot is worth every penny. Let's take a look at the features. The qualities are so far outstanding
The sole is made of crepe
Oil-tanned leather
Grippy Vibram
Variations of color
Different Types Of Red Wing Boots
Though these boots don't have many variations, still their fame is spreading like fire.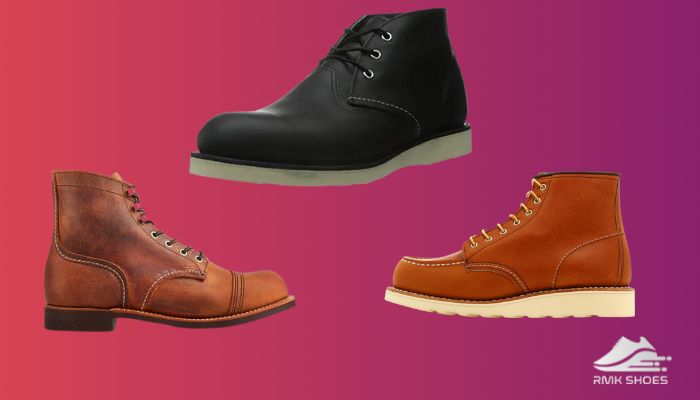 Let's take a look at the types:
This particular style was originally designed in 1920. The double-toe cap has added an authentic styling to it. Its outside heel pocket provides stability.
The leather softens with age and saves from the harsh weather.
Right from the box, it has pretty good flex, so you do not have to worry about breaking it. Moreover, these classic boots are reliable.
The construction of the boot gives well protection, not to mention the quality of leather.
You may also like to read: Red Wing vs Thursday Boots
Red Wing designed these prioritizing hunters and outdoorsmen, but it gained popularity with factory workers and workers from construction sites too.
The most attractive factor about these stylish boots is the rugged heritage looks. It has chrome tan leather with lots of oil infused into it to provide a waterproofing feature.
The heritage-style tanning is also being used here to give an iconic look.
There are also some rugged Red Wing boots:
Rugged style
Leather toecap
Nickel eyelets
Redwing Boots For Women
The variety of women's boots are uncountable. However, now it is clearly seen that more and more women are getting interested in purchasing boots that are mainly designed and used for ages by men and men only.
Redwing has launched its female editions recently for women who have to work long hours. Let's take a tour, shall we?
For women who want to present themselves and still wear a versatile pair, 7-inch boots are their first pick. Their classic sleek buckle design is suitable for both work and play purposes. So, it clearly kills two birds at once.
Waterproof Insulated Logger Boot
With a secure lacing system and 100% upper leather, this design is more robust. The most popular fact about this boot is that it is fashionable yet super functional.
Clara boot is a statement pick. This boot is not for functionality or work purposes. The main use of this boot is to elevate the look of the dress.
It has a black rubber outsole for traction. The most attractive feature of this boot is its faux-wood texture.
This particular style is pretty similar to the men's version of Iron Ranger. They have the same rugged style. The double toe cap has its elevated look along with the outside heel pocket.
Also read our guide on Adidas Pure Boost VS Ultra Boost
What Are The Main Differences between Redwing And Chippewa Boots?
Along with the similar features, both these boots show some dissimilarities which are parting these brands away.
Let's dive deep into the differences:
Durability
With premium quality leather, triple stitching, and sturdy soles, boot lovers say that redwing work boots last almost a lifetime if maintained properly.
In the case of Chippewa boots, they also provide long-lasting materials. Their soles can be reattached. So, even when they are worn out, you can use them again.
Price point
In the sector of price, Redwing boots are on the pricier side, while Chippewa boots are more reasonable, which makes them more versatile and easy to purchase.
However, for many, the price range doesn't matter for getting the best quality boots as they are considered an investment.
So, you need to keep in mind that for a classic Red Wing, you have to pay some extra bucks.
Color
In terms of color variation, most buyers want to have various options. For example, when I am at a shoe store, I want to see the most options out there. I want to buy a pair that is versatile, and the color is up to my color palette.
The Redwing brand is reigning as they are offering the most variety of colors out there. In the meanwhile, Chippewa is offering their most classic color till today.
Check out our separate post: Are Tactical Boots Good Work Boots?
How Similar Are Chippewa And Red Wing Boots?
Along with the variations, both of these work boots offer similar features, which makes them quite tough to differ.
Here are some similar features I found in both of these boots:
Quality
In terms of quality, both boots offer similar aspects. Best quality leather is their main material. Their craftsmen make these boots from scratch.
Both of these shoes are quite durable. They have premium quality materials.
Materials
The main feature of both of these shoe brands is pure leather. Both have the best quality materials to offer. Especially with the Redwing brand, they source their own materials.
With a rugged Vibram outsole, Chippewa boots are 100% leather-made. They also have waterproof features.
Red Wing working boots are mainly made of oil-tanned leather, which saves the owner from stain, perspiration, and water.
Also, follow our guide to know Dansko Vs Crocs: Who Is The Winner
Design
When it comes to design, both of these boots have something to offer. Both have Vibram outsoles, cork midsole, and leather insole, and both offer lightweight quality.
For Chippewa boots, they offer simple, sophisticated looks on the other hand, for those who are more focused on the outlook, Redwing is their first choice.
Red Wing boots can be worn as a casual boot too, but with Chippewa boots, that is not an option.
Which One Should You Get: Chippewa or Redwing?
Boots are the kind of footwear that have been on the market for ages and still going strong. Some versions are becoming extinct, and some are coming back with their old glory. Boots are, without any doubt, a staple piece of possession.
When there are two products that have way too many similarities, it becomes pretty hard to choose among them. Both of these shoe brands are using premium quality materials to provide ultimate comfort, durability, and style.
Again, the manufacturers of these brands are offering products that are equally on trend and fashionable.
If you ask me about my personal opinion, the main reason is the price points of Redwing as they are on the pricier side and offer more color options. With Chippewa boots, the range is within the budget and has less color choice.
FAQ
Why did Chippewa heritage boots fail?
Chippewa brand discontinued their heritage style as they faced lawsuits for claiming the manufacturing process is all done in America, but they imported some materials. They lost their trust throughout the process.
Are Chippewa boots going out of style?
Boots from Chippewa are still favorable. Throughout the years, they have faced their ups and downs in the case of versatility and color. Their affordable price range is still keeping them going.
Do Chippewa boots have a warranty?
Chippewa boots offer excellent quality, but they do not give a warranty for worn-out soles. If used carefully, they are meant to last long.
Can women wear Red Wing boots?
Though for years, Redwing has reigned as a male footwear brand, nowadays, it's being popular among women as they are finding it worth investing in high-quality boots.
The Bottom Line
While you are choosing your pair, all you need to keep in your mind is your preferences. Both of these boots have their own specialized features, which is preferable for one but not for everybody. You will buy yours to satisfy your concerns.
I hope this article has succeeded in meeting your expectations. If you have further queries, feel free to ask any questions on your mind.
And don't forget to share your valuable opinion about buying boots.
Check out our separate guide to know Crocs Vs Yeezy Slides
For any further queries about Boots, stay tuned and keep an eye on our website.