Nike Air Force 1 is on the checklist of every sneaker lover for it's versatile use and design.
You can do various physical activities in these classic beauties. So, if working out is included in that criteria, is a common question who already owns a pair or wanna buy one for the first time.
If you are among those, I have got you covered.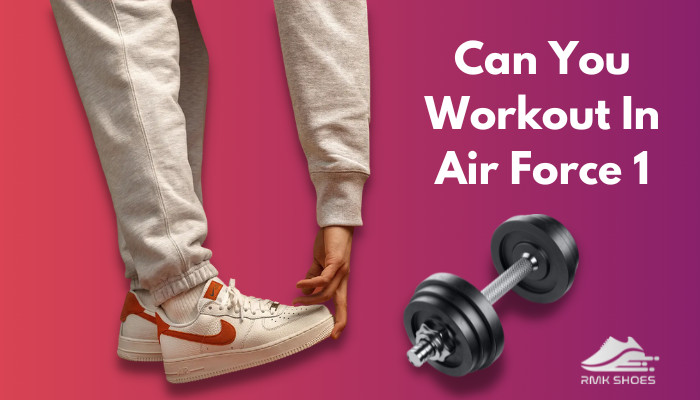 In this article, I am going to give you the information on if, along with so many activities, working out in your Nike AF 1 is a good idea or not.
So, my friend, stay tuned.
Are Air Force 1 Good For Working Out?
Yes, you can work out in Air Force 1, and they are actually a decent pair of sneakers to try in this sector. The chunky rubber sole and the cushioned midsole make them comfortable workout sneaker. Even for strength training, they are perfect.
You see, these all-white or all-black pairs can make good duos for your gym sessions!
So, if you're someone who wants to make their physical appearance along with the outfit, Nike AF1 is the one for you.
However, you must know Nike first made this sneaker for Basketball, so for activities related to quicker movements, AF1 is the right choice.
You can even do weightlifting and other low-impact exercises wearing them, as the rubber outsole is durable, and the cushioning they provide is comfortable enough to spread the weight properly.
Anyhow, you need to know that this shoe won't take much beatings like a runner or trainer. So wear wisely!
Check out our separate post to pick the best one between Jordan 1 Vs Air Force 1.
5 Reasons Why AF1 is Good For Gym
AF 1 is an outstanding piece of sneaker that blends well in almost everything. So, if you are planning to work out in these bad boys, you can.
This shoe can go through all the pressures you put through your activities. It's made that way to take all in! But still, you may not be convinced in open eyes.
Read through their outstanding features I'm going to point out and you'll understand my confidence on Air Force 1!
Here are the reasons why AF 1 is good for working out:
AF1 is Flexible Yet Durable
Working out includes a lot of flex and movements for both your body and shoes.
So, your footwear must be flexible and durable at the same time. Air Force 1 in that case, is flexible and durable for sure.
You can change your regular gym shoes with AF 1 a few times without hesitation. However, for regular exercises and active running, you probably wanna go for something more sturdy. Perhaps you should go for Nike Vapormax if it's for running.
Provides Breathability with Mesh Upper
When you buy shoes for exercise purposes, make sure you choose the upper material wisely. It's obvious that your feet will sweat during movements, and your footwear must have the proper ventilation system.
AF1 has perforation for airflow along with breathable mesh upper fabric, so you don't have to worry about smelly feet after the gym.
Air Force 1 Has Maximum Cushioning
For a workout shoe, cushioning is a major factor to focus on. You can always add targeted padding to your footwear to have more comfort.
I am not an intense gym person. I wear my AF 1 quite often for my light workouts, and the cushioning is to the point for me. It's not like you can't perform intense activities.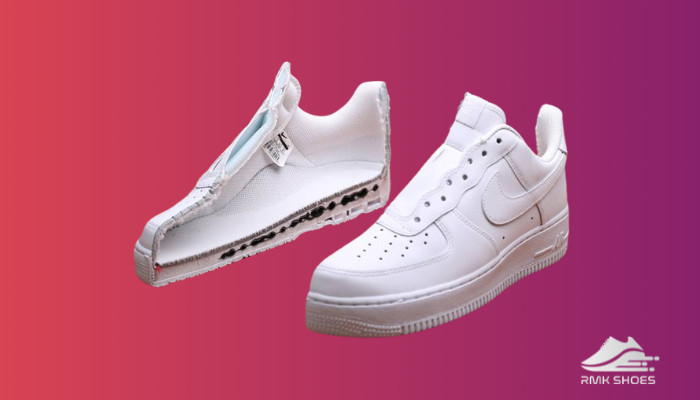 It has stiff foam cushioning at the heel and softer cushioning around the forefoot area.
Wide And Strong Heel
Being regular at gym, if not every day but once or twice a week, you practice weightlifting, right? For this kind of exercise, you need a wide solid base to take the pressure which Air Force 1 definitely has.
When you lift a bit extra weight to test your progress, consider adding more height to your heel area.
Floor Traction
To move around in any gym, shoes must have enough traction to provide you with the grip you need.
You don't wanna trip on those tile floors of your gym, do you?
No one does, and even though Air Force 1 doesn't have the rubber thread and traction pattern, still quite useful to hold your foot to the floor when moving around.
You may also like to read the comparison between Nike Court Vision Vs Air Force 1.
Is Air Force 1 Good For Weightlifting?
Though Air Force 1 was not designed for weightlifting, it serves this purpose well. There are several features in this Nike sneaker that made it good for weightlifting.
Let's see the 5 reasons why Air Force 1 is good for weightlifting:
Steady Outsole
Any kind of weightlifting involves a steady outsole, and luckily Air Force 1 has a barefoot feature that can hold the body position when you lift the weight.
It holds stability just fine, which is essential in this kind of activity.
Cushioning
AF 1 has a unique foam midsole you won't find in any other sneakers. After wearing it, your arch and tarsal stays protected during heavy lifting.
The pressure you put on your legs during lifting, the heel, forefoot and padded collar take them all in and give you the support you need.
Stability
Another reason AF1 is good for weightlifting is this model is very good for providing stability while you do intense workouts like this.
Your toes and knees take the pressure of the weight you are lifting, and the flat rubber sole helps to do the job. Compared to other sneakers, it is heavy, thus perfect for stability.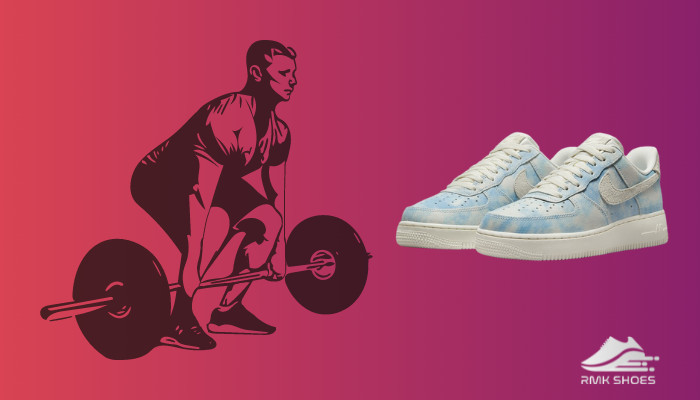 Air Force 1 Provides Comfort
Air Force 1 shoes have padding outside and inside of it, which was for the sudden and quick movements of basketball but eventually proved effective for lifting too.
Though these shoes are a bit heavier, you will be very comfortable wearing them.
AF1 Is All About Flexibility
For weightlifting, your footwear has to be flexible. AF 1 comes with adjustable straps that allow you to fill the ankle gap according to your comfort.
The space that the toe room has helps the flexible lifter stances.
Can You Run Wearing Nike Air Force 1?
Yes, you can go running wearing your Air Force 1. It is durable enough to take the pressure while you run. And the cushioning provides a soft landing surface for your feet. But, not the ideal shoe for running as they tend to be thicker and heavier.
Air Force 1 is not a running shoe, and Nike is not claiming them to be.
If you feel comfortable enough in these casual shoes, go for it. For small running sessions, they are quite suitable.
However, Nike Air Force 1 is well suited for walking. See our another article entirely written on walking wearing AF1 to know more.
Is Air Force 1 Good For Squatting?
Yes, AF 1 is good for doing squats at the gym. You need a flat surface for squatting, and this model has the flat sole feature. Moreover, the extreme pressure that your feet have to endure is managed perfectly through this sneaker.
What more can you ask for?
Air Force 1 is a name for stability when you work out, especially squatting. The heavy rubber outsole and weight help to spread the weight of your body evenly.
This is why weightlifters choose this AF 1 over and over again. Quite versatile for a casual shoe.
Can You Stand All Day With Your Air Force 1 On?
Air Force 1 has the chunky cushioned midsole that is the lifesaver. Because of it, you can stand a long time wearing your favorite sneaker.
If you have a job that includes standing on your feet for hours, AF 1 can be your solution for that. Therefore, Nike Air Force 1 is better suited for healthcare professionals.
Despite being a casual everyday sneaker, it's handy.
However, you may not see many retail or medical workers wearing this model quite often, it's not for the lack of functionality but the price tag!
Final Thoughts
Air Force 1 is a good option for footwear to be involved in any physical activities for better health.
It is designed to take the pressure while you practice intense exercises like weightlifting, squatting or just doing your regular routine circle. It provides proper balance, cushioning and stability.
So, I think you got your answer. For more info, comment below.