Suede is quite popular thanks to its distinct appearance and texture. But, the color tends to fade away with time. And, many wonder whether or not it can be restored.
And, if you're one of those people, then don't worry! As I've got the answer to your question, and much more useful information.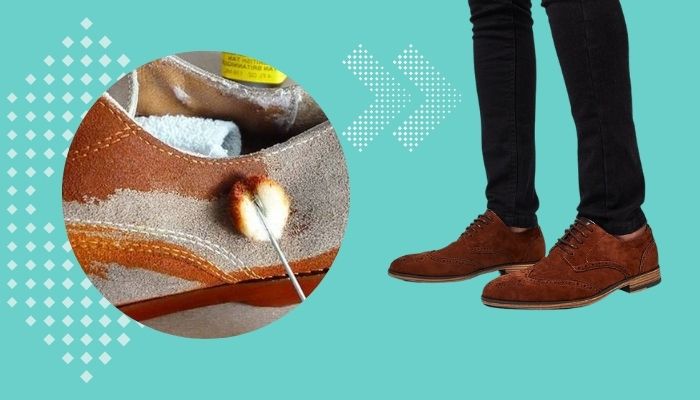 So, can you restore the color on suede shoes?
A giant yes, you can restore color on suede shoes. But, there's a catch! You can only restore them to a darker color, not to a lighter one. But, if you want the best result, don't change the original color at all. You should only try to restore the original color of your suede shoes.
Well, it's good news after all. Take your time and read each line carefully to know all about this interesting topic.
Can You Restore Color On Suede Shoes?| Answered
Yes, you can restore color on your precious suede shoes. And, you can do it quite easily. But, you need to keep in mind that you'll only be able to do it in darker colors. You can't go from a darker color to a lighter one.
The color of suede shoes is typically on the surface of the material. So, when the color fades, it's mainly because of the brushing you do to keep the dust at bay.
But, the good news is that you can easily restore the lost color on suede shoes. You'll be needing a dye that works on suede and some proper application tools.
Of course, you'll need to follow some guidelines to complete the dyeing process properly. And, one of them is cleaning your shoes thoroughly before dyeing them. You'll also be happy to know the process is really simple.
All you'll need is a bit of precision, and you can rest assured you'll end up with a great result. Also, the ingredients you'll need are really easy to get.
So, if you have any kind of confusion or anything like that; I'd say, erase all of them. As you'll know everything in greater detail and clarity.
Also, read Can You Use Leather Shoe Polish On Black Suede Shoes.
Restore Color On Your Suede Shoes In The Following Ways
Restoring color on suede shoes is not an impossible task. And, the ingredients you'll be needing are quite humble and cheap; making the process cheap, which puts less burden on your pocket.
I've listed everything in an orderly manner; from the ingredients to the steps of completing the process.
The kinds of stuff you'll need are:
Soft-bristled brush/sponge
Mild detergent
Suede dye (keep the user's manual, just in case)
A big bowl
Water
Clean towel/cloth
Silicon spray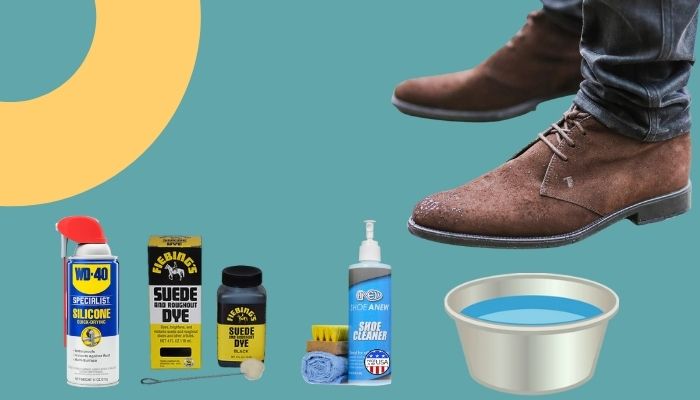 You may also like to read: Can You Use Suede and Nubuck Protector on UGGs.
Here are the effective steps to restore color on suede shoes:
Step-1:
Make a solution using mild detergent and water. Make sure the solution isn't too bubbly, otherwise you'll end up with a soapy texture on your shoes' surface once they've dried. Just add enough detergent so that it cuts the stain or grease.
Step-2:
Take the soft-bristled brush/sponge and gently scrub the material. Doing this allows the solution to get into the material and start the process of removing the dirt.
Step-3:
Once the shoes are wet, blot them properly with the towel/cloth to remove as much water as possible.
Check out our epic guide on how to Stretch Suede Shoes.
Step-4:
Now, allow your shoes to dry off completely before you proceed on to the next step.
Step-5:
Once your shoes have dried off completely, it's time to dye them. Follow the instruction given on the dye's packet and apply it accordingly. Just make sure you've got the dye meant for suede shoes.
Step-6:
Once the dye has dried off completely, it's time to apply the silicone spray. Spray the silicone from a distance of 6-8 inches. The silicone spray protects the suede from damaging forces such as water, dirt, stains, etc.
Step-7:
Once you've sprayed your shoes, leave them in a well ventilated area for about half an hour to an hour. And, you're ready to go! You've successfully restored the color on your suede shoes.
Related content you should read Can I Use Shoe Polish On Suede Shoes.
Restore Color On Suede Shoes| [Important Tips To Keep In mind]
Now that you know that you can restore color on your suede shoes, and the process to do so; you're all set. But, there are some additional tips that will ensure you end up with a better result.
Here are some important tips to remember while restoring color on suede shoes:
At home, suede can be dyed from a lighter color to a darker color. If you want to achieve the opposite, then conducting the process can end in catastrophe. For the best result, try to restore the original color.
If it's within your reach, avoid using the mild detergent. Instead, get yourself a suede degreaser/cleaner.
You can easily restore faded color on suede. But, if the damages are different, like a tear, separated soles, etc. You need to see a professional.
You can't dye ultrasuede with regular suede dye. You'll need to disperse dye, which can only be applied by a professional.
Before you start to apply the dye to your entire shoe, take a little bit of the dye and apply it in an unnoticeable area of your shoe to check if there's any kind of negative effect.
Allow the drying process to be completed in a well ventilated area. Avoid direct sunlight and any kind of heating source to fasten the provess. You'll do more bad than good.
Follow our guide on how to Remove Shoe Polish From Suede Shoes.
Can You Clean Suede Shoes With Baking Soda?
A big yes, you can definitely use baking soda to clean suede shoes. Baking soda has the natural ability to clean a whole variety of unwanted stuff such as dirt, grease, or eliminate odor. The best thing is you don't have to spend much on this humble item. And, it's readily available.
Trust me, even I was taken aback when I first came upon this discovery. I knew baking soda was a natural deodorizer, but I had no idea that it could be so effective as a cleaning agent.
Baking soda can easily get rid of dirt, grease, and oil stains. It can also eliminate foul odor from your shoes.
To clean off dirt or other stains, just sprinkle some baking soda on the marked area and scrub gently with a toothbrush. Now, leave your shoes to dry for 15-20 minutes.
Once you've reached the time mark, brush off the excess baking soda. And, viola! No more dirt or stain marks. If see anything remaining, then repeat the process for a better result.
To get rid of foul odor, sprinkle some baking soda into your shoes. Now, close the opening with your hands and shake each of your shoes vigorously. Or, you can leave the baking soda inside your shoes overnight and let it do its job.
Clear off the baking soda the following day, and you're all ready to go!
Final Thoughts
You can easily restore the color on your faded suede shoes. The fact that the color stays on the surface of the material makes it easy for you to do so. But, the color tends to fade away with regular brushing.
If you have any kind of suede shoes, you'll just have to live with this fact. But, you know all the tricks and tips to restore color on your suede shoes.
Do let me know whether or not this article was helpful to you. I love honest feedback as it gives me more room to improve. It's a wrap for now, take care.