Do your suede shoes have lost their luxurious matte finish?
So to revive the brand new look of your suede shoes, are you thinking of using shoe polish on them? If yes, then you should hold on and read this entire article. Because here, you will find all the dos and don'ts about the application of shoe polish on suede shoes.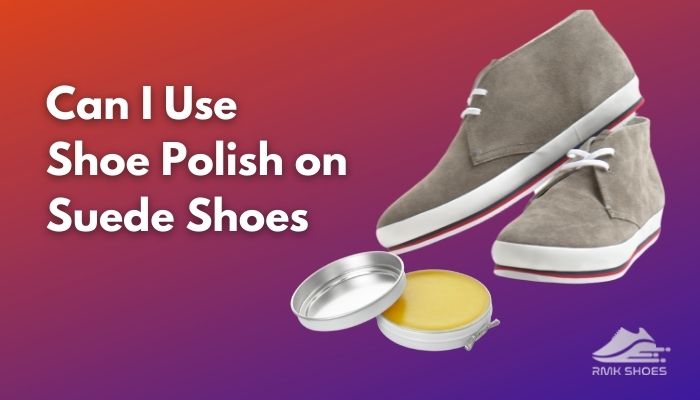 Let's come to the actual question, can you use shoe polish on suede shoes?
No, you cannot use shoe polish on suede shoes. Suede shoes are different from other leather shoes, so the use of shoe polish on suede leather can alter its color.
To find more about polishing suede shoes, don't forget to read the entire writing.
Can I Use Shoe Polish On Suede?
Unlike leather, the suede fabric is not smooth, and it doesn't shine; instead, it has a napped and matty texture. Therefore the polishing technique of suede is also different. If you ever think of using shoe polish in your suede shoes, then right away, you should bury your thought.
Shoe polish is not made to use in the suede fabric, so it is strictly advised not to use shoe polish on suede shoes. While shoe polish is an excellent product for polishing leather shoes but if it is applied in suede, the polish will damage the suede, which cannot be repaired.
Suede is very dry and has a porous nature. When you apply the shoe polish on suede shoes, it absorbs all the polish and permanently stain and changes the shoes' color. And if you try to remove and clean the polish, you will surely end up with back pain. Therefore, if you don't want to ruin your suede shoes, you shouldn't use shoe polish.
However, you can quickly spruce the look of your suede shoes by only buffing them with a brush, and there is no need for any shoe polish. Keep reading to know more about the correct technique of polishing suede shoes.
Also, read Can You Use Leather Shoe Polish On Black Suede Shoes.
Why Shouldn't You Use Shoe Polish On Shoes?
In a shoe polish, the percentage of wax is more, and as the suede fabric is absorbent, it soaks all the polish and makes the shoes very sticky as well as stained.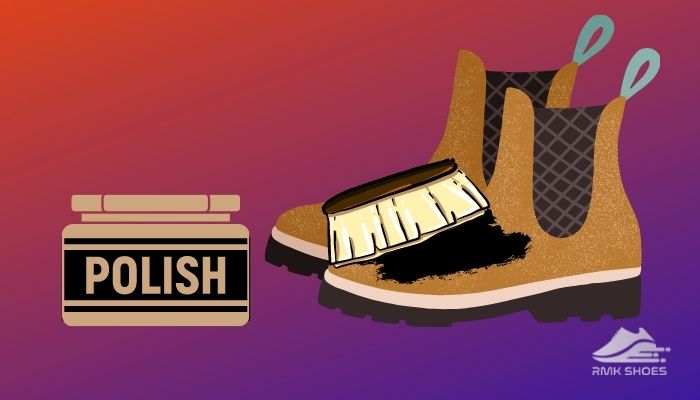 Additionally, shoe polish is used on stiff leather to get an excellent luster, whereas suede is a soft material. When you apply the shoe polish to the suede, it absorbs all the elements like wax, lanolin, glycol from the polish, making the shoes very hard. And as the suede shoes have a napped texture, the polish doesn't set in the shoes.
Once you apply the shoe polish on suede shoes, it is tough to take the polish off. And most of the time, shoe polish alters the color of the suede, so it is always recommended not to use any type of shoe polish on suede shoes.
Check out our separate post: Can You Restore Color On Suede Shoes.
How To Remove Shoe Polish From Suede Shoes?
This paragraph is for you if you unknowingly used shoe polish on your suede shoes or mistakenly spill a tin of shoe polish on the shoes. Because here, I have explained all the easy yet effective ways following which you can remove the shoe polish from your shoes. However, it is a lengthy process, and you have to be patient enough to get a good result.
Here are the methods following which you can remove shoe polish from suede shoes:
Before you start the cleaning process, make sure the polish dries out properly. If you rub the shoes while the polish is wet, you will completely ruin the shoes.
Method 1: Use Suede Eraser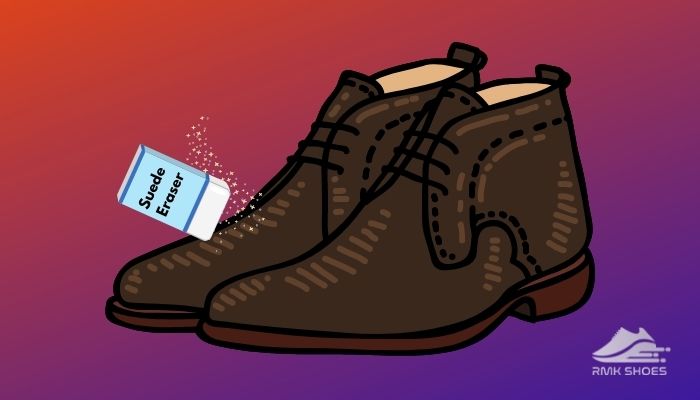 Things you'll need:
Paper Towel
Suede Eraser
Suede Brush
Hairdryer
Step 1: Take off the shoelaces and insert a shoe tree inside the shoe to hold the shoe shape. If the polish is not dried correctly, give them enough time to dry, then start the cleaning process.
Also, read Does Liquid Shoe Polish Expire Or Not.
Step 2: Make a ball shape with a paper towel, gently blot on the polish with the paper towel. Blotting will take off the excess shoe polish. Proceed to the next step once you see there is no residue of shoe polish on the towel.
Step 3: To speed up the cleaning process, use a hairdryer on the shoes so that the polish gets fully dry.
Step 4: With the help of a suede eraser, rub off the polish and make sure to rub the entire shoes.
Step 5: Now buff the shoes with a natural bristle suede brush. Brush the entire shoes with all your effort because this is the crucial step where you can take off most of the polish.
Once you see there is no residue of polish, your shoes are ready to wear.
Follow our guide on how to Remove Shoe Polish From Suede Shoes.
Method 2: Use Saddle Soap
Saddle soap can be an excellent option to take off the obstinate polish from the suede shoes. Saddle soap not only helps to remove the polish but also conditions the shoes.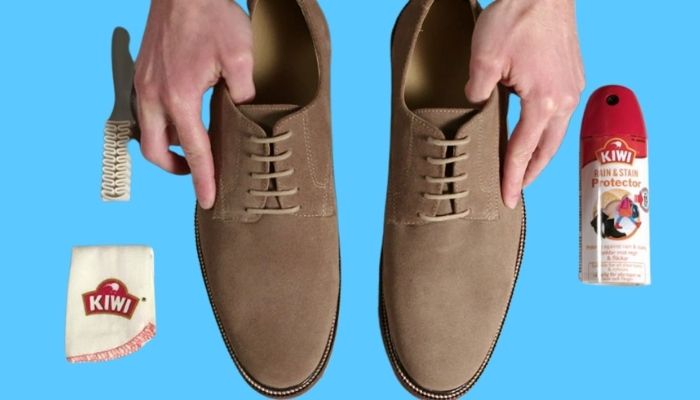 Step 1: Pack the inside of the shoes with newspaper or insert a shoe tree so that the shoe's shape remains intact, and also, you can do the cleaning process without any mess.
Step 2: Dampen a clean cloth and gently wipe the shoes; this will take off the loose dirt and moist the shoes a bit so that saddle soap can work properly on them.
Step 3: Take a clean cloth and wet it with warm water. Wrap the fabric around your fingers and pick up some saddle soap on the material. A little goes a long way, so don't take much of the soap. In a circular motion, gently rub the soap all over the shoes.
Step 4: Once the soap penetrates through the shoe polish and into the shoes, wipe off the remaining with a clean cloth.
Step 5: Leave the shoes in a well-ventilated place for a couple of hours. Once the shoes are completely dry, you can rock the floor wearing the shoes.
What Are The Best Suede Shoe Cleaner?
To prevent suede shoes from fading and keep up the matte finishing, cleaning and maintaining them is necessary. Though you can't use shoe polish on suede, there are high-quality and branded suede shoe cleaners in the market, making the shoes look as if they came right out of the box.
Here are the best ten suede shoe cleaners:
Jason Markk 3691 Suede Shoe Cleaner
Angelus 8 Ounces Suede Shoe Cleaner
Crep Protect 200 ml Suede Shoe Cleaner
Angelus 8 Oz Suede Shoe Cleaner Kit
RESHOEVN8R 4 Oz Suede Shoe Cleaning Kit
Gear Aid 36770 Suede Shoe Cleaner
TriNova 8 Oz. Suede Shoe Cleaner Kit
ShoeAnew 8 Ounces Suede Shoe Cleaner Kit
Kiwi Nubuck Stain and Suede Shoe Cleaner
Pedag 14447 Suede Shoe Cleaner Kit
Check out our epic guide on how to Stretch Suede Shoes.
Conclusion
In conclusion, you should not use shoe polish on suede shoes. Rather than doing good to your suede shoes, shoe polish will ruin your shoes ultimately.
If you want to bring your faded suede shoes back to life, then nothing can beat a suede brush. Also, there are varieties of suede shoe cleaners available in the market, just use them and make your shoes look brand new.