So you have got a fancy bottle of liquid shoe polish that you purchased a couple of years back.
But don't know whether you can use it right now?
Whether you have noticed or not but liquid shoe polish doesn't mention the expiry date on their packaging.
Well, hold that curiosity for a moment as I'm about to bust all the myths related to this.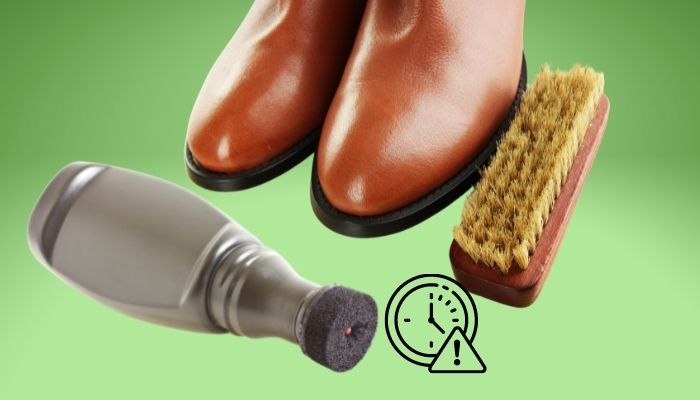 So here comes the actual question, does liquid shoe polish expire?
No, liquid shoe polish doesn't expire. You can use the same liquid shoe polish for years without the chances of it going bad. Nonetheless, there are some dos and don'ts that you should follow to keep the smooth texture of the polish intact.
Let's dig into the details.
Does Liquid Shoe Polish Go Bad?
People have been using liquid shoe polish for decades to enhance the beauty of their shoes. A polished shoe not only adds bling-bling shine to your shoes but also adds up the extra charm to your overall outfit.
Do you know that if you invest in one single good quality liquid shoe polish, it will last you forever? Yes, you heard me right. If you store your shoe polish properly, it will not go bad anytime soon.
However, if you don't keep the shoe polish according to its storing instructions instead of doing good to your shoes, it will make your shoes look dull and even crack them.
But before that, go through our epic guide Does Waterproof Shoe Spray Work.
Storing Hacks Of Liquid Shoe Polish
You should use the proper storage technique to get the best result out of liquid shoe polish even after months of purchasing. Lack of the right storage can deteriorate the texture of the polish.
Liquid shoe polish is mainly used for the instant shine it provides to the shoes. To get the same sparkle in every use, you should seal the cap of the tin or bottle of the shoe polish very tightly.
Nonetheless, liquid shoe polishes are made of water-based products, so if you keep the bottle open, the solvents will escape resulting in the polish to get dry. When the liquid evaporates, it becomes challenging to polish the shoes.
Liquid shoe polish is also a fast solution to cover up the shoes' scratches, but when a dry shoe polish is rubbed onto the shoes, it will make the marks more visible.
Therefore, to protect the liquid shoe polish from drying, you shouldn't leave the tin open and keep the shoe polish away from direct sunlight. Follow these simple yet useful hacks, and in every use, the outcome of your shoe polish will be outstanding.
Check out our separate post on Shoe Cream vs Shoe Polish.
Does Waterproof Shoe Polish Expire?
Yes, waterproof shoe polish expires. The ingredients of waterproof shoe polish are not the same as the non-waterproof polish, for which they act differently and have an expiration date.
Along with polishing your shoes, waterproof shoe polish protects your shoes from getting wet in rainy weather.  This protective coating also makes the shoes last for a long time.
Many waterproof shoe polish has an expiry date along with a manufacturing date, so if you notice your shoe polish has an expiry date, it means it will surely go bad at a specific time. And if there is no expiry date mentioned, then you can use the same polish without replacement.
Suppose you are unsure whether your shoe polish is waterproof or not, then check the ingredients list and see if it contains hard wax-like carnauba. Carnauba wax has properties that make the shoes waterproof for a  short-term. And for permanent waterproofing, beeswax and pine resin are two essential elements that are solely responsible for protecting the shoes from water and as well as buffing the shoes.
Follow our guide to know How Much Shoe Cream To Use.
How To Revive Old Shoe Polish?
When you keep the shoe polish unused for a long time, the shoe polish tends to dry out. If you assume that dry shoe polish is of no use and thinking of discarding it, then WAIT. Dry shoe polish doesn't mean it has gone bad. You can still bring back the life of dry shoe polish with simple tips and tricks.
Follow these easy steps to rejuvenate old and dry shoe polish:
Step 1: Melting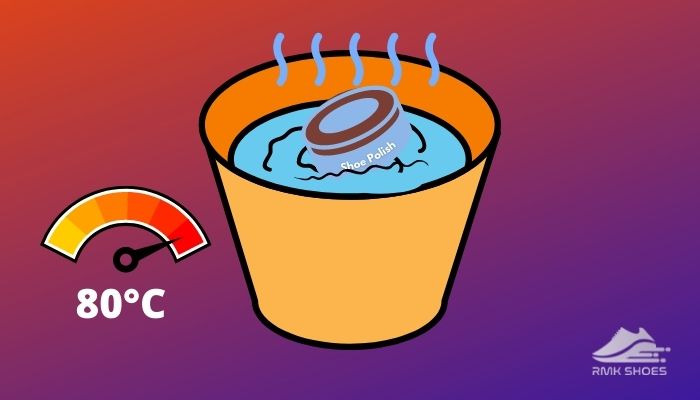 You should mainly keep in mind that shoe polish contains few highly flammable ingredients, so avoid direct melting in a burner.
To make the shoe polish reusable, all you need to do is heat it. Take a pan or tray, fill it up with water, immerse the shoe polish tin in the tray and keep it on the stove. Ensure the water doesn't reach the boiling point, or else you will end up with burnt shoe polish.
When the temperature of the water reaches around 80C, you will see the polish will start melting. Once the polish completely melts, immediately turn off the flame. Overheating can burn the shoe polish and also make them smell awful. So be aware of it!
But before that, go through our epic guide how to Clean Shoe Insole.
Step 2: Cooling
It's time to let the shoe polish solidify. After you turn off the stove, keep the shoe polish in the water until it completely cools.
Do not try to take off the tin from the hot water, or else you will burn your fingers.
Once the polish hardens, it will be ready to use. And I guarantee you will be awestruck by the shine it provides to your shoes.
What Is Liquid Shoe Polish Made Of?
Not just one or two, there are three types of shoe polish in the market: wax, cream-emulsion, and liquid. All three of them are used for different purposes; wax-based shoe polish is used to get a spit shine and cream-emulsion along with polishing conditions the shoes very deeply.
Liquid shoe polish is mainly used for an instant shine. If you are in a hurry, a slight rub with liquid shoe polish will add a lustrous sheen to the shoes, which is why most people prefer liquid shoe polish.
So what makes liquid shoe polish give a nice sheen to the shoes? Well, there are few ingredients that make the polish give a fast shine, among which polyethylene wax is an essential element. A minimal amount of wax is used to decrease the thickness of the shoe polish.
Different types of polymers, acrylates, resins, caseins, emulsifiers, fatty phosphate esters, and glycols enhance the shine and keep the colorants in suspension. Each and every ingredient plays a significant role in making the liquid shoe polish an effective one.
Which Shoe Polishes Are Best?
Hundreds and tons of various brands of shoe polishes are available in the market. From conditioning to adding extra shine to the shoes, different shoe polishes are used for different usage.
As there are varieties of shoe polish present, therefore, to ease your work, I have listed the best ten shoe polishes below:
Kiwi Giant Black Parade Gloss Shoe Polish
TRG Leather Cream for Shoes and Bags
FeetPeople Premium Shoe Cream
OrthoStep Boot and Shoe Cream Polish
Collonil 1909 'Supreme Creme' Polish
Lincoln Stain Wax Shoe Polish
Angelus Perfect Stain Shoe Wax Polish
Kelly's Shoe Cream
Saphir Crème Surfine Pommadier Shoe Polish
Moneysworth & Best Shoe Cream
Conclusion
Who wants boring and dull-looking shoes when shoe polishes are meant to improve the appearance of the shoes. Invest in good-quality liquid shoe polish, nor will it go bad or expire. But by any chance, if it gets dried out, then my useful and easy method will definitely make the shoe polish usable again and save you a few bucks.
Still, have any confusion or want to give me some feedback? Go ahead and comment below.