Suede is perfect for those who prefer a wonderful blend of luxury and a decent look in their everyday outfits.
This material is expensive and delicate. That's why suede requires precise maintenance to keep it in good condition.
A common concern among users is whether it is water-repellent or not.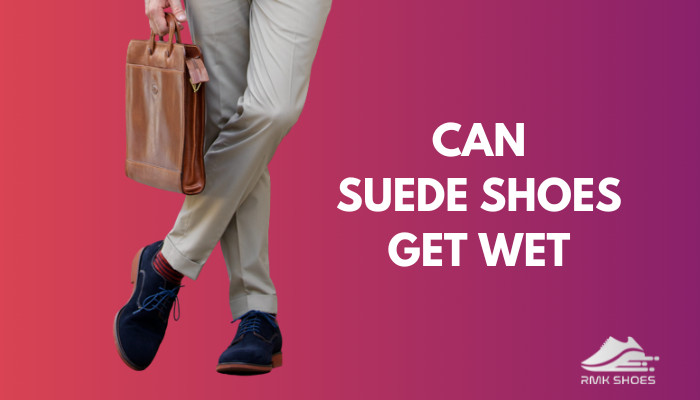 Due to the lack of proper understanding, the suede shoes bought by many people with their hard-earned money become totally useless.
Having used suede made accessories for almost 3 years, I'm quite experienced with them. Therefore, I'm going to inform you if suede can get wet or not and how to prevent its damage.
So, let's dive right into the subject!
Can Suede Shoes Get Wet?
Yes, it can get wet, but to maintain its durability, you must follow some effective steps immediately after getting wet.
Suede is the pliable interior of animal skin. First, the skin of domestic animals such as sheep, lambs, goats, calves, pigs, deer and cattle are collected. Then the workers of the tanneries processed those raw leathers in a specific way and turned them into suede.
The most common source of suede is sheepskin because they have the most delicate vibe. Cowhide is the most rigid type of suede.
Consequently, the suede is not waterproof. It's even porous that easily catches liquid, oil, dirt and stain.
Compared to canvas and leather, suede material absorbs water fast.
So, if your shoes accidentally get wet, don't panic. Just clean and properly dry the shoes as soon as possible.
Otherwise, soaked water and stains can ruin the overall appearance of your favorite pair of suede shoes.
Check out our separate post: can you use leather shoe polish on black suede shoes?
What Should You Do If Your Suede Shoes Get Wet?
Since suede is susceptible to water, you must know how to make them wearable again.
Read ahead to know the strategies for improving the condition of damp suede:
If your shoes are only wet but don't have mud, then here're the ways to recover them-
Step1 :
Use a dry and soft cloth to absorb as much water as possible from the shoes. Don't rub the cloth on the shoes. Just press it gently on the shoe to absorb the water.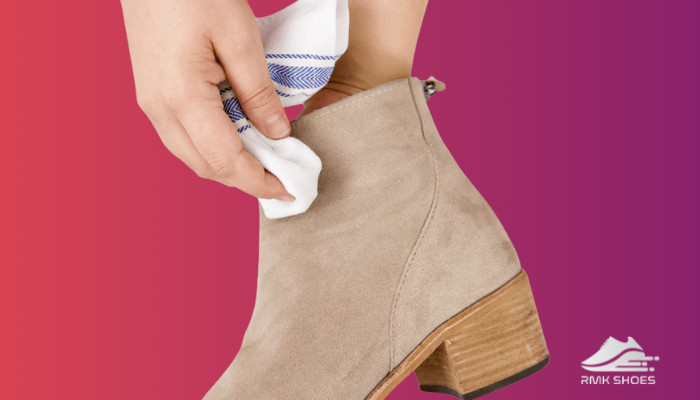 Step 2:
Air-dry your shoes for at least two days. Put them away from direct sunlight. Remove the laces and dry them separately if necessary.
Step 3:
Use a hair dryer for drying if you're in a rush. Make sure to hold the dryer machine 20-30 cm away from the shoes and use the low blow mode only.
Step 4:
Brush them in back and forth motion. Several suede brushes are available in the market, such as soft bristle brush, brass wire brush, horsehair brush, and crepe brushes. You can take any of them.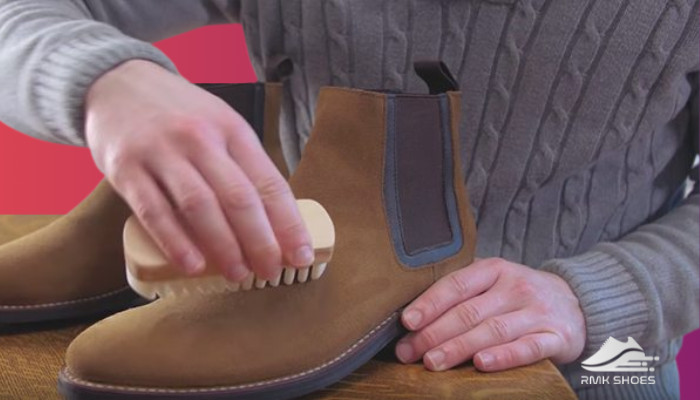 Step 5:
Spray suede protector to make your shoe's outlook more polished and protect it. After spritzing, you should put them to dry for 30 minutes.
Step 6:
When the protector spray is completely dry, brush off the shoes again.
Step 7:
Then carefully store it in your shoe rack or put these shoes on and reach your workplace.
If your shoes catch dirt and mud along with water, then follow these steps-
First, soak the water from the boots, as described in step 1 above.
Dry the shoes naturally or with the help of a machine according to your preference. Avoid exposing the shoes to direct sunlight and maintain a minimum distance when using hair dryers.
Gently rub the suede eraser on the shoe surface to remove soil, dry mud and dirt.
Brush off the shoes in back and forth rotation. Use a brush that is suitable for this material.
Apply protector spray for additional shine and extra protection.
After completing all the steps properly, your shoes will provide a rich and polished outlook.
But there are some shoes that tend to fade out when wet. Just drying and spraying the suede protector won't fix them.
So, what will you do if this happens to you?
In this case, you have to recolor the boots to fix them.
And if you're unfamiliar with dyeing, I recommend reading this resourceful article, Can You Restore Color On Suede Shoes?
How Long Does Suede Take To Dry?
It takes a maximum of 2 days to dry, depending on the type of animal skin used to make the suede.
Being made of the inner part of animal skin, suede is very smooth and lightweight. The fibers of this tender substance become fragile after getting wet.
Consequently, it'll take a bit more time to dry than other materials.
So, you should be careful and give it a bit more time to dry than other materials.
Suede that originated from cows is rigid and needs comparatively less time to dry. It's important to ensure sufficient airflow and protect them from excess sunlight or excessive heat during drying.
Otherwise, the shape might be ruined, making it unwearable.
For rapid drying, you can take the help of the hair dryer. It will take a maximum of an hour to dry in low heat mode if very wet.
Read more on how to remove shoe polish from suede shoes.
Are Suede Shoes Hard To Maintain?
Suede is relatively harder to maintain than other materials because of their pliable nature. Its outlook easily becomes outdated.
People unfamiliar with leather variations often put suede, nubuck and leather under the same category.
As a result, they follow the same method of cleaning and maintenance for all. And such non-acquaintance degrades the material and makes it harder to maintain.
While Nubuck comes from the skin's outermost layer, suede comes from the innermost part of animal hide.
So, it can be harder to maintain suede-made things than leather and EVA material.
But having a sound knowledge of the materials makes it easier to maintain.
Here're some important to do's for retaining the youth of suede:
After coming from outside, wipe it with a brush and keep it because it easily catches dirt and fungus.
Make use of suede protector spray once a week.
Store it in a cool and dry place if you're not going to use it sooner. Try to wrap it in a poly bag, then store it in the wardrobe.
Never leave the shoes in open areas where dust accumulates.
Try to avoid wearing suede shoes as much as possible on rainy days.
If the caring process seems too tough, you can use microsuede-based footwear.
Microsuede is a kind of lightweight, durable and soft faux leather. It is prepared from polyester fabric with a suede-like texture that contains water-resistant, stain-proof and easy maintenance features.
Go through our epic guide on how to clean faux suede shoes.
Can You Wear Suede In The Snow?
Yes, you can wear suede in the snow, but it's better to avoid it.
No matter how popular and signature product suede is, it is vulnerable to damage.
The surface has numerous pores, which absorb liquid easily if you wear suede in the snow. Consequently, you'll feel damp and have to undergo the cleaning and drying process.
Rather than this, try wearing strong material based shoes such as leather, PU, EVA, Flyknit, and Atomknit in winter.
And you must darken your boots if the color is faded or oil stained.
To know more about darkening suede boots, follow this article "How To Darken Suede Boots?"
Keep an eye on this site if you want to learn about removing oil stains from suede boots.
Takeaway Thoughts
In the end, there's nothing much to say. If your shoes remain without care after getting wet, they'll be damaged entirely.
So, if you're a suede-lover, then style with them and follow the maintenance rules properly.
For further queries, add comments below to get them answered.
Thanks for being with me this long!
Cheers!