Are you planning to throw away your faded suede boots in the garbage?
I also thought of removing my suede boots from the wardrobe. The color of my pairs turned pale because of wearing those shoes every now and then, and it was looking outdated.
But I didn't want to part ways with my favorite suede shoes. Then, I dived into research and started searching for techniques to make my boots darker.
Fortunately, I discovered some effective methods and tried them.
You can follow the instructions that I've unpacked in this article to make your shoes look brand new and style with them.
Read till the end to find the most effective ways to darken your suede boots!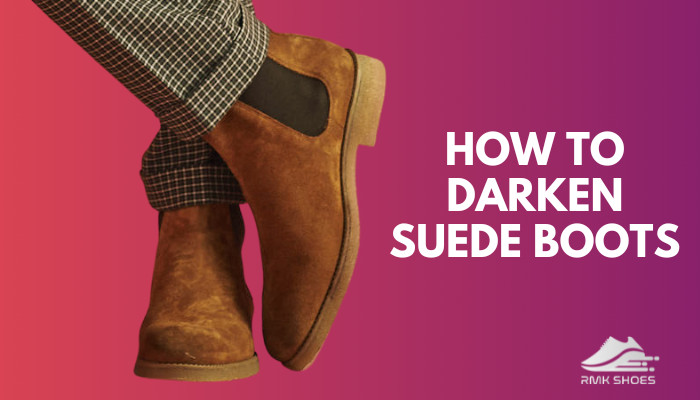 Can You Darken Suede Boots?
Yes, you can darken the shade of your suede boots. Not only that, but you can also customize your boots with your preferred color.
Suede is a kind of soft material that possesses a velvety appearance. It is fragile and requires decent maintenance. If you wear the suede boots on a regular basis, they'll release the original shade gradually and will turn pale.
So, what to do then?
You can buy a new pair of suede boots. But if you're a budget-conscious person like me and want to continue with your previous boots, you can darken the color, and your boots will get a fresh look.
You can make your suede boots dark with and without dye.
Suede contains a lot of pores on its skin. Those pores are little like a virus or micro bacteria. That's why it has a tendency to absorb color more quickly.
Any unsuitable ingredient can damage the suede forever. So, you must be careful while handling your suede boots.
How To Make Suede Darker With Dye?
You already know that shades of suede fade out more quickly due to frequent use. To make them darker, the most popular way is to color them.
You'll find tutorials on youtube about making dye at home. Following those is not a good idea because making homemade dye is a hassle.
I won't suggest any method which I didn't apply.
Instead, I'll try to present the most effective methods in the easiest way possible.
I found that using dye on the suede is the most meaningful method. Suede soaks dye more easily and gives a well-furnished look.
Now, let's focus on making suede darker with dye without further gossip.
Here're the steps you should follow to dye suede:
Collect the necessary things from the nearby shop or order online.
The product you'll need are:
Suede Dye
Suede Cleaner or eraser
Suede Brush
Sponge or applicator
Disposable Hand Gloves
Newspaper
Hair Dryer (optional)
After gathering all these products, you've to proceed with the next steps:
Wear hand gloves because it's tough to remove dye stains from the skin.
Clean the suede boots gently with the brush. Doing this will help the naps to re-fluff.
Collect some newspaper and put it inside the shoes so that the dye doesn't drop on the inside of your boots. Putting newspaper inside the shoe also ensures that the shape of the shoes won't spoil. You can also use some piece of old cloth in spite of the newspaper.
Remove the laces and cover the logo or any part which you don't wanna color.
Shake off the container of suede dye before removing the lid. Doing this will ensure that there's no particle of the clotted suede dye.
Take a small amount of dye on your first try. Apply the suede dye to the face of the boots with a sponge. You can also use the brush for this task. If you wanna save a little penny, you can also use a soft toothbrush for this task.
Use a thin brush to color the corner. It's hard to reach the angle area with a normal brush or applicator.
Add suede dye on the other boots in a similar way. You can add another layer of dye if necessary.
Put the shoes in an airy place for drying. Avoid leaving them in heat or place. A maximum of 12 hours is enough for drying if you can put the shoe in the right place.
If you don't wanna take any risk, you should dry it for 24 hours.
Remove the newspaper or clothes from the shoe. Wipe them off with a clean suede brush.
Don't skip spritzing some waterproofing spray. This will protect the shoe from water and add a dazzling look to your boots.
After following all the steps, your boots will release a stunning and bold view.
I followed the same procedure and gave my suede boots a new outlook.
As I already did that task, I've some useful tips for you. These tips will help to make the procedure easier for you.
Here're the pro tips:
You must ensure to color the overall suede in a balanced way. Otherwise, it'll not look good.
Start dyeing in the flat area. It's better if you begin to tint from the toe or heel area.
You can use a hair dryer for drying. It'll take less time compared to natural drying.
Sometimes, the color of suede will disappoint you after drying. In this case, you'll have to apply extra suede dye coating on your shoes.
If you prefer more dark shade on your accessories, then you apply color based on your preference. Adding dye in a balanced way won't hamper your suede boots.
Try to lay out an old cloth on the floor of your home so that color doesn't drop on this. Or you can do the dyeing process on the balcony or yard.
Always use the right dyes and tools to get done the job of dyeing successfully.
Don't ever think of wearing wet shoes. Wear it when it's completely dried.
Which Suede Dye Should You Use?
You learned the complete process of dyeing suede boots. But when it comes to purchasing dye, it's confusing to choose a good quality dye.
There're several types of suede dye are available on the market. Which one will you choose?
Well, I will recommend the top three suede dyes based on my trial.
Here's the dye list that is perfect for suede:
Saphir Suede Dye
It's an amazing dye with a thick consistency. Among the suede dye available on the market, it's the most recognized alcohol-based dye. I purchased the burgundy shade for only $15.
This dye is super easy to use with the free woolen applicator. You'll get almost eleven plus color combinations of this dye, including black, neutral, light brown, dark brown, navy blue, medium brown etc.
Suede Dye of FurnitureClinic
The performance of this specific dye isn't less than the others. The texture of this dye is a little bit watery.
I bought a complete package at a discount price. That package contained four items together, they're suede dye, suede cleaner, suede protector and a dye applicator. The products come in a cute black container with beautiful packaging.
After cleaning the suede, you've to paint with the dye. Otherwise, the dye won't set properly. Then you'll use the suede protector for a matte finish and protection from water.
Angelus Suede Dye
Searching for a rare color to put on your suede but didn't find it?
No need to make a gloomy expression. Because Angelus has more than 26 shades of dye in its collection. This is quite lightweight and easy to apply.
I found the free dauber with Angelus dye is more smooth. The cotton ball of the dauber easily holds and marks color on the shoe in a gentle way. I bought the lilac shade dye for $8.55. With this shade, my suede-made side bag offered a classy look.
In my view, these three suede dyes are worth buying. I didn't find anything negative in these dyes to complain about. So, you can choose any of them without any doubt.
Many people claimed to use kiwi dye on suede. To verify their words, I searched for the features of kiwi dye on the internet. I noticed that it's clearly mentioned on the product specifications that kiwi dye isn't for use in suede.
How To Darken Suede Without Dye?
If you don't want to dye suede, that doesn't mean that there's no way to make it darker. You can make your suede darker with neatsfoot oil, baby oil, or coconut oil.
Some will assist you in using mink oil also to darken your suede. But mink oil isn't suitable for suede or nubuck. It is only suited to synthetic leather.
There're two methods of treating your suede boots with oil.
First Method
Before moving to the steps, you should collect the essentials for this method.
You'll need a suede eraser, brass brush or a normal suede brush, coconut oil, a spray bottle, gloves and some pieces of newspaper.
Here're the steps to darken suede with oil:
Use a suede eraser to remove dust and stains. Rub it on the suede with firm pressure and in a back-and-forth direction. (You can skip this step if your boots don't contain stains and heavy dirt.)
Brush your boots. You should also maintain the back-and-forth direction while brushing off.
Pour coconut oil into the spray bottle and shut the lid properly. Don't fill the bottle to the brim.
Put pieces of newspaper inside the shoe and remove the laces.
Cover up the logo, zipper and the area which you don't wanna make dark.
Shake off the bottle before spraying.
Spritz oil in a balanced way all over the surface. Keep a distance of 20 cm between the spray and the boots.
Make sure to dry the boots naturally for six hours in a shaded but air-ventilated area.
Cover the suede with tissue and detach excess oil from it.
Use waterproofing spray when the boots dry out completely.
Second Method
This method is quite similar to the first one. Only the oil rubbing process is different. You'll need to gather all the equipment like the first method except the spray bottle.
Instead, you'll need a piece of neat cotton cloth.
Here's the oil application process you need to follow:
Take oil on the piece of clean cotton cloth. You can choose anything among coconut oil, neatsfoot oil or baby oil.
Gently rub the oil-contained cloth on the suede boots in a circular motion.
Don't rush while rubbing oil with a cloth. If you do so, you'll get an imperfect shade.
Dry the boots overnight and wipe the excess oil with a tissue or a cotton ball.
You'll have to spend more time on this method. But the outcome will amaze you.
You can go with any of the two methods that I've noted here. Without skipping any optional parts, you'll definitely get your suede boots darker.
Dye vs. Without dye: Which Should You follow?
If you wanna know my opinion, I'll always suggest dyeing suede. I don't prefer to darken suede without dye. Let me tell you why.
When I used oil on my suede boots, it only made it darker but was not able to add a different fascinating color.
Moreover, it gave me a weird feeling when I remembered that I used oil on my shoes to make them dark. Because I like everything neat and properly clean.
For me, it was like carrying greasy and foul shoes with my feet.
You can dark your suede boots with oil if you're comfortable with that. But if you're not willing to proceed with oil and wanna lost in the world of deep colors, then suede dye is the best choice.
Can You Use Fabric Dye On Suede?
Yes, you can use fabric dye on suede. But it should be a high-quality dye. Any ordinary fabric can damage your suede stuff.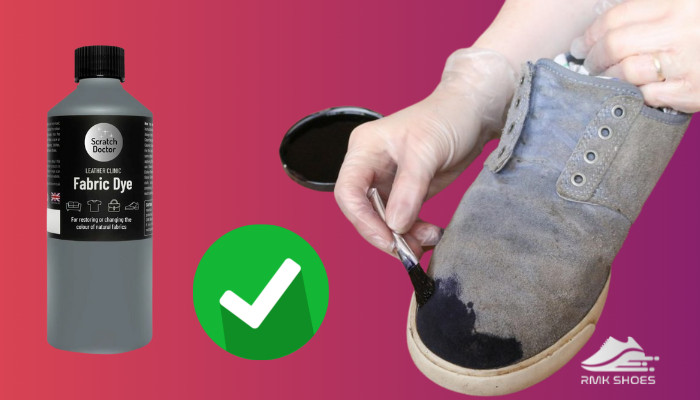 Dylon Suede is a kind of fabric dye. It adds an attractive tone to the suede with a smooth finish.
You've to dilute the fabric dye with water before applying it. Don't pour too much or less water into the dye. At first, add a small amount of water, then drop more based on the requirement.
Note that the density of this dye and water mixture will not be too thick or too light.
Once the solution is properly prepared, you'll have to carry out the similar steps that I've mentioned in the 'How To Make Suede Darker With Dye' section.
Is It Necessary To Clean Suede Before Dyeing?
The suede is more flexible than regular leather. Due to numerous rifts on the surface, it catches dirt and stain more easily than leather.
The dust layer and stains on the suede will prevent the dye from properly setting. So, it's a must to deep clean suede before dyeing.
Here, I'll assist you with some tricks for your fresh and clean shoes.
Brush The Suede Regularly
If you brush your suede regularly, then it will remain clean. You'll find several types of brushes for cleaning. All of them aren't suede friendly.
The horsehair brush, brass wire brush, and crepe brush are the most significant.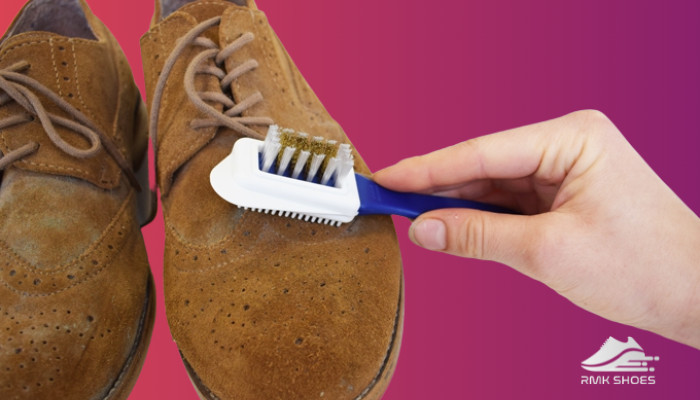 I really like the twisted design of the crepe brush of Saphir. This wooden brush costs $34.35. It's suitable for deep cleaning the suede and nubuck. It's my favorite because it cleans more quickly and s easy to hold.
It's able to offer a fluffy and fresh appearance on your boots by removing soils and stains.
I also use a dark bristled Horsehair brush to polish the suede stuff. The natural horse hair removes dust. I prefer to use a brass brush to make my suede boots re-fluff.
Always brush the suede with a back-and-forth motion.
If you're not willing to spend more on buying categories of brush, you can simply pick up the suede crepe brush. This one piece will benefit you in cleaning and polishing.
Use Suede Protector Spray
It's a good habit to use a suede protector on a regular basis. It's enough if you spritz suede protectors twice a week.
Omni Nettoyant spray is suitable for deep clean suede, textiles and nubuck. It also acts as stain removal.
I use Super Invulner for protection against stains, water, snow and dirt.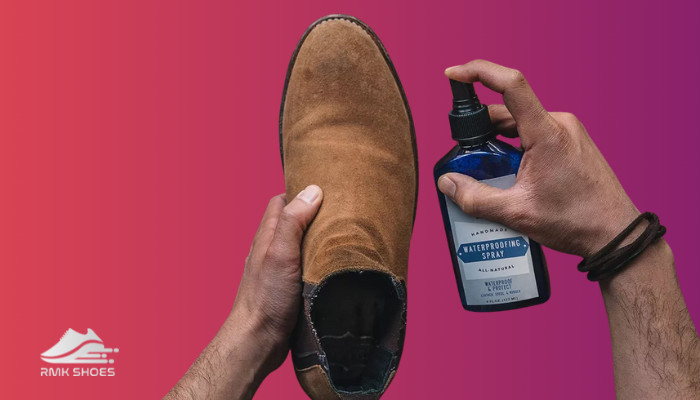 You can also use Suede Renovator Spray for softness. It contains almond oil which adds a silky vibe to the suede.
Regular use of protector spray gives a new lease of life to the suede boots.
What Are The Benefits Of Dyeing Suede?
It's joyful for a cheese lover when a restaurant chef adds more cheese to pizza.
For a shopping freak person, a discount or buy one get one offer is more than any other thing in the universe.
Dyeing suede boots is something like that. In fact, it's something more. Along with darkening, it adds endless benefits to your suede boots. Let's focus on that.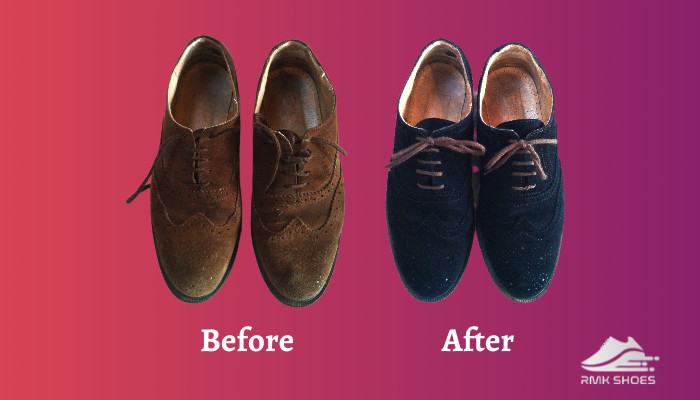 You'll obviously get a new look for your suede boots. If you're an expert in painting and try color variations on suede, your friends will think you have a lot of boots. And it's a budget-friendly technique to seek their attention without buying new footwear.
Dyeing suede boots will pump a newish look to the old and pale ones.
FAQ
Can You Use Baking Soda On Suede?
Yes, baking Soda is an amazing ingredient to use on suede. It's used for cleaning and removing bad odors.
Does Rubbing Alcohol damage Suede?
Rubbing Alcohol is inappropriate for suede material. The suede is porous and velvety material. Rubbing alcohol will penetrate inside the pores and will damage it instantly.
Is Suede Dye Water-resistant?
No, it's not water resistant. It's recommended to use water-resistant spray on the suede after dyeing it.
Conclusion
I know your confusion about darkening suede boots has already been cleared by reading this article. I mentioned each important term and suggestion just for your convenience.
You can do me a favor by leaving feedback and your experience of darkening suede in the comment section.
Your one positive comment really matters a lot!