Most users know that it's a bit more difficult to maintain suede-made shoes than others because of their soft and velvety surface.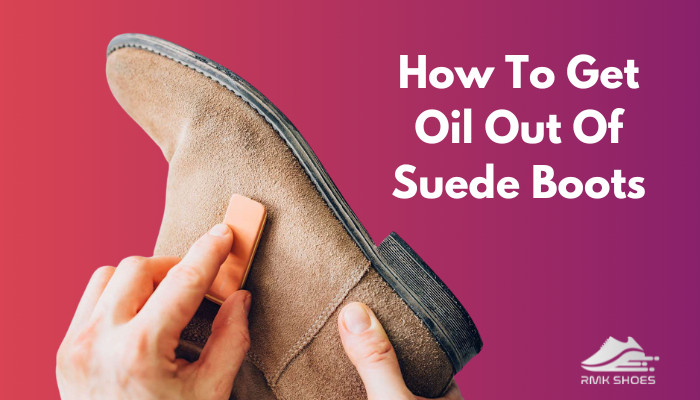 And when oil spills on your expensive suede boots, you must be worried, right? To ease your worries, I have come up with some productive ways to remove oil stains from your suede boots.
So, without further ado, let's learn the ways & make the suede boots new looking.
Does Oil Come Out Of Suede?
Accidentally got oil spots on your favorite suede boots?
No worries!
It is possible to separate oil, grease and stains from suede if the right procedure is followed at the right time.
The suede is made from the inner part of animal skin.
Due to its porous and weak structure, any liquid ingredients, including water and oil are easily absorbed by it. And when it happens, your shoe quality begins to degrade. You definitely don't want that, right?
So it's obvious for you to know the proper methods by which you can get stains out of your beloved suede boots.
However, as suede is a delicate substance, you might be thinking that getting oil out of suede is a tough and lengthy process. But actually, it's quite easy.
Researchers have come up with some remarkable and effective methods that can be followed to remove oil and stains from suede.
If you have any doubt about my words, just go through the process that I have noted in the next segment, then you will realize how simple it is.
How To Get Oil Out Of Suede Boots?
If the oil stains are dry and old, then always brush and straighten the fibers before starting the removal procedure.
Otherwise, do not brush at the first stage.
The easiest and instant technique of removing oil stains from suede shoes is gently patting them off with a damp paper towel. But it will only work if you do it as soon as the oil drops and the quantity of oil is low.
If the oil content is high or the stain is old, then you need to follow other techniques.
Here are 7 methods to remove oil marks from suede:
1. Removing Oil Stain With Cornstarch
Cornstarch has a significant role in cooking as well as cleaning daily accessories. Moreover, it's a cheap element.
All you have to do is:
Apply cornstarch in the oiled portions and spread it with a brush or spoon.
Leave it for at least 30 minutes so that starch soaks the oil.
Gently shake off the starch with a brush.
Wipe the oiled area with a slightly wet paper towel & dry the boots.
If the oil stains are stubborn, then repeat the above steps 2-3 times.
2. Removing Oil Stain With Dishwashing soap Or Mild-Detergent
Here is how you can clean oil stains with Detergent:
Prepare a thick mixture of dishwashing liquid and water. You can use mild detergent instead of liquid.
Apply a thick layer of that mixture to the specific area and wait for 15 to 20 minutes.
Clean the shoes with wet cotton fabric and dry them in the shaded area.
3. Suede Cleaner To Clean Oil Stain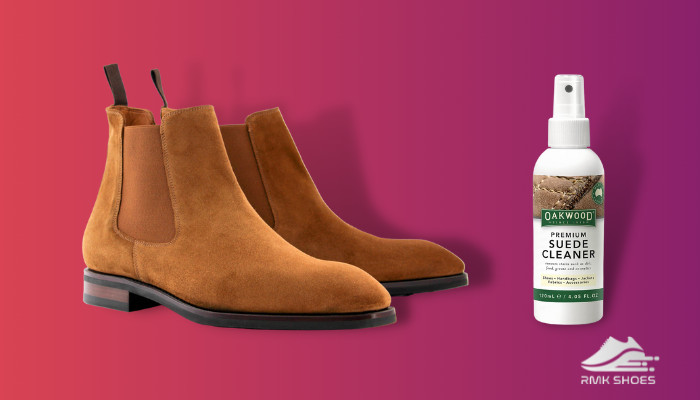 There are several suede cleaners available in the market. Make sure to purchase the good one. Bickmore suede & nubuck cleaner works well in this case.
Pick a good quality suede cleaner from the nearby store, and follow this procedure:
Brush the dry boots.
Shake the spray bottle and apply the solution to the stained area.
The label on the cleanser will tell you how long it should be on the suede.
After the specified time, wipe it off with a damp microfiber cloth.
Dry the shoes in an airy place. Keep it out of direct sunlight to avoid damage.
If your Suede boots lose their color while cleaning the excessive stains, check out another article to know how to restore color on Suede shoes.
4. Baking Soda To Wipe the Oil Stain
Baking soda is a powerful ingredient to get any tough stains out of your suede shoes. It is available in almost everyone's kitchen.
Here are the steps to get oil off your suede boots:
Take some baking soda and spread it on the affected area.
Scrub it gently with a brush after 15 minutes.
Clean the shoes with a cloth dampened in lukewarm water.
Dry the pairs properly and make them suitable to wear.
5. Use Vinegar or Rubbing Alcohol
Here are the ways to make suede free from oil stains using Vinegar:
Spritz rubbing alcohol or vinegar on the suede.
Leave it for 10-15 minutes, then blot it with a napkin.
Dry in an area with proper ventilation; use a hair dryer if time is short.
Use suede protector spray to polish and prevent it from water & other harmful elements.
6.  Get Rid of Stain With The Suede Eraser
The main advantage of using a suede eraser is that there is no water use and no hassle of mopping and drying.
It is effective enough to remove light spots.
But for tough stains, you have to invest a long time, and even then, there are chances that the stain will not vanish completely.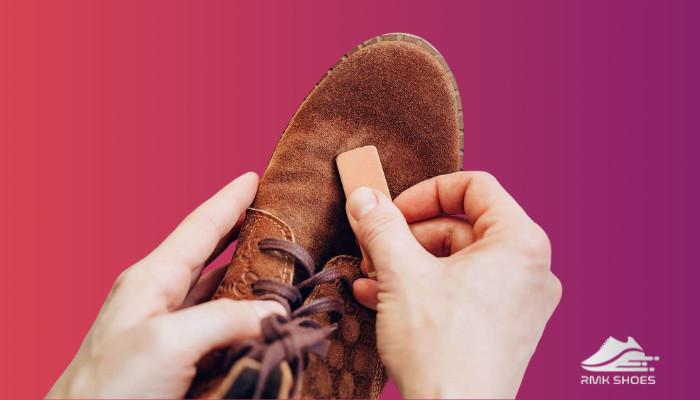 Keep rubbing with a little pressure on the surface with the white suede eraser. Maintain back and forth motion in this case. You can frequently check to see if the stain is gone.
Once the marks are gone, brush it off and apply a suede protector to make it look like new.
However, read another article on removing shoe polish from Suede shoes to know more about polishing your suede.
7.  Use The Talcum Powder You Have At Home
Surprised to hear about Talcum powder in removing oil stains?
Don't be, cause it really works!
Apply talcum powder to the affected area and gently rub it in with a brush. This is very helpful in lightening the scars. After 20 minutes of rubbing like this, the stain will become much lighter.
Then if you feel it necessary, you can remove it completely by following any of the methods mentioned above.
Keep in mind that never rub on suede at a fast speed and with a lot of pressure. It will totally ruin the suede.
Here are some tips to keep your suede shoes fresh:
Brush them regularly with a soft textured suede brush.
Spray suede protector and water-repellent on the boots at least twice a month.
Try to keep the shoes out of contact with water. If it still gets wet, then follow the tricks mentioned in my previous article to keep the shoes in good condition.
Sometimes, you may notice color inconsistency in different parts of your suede boots. This can happen as a result of scar removal. You must darken the boots in this case.
Follow our guide on how to darken Suede boots to restore the color of your faded suede shoes.
FAQ
What happens if you clean the Suede with water?
Washing with water can leave water stains on your Suede shoes, sometimes causing the fibers to become brittle and the color to fade out.
How do you get lubricant out of Suede?
To get lubricant out of your suede, sprinkle some cornstarch on it, leave it for a while, and then brush them off.
Does WD 40 clean Suede?
Chemicals like hydrocarbon and petroleum-based oils formulated WD 40, which is not suitable for suede. Since it can damage suede, cleaning with this is not recommended at all.
Closing Thoughts
You can make your shoes look new using the methods mentioned in this article. You can follow these methods to remove oil stains from shoes and anything made of suede.
I have put together some extra tips to keep your suede-made accessories in good condition.
Thank me later & if you have any thoughts regarding this, just leave them in the comment section.