Choosing one pair from Birkenstock is a pretty tough challenge.
The decision becomes breathtaking when you have to pick one pair between stone and mocha. Because both shoes have vast design options.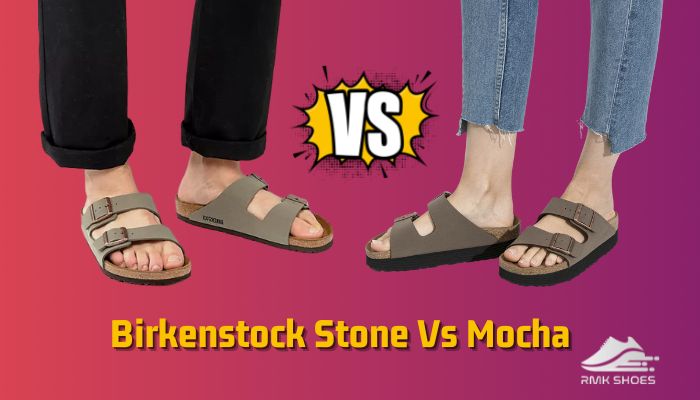 It actually takes a lot of time when you wanna select one between them. This article will provide everything that will reduce your stress of decision-making.
So, to know the aspects thoroughly, continue reading!
Birkenstock Mocha Vs Stone: Differences & Similarities
If you consider the appearance of Mocha and Stone, there are more similarities than differences. Because they belong to one footwear brand, it's quite obvious that they have similarities.
But when you check them vigorously, you find a bunch of variations like the matches.
Check out the different aspects to understand the similarities and differences between stone & mocha:
Material
For a better understanding of the materials differences, I'll discuss the same type of style that both line offer.
If you have ever seen the Zermatt slip-on in mocha type, you know how marvelous they are!
Mocha Zermatt shearling has wolf felt upper, with cork footbed. The shearling lining makes them comfy yet warm, which is mandatory in chili weather. The sole is made of latex material that offers a grippy texture in the ice.
Conversely, if we discuss stone Zermatt Birkenstock pairs that are designed of suede leather upper. And comes with a cork-latex footbed. The footbed is perfect for all types of weather.
In the stone pair, you'll find a rubber outsole that is a little different from the natural birks bottom. You also get a rivet with decorative stitches on the suede upper.
But as I have already said, they have a lot of similarities along with the differences, and that you find in all of their classic pair. In both colors, you'll get the same in-built materials along with the same feature.
Design
The most immense difference between the two models for me is the design variations.
On the Birkenstocks website, you will find 20 types of designs in the coin stone line. They cover every type of style in this twenty item, along with a flat heel women's sandal.
Apart from that, they have a variety of touches in the design section, and their Kyoto style is most appealing to me.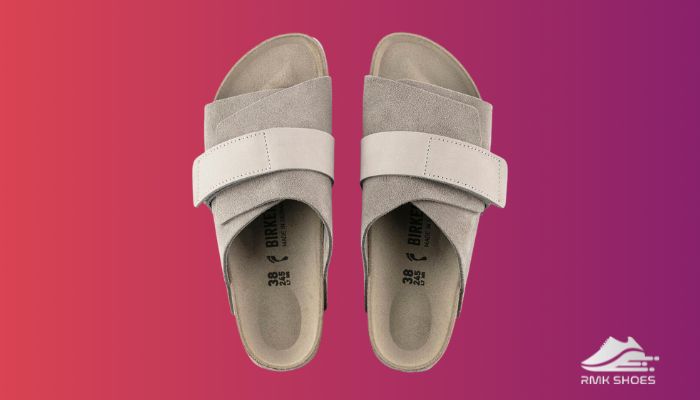 On the other hand, mocha offers 24 designs, but they have some repetitive designs which they differentiate for the upper leather.
In the mocha range, you will find the same classic design in different shades of mocha color. They also include patent leather upper in the classic line.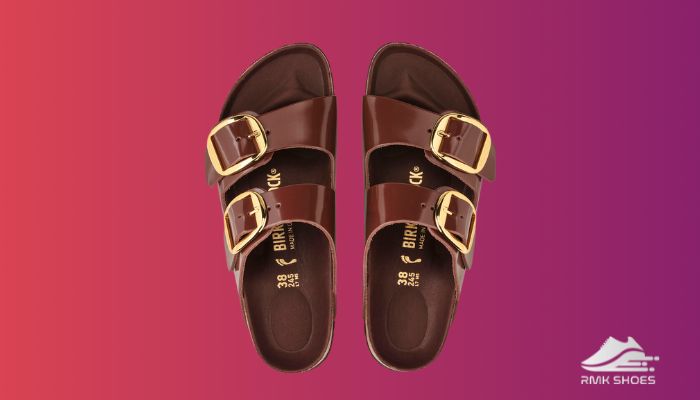 More or less, in both color lines, they have some similar styles like Boston, Gizeh, Mayari, Arizona, etc.
Price
Both coin stone and mocha sectors have the same prices, depending on their materials. And they have some significant models in both lines that are also charged similarly.
However, they introduce different types of shoes that are manufactured with divergent resources, and that variation reflects on their price too. Along with the cost, they add or deduct some price for their specific models.
For instance, both birks stone & mocha release the Gizeh model that charges the same for a $99 pair. Also, in the mocha line, the Gizeh Big Buckle model, which is manufactured of patent leather, charges $160 for each pair.
Generally, Birkenstocks are pretty expensive for their exceptional materials.
At a time, You will find the same price along with the mismatches due to their using materials. So, before choosing any pair, check the price rigorously.
Wearability
If you want to buy a pair of Birkenstock that covers your all program with grace, then both colors have amazing options.
Birkenstocks are famous for their wearability feature. The cork footbed is best for all-day work programs for those who have foot issues.
And both Stone and Mocha are good examples if you talk about Birkenstock wearability.
But according to the appearance of casual to formal, for me, the stone line is bang on in this aspect. They introduce some shoes that are suitable for every occasion and environment with their canvas upper.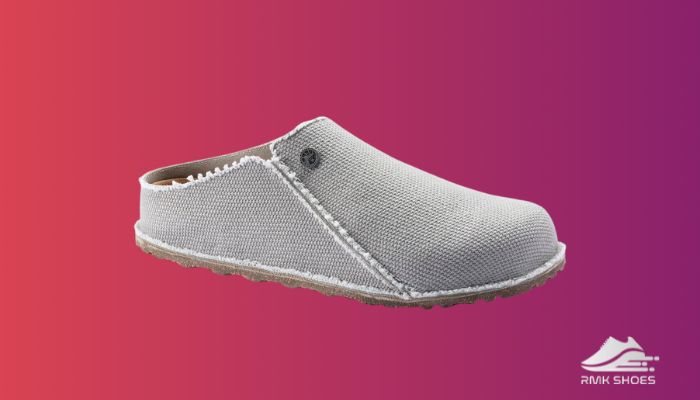 Additionally, You also can wear Birkenstock with or without socks to cover the chilly winter days.
On the other hand, if wanna buy a pair only for winter, the mocha has more options than the coin stone. There are a few mocha shoes that have inbuilt shearling lines that always provide a warm and cozy step.
Footbed
We all know the most iconic and exceptional part of Birkenstock that are different from other footwear is the cork footbed.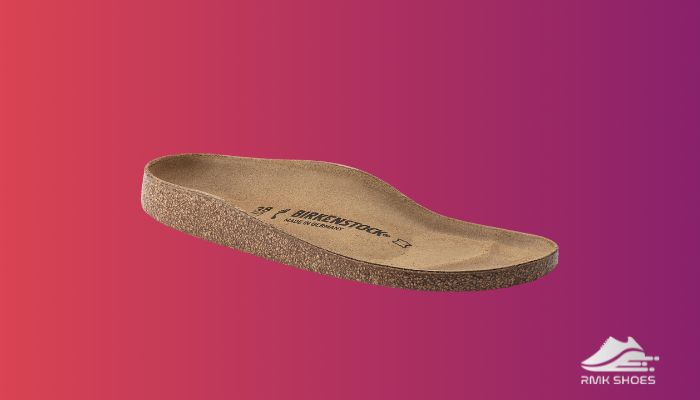 These criteria make Birks an ideal pair for those who have foot issues. The anatomical structure footbed of Birkenstock is also good for sciatica-like special cases.
Not only that, but Birkenstocks are also good for flat-footed people. Along with the cork bed, you will find some twinning such as Latex, Shearling, and Birko-flor in their variety of pairs.
Recently, Birkenstock included the EVA sole for making the footbed extra comfortable for those who are afraid of getting hurt from their Birkenstock.
In one line, the most common similarity between these two is the identical footbed.
And that's all I found in my both birks pair. If I talk about them by using one word, both stone, and mocha are super supportive in my regular life.
Pros & Cons
After all the good qualities in Birkenstocks, they have some bad too. Like the myth that "Five fingers are brothers, but not equals."
And now I'm describing those drawbacks of birks stone & mocha with their top-notch good qualities.
Here are the advantages and disadvantages of both Birkenstocks:
Advantages of Birkenstock Stone
The magnificent hard stone color blends with every outfit.
They include some canvas and suede upper clogs in their vast line, which is suitable for hot summer days.
Stone pair has a cork footbed that is ideal for specific foot conditions.
The shearling lining makes them ideal for cold environments.
In the stone line, you'll find 20 different designs with various facilities.
They offer for women and children along with their unisex models.
Disadvantages of Birkenstock Stone
In the stone line, you will find only one gray shade, and that is the stone color.
All the shoes have similar and identical materials.
They are quite pricey.
Advantages of Birkenstock Mocha
The mocha color amazingly suits everything because it naturally blends with our skin color.
You'll find a bunch of mocha shades in this one line with some different uppers.
Birkenstock introduces 24 different styles in the mocha line.
They have some inbuilt shearling lining in the footbed which is good for winter.
Disadvantages of Birkenstock Mocha
They have different colors in one design so you couldn't find a lot of style variation in this mocha line.
The sandals are quite expensive.
These are the pros and cons I found after using both shoes roughly. As you can see, the advantages are double compared to their downsides.
Which One is Suitable for You?
If you ask which one is perfect from Birkenstock mocha and stone, it is the most tricky question.
And Choosing one pair between them is quite impossible for me as a die-hard birk fan. Yet, I'm trying to help if you are stuck between these duos.
If you want to pick a stylish one, then go with the stone version, they have more variety, such as Lugano, Kyoto, and Namica (women's flat heel shoes).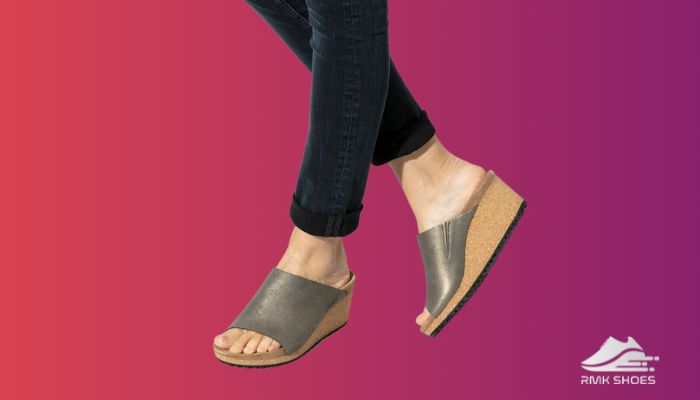 Contrary, In the mocha line, you won't find this type of style. So, living a trendy lifestyle, choose the stone line shoes.
But if you want an exact match shoe with your outfit, then mocha is for you. Because in this line, you will find a lot of shade options, whereas stone has one color.
Moreover, they offer some upper patent models, which is a glossy finish and are perfect for late-night parties.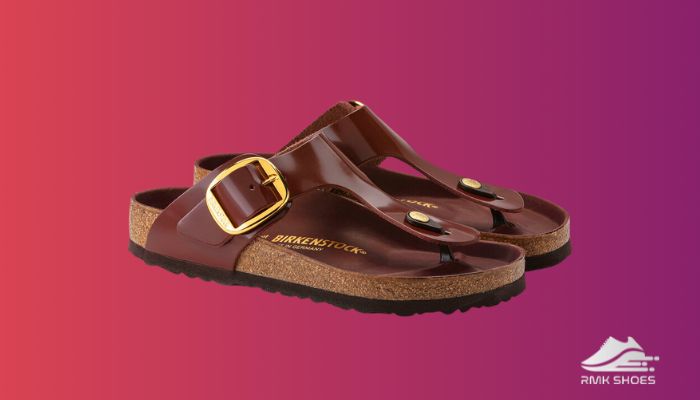 After all these, I can say both lines can add a lot of facilities to your Birkenstock journey.
Consequently, if you have enough budget, then grab them without any dilemma. Trust me; they offer the best support if you have any foot problems. I suggest picking both shoes and satisfying your soul.
FAQs
Which Birkenstock material is most comfortable?
The cork footbed with a shearling line is the most comfortable material in Birkenstock clogs. The suede and leather both are famous for their comfy feeling.
Are Birkenstocks still fashionable?
In 2023, Birkenstocks still hold their sensational response by introducing their fashionable pairs.
Which is the original Birkenstock style?
The original birks style is the Madrid one trap sandals, which were released in 1963. And that pair is still in fashion after passing more than half centuries.
Look Before You Go
As I have already mentioned a few times, both mocha and stone are top-rated birks pair.
After reading all the facts about both shoes, maybe you have already made up your mind. Let me know, in the below box, which one you get and how it works in your daily life.
Up to then, happy shopping!