Luxury, durability, and comfort ─  hardly lie together.
Birkenstocks changed this notion with their comfy, versatile, yet luxurious sandals.
If you have a pair of Birkenstocks, then you surely know the quality of Birkenstocks that urges people to keep a large stock of them.
But here's the catch. High functionality comes at a high price!
Thus, Birkenstocks are by far the most expensive shoe brand out there.
As a Birkenstocks wearer myself, I had to know all the factors that made Birkenstocks so popular and expensive.
So, I compared it with other alternatives and researched it for 24 hours to find out the actual reasons why Birkenstocks are so expensive!
Stay till the end to reveal the truth behind Birkenstocks' high price.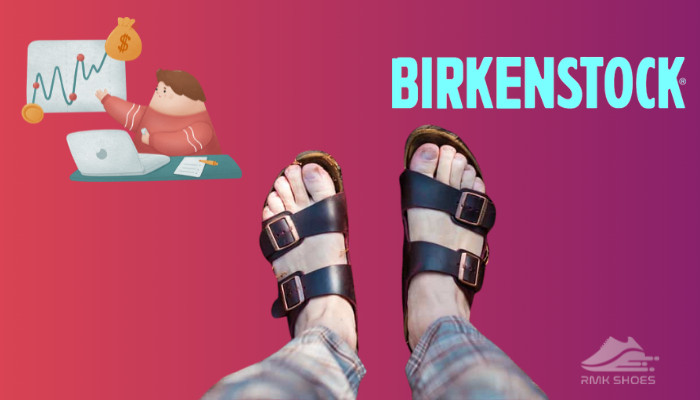 What Is Birkenstock?
The name "Birkenstock" has been there since 1774, becoming the most successful shoemaking dynasty ever.
They successfully started producing and selling shoes with flexible footbed insoles in 1896.
And in 1902, Birkenstocks developed the first contoured arch support shoes that added more comfort to their existing shoes and sandals.
Since then, Birkenstocks has never looked back. Constantly they were developing their shoemaking to come out with the most feet-easing footwear.
Birkenstocks even served orthopedic-friendly shoes to injured soldiers who returned from World War II.
So, when it comes to providing comfort while maintaining high-end quality, Birkenstocks soon became everyone's go-to.
Check out our separate post: Are Birkenstocks Good For Flat Feet
Why are Birkenstocks so Expensive?
Birkenstock is the iconic German brand that gets huge popularity for providing comfortable yet high-quality sandals.
While being popular made this brand expensive, there're plenty of other reasons as well.
Let's dive deep into those reasons why Birkenstocks are so expensive:
Ethical & Sustainable Production Practice
When most top companies shifted their production to Asia, Birkenstocks was still making their shoes in Germany.
Borning in Germany, Birkenstocks are still making each pair of shoes in their own factory.
Being a German-based manufacturing company, Birkenstocks adheres to strict labor laws and gives its workers a fair wage.
Apart from these, Birkenstocks also conform to the recycling and waste law imposed by the authority.
All the raw materials they use to produce shoes are eco-friendly and sustainable. In their factory, they were able to reduce carbon footprint and energy use by approximately 90%.
Therefore, they spend a lot to maintain ethical and sustainable production.
Now, the reason for their expensive shoes is starting to show, isn't it?
European Craftsmanship
Handcrafting and automation – both are used in Birkenstocks factory.
Birkenstocks assigns some of the top certified experts to their production team to bring out the finest quality of products.
However, it takes around a total of 100 hands to give a final shape to a beautiful pair of Birks!
The intimate phase of handcrafting the shoes should come at a price, right?
Consequently, European craftsmanship takes away a large chunk of cash.
Therefore, the fashionable and luxurious Birkenstocks cost more money than others!
Use of Authentic Leather
Birkenstocks use real leather, with a cork footbed covered with genuine suede leather.
Both painted and oil-tanned leather is used in different Birkenstocks sandals.
Using a pure layer of leather as thick as 2.8 to 3.2mm definitely comes at a price that explains the extravagance rate!
Use of High-Quality Materials
Since their emergence, Birkenstocks have never degraded their material quality.
In fact, they're trying to develop day-by-day to reach their production quality at its peak.
As for global warming, Birkenstocks constantly try to reduce the energy and increase the use of biodegradable materials.
Therefore, Birkenstocks collect cork from the cork oak tree's bark layer, ensuring no trees are destroyed. And they use natural latex rather than synthetic latex.
These things don't come cheaper:
To make things more precise, I've listed some of the Birkenstocks' high-quality materials that they use to make shoes and sandals.
The following high-quality raw materials are used in Birkenstocks:
Natural tree latex to make cork sealants and adhesives.
Cork that is made out of recycled wine bottles to build the midsole.
Recycled paper for packaging and eco-friendly inks for labeling
Pure Leather, including wool, felt, suede, nubuck, etc.
Jute fibers that are made out of jute with in-house efforts
This shows that Birkenstocks didn't compromise the use of superior materials quality in their shoes.
Thereby accumulating these finest organic materials and recycling process costs a lot of time and effort, not to mention money!
And that's another reason why they're so expensive.
Ultra-Durable
After 30 years of seamless use, you can repair it very easily and leave it for the next generation!
Yes, some Birkenstocks have been considered as long-lasting as more than 30 years.
The build quality is so sophisticated that you'll have to sweat over it to break it!
We saw how well they were built when we dismantled one of their most popular pairs.
Birkenstocks use a jute fiber braid to protect the layer of the footbed, midsole and outsole, which makes it durable.
The use of leather in the footbed and rubber in the outsole made it sturdy.
And I don't wanna talk more about the midsole, man!
That was the main beast in this shoe.
The thin layer of cork midsole attached with natural latex is the one that made Birkenstocks so comfy yet long-lasting.
Altogether, these building materials have a heavy price tag as well!
Versatile in Design with a Wide Variety of Style
Birkenstocks design unisex sandals so that everyone can wear them, both men and women.
While Birkenstocks are really good in summer, you'll look cool in winter when you wear them with socks!
Their designs are so versatile yet sophisticated that it goes with any type of outfit.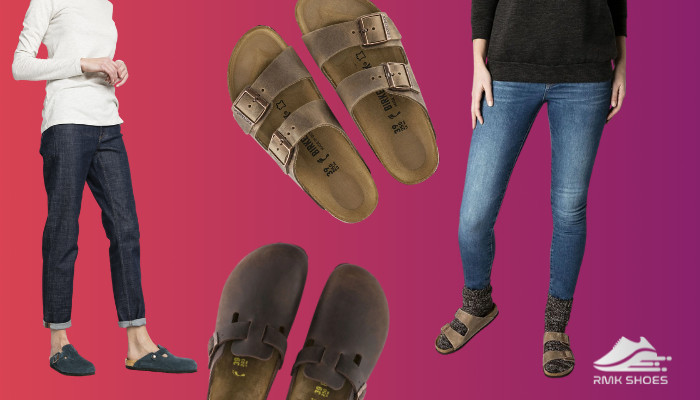 Men and women, kids and adults, everyone can wear a pair of Birkenstocks sandals on any occasion, whether formal or casual.
Birkenstocks Arizona and Boston are two of their most popular designs.
In America, these brands are considered the paragon of fashion!
Celebrity Endorsement
Birkenstocks hadn't got a real focus until 1990 when model Kate Moss was seen wearing Birkenstocks sandals.
Before that, the fashion world considered Birkenstocks sandals as a hippie fashion.
However, in 2012, Birkenstocks got major exposure.
This time, on the runway with trendy fashion! Birkenstocks soon became a desire when Phoebe Philo of Celine put a pair of Birks Arizona on a runway lining it with a mink.
Just after this resurgence, the brand collaborated with some popular celebrities, including Rick Owens, Proenza Schouler, and Valentino.
As time passed, Birkenstocks seized the attention of more celebrities and became a must-have fashion from just a rebel sign of hippies!
Today, we can see some cool Birkenstocks sandals at celebrity gatherings and even at weddings.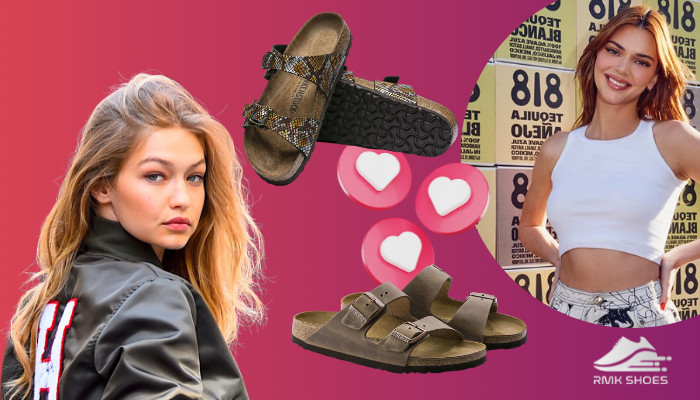 Popular faces like Gigi Hadid, Kendall Jenner, Jason Mamoa, Jude Law, Jade Jagger, Kaia Gerber, Gwyneth Paltrow, Katie Holmes, Elizabeth Olsen, Jenna Dewan, and more are wearing this comfy to parties and casual outdoor events.
Moreover, Birkenstock is endorsed by icons like Leonardo Di Caprio, Usher, Ashton Kutcher, and Christian Bale.
This surge made Birkenstocks popular and make it a must-have fashionwear. Thus, it increased brand value.
Popular yet Reliable Brand Name
With being so popular, Birkenstocks are also a name of reliability.
As a Birkenstocks user myself, I have never faced any issues. And when to buy a pair of comfy, I will not go elsewhere.
And that's the case for every Birkenstocks user!
People are choosing this brand not only for their brand value but also for the enduring quality Birkenstocks provides!
Actually, it's the build quality that got Birkenstocks a bump in brand value in the first place.
Super Comfortable
When it comes to comfort and longevity, Birkenstocks is the place to go to.
In my 3 years of using Birkenstocks Arizona, I've never felt any discomfort in my feet. Instead, I feel on top of the world whenever I go out wearing Birkenstocks with denim!
The materials used to build Birkenstocks made the sole super supportive for those who have feet issues like flat feet.
To know more about Birkenstocks for flat feet, surf through our website for related content.
However, the use of natural cork, pure leather layer, and rubber outsole made Birkenstocks cozy yet super functional.
With such materials full of quality, the touch of experts turns the Birkenstocks so good to make your feet feel at home!
No Worries in Sizing
When you spend a noticeable amount of cash to buy a pair of shoes, you don't wanna face any trouble. Especially not in sizing, right?
Here Birkenstocks can be your reliable station!
Not only do they have a wide variety of sizing options, but they are also unisex. Therefore, Birkenstocks can fit everybody, whether it's for men, women or children.
They couldn't cut corners to make such versatile varieties making their iconic sandals. That explains the high price tag!
Why are Birkenstocks So Popular?
It's cool to be comfortable ─ this is the fashion statement trending right now, and so are Birkenstocks' sandals!
Birkenstocks have become the style in today's glamor world. Celebrities wear Birkenstocks, and they endorse them.
Thus, these sandals became the fashion while maintaining comfort.
Moreover, doctors tend to recommend Birkenstocks sandals and shoes for orthopedic support nowadays.
Here are some other reasons why Birkenstocks got huge popularity:
Birkenstocks come in unisex design and size.
They are highly functional and fashionable.
A 30-year guarantee made them ever-lasting.
Birkenstocks are best for summer. But wearing them with socks in winter will make you stand out as a cool guy/gal!
Overall, they are just the best in keeping things best in quality while catching the trends.
For providing such versatility, Birkenstocks has become a worldwide popular brand.
As of now, they're the world's best shoemaking company out there.
What to Know Before Buying Birkenstocks?
Birkenstocks are considered the epitome of quality and comfort.
But great quality comes at a great price, right?
In the case of Birkenstocks, it's the cost. You'll have to pay at least a hundred dollars to buy a pair of sandals.
So, it's important for you to make a background check before buying a Birkenstock!
Let's see what to look over before making the final purchase decision:
What's so Great About Birkenstocks? – The Key Features
Birkenstocks were the first company to bring about a softer footbed and optimum arch support. Among other qualities, these two are their signature attributes.
Let's talk deeper about their other features and point out those focal points:
Birkenstock uses eco-friendly materials to make its shoes and sandals.
They use natural cork and latex to make a soft yet sturdy footbed.
Unisex designs
Wide variety of designs and sizes.
Providing moisture regulation made Birkenstocks waterproof.
The use of pure leather is as thick as 3.2mm with suede addition.
Use the natural jute fiber to cover the sole layer, making Birkenstocks ultra-durable.
Birkenstock made shoes and sandals for flat feet with orthopedic insoles and soft suede lining.
Podiatrists have been recommending Birkenstocks for their functionality for foot conditions.
These features made Birkenstocks special among all.
However, there are alternatives that are constantly trying to copy the Birkenstocks to offer cheaper versions.
I tried one of the Chinese versions, and the differences were crystal clear.
No other brand can match the quality Birkenstocks is providing right now.
And to get that level of quality, you need to break a little!
Are Birkenstocks Comfortable?
Birkenstocks became popular in the first place for their ability to provide comfort.
They emerged having the main goal of delivering the utmost comfort to the feet. And they were able to fulfill this goal pretty well.
You'll never encounter any sandals of Birkenstocks that are uncomfortable and lower quality. As a proud owner of Birkenstocks sandals, I can assure you of this.
With a pair of Birkenstocks, you'll get a durable yet very cozy footbed, top quality, optimum arch support, flexibility, simple design and, of course, a luxurious vibe!
Are Birkenstocks in style 2022?
During my research, I read a review. There the person started using a pair of Birkenstocks in 1973 and was looking for a replacement only 45 years later in 2018!
For the design, baby boomers cherished these shoes, and now millennials are grabbing these shoes to look super cool.
Birkenstocks sandals are a trending fashion right now. And it's not there to buzz just for a while but to thrive through the century.
So yes, Birkenstocks are in style in 2022 and will be in the following years!
Is Birkenstocks Worth Your Money in 2022?
After gathering every piece of information about Birkenstocks, I can confidently say that they are worth every penny.
With the use of organic materials, hand-crafted design, versatile styles, solid build quality, top-class assembly, and signature footbed construction altogether, it costs a huge amount to build a pair of Birkenstocks.
This makes the high price tag legit on Birks!
So, despite being expensive, you can buy a pair of Birkenstocks without hesitation.
Final Thoughts
Fashion and function both sing together with Birkenstocks!
Whether it's for summer or winter. They'll fit perfectly both on the beach and with socks!
Longevity, comfort, flexibility, versatile designs, sustainable material quality, and trendy fashion ─ everything is packed with a pair of Birkenstocks.
So, go for Birkenstocks. You'll never regret it.