Modeling is the best way to represent various objects like dresses, shoes, jewelry, and even socks. This way, you can visually see what all the fuss is about.
In recent times modeling is easy because of trouble-free access to various social media platforms. And anyone, literally anyone, can do it from their house.If you want, you can become a sock model too.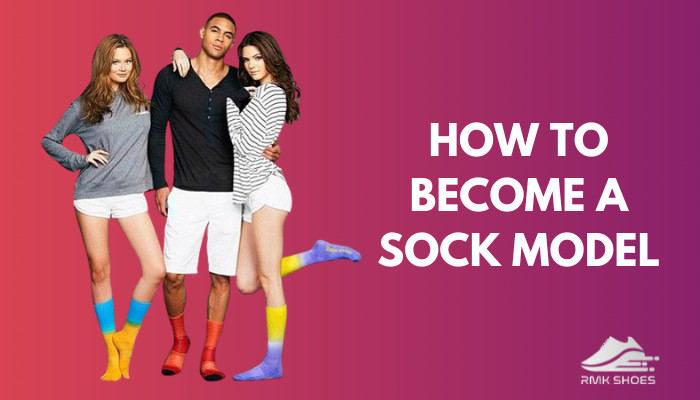 You just need in-depth information and guides to become one.
After reading this article, you'll learn everything about this new concept of sock modeling and the whole process of becoming one, along with some tips.
So read till the end.
Check out our separate post on do you wear Socks with Vans Slip Ons.
The Concept Of Sock Modeling
You must have heard about foot modeling. People working as sock models can show off their beautiful legs and earn a handsome amount at the same time.
You can't just pair up any kind of socks with any shoes. With the frequent launch of various shoes, you need different socks and lengths to cope. And it became urgent to showcase them.
That's how the concept of shoe modeling began.
In winter, the most crucial thing except for clothing is your footwear; with shoes, you must know the necessity of wearing socks.
Socks are a must-have to protect your feet from extreme cold and prevent the cut from wearing new shoes. And with the variation in footwear, different types of socks became necessary.
Read more on Do you wear Socks with hey dudes?
How Can You Be A Sock Model?
Recently more and more people, especially girls, are getting interested in sock modeling. In this sector, knowing the information are the crucial part.
To become a sock model, you need to decide first, and there are specific steps you can follow.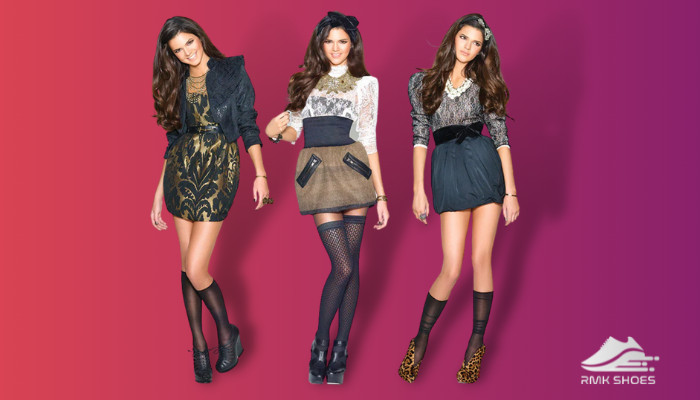 Let's dive into more details on how to become a sock model:
Do Research
To start anything new, you need proper knowledge about that concept. Otherwise, the implementation remains incomplete.
You can find out about model agencies through internet search. So, find the best agencies in your country and visit their website to learn about their model hiring process.
Prepare your photo by professional photographers. Usually, model agencies require pictures of the models. Make sure your images are of high quality.
To find a photographer, you can take the help of Google or Yahoo. You can also find photographers from modeling agencies. Ensure to find someone who has experience with glamour photography.
After finding a photographer, directly contact them. Most of them offer different packages. Choose wisely according to your need.
Work Alone
To start a modeling career, working alone first is best. This way, you can improve and spread your network before craking your golden opportunity.
Most of the sock models are starting their careers by freelancing. Not necessarily these are leading towards paid promotions.
Check out our separate post on Can You Wear Socks With Skechers GO-Walk
Take Care Of Your Feet And Nails
For modeling, the most important thing that matters most is your looks. You have to be a representative of beauty. So, you must take care of yourself first.
You usually pay less attention to your feet or nails. But if you want to be a foot or sock model, the first and foremost attraction is your feet.
Let me tell you my story: usually, I am very conscious about my appearance and take care of my foot. And one day, casually, I posted a picture of my feet on Instagram.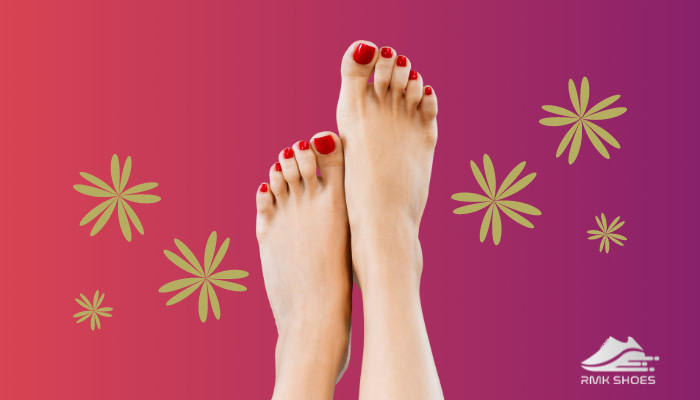 And the surprising fact happened the next day. My followers increased, and only that picture got the most reactions and comments among my every other picture
It was just a standard photo. So, you can imagine how effective it will be if you take proper care of modeling.
Pedicure should be in your every month's appointment, along with proper moisturization. Appling nail polish is also another key factor in making your feet look attractive.
Get A Modeling Portfolio
For models, even for K-pop dancers and singers having an agency is a must. You need a portfolio to tell anyone about yourself as a professional.
To make a standard portfolio, you need at least 10 to 15 photos by professional photographer. Some agencies prefer fewer photos, let's say 5 to 10.
Other agencies require full body parts pictures. As for shoe, foot and sock modeling, you must submit photographs of your legs and feet. Make sure your outfit is proper to extend your feature.
You should take one set of each kind of photo. If you have any photos of your performance of dancing or singing on the stage, do include them. This will work as an advantage.
Your other skills like horse riding, skiing, climbing, and anything extra you can include in your portfolio to secure a better chance. Take pictures in good lighting.
Choose Between Freelance Or Company
The agency ensures a model is well taken care of and the whole working process goes smoothly.
Blackpink is the most famous girls' band in the k-pop industry. And you often hear that they must maintain specific rules because of their agency. And the ban on dating is one of them.
However, it's not like if your favorite band Blackpink, has an agency, you must have one. Freelancing is always a better option for those who dont want to go through the hassle of maintaining rules.
This way you can work freely and according to your choice. You can select any work and deny it if you dont like any.
You can travel, enjoy different places and food they are offering and get paid for posting photos. How amazing is that?
Read more on Do You Wear Socks with Rain Boots.
What Types Of Socks To Wear For Modeling
For a sock model, except for feet, the most important sector is socks, obviously. While you are taking care of your feet, the selection of socks should get equal priority, isn't it?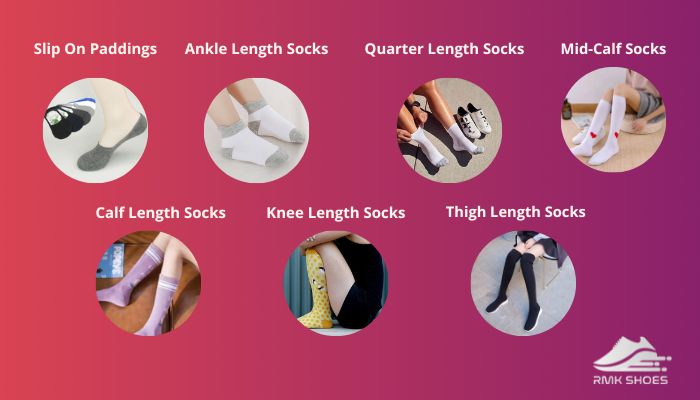 You may think what to select from socks. But let me tell you, it's an ocean out there. With the growing styles of shoes and footwear, sock manufacturers are changing their form.
To cope up, various kinds of socks were launched and advertised, and there, the need for sock modeling came to light.
Let's see the types of socks you need to wear to model:
Perfect for low-cut loafers, shoes and ballerina shoes. This particular sock saves you from shoe bites too.
Just like its name, ankle-length socks cover till the ankle. It is proper for dress shoes and loafers where you need to wear socks without showing too much.
This model covers your ankle, and both men and women can wear them. Most often, quarter-length socks are the best option with informal shoes.
 The ones you always wear at home made with woolen materials are the mid-calf socks. These are perfect for lounging around the house and for physical activities.
For sports people, calf-length sock is ideal. These go up to your calf muscle. It is perfect for intensive workouts.
In winter, with knee-high boots, mostly women wear this kind of shock. These give your foot some extra cushion and comfort in the cold.
Like the name, these socks go up to your thigh, and with thigh-high boots, it is a staple.
So all these types of socks are the most popular styles of socks out there. You just need to choose one to model for any of these kinds.
In most cases, models go for fuzzy, comfy, colorful socks that attract more viewers and customers. For that, mid-calf socks are the perfect fit. But you can choose any type you want.
Also, check out our separate post on Does Wearing Two Pair of Socks Make You Taller.
How Much Do A Sock Model Earn?
The payment doesn't matter much if you are modeling as a hobby. But when considering taking it as a profession, the income does matter.
Depending on part-time or full-time, sock models can earn from 50$ to 1000$ per day while working for a sock company. Most successful sock models can earn 500$ to 1800$ per day.
Models get paid for sock advertisements based on their appearance. And how much money one can get depends on the scale of the contract.
In LA and New York, models who work for major brands can earn 50$ per day.
And if you work alone, the amount depends on the contract. You can choose how much you want for one particular shoot.
Is Sock Modeling Becoming Popular?
Yes, recently sock modeling is becoming quite popular. The main reason is that you don't need to show off your whole body or wear exposing dresses to get attention.
It is an excellent opportunity for shy people to express their talent and creativity and earn some extra bucks. For that, Instagram is becoming the primary target.
Instagram is now one of the most popular social platforms where you can become an icon overnight. To become a sock model, why don't you give it a try?
There are so many influencers are there who got famous suddenly. Even for modeling goes the same. In sock modeling, you can choose insta as your primary platform.
I went through insta and found numerous accounts that just post pictures of them wearing socks, and the number of followers they have is massive.
Child Sock Modeling
You must be wondering how a child can be a model for socks, right? Let me explain.
Recently I was scrolling through Instagram and saw the most beautiful baby feet photos. It got me curious, and when I searched for more baby foot pictures with colorful socks on blew my mind.
Agencies for child models prefer toddlers or young children for sock print job. These are mainly temporary jobs paid just after the photo shoot.
So, if you know someone fit for this job, help them to earn some extra cash.
How Do You Become A Leg Model?
To become a leg model, the must-have feature is long, beautiful legs that can attract attention. Leg modeling is one of the most popular body part modeling.
If you want to be a leg model, your legs must be long and blemish-free, and you need to take good care of them.
To maintain spotless legs, you need to be very careful about choosing your activities. A small cut or bruise that can leave a mark can be a reason to lose your job.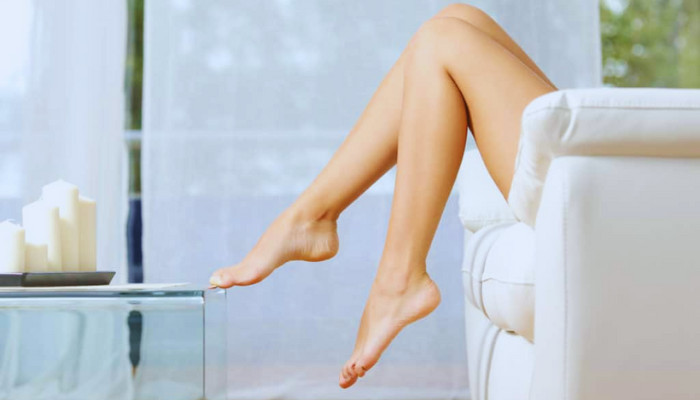 These are the things you need to follow to become a leg model:
Maintain a good skincare routine
Avoid wearing tight cloth that can leave a mark
Wear SPF to protect skin from sun exposure
Exercise to be fit and eat healthily
Avoid activity that can leave a mark
Avoid wearing high hills to protect the feet from damage.
To be a foot model, your foot should be the main focus to keep your job. A well-maintained, healthy, toned leg can get you your dream job.
Most Popular Sock Modeling Agencies
To start your career as a sock model, you need to know about the best modeling agencies out there in your field. It's not like you have to apply for them immediately, but you should have the information.
Typically agencies that signs foot models sign sock models too. So, you can check them out before applying for them.
Let's check out the top sock modeling agencies in the US:
Freedom Models
Q Management
Storm LA
DT Model Management
Is Sock Modeling Illegal?
Working freelance and with agencies are two completely different aspects of the modeling business. They will take care of your business aspects if you work for an agency.
Usually, agencies take two types of approaches; one is they hire professional models, and two, they sign up new models and train them accordingly. Working with an agency means you have to work as they say. You have to maintain the specific rules they require.
And if you don't do so, they can take legal actions against you.
The main reason is that you must sign a contract to join an agency. And according to the agreement, they can charge you and sue you if you break or fail to obey a particular command.
So before signing any contract, read carefully and then decide whether you want to do it or not.
Modeling is not illegal. But in certain countries, a specific kind of modeling is unlawful according to section 67 of the Information Technology Act, 2000, and the punishment is up to 5 years with a fine added.
Sock modeling is certainly not illegal. But if it includes nudity, it can be an act of legal action, and according to the law,  They have the right to punish the model or agency.
Should You Apply For Sock Modeling Job?
When you are trying for modeling, Why not try for the smaller gigs? The modeling industry is massive, with its ups and downs. To make your mark there, you have to go a long way.
So, you should definitely apply for sock modeling. As it is not too much like the actual modeling, you can learn from here. Consider it as the beginning of your career. Through sock modeling, you will be able to understand the industry; how this works, who can lift you up and how it can end in vain.
Even child sock modeling is becoming a thing, so if you are interested in bringing your child or younger ones into this business, you can. But be aware of the consequences too.
Sock modeling is a trendy concept, and the possibility of becoming a huge thing is not a false alarm. So, start thinking about your goal now.
Verdict
To have a different modeling career, sock modeling is a perfect alternative. It can bring you fame without facing the harsh reality of the glamour world.
You also have the option to go freelance here. And that is even safer these days with all the fraud stories on the internet.
I hope that this article was helpful in the process of providing you with the necessary information about foot modeling, especially the sock modeling sector. If you have previous experience of modeling for socks, do share your experience and tips in the comment section below.