With a wrong-fitted boot, your pleasant horse riding can end up getting you injured, no matter if it's from Ariat or not.
However, with the complex design of Ariat's cowboy boots, customers often wonder how to get their sizing done without any hassle.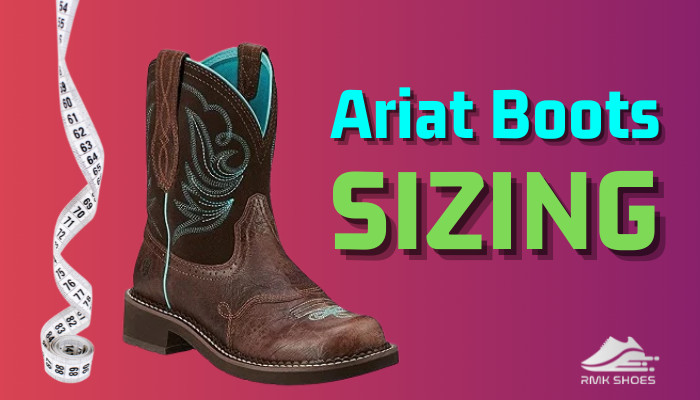 Likewise, are you also confused about how the sizing works with Ariat boots?
Look no further! As a roper boot user for years, I'll guide you through this article to get the perfect fitting from Arial boots.
So, read on!
Ariat Boots Sizing Guide
Though according to some users, Ariat boots run big, actually they are true to size. For everyday wear, you need to get a close-fitted pair to secure them on your feet. And measuring your feet properly with the Ariat boot size chart can get you the perfect fit you desire from the boots.
When you want a boot for rodeos or just for social events, you must give emphasis on the sizing, no matter if the boots are from Ariat or Justin.
Ariat is a century-old cowboy boots brand offering a range of styles and designs to choose from. But to get the best performance out of them, you need to pick the right size for you.
However, going through the sizing process may seem bothersome, yet, you don't need to worry about it.
Just follow the below sizing instructions, and you will be able to measure your Ariat boot size precisely at home.
Ariat Size Chart for Men's Boots
Too tight or too loose cowboy boots won't be the right choice, doesn't matter what activity you are planning to do wearing them. Hence, choose the size carefully when you are investing in an expensive pair like Ariat.
As you already know, most Ariat boots are true to size. So, when buying boots from Ariat, you can go with the standard size that you use for other cowboy boots.
But, if you wanna pair your Ariat boots with thick socks, consider going half-size up, otherwise, your toes may get cramped after a while.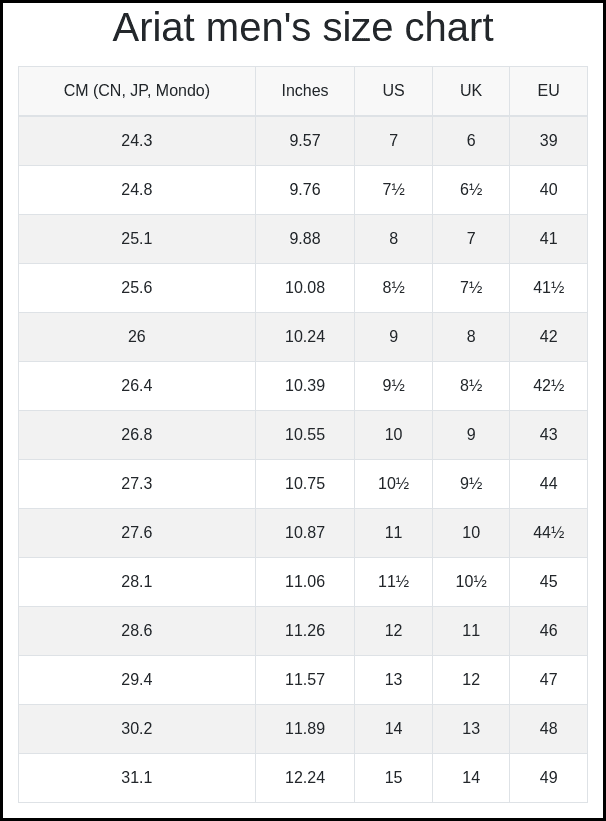 As you can see from the chart, they are a little big if you compare them with sneakers like Nike or Adidas. But, this doesn't mean you need to size down with Ariat boots, because they will give a perfect fit with the same size as sneakers.
So, if you are buying Cowboy boots for the first time, I'll recommend you go with the same size as your sneakers. This will be enough to give you a perfect and comfortable fitting with Arial boots.
As for the width, Ariat offers narrow, standard, wide, and extra-wide sizes for all boots. However, from the E, EE, or, EEE widths, you can choose the one that is most suitable for your wide feet.
Ariat Size Chart for Women's Boots
Ariats sizing for women is quite similar to men's. They are true to size, and you don't need to size down, as long as your feet aren't extremely narrow.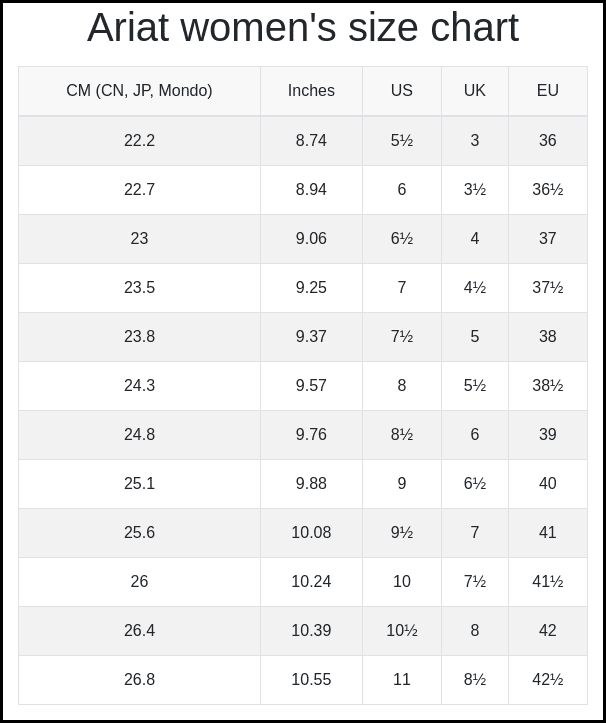 So, if you are a woman with a shoe size 8, go for a size 8 for Ariat boots as well.
Also, Ariat comes with a range of widths– from narrow to extra wide boots for women. From the size chart, you can easily find the available widths of each model and choose the one you are longing for.
So, after measuring your size properly– both width and length, compare them against the given size chart to find out your perfect fit.
Ariat Size Chart for Kids
Apart from offering a range of styles for both men and women, Ariat also got a kid's footwear section. Hence, you can get these versatile and comfy boots for your little riders as well.
However, as said before, Ariat boots are pretty expensive. So, choosing the right size will ensure that the investment you are making in your child's boots doesn't go in vain.
So, measure your child's feet properly either in CM or inches and find the perfect size by comparing them with the size chart below.
How to Fit Ariat Tall Boots?
Since their first release in 1999, Ariat tall boots have become a popular choice among riders and horse enthusiasts. Apart from being durable leather footwear, Ariat boots are slip-resistant as well.
However, riding boots are supposed to fit you snugly, so that you can get the best performance and comfort out of them. But you don't have to worry about their sizing.
Just follow the below instructions to ensure a perfect fit for tall Ariat boots:
1. Measure Your Feet Size
A proper foot measurement is the first step in finding out your Ariat boot size. Unlike regular cowboy boots, you need to measure both your feet and calf width for tall boots.
So, now, let's take a look at the measuring process: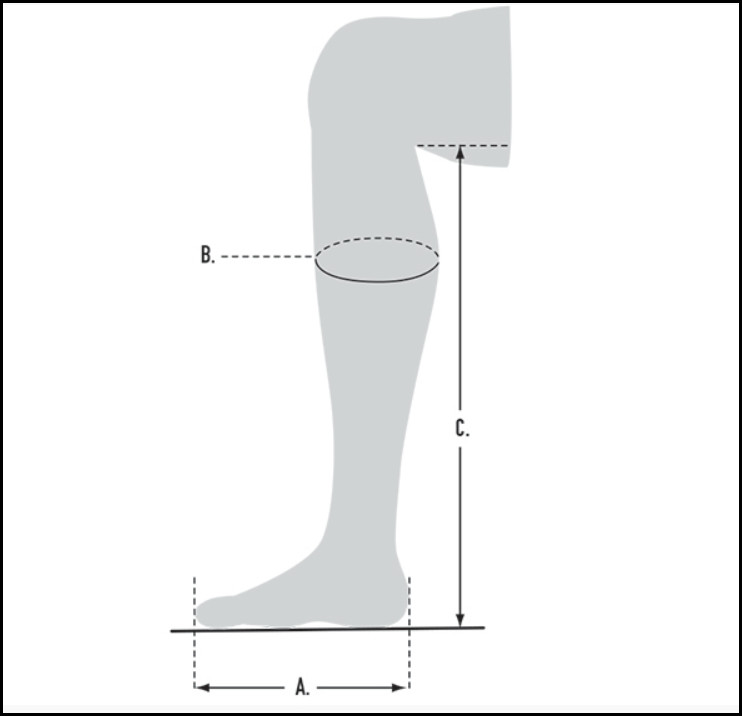 To begin with, wear the Breeches and socks that you are going to wear while riding so that you can get the most precise fit.
And now, sit in a flat chair while putting your legs vertically on the ground.
By using tape, measure the widest circumference of your calves. Try to get someone else's help while taking the measurements. This will ensure the accuracy of your readings.
Now, measure the length of your feet and legs up to the knee. Since tall boots are supposed to fit right up to where your knee bends. But, the boots will drop up to 0.5 inches as they flex when you sit wearing them.
So, to get a comfortable fit, you need to add an extra inch to your measured calf height as recommended by the brand itself.
For instance, if your calf height is 17.5 inches, add an inch to the height and make it 18.5.
Finally, compare your measured height and width with the Ariat size chart and find out the closest sizes to your measured ones.
Note: If you are between foot sizes, choose the smallest one as your foot size. For example, if you wear shoes between sizes 8 and 9, you are a size 8 for Ariat tall boots.
Ariat offers a range of widths from regular shorts to extra shorts and full medium to slim medium tall boots for men, women, and kids.
But the availability of widths also varies with each model, like, you can only get a slim tall variation from Ariat Nitro Max tall boots.
2. Try On The Boots
Once you have determined your size, try on the boots and walk around to ensure a comfortable fit. The boots should fit snugly but not too tight, and also there should be enough space around the toe box to wiggle your toes.
While buying riding boots, what I do is put a thumb in the tip of the toe and the very end of the toe box. This is the best way to measure the space required between the toe and the end of the boot.
3. Consider the Fit
Ariat tall boots should give a close fit to your calves, but not be too tight to restrict your movements. So, if your calves are wider, try to opt for a wider fit and boot style that can hold large calves. For example, you can consider western boots like Ariat Heritage Elastic wide boots for your large calves.
Moreover, finding the right size for Ariat tall boots may seem a little troublesome to you. But, you can ensure a perfect fit for your beloved riding boots, by simply following the above-mentioned instructions.
So, without any hesitation, stick with the process and enjoy your horse riding while retaining the bold and classy look.
Final Words 
Known for their safety, durability, and comfort, Ariat boots are a popular choice among equestrians and riders.
However, to find out the perfect fit and size for Ariat boots, hopefully, this article will help you till the end. So, without wasting any time, get your favorite pair of Ariat boots.
Leave a comment below if you got more queries bout the brand!