As a way to lessen animal cruelty, many teenagers nowadays are interested in vegan-friendly products. Vans has been famous and well-known for its iconic streetwear silhouette as well as vegan shoes.
So, are you interested in purchasing a pair of vegan-made van shoes?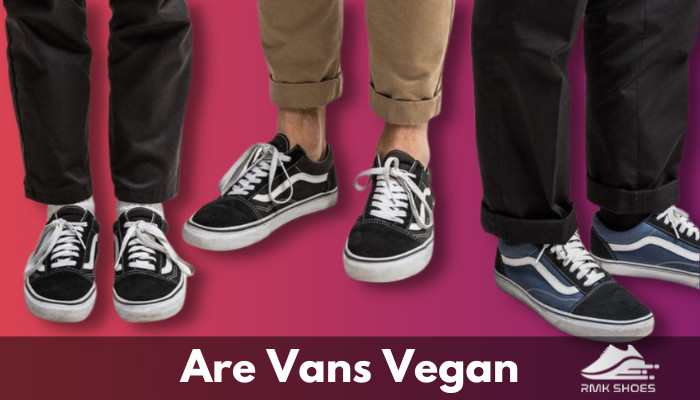 After researching for 9 long hours, I'm ready to give you a comprehensive guide about all the vegan shoes by Vans.
If you're a vegan, you don't want to miss any info, right?
So, let's dive into the world of van's vegan shoes.
Are Vans Vegan Shoes?
Yes, Vans offer both vegan and vegan-friendly sneakers to complement their broad collection of footwear. However, due to the same reason, the brand has its non-vegan versions as well. So. you can't say that Vans are 100% vegan.
If you're looking for a more blunt option, then opt for Birkenstocks sandals as they're proven to be a vegan brand.
Anyways, Vans is well-known for its distinctive gear silhouettes made of canvas, rubber, plant-based glue, and synthetic leather materials. They recently produced some products that are exclusively vegan and animal eco-conscious. But not all of the vans' iconic shoes are vegan.
Regardless, the Authentic Vans and the CLASSIC Slip-Ons are vegan and animal cruelty-free iconic models.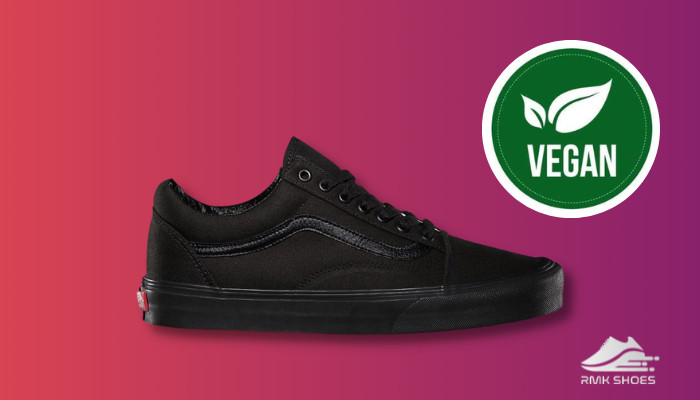 A vegan shoe refers to diminishing the use of all animal-derived products in manufacturing. New designed vegan shoes are being introduced by both established and fashion trend labels as part of a current fashion fusion.
At the same time, making shoes without using any animal materials, such as wool, glue, or leather, is a quite difficult task.
They feel uncomfortable boycotting those materials because shoemakers are habituated to using non-vegan materials for a long time.
Additionally, California was not a hotbed of vegan fashion in 1966. Vans didn't produce any eco-conscious products for their customers right away. Since many vegans who wear shoes want them to be completely vegan, the Criteria have evolved.
Finally, the Brand introduced "Eco Theory" as its first cruelty-free product.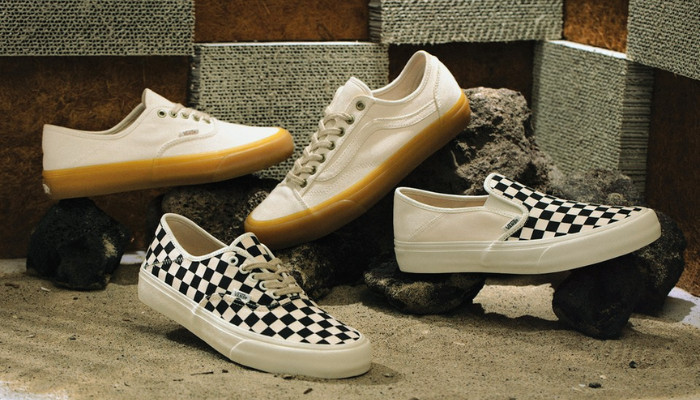 All vegan-friendly footwear features a natural rubber outsole, eco-friendly canvas upper, and jute laces.
Vans recently sparked the attention of both vegan and non-vegan consumers by releasing specially made vegan sneakers in the wake of the unbelievable popularity of animal-free goods.
Likewise Vans, Adidas also offers vegan-friendly sneakers. Check them out if you're a vegan and a lover of the Adidas brand.
Do Vans Use Real Leather?
While using synthetic or earth-friendly materials in the vegan versions, Vans' regular version has pure leather in it. The brand is pretty solid in its manufacturing. In their non-vegan line, they never compromise the quality. Thus, the leather-made Vans are made of 100% genuine leather.
Vans knows its customer's preferences and always attempts to meet their specific requirements. But On their genuine leather shoes, Vans never use any artificial leather.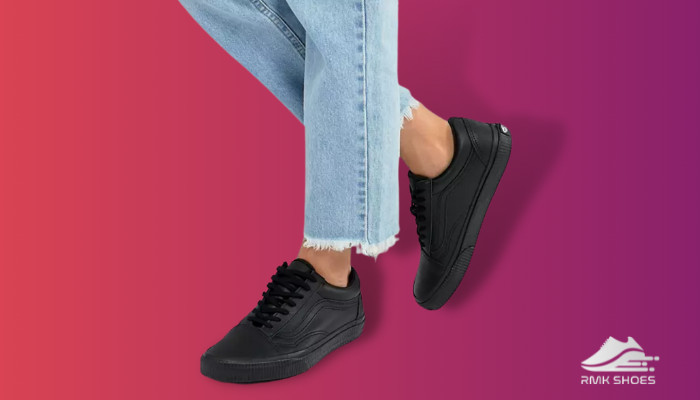 However, some of their products are made of faux leather. The company frankly reveals its product which is used in leather shoes.
Vans never introduced itself as a certified vegan organization.
In previous decades, they only produced leather street apparel. Their renowned skate shoes are made from traditional materials.
Vans try to use only animal products while making leather shoes.
On the contrary, when they launched vegan shoes, the brand removed all animal items and incorporated earth-friendly materials.
The conclusion of the story is that if they say something, you can trust them at face value. They developed this reputation by consistently offering genuine goods.
If you want to purchase any vans shoe, pick one which fulfills your desired feature. The building quality made Vans really a comfortable kick for casual outings.
Are Vans Old Skool Vegan?
No, the old skool line is a nonvegan item of vans. The shoes have suede leather uppers and rubber soles. The fundamental component of old skool apparel is suede leather, which is the smooth and plush underside of the hide. It is made from sheep, goats, and calfskin.
Moreover, The leather paneling on the vintage shoe lengthens its lifespan.
Van Old Skool is well renowned for its enduring design and aesthetic. The van's continual wearer is reminded of that item constantly.
It is one of their most popular models, which offers both high and low-top additions.
If you want to purchase a sneaker that supports you in a long way and goes well with your every outfit, then old skool ranges are for you. It also offers you a fashionable look along with the skateboarding feature.
But if you want a vegan iconic pair, then compare Old Skool with the Vans Authentic as the latter one is proven to be a cruelty-free model.
Are Vans Eco Theory Vegan?
The well-known skatewear company introduced its first line of animal-free shoes called Eco Theory. The newest vegan footwear makes an environmental commitment and keeps brand quality intact.
Additionally, The brand explained that being earth-conscious means using earth-friendly products and practicing integrated sustainability of the natural element.
According to the eco idea, shoes are made using organic, vegan materials that are entirely eco-friendly.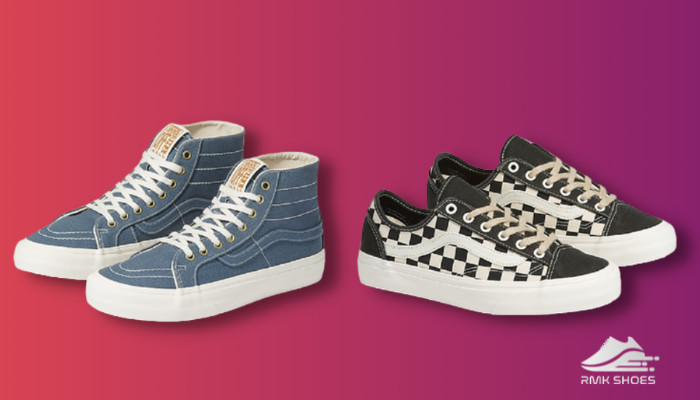 Vans Eco Theory ranges feature organic cotton for the upper, rubber sole, and cork for footbeds. Furthermore, they use water-based adhesive to keep their idea sealed.
The brand released four new vegan shoes, and everyone loved their full vegan series very much.
While the shoe manufacturer faced a difficult struggle to eliminate any animal products, vans began selling vegan products at the time and making eco-friendly shoes.
You can choose your desired vegan sneaker from the Eco Theory ranges.
Which Vans Are Vegan?
Vans sneakers were first intended for skateboarders, but everyone loved that pair so much and tried to wear it with casual attire. It merges with every outfit and enhances your look smoothly.  People of all ages can wear this pair and there's no age limit to wearing Vans.
However, not all brands manufacture vegan products, so vans are blessings for those who only use vegan footwear. And their stylish look always took the user's hearts away.
The brand offers a broad range of vegan shoes. Vegan users adore all their eco-friendly collections.
Here are the most popular vegan shoes from Vans:
Vans Slip-Ons
The Vans slip-on is one of their most popular styles. In front of the camera, many celebrities wear slip-on shoes. Their most popular vegan shoe is the traditional van. In this variation, no animal products are used.
Slip-on offers a cotton canvas upper and original rubber outsole, which gives you a stylish and modern look.
The slip-on is available in a variety of colors, including black, white, blue, etc., but its checkerboard design is the most recognizable.
Vans Authentic
Vans authentic is the first pair of skate shoes that was launched in 1966. It's made of canvas upper and organic rubber sole, which is a 100% vegan sneaker.
Authentic vans are super flexible with excellent ankle support, ideal for skateboarders.
Vans Classic Era
Era is the better version of authentic vans. It features a more comfortable sole and huge variations of colors.
Additionally, the rubber waffle outsole and canvas upper are totally animal product free and true to the original Vans models.
The Vans Era would be great for you if you're looking for a colorful and fashionable skate shoe because it has printed canvas soles and numerous color options.
Canvas Sk8-Hi
If you want to purchase high-top vans with all eco-friendly materials, then Canvas Sk8-Hi is the suitable one for you. The white version of this comfortable and flexible vans shoe is more soothing than other color options.
Chukka Vans
It is the latest edition of vans, which offers you a vibrant and casual look.
Most of the low-top skate shoes are vegan-friendly, along with the super stretchable feature.
Choose any chukka if you want a distinctive appearance with your vegan shoes; it will help to improve your overall wardrobe.
Verdict
Vans is always there for you with its updated collection, where you will find numerous types of vegan shoes in various colors if you want to pick up a vegan pair.
I'm hoping this information will assist you in choosing the right pair of vegan shoes which you are looking for.
Feel free to leave any further questions about vegan shoes in the comment box.