Birkenstocks are the most high-end chunky sandal brand out there for their versatile design. And people drool over their new collections every year.
But, you might wonder, are Birkenstocks vegan?
Ever since the vegan trend started to become popular, manufacturers came up with vegan options that are animal cruelty-free.
Now, vegan consumers can enjoy comfort without compromising their beliefs. And these versions even come with other physical and environmental benefits along the way.
In this article, you'll learn every details about Birks' legendary high-fashioned sandals and their vegan options.
So, keep reading till the end to get all your answers.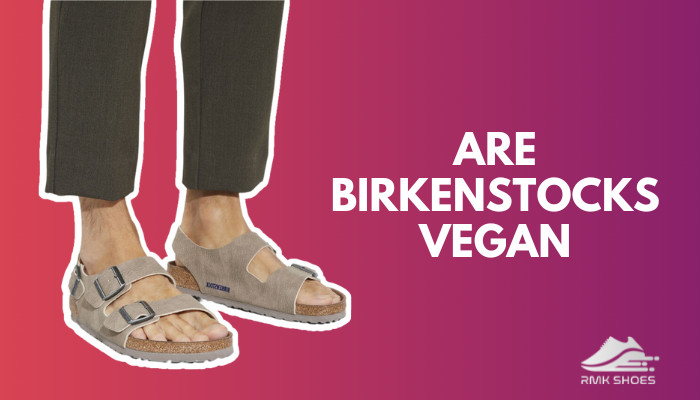 What are Vegan Birkenstocks?
Recently more and more people are trying to adopt environmentally friendly products. Vegan Birkenstocks are the latest edition of this footwear brand.  And in this sentiment, vegan options are getting more boost.
In February 2018, Birkenstocks got the prize as the most Animal-Friendly Shoe Company.
So, you can imagine how serious they are and how they maintain their promises.
If you want to wear comfortable footwear along with less guilt, the vegan options from this iconic brand is all you can ask for.
What Are Vegan Birkenstocks Made From?
It is clear that vegan Birkenstocks are made out of materials that don't include any harm to the animal kind.
My sister is not vegan, but she is all about following the trends and all. So, you can guess she owns vegan Birkenstocks. And her experience is up to the promises of the brand.
Let's talk about the ingredients of these masterpieces:
Synthetic Birko-Flor straps.
EVA soles.
Cork- latex Footbed.
All these materials are sustainable and ecologically sound.
Animal-friendly versions have insoles made out of acrylic and polyamide felt fibers.
These materials give these sandals a leather-like finish and super soft feelings for the feet to rest on. And according to my sister, they are as comforting as the regular ones.
Check out our separate post: Does DSW Sell Birkenstocks
How To Find Out If Your Birks Are Vegan?
Most of the shoes of this German brand are not vegan. You will find a suede line insole that includes animal skin and is painted with blue or yellow ink.
It's impossible not to notice the "BRAND SOHLE LEDER." symbol in them, which indicates leather insoles.
Vegan Birkenstocks insole is black, and most importantly, you won't find the BRAND SOHLE LEDER sign in these versions.
This is how you can make sure you are buying vegan Birkenstocks.
Birkenstocks Vegan Range
Not all models of Birkenstocks are vegan. Even though this concept is new, this brand launched several models with various color options for you to choose from.
Including kids, they have more than 50 options of vegan Birks.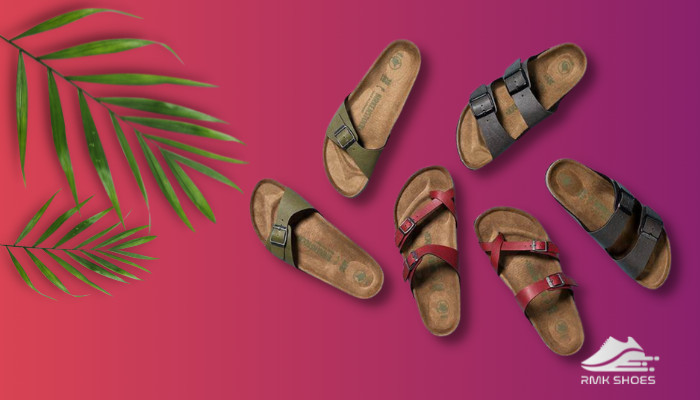 Let's see what the most popular vegan Birks are:
Mayari Vegan, Arizona Vegan, Boston Vegan, Gizeh Vegan Milano, Vegan Super Birki Vegan, Sydney Vegan, Franca Vegan, Madrid Vegan.
You will see vegan lovers rocking these versions, and every launch has some new designs and colors.
Follow our guide on Why Do Birkenstocks Turn Black
Birkenstocks Vegan Vs Regular
You know that Birkenstocks didn't launch as a vegan brand and gradually started to launch vegan collections.
The vegan birks have almost the same features as the regular leather models. It is pretty hard to differentiate vegan ones from regular ones because they look alike and come with various color options.
The main difference between regular and vegan Birkenstocks is the materials.
Vegan models are made from synthetic materials that look like smooth nubuck leather, whereas  Birkenstocks made the regular versions out of leather, suede or animal skin.
Where To Buy Vegan Birkenstocks?
The best place to buy branded shoes or sandals is from their store.
Let me tell you a sad story. My friend wanted to buy a Birkenstock but didn't have a store near her neighborhood.
So, she chose online. You must know these sandals are expensive, right?
She ordered from an unauthorized store and got fake products, and they charged like original sandals.
The moral of this story is if you are purchasing online, choose Birkenstocks official website or purchase from an authorized online shop.
You will find vegan Birks on Amazon, Zappos, Nordstrom and from any well-known retailers.
You may also like to read: Are Birkenstocks Good for Plantar Fasciitis
How Comfortable Are Vegan Birkenstocks?
Vegan Birkins, with its vegan leather construction, gives you ultimate comfort.
Most of the Birkenstocks are your foot's best friends. For years sandal lovers picked this brand over and over again. They provide the ultimate comfort, just like the original versions.
After the break-in time, these sandals are live heaven for your feet.
And overuse, they become more and more structured and comfy. Vegan birks are no exception. They act just like the regular versions.
So, buy your vegan pair without any hesitation.
Birkenstocks Arizona Vegan Black
Arizona Black the most hyped Birkenstock model so far. This signature version is still reigning in the market.
Like any other popular models, the manufacturers launched a vegan version of Arizona. It has the legendary two straps. The comfort it provides is second to none.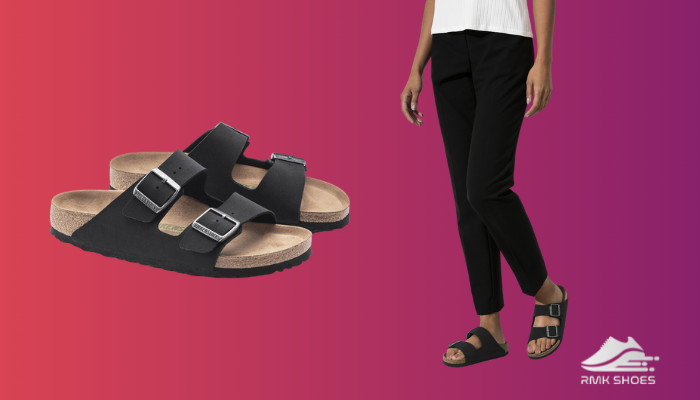 This vegan model has the signature footbed; another feature is the Birkibuc upper, which is known for its skin-friendly property.
One of my friends had very sensitive skin, and most times she couldn't enjoy stylish sandals, but after trying Arizona Black Vegan, she is happier than ever.
And now she owns several colors of it.
Its footbed is made of cork-latex and has a microfiber lining. Both straps are adjustable with a metal buckle.
Also, check out to know Are Birkenstocks Good for Achilles Tendonitis
Are Plastic Birkenstocks Vegan?
The EVA sandals from Birkenstocks are called plastic Birks. I bought them for my mother as they are waterproof.
Yes, plastic Birkenstocks are vegan and eco-friendly at the same time.
The primary material (EVA) is artificial, and generally, vegan sandals are made from it.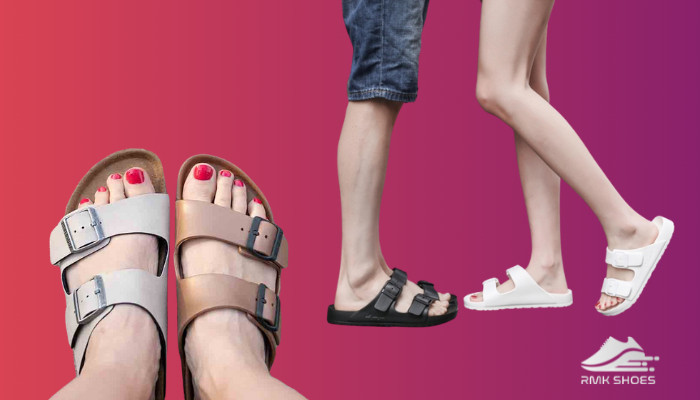 These plastic EVA sandals are incredibly lightweight; my mother washed them in the washing machine, and they were brand new. This specific material is environment-friendly.
Is Vegan Birkenstocks Waterproof?
Yes, Vegan Birkenstocks are waterproof. The vegan versions of clogs are made out of Polyurethane (PU), which is water-resistant. You can easily clean mud from these too.
You can wear waterproof vegan Birkenstocks as your work footwear.
Several models of Birkenstocks, including the original one, are not waterproof. The same goes for the vegan collection.
You can use a waterproofing kit if you don't want to buy a waterproof one.
You may like to learn: Can You Wear Birkenstocks to The Beach
How To Clean Vegan Birkenstocks?
Unlike the original Birken, vegan sandals are made of synthetic materials; therefore, their cleaning and care process is different.
Vegan Birkenstocks have a microfiber lining inside the footbed.
You can wash the footbed with sodium bicarbonate paste. It removes filth and grease. If you want your sandals to smell free, use this paste and forget everything.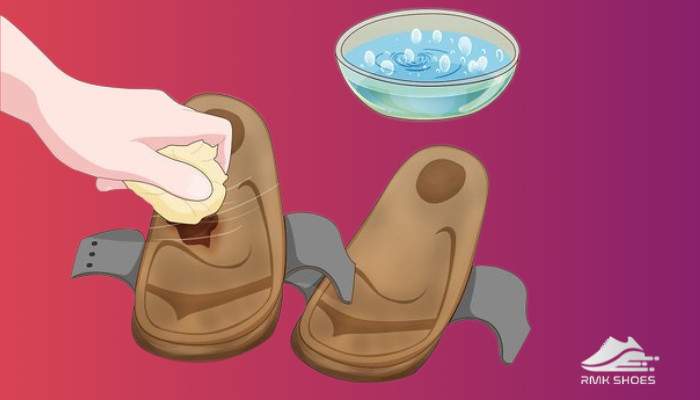 You can follow these steps to clean your Birkenstocks:\
Apply the paste to the footbed and brush the whole area.
Use water if the paste becomes dry during the process.
Leave the paste until its dry
Rub the dirt and wipe off the remaining paste with a wet cloth.
Pat dry with a dry towel
Dilute apple cider vinegar and rub it on the clean footbed.
Let the washed sandal air dry in a warm but not too hot place.
Brush the footbed again with a suede brush.
You can enjoy a brand-new pair after every wash. Just be careful while cleaning these, as excess heat can damage the actual structure of your Birkenstocks.
Related content you should read: Can You Hike in Birkenstocks
Verdict
Birkenstocks are the first option for their timeless design to pair up with every outfit in all seasons.
To reduce animal cruelty, using vegan products is a great start. And as the top footwear brand Birkenstocks are offering vegan options to support this thought.
Vegan Birkenstocks are comfortable, lightweight and a staple piece.
I hope this article was helpful and you got all the information you needed about the vegan Birkenstocks range.
If you have prior experience of owning any vegan Birks feel free to share your experience of using them and the buying process. It will be helpful for our readers to get new facts.