Last summer, I decided to go for a trip to the eye-catching Miami beach in Florida.
I packed all the necessary accessories except the shoes.
It's because I was confused about which pair of shoes I should wear that would keep my feet safe and comfortable while watching the waves crash on the beach.
Based on my own research and people's opinions, I purchased a pair of Birkenstocks sandals, packed them and went on my trip.
Now, I am here to share my experience of using Birkenstocks with you.
After reading this, you won't have to be puzzled about what to wear  seashore.
Stay tuned till the end to clear your confusion!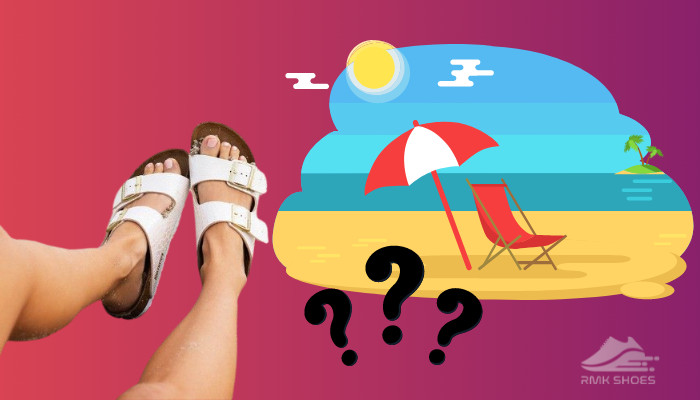 Are Birkenstocks Suitable to Wear on the Beach?
Birkenstocks sandals that contain flexible EVA layers are waterproof. These sandals are versatile.
Therefore, you can wear them at the beach without any worries.
Sunlight, sand, and salted water of the sea won't cause any defect in your sandals.
Birkenstocks are appropriate for walking in the coastal area.
You know that pebbles are common in the beach area. Birkenstocks will also protect your feet from pebbles and sharp objects.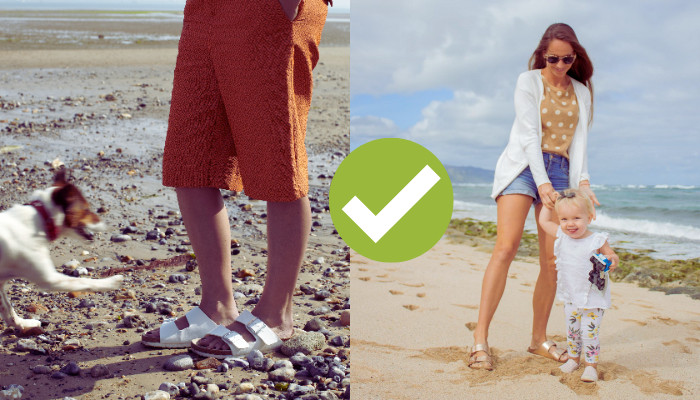 It is recommended to wipe your favorite Birkenstocks soon after returning from the beach.
Otherwise, your sandals will catch scratches and dirt from the rough surface and the sand.
A big question is why you will choose Birkenstock over other brands.
The answer is, those footwear possess some incredible advantages. To know about the benefits, keep scrolling to the following segment.
Check out our separate post: Are Birkenstocks Good For Flat Feet.
Why do People Prefer Birkenstocks?
Before moving to the answer, let's know some interesting facts about the famous Birkenstock brand.
Konrad Birkenstock, a master cobbler, started producing flexible insoles at the end of the nineteenth century.
In 1963, Karl Birkenstock introduced the first broad and adaptive footbed sandal, which is known as the Madrid model.
Johann Adam Birkenstock launched the German brand in 1774.
The iconic brand celebrated its 50 years anniversary in the United States in 2016.
Birkenstock sandals are not gender or age-restricted. Any person will feel trendy when strolling down the beach with these elegant pairs.
Here, I've shortlisted the reasons for people's interest in Birkenstocks footwear.
They ensure comfort
The motto of the iconic Birkenstock brand is " Comfort without compromise".
The main layer of the footbed is made with high-quality cork-latex, which is sandwiched between two layers of jute. The unique footbed is the heart of all their shoes. It is soft and changeable.
Dual-layer jute shields provide stability and flexibility.
Premium quality suede lining in the upper part releases a cozy feeling.
Manufacturers also use patent leather microfiber, cotton, wool, synthetic textile, Birko-flor patent, and suede to prepare the upper coating.
Due to the use of quite stable and smooth materials, Birkenstocks are always ready to give excellent comfort.
The adjustable strap and buckle will help to fit the sandals on your feet.
Initially, you may feel uncomfortable with your Birkenstock pairs. This problem will be solved gradually.
You will feel pleasant in your Birkenstocks once they have been fitted to your feet.
Provides Arch Support
Each Birkenstock is ankle supportive with its flat sole. The four-layer footbed with qualified natural materials ensures support to the ankle area.
As a result, you won't face any kind of pain in your feet even after wearing Birkenstocks for a long time.
The soft footbed structure enables a balanced distribution of weight.
Moreover, the adaptive arch support helps to stand out on your feet for a long time without any hassle.
Excellent Wear for Flat Feet
Birkenstock is well-known worldwide and is a great buy for people with flat feet. Doctors frequently suggest Birkenstock footwear as the finest shoes for flat feet.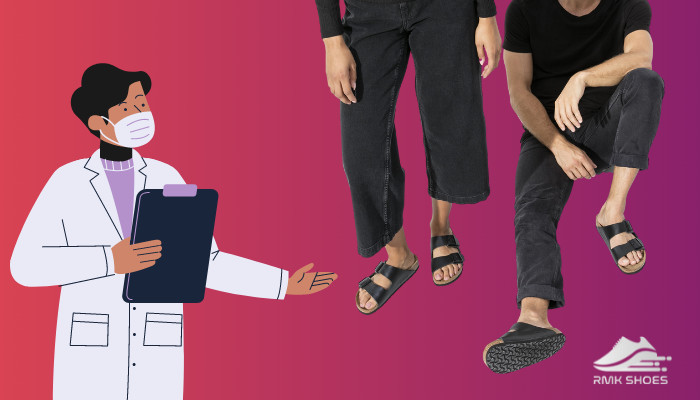 It is a question of why Birkenstock is the most famous.
Because of the orthopedic insole with a smooth footbed, it easily fits into the natural shape of the feet.
The deep heel tip cushions and supports the heel bone.
Furthermore, the shock absorbing, as well as long-lasting cork-latex materials will help  your muscles and ligaments to move straight.
Trendy and Durable
Birkenstock doesn't produce boring sandals at all. It always takes care of users' comfort and keeps pace with the trend.
Its design variants are worthy of wearing with any kind of casual outfits, such as a loose t-shirt, bikini,  skirt and jean shorts.
The materials involved in manufacturing genuine Birkenstocks are highly qualified.
In addition to that, Birkenstocks craftsmanship is also fabulous.
Each buckle of Birkenstocks is sealed with an anti-corrosion coating, assuring that it will persist for ages.
Design Variants
Birkenstock is always highly concerned about producing comfortable sandals.
That doesn't mean that it only produces monotonous designed shoes.
Every year the brand tries to surprise its loyal customers with new designs and specifications. It provides several varieties of designs, such as Arizona, Gizeh, Madrid etc.
One of the major similarities of the Birkenstocks sandals is that they include an open-toe layout.
Decent Color Options
The Birkenstock footwears are available in a wide range of colors and can be worn with any casual attire.
Glamour gold, beetroot purple, metallic silver, coral peach, and dusty blue are the available color patterns that are capable enough to bring a smile to your face.
Budget-friendly Price
You've already known that Birkenstocks sandals can provide you with ultra comfort, and they're long-lasting too.
Furthermore, they are suitable to wear to the beach.
Now, you might be thinking about the price tag of this reputed brand. You will be amazed to know that the price is within your reach.
You don't have to spend a heap of money buying a pair of Birkenstock sandals with EVA soles. You can easily purchase their sandals for $35- $50.
But if you wanna style with their suede or leather-based premium footwear, you've to spend a maximum of $210.
Water resistant Feature
I want to inform you that all the Birkenstock sandals aren't waterproof.
Only the sandals that contain Ethylene Vinyl Acetate, in short, the EVA layer upwards, are impermeable to water.
Therefore, you must purchase the EVA veiled Birkenstock sandals if you want to roam near the sea or the pool.
Do Birkenstocks Get Stains & Stinky?
As you already learned, Birkenstocks are suitable to wear for any casual outing.
But you must take care of these pairs properly so that they can last long.
There is a possibility of stains if wet with water. So it's better to wipe your footwear when returning from the beach.
Doing this will also remove the sand and dirt from the sandal. You can use proper water and stain repellent to keep the shoes fit.
Birkenstocks hold their own produced water and stain repellent.
If your Birkenstocks are soaked with water for an extended period of time, it might leave a foul impression.
So, soon after returning from the beach or pool, you should dry out the Birkenstocks in a shaded place with enough air circulation. Leaving the shoes in intense sunlight and heat causes damage because they are manufactured of natural materials.
How to keep tidy your favorite Birkenstock pairs?
It is essential to follow the proper methods of cleaning your most-liked Birkenstock pairs.
Otherwise, it may get ruined.
Fear not, my friend! The cleaning process of the footwear isn't so tough.
To do so, spritz the overall footbed with Birkenstock Cleanser. Then brush away leftover moisture and dirt with a towel to keep your footwear pristine.
You can also spread rubbing alcohol or a paste of baking soda and water on the footbed, leave that for a couple of minutes, then sweep away it with a fine cloth.
By doing this, you will get a glossy pair of Birkenstock.
Always avoid rinsing your Birkenstocks in the washing machine and scrubbing it with a harsh brush.
Last Words
Having a pair of Birkenstocks will provide you with a smooth feeling when walking through the beach or any casual outing.
You don't need to be anxious about either your foot or your footwear when you will choose Birkenstocks sandals for roaming around the beach.
This particular brand of footwear is ready to serve you with comfort and satisfaction.
So without any further hesitation, do purchase a pair of authentic Birkenstocks from a trustworthy marketplace.
Do not forget to share your experience with Birkenstocks with us.
Enjoy at the beach and keep walking with your Birkenstocks pairs!