Although Birkenstocks offer a lot of positive impact to their user, some individuals face quite an issue with their loving birkenstocks.
Among them, most complaints are about Birkenstocks getting darker or changing color.
You might be upset when you see your favorite birks are getting darker day by day, and ask yourself  'why do Birkenstocks get Black?'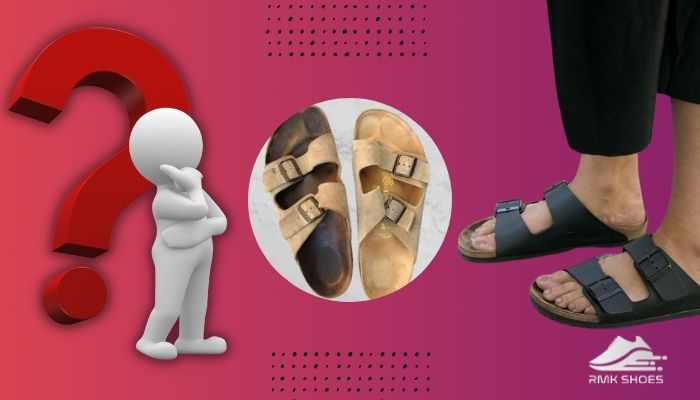 As a birks lover, It is a matter of sorrow to me. So, I researched for a long time to know the causes and the solutions. And now I have a lot to discuss on this problem with you.
Have a read till the end and all of your questions will get answered.
Check out our separate post on Are Birkenstocks Good For Flat Feet.
Why Do Birkenstocks Get Darkar?
Birkenstock is a common populer footwear. People love it for the comfortable and fashionable features of Birkenstocks. But your birkenstock might get darker over time. They can become spotted on the footbed. Sometimes birkes can get moldy. You might find some bad smell in it. Even the famous line like Arizona from Birkenstocks can get darker after a long use.
The leather of your birks also might get fed with time. In this case direct sunlight can be the cause. Or the leather might be painted instead of dying. That's why it will be fed with overuse.All those problems are only for two reasons.
The reasons behind your Birkenstocks get black are explained below:
Sweat: When you wear your Birkenstocks for a long time, your feet might get sweaty. As a result, the footbed of birkenstocks gets darker after some time. Actually, your foot releases oil naturally with sweat.
The natural rubber and corks react with oil and get black. Besides, the nature of sweat is already salty. This is also a reason for the reaction.
Wet soles attract dirt easily. When the sole mixes with the dirt and oil, they get black.
Dirt:
Your shoes will meet dirt and dust all the time and nobody can help it. But if you don't clean your birkenstocks in the proper way,it will get black. You should maintain a routine for cleaning the regular dirt which your sandal meets every day.
Moisturized and wet pairs of birkenstocks catch dirt easily. Dirt is the major cause of getting your Birk darker.
After the above discussion you can find some enemies who are playing behind and turning your birkenstocks to grow pale. Undoubtedly, they are Heat, Sunlight, Moisture, Oxygen, Dirt, and so on.
Also, check out our separate post on Should You Wear Birkenstocks to Disneyland.
Why Do Birkenstocks Get Moldy and Stinky?
Another problem which people complain about is the moldiness and stink problem.
Your Birkenstocks might get moldy if you keep them idle for a long.Sometimes you may not use them.And keep Birkenstocks in your wardrobe for a long while.It can get moisture and get moldy. Especially in humid areas it happens more.The humidity reacts with the tree latex and grows mold.
The mold can be a cause of serious uncomportness and you can feel puckish with it. Allergic reactions might occur from the spores.
Another reason for getting moldy of your Birkenstocks is drying in an inappropriate way.
The bacterial composition makes a bad odor in your birkenstock. It might be compulsory when you don't take care of your birk properly.As a result it will stink when you wear it next time.
Why Do Birkenstocks Sole Get Black?
After a long use your Birkenstocks sole might get black. The footbed of birkenstocks is made of corks which are reactable with humidity,sweat and dirt.these three are the main culprit of turning your birkenstock sole black.
Birkenstock mainly gets black under your toe print as well as under your heel area.
This basically happened with your white or whitish colored birkenstocks. It is not necessary to get black for your colorful birks. It might get darker or brownish.
Extensive use and long walking in hot and warm places as well as drying in direct sunlight will affect the cork sole badly. The direct sunlight can break the formation of latex footbeds. Thus the sole can get black after time.
How to Stop Birkenstock From Turning Black?
Birkenstocks is a comfy option for all types and aged people. So, people use them frequently. Because of overuse they get black or faded.
This does not feel good about your loving pair of birkenstocks. Here I found some way to stop your Birkenstocks turning black.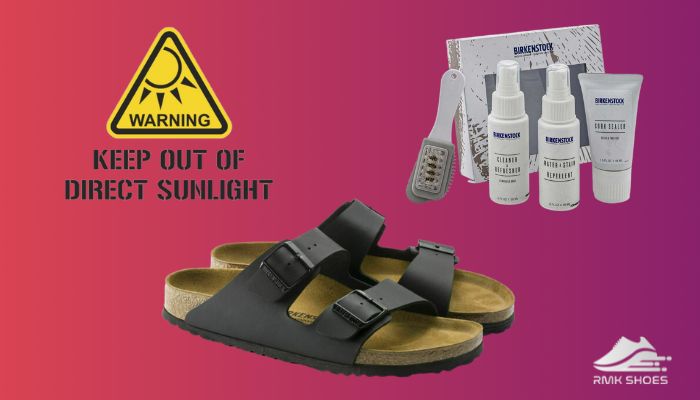 There are some pro tips shared By Birkenstocks for their customers.
Let's go through the tips shared by Birkenstocks.
Keep your Birkenstock shoes under a shade and an airy place for getting them dry. Birkenstock don't suggest direct sunlight for a healthy life of their sandals
Use Birkenstocks original care kit for cleaning the sandals.
You should follow the instructions which Birkenstocks suggest. It will help to stop Birkenstock Turning black or muddy brown as well.
How to Clean Suede Birkenstocks?
As suede is a delicate soft material, you might get tense about cleaning your suede Birkenstocks. But it is so easy to clean your suede birkenstocks at home.
You should remember that you have to dry your pair before cleaning. For drying you should maintain the birkenstocks own rule which is not to keep them under direct sunlight.
A suede brush can clean the dust of suede birkenstocks easily. Suede eraser is for the next step cleaning for your suede birk. If your pair gets strained,then you can use some white vinegar. You can apply the vinegar with the help of microfiber or flannel cloth.
How to Clean Leather Birkenstocks?
For leather birkenstocks cleaning you should go to a professional. It might get damaged when you try to clean them at home. The natural shine and lifetime of the leather can get hampered.
Even if you want to clean your leather or nubuck birk,you will use a leather conditioner. You can also use a leather eraser. You should apply a little amount of the cleaner with a soft cotton cloth.You should rub them gently on your Birkenstocks.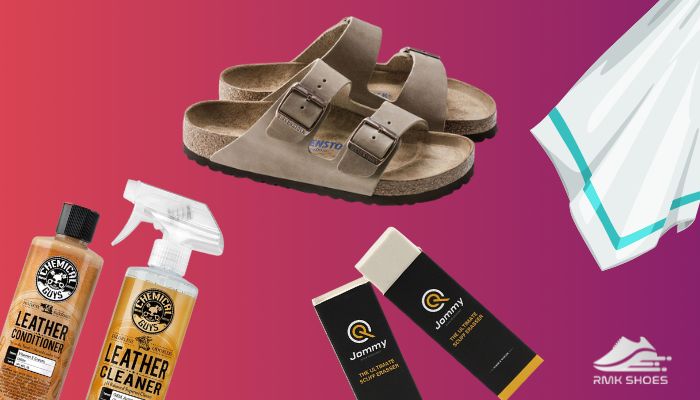 How to Clean Footbed of Birkenstocks?
Cleaning the footbed of your birkenstock should be your regular work. A regular cleaning prevents straining of the footbed. It will take only 10 minutes in a month to clean your birk.
For cleaning the footbed of your birk you should use a suede brush to clean the loose dust. After that you might use a paste with microfiber cloth. For the paste you should mix baking soda and water in a 1:2 ratio. This paste is a home remedy for cleaning the black spot of the footbed.
After the above type of cleaning, you can use a cork sealer to the footbed. The Birkenstocks cleaning kit will help you a lot to get all the products.
Above all, if you follow two/three easy steps it will help to stay white your sandals. As for me, you can store your birks in a dry and cool place. You can use shoe cover to wrap it. Before every use, you should apply wax or polish on the leather of your birk. Giving some time for your Birkenstock once in a month can be effective for keeping your pair white.
Why Do Your Birkenstocks Turn Your Feet Black?
A new pair of Birkenstocks can take some time to break in. It might take three to four week to mold into your feet.In this period of time,You might get marks or blisters on your feet. You also can get an achy feeling with your new pair of birks. If you have sensitive skin like me,it will probably give a black stain on your foot.
This is quite common for all types of new shoes. Almost every shoe has its own breaking time. In this breaking period they can be hard.
But when you heard a lot about the comfort of Birkenstocks and notice that it is hurting you. It will make you upset.
However, you have to give the breaking time to your birk. Another option will not help you in this case.
On the other hand,if your feet get black because of the dirt then you should clean your pair regularly.
Verdict
To sum up, You can blame your sweaty feet and dirty surroundings for your Birkenstocks getting black.
The nature of the footbed of Birkenstocks is so catchy to sweat and dirt. The cork which is used in the footbed reacts with moisture very easily. So,they get darker over time. As well as they look dirty.
If your birks is 3years old, they will need a resoling now. You can choose this option as well.
Otherwise, you should take care of your birkenstocks regularly. As a result your pair will serve like a new one for a really long period.
Share your Experience about your Birkenstocks getting black, and what do you think about the best solution for it?Let me know by commenting below.