The shoes you decide to wear should be an important element while making travel plans for your next vacation to Disney World.
Whatever footwear you choose for your trip to Disneyland can make or ruin it.
I believe that the ideal pair of shoes that will keep your feet as comfortable as possible is the most essential item you can include in your suitcase.
Personally, I think you should wear whatever makes you feel most comfortable. It's important to wear the proper footwear if you want to avoid burnout as well.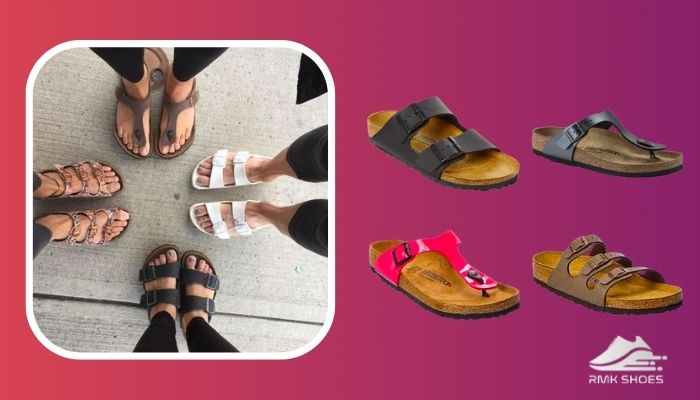 However, Birkenstock shoes are perfect for Disney because they are breathable and comfortable for all-day use.
So, be sure to read the entire article if you want to get all your answers.
Check out our separate post on Are Birkenstocks Good For Flat Feet
Can You Wear Birkenstocks to Disneyland
There are many kinds of sandals from the well-known Birkenstock brand.
Birkenstocks created some all day walking shoes after that they are especially popular among travelers for their toughness and comfort.
If you're not used to wearing a heel-negative shoe with arch support, they will first pain your feet. It takes some time and can be uncomfortable as the footbed adjusts to the contour of your foot.
Although I recommend purchasing Birkenstock a few weeks to a month before your vacation and wearing them frequently if you have never worn them and want to obtain them for Disney.
Their unisex Birkenstock sandals are available in a wide range of colors, They are suitable for both men and women.
They offer arch support with their cork and latex footbed. And the lightweight outsole provides you durability and shock absorption facilities.
Can You Wear Birkenstocks to an Amusement Park?
It is necessary to wear comfortable walking shoes when visiting an amusement park, but if you plan to ride any water rides, you should also consider carrying water shoes.
Comfort is the essential quality I would look for in the shoes you wish to wear to a theme park. You'll spend most of the day standing, so make sure they are quite comfy and long lasting.
The extremely comfortable nature of Birkenstock sandals is one of the best features they offer.
Getting in a pair of shoes that you may wear on different travels is a smart move but you have to choose them wisely.
If you are planning on water rides in an amusement park then you have to pick the waterproof one for your desired vacation.
Birkenstock sandals are now available in a waterproof edition. These shoes provide you with ankle support and allow you to wear them all day comfortably.
Those shoes offer the EVA/rubber outsole which helps to dry quickly when you remove it from water.
Female tourists prefer Birkenstocks because they think they're not only comfy but also highly fashionable.
Can You Wear Birkenstocks on Disney Rides?
To attain a level of comfort that will keep you traveling through miles of stone streets or theme park streets. One of the most important facts is riding comfort. It is important to find the best shoes for vacation.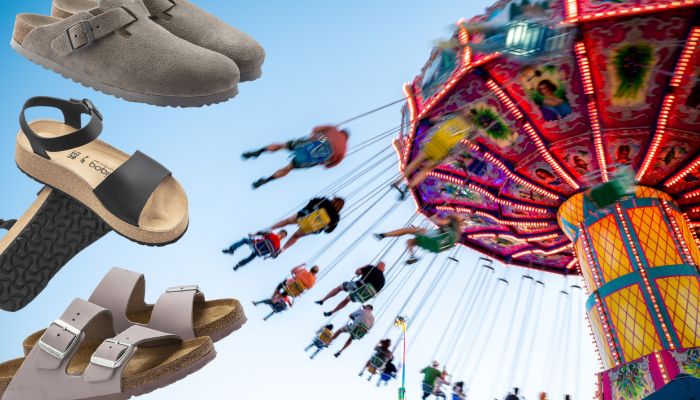 Birkenstocks should replace other shoes as your go-to trip footwear. There are some reasons why Birkenstocks are the greatest shoes you can buy for a vacation ride, including overall comfort, and stylishness.
Your feet will feel padded and have substantial arch support when using the cork footbed. Providing you to walk comfortably for long periods of time when visiting theme parks and joining the ride.
It just takes a little bit of trial to find the right shoe for your foot.
What Shoes Should You Wear to Disneyland?
Make sure to keep your feet in mind while preparing for your Disney World packing list. It is usually recommended that you bring only a few pairs of shoes and wear your heaviest pairs while flying.
You should take a few different pairs of shoes with you. Shoes for pools and resorts, as well as shoes for specific activities. If there is any chance of rain then you should pack a waterproof one too.
Podiatrists frequently advise wearing athletic sneakers or long-distance shoes with an ankle strap or laces.
You should take care of appropriate arch support, and grippy soles when walking. The shoes are:
Broke-in shoes are always the best option. Everyone should wear sneakers with ankle support and lots of padding, including kids and newborns.
Like on an athletic shoe the best option is to be a strap around the ankle or heel.
Slides, flip-flops, or casual sandals can be a good option.
Skechers collection is the most frequently suggested shoe brands for park, which is available at many retailers at a reasonable price.
Athletes find that Oofos or Olukai shoes provide them with the necessary support and cushion. Oofos can withstand more foot impact by more than 37% than other shoes.
A pair of water shoes are the smart pack for youngsters.
Sketchers are a reliable and cozy shoe option for kids.
Are Birkenstocks Good for Walking at Disney?
Since Birkenstock made them to be an all-day walking shoe, they are extremely popular among travelers for their durability and comfort.
These walking-specific Birkenstocks are popular among tourists. The shoe molds to the foot and has a skin-friendly footbed that is extremely supportive.
During all day walking, the ankle strap protects and provides additional support. You get all-day comfort since the curved cork footbed basically adjusts to the shape of your feet.
Are Sandals Okay for Disneyland?
You might need to buy and try on a few different types of shoes before your trip in order to get the right pair for Disney.
The majority of flip flops or sandals, especially those with high-quality designs, are comfortable.
Considering that a person travels 10 kilometers on average in DisneyLand, wearing comfortable shoes is really essential. Good flip flops have an arch on each foot, which keeps you comfy and slows down.
Slippers are lighter than other shoes for these reasons it is handy and easy to carry. Wearing heavy shoes is very challenging for those who want to cover a long distance by walking.
Sandals are cheaper than other footwear so that you can effort them easily. You can save a lot of money by purchasing flip flops instead of a pair of sneakers.
If you want to go Disneyland in summer the hot and sweaty feet make you feel uncomfortable and unpleasant.
Disney World can be less enjoyable if you are wearing uncomfortable shoes. They may even make you feel down and grumpy.
So to satisfy your desire for fashion, Flip flops complement almost any type of attire you choose.
For those reasons, sandals are the best choice for those who want to go to an amusement park in summer.
Conclusion
In DisneyLand, there are no rules regarding any kind of footwear. Everyone has the right to wear whatever shoes they find most comfortable.
The greatest shoes to wear are typically those you wear frequently. To make new shoes as comfy as possible for your vacation, remember to break them in before.
These are the best theme park shoes I could locate, whether you're looking for the best Disney walking shoes or the ideal sandals to get you around a water park.
Bye for now, Please let me know how this article was helpful to you. For further questions don't forget to comment below.