Any kind of pain can disrupt the normal day-to-day activities of your life.
When it comes to severe pain in your leg, it keeps you away from the frequent movement.
Moreover, long-term pain in your leg can cause complicated issues.
Plantar fasciitis is one of them, which causes an ache on your heel due to the infection of your plantar fascia ligament.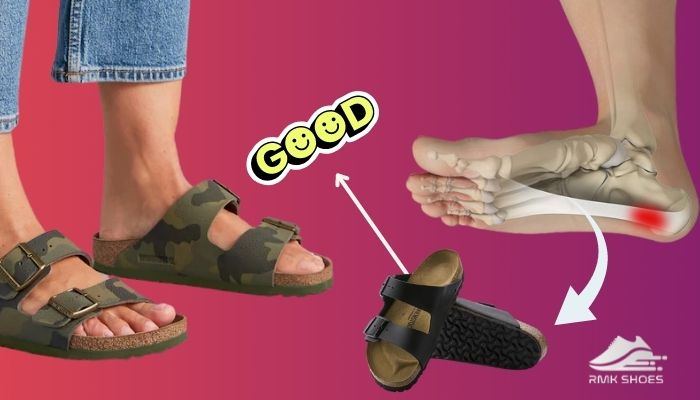 If you're suffering from acute plantar fasciitis and want to know whether Birkenstocks are good or not to get rid of this disease, you've reached the perfect article.
I've gathered all the verified info after a long period of research, opinions of people, and doctors' suggestions.
So, read attentively to the last word to know the answer to your query.
Check out our separate post on Are Birkenstocks Good For Flat Feet.
Are Birkenstocks suitable for Plantar Fasciitis?
You'll be amazed to know that Birkenstocks are the easy fix to attenuate the pain from plantar fasciitis.
It's because of their standard structural design, including well-furnished materials.
When your plantar fascia ligament faces inflammation and stiffness caused by extreme running and pressure on your feet, then you face extreme pain and no strength on your legs.
Birkenstocks' flat footbed with cork-latex material and supportive arch design is beneficial to decrease the pain caused by plantar fasciitis.
Arch support is the most demanding criterion for those who have plantar fasciitis.
Birkenstocks assure arch support with comfort through their footbed and strap. One of the major advantages of this shoe is it easily molds with your feet.
Initially, you may feel some kind of uneasiness, but with time you will feel relaxed and a bit relieved from the pain.
Furthermore, the wrapping strap near the ankle area ensures safety and sufficient adjustment. You can adjust the sandal with your feet by loosening or tightening the strap.
The rooted heel cup and flat footbed of the shoe help to gain the proper alignment across the surface.
So, to fight against plantar fasciitis, Birkenstock is a good choice.
Also, check out our separate post on Should You Wear Birkenstocks to Disneyland.
What Are The Causes and Symptoms of Plantar Fasciitis?
The plantar fascia ligament is located near the heel and front area of the foot. The plantar fascia itself supports the arch of your foot.
Read more on this here: https://my.clevelandclinic.org/health/diseases/14709-plantar-fasciitis
Inflammation of the plantar fascia ligament due to excessive pressure and wear and tear of the ligament results in unbearable pain. This pain in the heel area is denoted as plantar fasciitis.
Some people also mention the term plantar fasciitis as plantar fasciosis.
Generally, people who put extra pressure on their feet suffer from this plantar fasciitis.
Moreover, there exists a huge possibility of facing plantar fasciitis in people aged more than sixty years because the decay of bone is now a common phenomenon among them.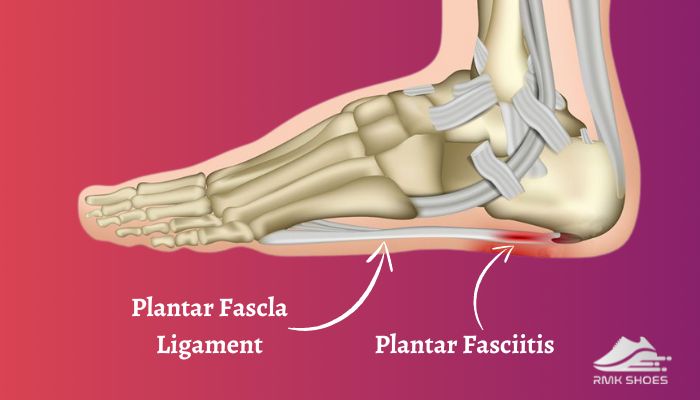 The bone becomes fragile with the increment of age.
If anyone continues excessive running and walking at this stage, the ligaments and bone will not be able to take much pressure.
Consequently, ligament inflammation will occur, which will lead to plantar fasciitis.
Being overweight and frequent use of impoverished arch support shoes are other causes of plantar fasciitis.
Plantar fasciitis causes terrible aches, especially the underneath of the heel. The pain hits much in the early morning or after a long period of break from walking.
Basically, the symptoms of plantar fasciitis include aches in the heel and arch area, acute pain when you make a stand after resting for a long time and a rise in stiffness after a workout.
You should make an appointment with an orthopedist and find proper treatment if the symptoms of plantar fasciitis last for more than six months.
Otherwise, the issue can be worse.
What Features Make Birkenstocks Best for Plantar Fasciitis?
Birkenstocks- the famous German brand, introduced a cluster of health favorable features. It never compromised with the build quality and materials.
From its origin, it has been successfully providing shoes with comfort to its loyal customers.
As I already said, Birkenstocks offers tons of benefits for people with plantar fasciitis.
Let's focus on the specific features that make Birks best for plantar fasciitis:
Worthy Arch Support
As I've already told you, the plantar fascia ligament gives support to the arch of the foot. But when inflammation in this ligament occurs, it can't provide the required arch support.
At this time, additional arch support is required. Birkenstocks are the savior in this case.
All of the Birkenstocks come with ample arch support. The footbed is cushioned and comfortable, but it's not thin.
Rather, the jute layer on the upper portion of the footbed and cork-latex combination or leather at the midsole makes the footbed stable and cozy.
So, the person with plantar fasciitis will not have to worry about firmness.
Furthermore, the arch supportive sandals will lead to pain-free movement while walking and climbing through stairs.
Excellent Heel Aid
The structure of Birkenstocks footbed is such that  it can provide you sufficient heel support.
Because a person with plantar fasciitis will not be able to possess the required strength in their heel and ankle area.
So, they will definitely need heel supportive footwear.
The deep heel cup helps to make a balanced position whenever you stand on your shoe. The heel support provided by Birkenstocks can help alleviate plantar fasciitis.
Same elevation of toe and heel
The crafting of Birkenstocks is such that it will provide you with identical alignment throughout the entire feet.
As a result, your feet will find a perfect level at the bottom.
Moreover, there is enough space in front of the toe and back of the ankle so that the shoe doesn't seem too tight with the feet. Because a tight-fitting shoe can increase previous foot pain.
Premium Cushioning
Birkenstocks offer sufficient cushioning with their flat and thick footbed. So if you wear a pair of Birkenstocks, you will get a comfortable feel at that moment.
The hidden strategy behind this magical comfort is their sole material and footbed.
A blend of cork and latex comprises a highly reliable footbed. The jute, birko-flor or suede lined wrapping with splendid insole raises padding and gentle cushion.
Moreover, The build quality of Birkenstocks is such that it improves blood circulation of the ligament and has awesome breathability.
Which Birkenstocks Are Best For Plantar Fasciitis?
There are several modes of Birkenstocks that are able to provide you comfort and a stylish look. You can go with any of them based on your personal choice.
But when it comes to relief from plantar fasciitis, there arises a question like which Birkenstocks pair will act best against plantar fasciitis.
Well, I'm here to answer your question!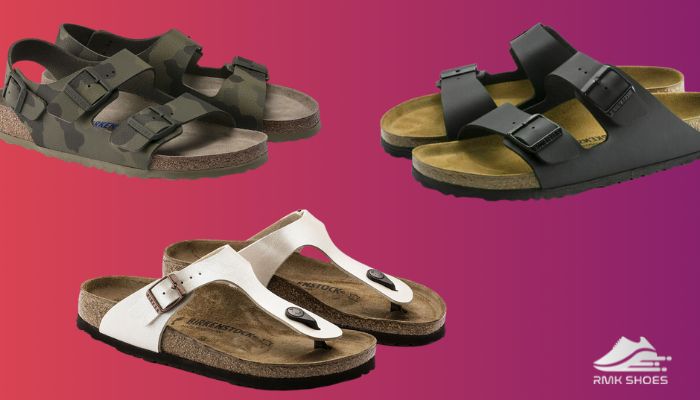 I will recommend the top three Birkenstocks that seem best to me for plantar fasciitis.
1. Birkenstock Milano Unisex
It is well known for arch support with an additional heel strap. That's why it's healing from plantar fasciitis.
Its features include a suede-covered footbed with an EVA outsole. Due to the use of suede at the upper, it releases a smooth feel. This footwear is shock absorbing, lightweight and stunning in look.
You will love the comfort and accurate molding of the shoe with your foot shape.
2. Birkenstocks Gizeh Women
Another wonderful innovation of Birkenstock is Gizeh.
The outlook of Gizeh is quite different and classy. Most health professionals and therapists recommend wearing Birkenstocks Gizeh because of its deep heel cap, round shape toe space and arch support.
The footbed of Gizeh is also made from Cork latex with a suede cover.
To make the sandal a perfect fit, a buckle comes with adjustable straps. The outsole is a lightweight EVA.
It's a beneficial choice for flat feet owners.
3. Birkenstock Arizona Unisex
Birkenstock, Arizona, is known for the prevention of reappearance of plantar fasciitis.
It promotes the best walking experience for all ages of men and women. The insole is made from a blend of cork and silicone.
Premium suede and Birko-Flor in the upper material add extra padding underneath the feet. It is able to give your feet solid, uncompromising support.
What Types of Shoes Should You Avoid with Plantar Fasciitis?
As a victim of plantar fasciitis, you should maintain some rules and regulations while choosing your footwear.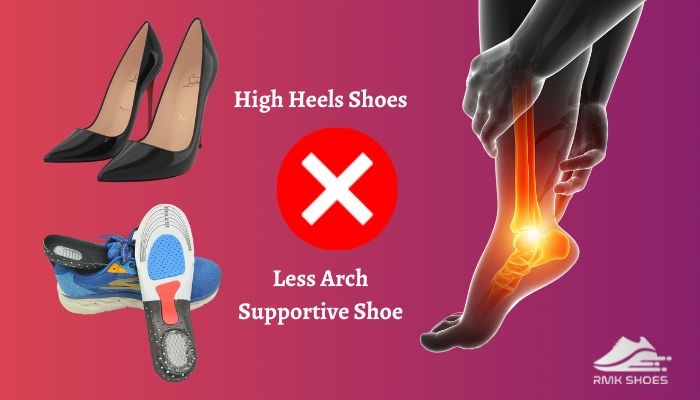 Here're the types of shoes you should avoid with plantar fasciitis :
High Heels Shoes
Shoes with high heels are strictly prohibited for people with plantar fasciitis.
Though high heels are fashionable and provide a gorgeous look actually, they can cause severe harm to your body.
Wearing high heels all the time hampers blood circulation. It also causes damage to the bones and ligaments.
Less Arch Supportive Shoe
Another type of footwear you should avoid is the one with less arch support.
Sufficient arch support is one of the most important criteria that every user-friendly shoe should possess.
If you use shoes with attractive designs but are not arch protective, then there is a huge chance of facing bitter pain from plantar fasciitis without delay.
How To Get Rid Of Plantar Fasciitis Permanently?
As you already know that Birkenstocks can be a transient salve to foot pain caused by plantar fasciitis.
But if your plantar fasciitis lasts for around one year, you should consult a doctor soon and abide by his advice.
Because plantar fasciitis might lead to serious issues if not properly treated.
You can make some changes in your lifestyle and daily activities, which can help you to get rid of plantar fasciitis forever.
Here're the tips from medical professionals:
Eat foods that are enriched with calcium. Because calcium is an important ingredient in preventing bone erosion.
Wear shoes with extra arch-heel support and comfort.
Maintain proper weight balancing with your height.
Try to avoid heavy exercises and athletic workouts such as running, weight-lifting, long time walking etc.
Apply ice cubes to your ache area almost four times per day. Don't rub the ice cubes in short order, and always wrap the ice cubes in a piece of clean cotton cloth. Don't apply it directly to the affected area.
Follow mild physical exercises suggested by the physicians.
Conclusion
Is there anyone who wants to tolerate the acute pain from plantar fasciitis?
I know the answer is simply, No.
Birkenstocks will aid the person in getting rid of the persistent Plantar Fasciitis problems.
The characteristics such as excellent arch support, additional heel and toe design with proper alignment all collaborate to ensure that you experience no pain.
So, if you or any of your familiar person suffering from plantar fasciitis, you should advise them to try a pair of Birkenstocks. They'll thank you for sure.
You can also forward this article to that person so that he/she can gain some extra information regarding plantar fasciitis and Birkenstocks.