When planning a long-term trip, the name Dr. Martens brushes through your mind for its versatile use and effectiveness.
These chunky boots hold up quite a space in your luggage
just like it's performance.
This is where the main concern is whether taking your Martens while traveling is a good idea and worth the space!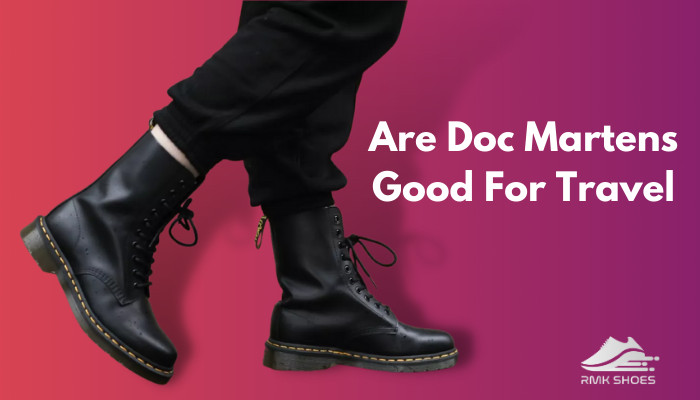 In this write-up, I will explain whether traveling with Doc Martens is ideal and, if so, how they can be an excellent asset throughout your tour.
So, tag along.
Are Doc Martens Good Travel Boots?
Yes, for traveling, Doc Martens is an ideal travel shoe. However, they take up a lot of space in your luggage. At the same time, if you have space for only one outdoor shoe, taking Dr. Martens would be the right choice for its all in all service.
Whenever I'm going on a trip, my first intention is to pack as less footwear as I can.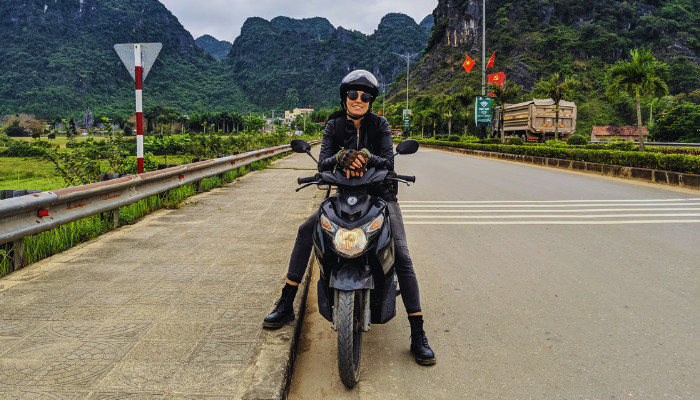 This is why I grab my Dr. 1460 Leather Lace-up boots while on the go. The laces give me proper security, and the air-cushioned soles are comfortable for longer walks.
Moreover, the heel provides the support needed for walking and even hiking. That's how Doc Martens get perfectly blended with any travel pursuit.
I prefer opting for strappy sandals because they are versatile during the summer. They go with most casual outfits, which look super cute in pictures.
What more can I ask for?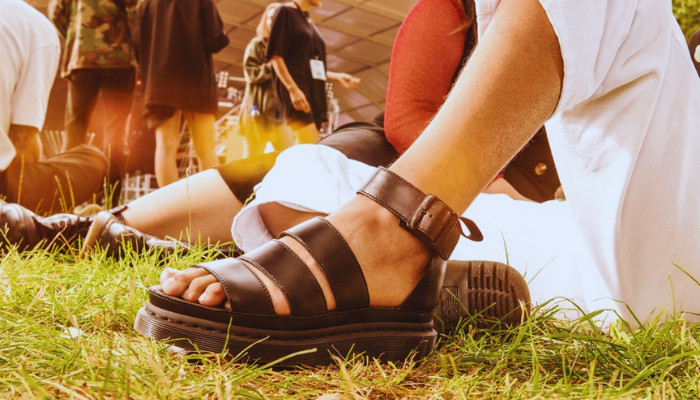 What Makes Dr. Martens Good Travelling Boots?
Traveling always requires a plan. And while planning, you need to have a list of specific things you must take with you, and in that list, your footwear must come first.
When I pack for mine, I bring footwear that I can wear with most of my outfits, along with a decent amount of space left for further shopping.
And Doc Martens is the best option for me.
Let's see why Doc Martens are good for traveling:
Durable
When you like to travel, durability is what you prioritize more. The high-quality leather makes Dr. Martens one of the long-lasting footwear brands.
With proper care, Doc Martens last up to 20 years. To know more about longevity, check how long Dr. Martens Last.
However, the leather options are fit for any type of outdoor activity. The materials are available from shiny to smooth to flexible. These bad boys are built to last!
So, consider getting a DM Boot if you want to invest in a good quality travel shoe.
Lift Up Any Outfit
Footwear that goes with every outfit has an extra benefit. And with Dr. Martens, you can achieve any look and be comfy at the same time.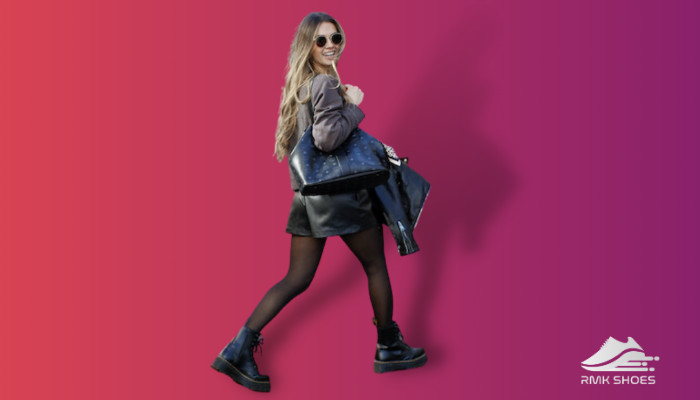 I have paired them on my trips with skinny jeans, mom jeans, biker shorts, and skirts. They looked fantastic, and I got compliments too.
So, if you are in for an experiment, you got the brand.
Day And Night Wear
In the fashion industry, there is a misconception that you need different shoes for your day and night activities.
But that's not the case. You can wear whatever you want and however, you want.
The mighty Martens are fit for anything – from running errands to fancy dinner parties to dancing in a club. And the most exciting part is that I don't have to change my outfit.
Especially when I go to clubs, it's not possible that no one won't spill their drinks on my shoes. So here, my only choice is the waterproof Doc Martens.
Can Be Worn In All Seasons
Whether it's spring, summer or winter, Dr. Martens can be your trustable ally.
You can wear them on snowy roads as they have slip-resistant bottoms for an excellent grip. In winter, you can insulate them with Doc Martens' insulation accessories to warm your feet.
The only drawback in summer is that they are a bit warmer, but don't worry, you won't get your feet smelly or wet. The construction is sweatproof.
Check how good DMs are for walking on a snowing Manhattan road.
Protects Your Feet
It's a relief when your shoes are comfy and protects your feet in any condition, isn't it?
The hard-wearing leather of these boots saves your feet from discomfort, along with cushioned soles. You can get bruised from falling but not to your feet if you are wearing Martens.
Can You Wear Dr. Martins On A Plane?
Yes, you can wear your Doc babies on a plane. With such rugged yet comfy boots, you won't have to take another pair. They will tackle everything for you. You might need adjustments a few times due to the security check and all, but after that, it's going to be easy as riding a slide.
During long trips, you move from one weather to another. And need to dress up, keeping the weather of your destination in mind.
Want to know the best part? With Dr. Martens, you don't even have to think twice, as they are a fine choice for any weather. If it's a rainy tropical area, take Doc Marten's waterproof boots.
In some airports, you must go through a security check which requires removing your shoes and even sandals.
Most of the Doc boots are laced up, and it won't be easy to take off and on.
But if that's not an issue for you, go for it. I wear the platform sandals when I know I might have to go through the security procedure.
Top 5 Dr. Martins Pick For Easy Traveling
There are so many variations of Doc Martens, from boots to sandals. Some are specially made for harsh weather and outdoor activities.
Here are the 5 best Doc Martens to travel easily:
1. Vegan 2976 Felix Platform Chelsea Boots
This vegan Chelsea boot is constructed without any kind of animal cruelty. So, if you prefer vegan shoes, this one is perfect for you.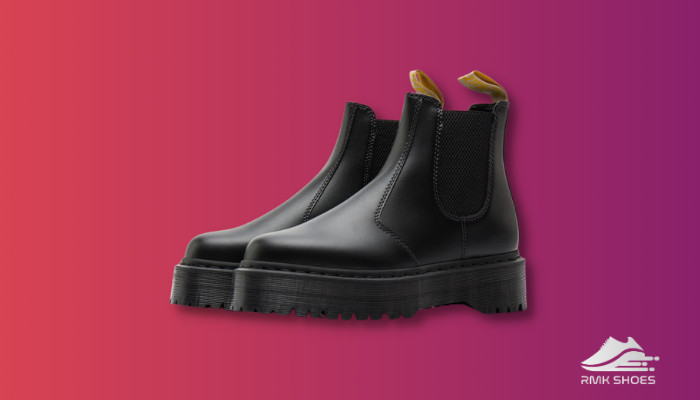 The main material of Vegan 2976 is synthetic Felix Rub Off leather which is as durable as the leather versions. You can easily slip them on and off because of the elasticated side panels.
Note: For the security checkups in the airport, this one is ideal.
2. Avry Hydro Leather Strap Sandals
Even sandals from Doc Martens are travel friendly.
You can take them on your hot summer trips. They will support your feet and keep them sweat and smell-free.
The antimicrobial cork footbed prevents the funky smell. I love the cushiony memory foam footbed the most. I own this model, but my trip was in winter, so I couldn't take them.
3. 1460 Smooth Leather Lace-Up Boots
1460 is the original Doc Martens Boot with all the style and design to take any place you want.
The leather-grooved sides are perfect for fancy dinners or even sightseeing. These will keep you on your feet all day.
The thickness of the soles adds extra comfort to your tiring trips.
4. Voss Leather Strap Sandals
Not only boots but also strappy sandals from Doc Martens are perfect for any kind of trip.
These versatile pairs are lightweight to pack in your luggage and tough enough to overcome any obstacles.  They come with two leather straps along with an adjustable fit.
Pretty versatile, don't you think?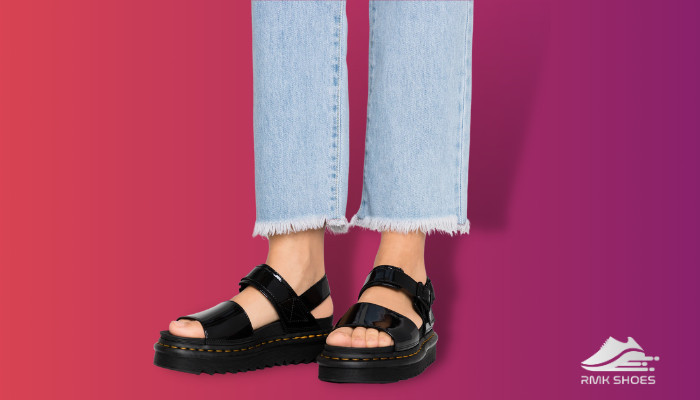 5. Tarik Utility Boots
Tarik Utility Boots is one of the toughest models. Its upper is extra tough and perfect for cold weather destinations with those rugged outsoles.
50% recycled materials are the reason behind its exceptional strength. And even for hiking, they make a good pair.
You can wear these bad boys while going out and traveling.
How To Care For Your Doc Martens While Traveling?
Even if you are traveling, you need to take care of your Doc Martens because they will encounter the hot summer sun, splashes of mud, and even snowstorms.
To maintain the quality, you need to clean them properly after every outing.
When traveling, it's not possible to manage warm water for most of the cleaning purposes; instead, use a damp cloth and soap to clear off the surface.
Take a small container of beeswax to maintain the leather.
Colorless polishing creams are the best option to restrain the pigment. Carrying cocoa butter or almond oil is also convenient.
However, if your boot makes that squeaking noise, then check out how to stop Doc Martens from Squeaking.
Are Doc Martens Good For Festivals?
Yes, without any question, Dr. Marten is an ideal choice for festivals. The air cushion is the best gift while you are dancing and jumping at a concert. The lace-up closure and leather upper protect your feet. That chunky outsole adds just that extra oomph you need in a festive.
Finding proper footwear can be very stressful during the festive season. How about an example?
Whenever I attend any concert or festival, I go for my Dr. Martens shoes. These are lightweight, stylish, comfortable and go with any kind of outfit I have in mind.
To elevate your festive look, wear platform boots. They look different out of the box and come with color options.
Last year during Coachella, I wore my classic 1460. Oh boy, they served me very well.
Know whether DMs are good for your feet by reading our separate article on them.
Are Doc Martens Good For Hiking?
Yes, you can wear Doc Martens for hiking but remember they are not specifically designed to do so. You can easily finish your shorter hiking trips without any hassle.
These boots have great grip. I went for a short trail wearing them and didn't have many problems.
For longer hiking, these are not suitable. They are quite bulky, which can be a disadvantage to walking.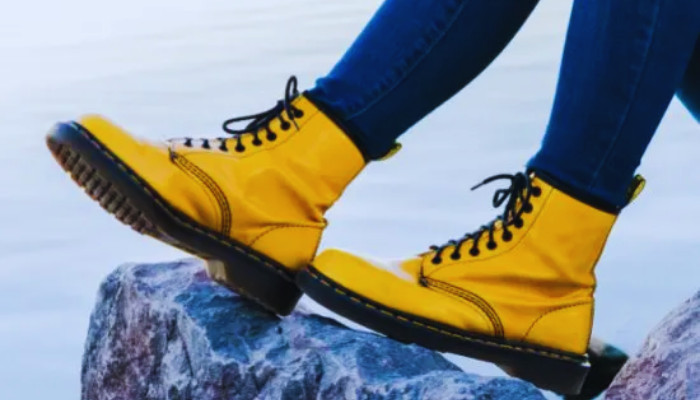 If your next adventure is into the wild, Check out if Doc Martens are good for hiking to prepare yourself well.
However, Dr. Martens have hiking boots specially made for the purpose. If you want to wear them to hike, purchasing those is the best option.
Are Doc Martens Good For Walking All Day?
The super comfy cushioned soles make Doc Martens easy to walk all day.
When traveling, you are on your feet for a long time, and your feet need more care and support while those long walks. The features of this footwear brand are all about providing the best care.
So, if you are planning to wear them on your upcoming trip, make sure they are not brand new. You must know these take time to break in.
Dr. Martens have a great grip that helps you walk on slippery surfaces.
However, check out if these Dr. Martens are perfect for walking by reading another article on it.
Are Doc Martens Good For Snow?
Yes, Doc Martens is good for snow, but you must consider how extreme the weather is. Extreme cold can affect your boots and fit along the way.
The leather of these shoes is thin, so you can waterlog the leather in the snow. It's not like they will be ruined, but the extreme cold can tighten the leather or crack them.
I use waterproofing spray or mink oil before wearing my Doc-Martens in the snow. You can do the same to retain the boots' quality.
FAQ
Are Doc Martens Good For Iceland?
No, Dr. Martens are not the perfect boots for cold-weather destinations like Iceland. You will likely survive an hour with those thin leather boots. Insulating the interior helps a lot with the cold, but not for long.
Is It Worth Buying Dr. Martens For Travelling?
Yes, this footwear giant is worth it for your upcoming tours. They provide the right amount of cushioning arch support and not to mention the outlook.
Should I Wear Doc Martens To The Airport?
You can wear your Doc Shoes to the airport, keep in mind the security check where you have to take them off. If you have TSA precheck, wearing your boots will not be a problem.
Final Thoughts
People love Dr. Martens for their universal use. Even for traveling, you can take these all-rounder boots and sandals without compromising your comfort.
Though they will take up a lot of room in your luggage, their overall use will pay off the lack of a few outfits.
I have provided all the Information about traveling with Doc Martens and how effective they can be.
For any further queries, comment below.