Doc Martens is a name of heaven for those who love to wear boots with a troubled foot.
I will be surprised if you never thought about them.
The question that might pop into your head while thinking of purchasing a pair of Doc Martens is, are they any good for the feet?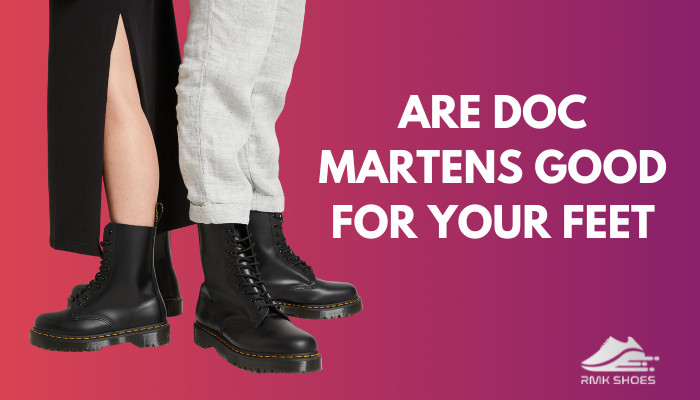 You should know before your investment in such a pair.
I got to try them on for a few days, and let me tell you, my experience was fantastic.
If you wanna know about Doc Martens and its unique features, read till the end as I'll share the experience and facts I got during my extensive search.
Are Doc Martens Good For Your Feet?
Yes, undoubtedly, Doc Martens are a game changer for your feet even if you are struggling.
The air-cushioned sole is an exclusive and iconic feature that made these chunky boots so easy and comfy to walk around and flex.
My best friend and I share the same foot size, so when she bought Doc Martens, I couldn't help but try them on for a couple of days. It was after the break-in time, and boy, they fit like a glove.
After the break-in period, the smooth leather starts to mold according to your feet.
And when it did for me, that was it. I didn't think of any other boots.
Now, let's get to the point. It was designed and first worn as a therapeutic shoe. Those who needed durable and stiff footwear for work and had to stand and walk for hours chose this particular brand.
But, now the scenario is quite different, I must say.
For each owner, it molds to their foot shape and holds it till the end. You will get the exact support that you need from the chunky soles.
You can spend long hours in these without thinking of changing them along the way.
Isn't it amazing? To me, it is.
Check out The Best Alternatives To Doc Martens
How Is Doc Martens Good For Foot Problems?
Doc Martens, without a doubt, is a perfect option for your troubled feet. It provides comfort in those situations where other boots fail to do so.
They give you a cozy feeling, an excellent grip, and are spacious for your toes and feet.
Let's Find Out  How Doc Martens Is Good For Foot Problems:
Balanced Heel
The heel of Doc Martens is constructed to balance the weight equally, which is a must-have feature for any footwear to be proper for any foot type.
It prevents the balls of your feet and toe from getting twisted.
Inner And Fleece Lining
Boots of Dr. Martens have a thin inner lining. This lining protects your feet from blisters and cuts. At the same time, winter boots come with fleece lining.
With the fleece lining, you can walk comfortably on harsh winter roads, and these boots will prevent frostbite.
Cushioned Insole
The outlook of these shoes is rough and tough, but inside, they have soft, bouncy insoles for ultimate comfort.
I like that these insoles can absorb shock, protect your feet from falls and prevent pain from wearing them for longer hours.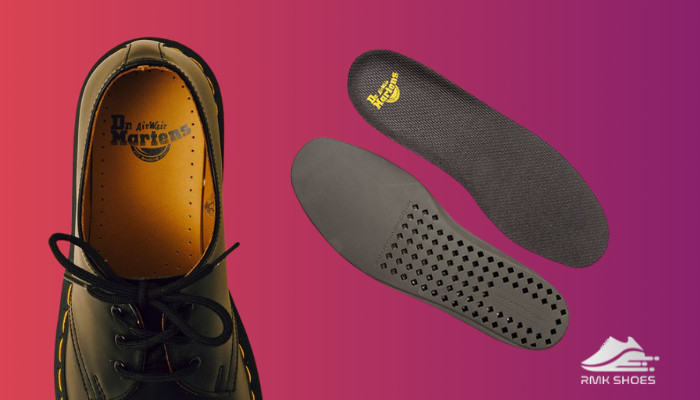 Slip Resistant
Dr. Martens have overcome the tension of slipping on a slippery surface. It should be slip-resistant if you want a good pair for your feet.
Doc Martens launched waterproof, shock-absorbent and slip-resistant boots so that they can help their wearer go through any seasonal obstacles. And you can walk in these for hours and go to work with confidence.
Strong Shoelaces
A loose-fitted shoe can't be ideal even if it has all the features to be the most comfortable pair.
Doc Martens comes with strong shoelaces to keep the leather upper together. These laces are also extra long to provide users with any style they want to carry.
Follow our guide to know Are Doc Martens Good for Snow
Are Doc Martens Worthy For Wide Feet?
Even with wider feet, you can enjoy the ultimate comfort Doc Martens has to offer.
The main reason is these boots are slightly big. You can wear a thick pair of socks and still be comfortable enough. After the break-in time, these shoes will mold according to your exact size and will fit like a glove.
My brother has several pairs of Doc Martens and never complained about the fitting despite having wide feet though they were not tight, to begin with.
Over time the leather upper softens and gives room for your feet.
Why is Doc Martens Good For Orthotics?
Doc Martens was first designed to provide comfort for injured feet. So, without question, it is reliable footwear.
Yes, Dr. Martens is suitable for orthotics.
As you know, Orthotics is such a device that you can wear inside of your shoe to solve any sort of fallen arches or over-pronation irritations.
Solving the high arch problem was the main target of bringing Doc Martens into the market, and that became the ironic specification for this brand to stand out.
These boots are highly cushioned and flexed in such a way that they can accommodate every movement of your feet and arches.
For custom orthotics, Doc Martens is an excellent pick.
With these boots, your ankle won't slip from your shoes. You can remove and insert the insole as you like, and the steel toe feature saves your feet from further critical injury.
You may also like to read: Are Doc Martens Slip Resistant
Are Doc Martens Suitable For Flat Feet?
If you are struggling with flat feet, you know the drill. Finding a decent pair of shoes that will give you support is quite hard under such conditions.
In this regard, you are in luck.
With Doc Martens, you don't need to be worried about flat feet.
You can walk in them comfortably as the soles are springy. Interesting right? Consider inserting specialized insoles that you can purchase for additional arch support if you feel the need.
The manufacturers have thought of everything beforehand.
Even though most of the shoes and boots of Doc Martens come with soles already designed to provide good support, they have premium insoles called skeletal support modules.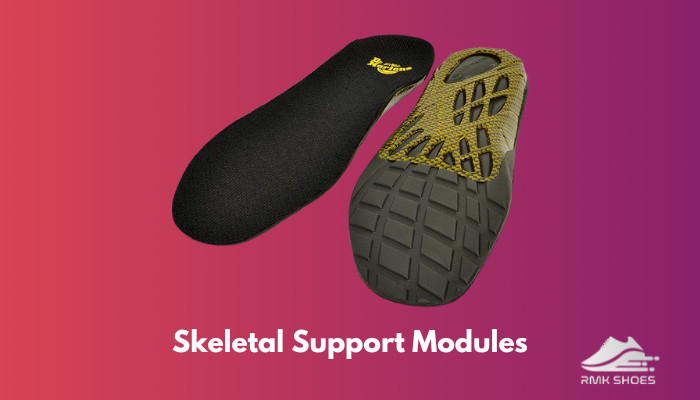 Because why not?
It's made of tiny air bubbles and custom foam, which is why these insoles are insanely comfy and cozy.
Related content you should read: Can I Wear Dr. Martens To Work
Can You Go Hiking In Doc Martens?
Yes, you can go hiking wearing Doc Martens, but remember they are not specifically designed to do so.
These boots have excellent grip. I tried them for a short trail while I kind of robbed my friends' boots and didn't have much problem walking in them. The feeling was something else!
But, for longer hours during hiking, these are not suitable. They are pretty bulky, which can be a disadvantage to walking.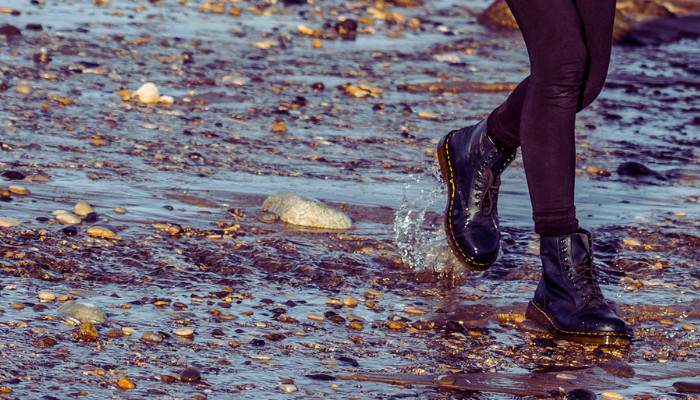 Dr. Martens have hiking boots. If you want to wear them to hike, purchasing those is the best option. Those are made for tackling longer walks and dumpy roads.
Do give it a try and see the result for yourself.
Are Doc Martens Good For Standing All Day?
These work boots are suitable for standing and walking all day.
As you know, Doc Martens comes with specialized insoles premade and custom-made, and these are the incredible factors that help its owner stand long hours in these.
If your job includes walking and standing all day, you can consider this brand and its excellent features.
Read more on how to Tell If Doc Martens Are Real
Final Thoughts
Doc Martens is by far the most recommendable shoe brand by doctors and boot lovers. In my opinion, this boot is worth the investment.
You can walk, go hiking, use them as casual footwear and whatnot.
Let me know if you have used Doc martens or not in the comments.