Converse is the most available go-to sneaker in the market.
But the problem arrives when you have wide feet and wanna buy a brand-new pair of converse. Because there is a huge misconception that converse shoes usually fit a little narrow, and how their recent wide-width shoe works. Right?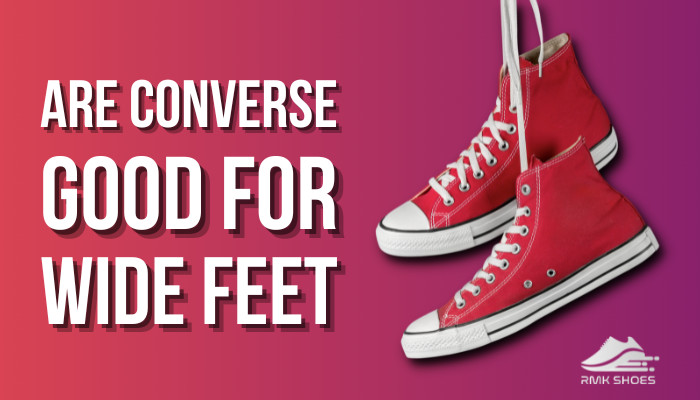 In this article, you'll find authentic information about their fittings and features that I have compiled from customers' experiences, including mine.
So, without any further delay, let's dive into it!
Are Converse Good for Wide Feet?
Converse are good for wide feet, but after completing the break-in period properly. No worries, the canvas upper stretch out so easily that it takes only two weeks to mold into your feet. Additionally, converse sizing plays a vital role in fittings, when you have wide feet.
However, Converse never came in width size earlier, but recently they launched some wide-width lines of their famous model such as Chuck Taylor All Stars Classic, Custom Chuck Taylor, etc.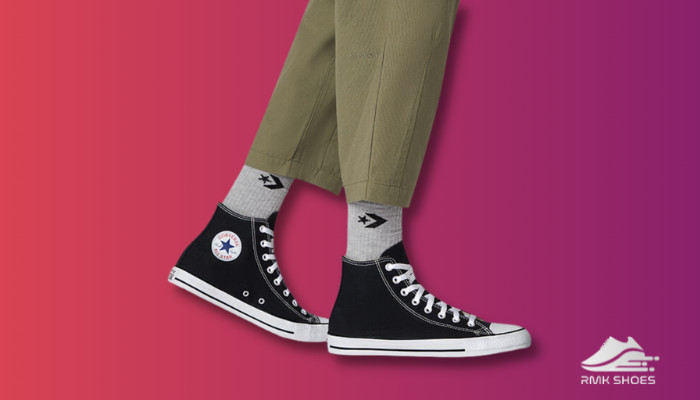 Usually, Converse runs big, and it fits half a size larger than the actual size.
So, if you have little wide feet, there is no need to pick their more extended version, as it tends to lose fittings per se. Just buy your accurate size and it will fit well with your feet after some time. Moreover, Converse works well after stretch and offers a suitable fitting.
On that note, learning the stretching methods of converse can aid you throughout the process. However, if you have a large, broad foot, you should order from their width-line sneaker.
Are The Converse Wide Width Perfect for Wide Feet?
Sizing can be a massive hassle when you have wide feet. Thanks to the converse width, these sneakers moderately minimize the struggle. And the wide-width All-Stars fit amazingly! I usually wear 2E(XW) US extra wide size, and at first, I was worried about their fittings, but eventually, they mold perfectly.
Whereas the other renowned company specially launched flat-footed shoes for those who have it.
However, converse never produces any different model for the wide feet community. They just launched the same old model, adding a more vast space for broad feet.
Before purchasing, when I searched for their feedback and reviews, I needed help finding specific answers. Because according to their features, people might wonder how they fit with the wide feet.
Don't worry, if you find a little snug fit initially, the canvas upper converse stretch as you wear them. Just give them a few days to change and mold according to your foot structure.
So, moral of the story is that you can blindly rely on Converse sneakers even though you have a wide fit. For its extra space, your converse may look huge, but when comfort is the main priority, you must ignore the look.
Contrary, if you have narrow feet converse, look at them as even smaller than your actual size.
And order your exact size if you generally wear little extra shoes, or else go a half size down for the perfect fit. Converse tends to run half size bigger.
How to Measure Your Feet for Converse Shoe?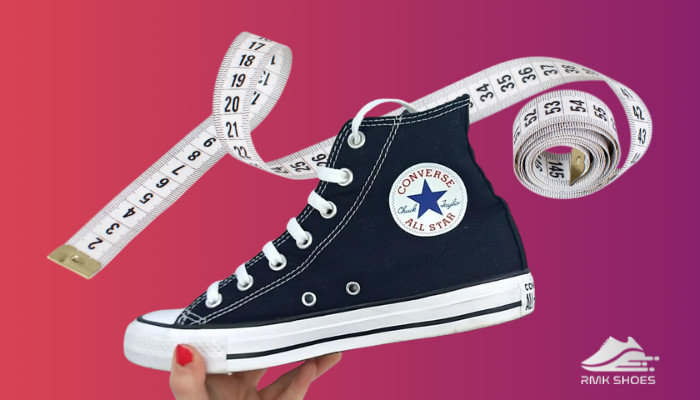 Not only just for converse, but you must also measure your feet before every purchase.
To order your converse from the website, you must calculate your foot size and then check the converse size chart. And now, I'm revealing the easiest and most effective way for your accurate measurement.
Here is how you can measure your feet appropriately:
First, take a piece of white paper and place it on a hard and straight surface.
Next, place your foot onto the paper and draw two dots or lines from the tip of the toe to the heel edge line.
Lastly, calculate the distance by using a measurement tape or ruler. And that's your actual feet size. Note down the size for your next shoe purchase.
 Note: Measure each foot separately in the evening.
Do The Regular Converse Run Narrow?
The regular converse usually runs large, but their toe box is narrower than the other sneakers. If your feet structure is normal or a little congested, the converse sneaker suits your feet perfectly. Additionally, you can pick a size smaller than the actual size.
However, they stretch pretty well. Within a couple of days, it offers perfect fittings. If you desire to buy a regular converse for your athletic activity is a quite good decision.
But before buying, do you want to know how converse works as an athletic shoe? To remove the confusion, you must check the given article to know their offerings for a hassle-free athletic program.
Best Converse Shoes For Wide Feet
The sneaker brand manufacture so many options for their wide feet customers. But in my opinion, only some of their wide-width models gain users' love. And I shortlisted three of them.
Let's inspect the top three width converse:
1. Chuck Taylor All Stars Shoreline Slip-on
The toe box measurement in the wide line of this Chuck Taylor is pretty different from the regular one. We all know that, typically, converse tends to be half a size larger than sneakers.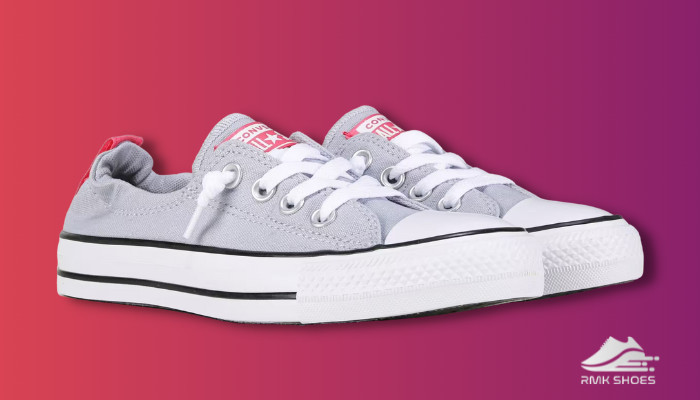 Apart from that, the brand confesses this model runs one size large from the exact U.S. size and provides enough wiggle and roomy feet. Shoreline slip-on is mainly for women.
It features an elastic collar that helps put it on and off quickly.
2. Converse Unisex-Adult Chuck Taylor All Stars (Core Ox)
The Core Ox has an elastic band on the upper for easy access.
The unisex adult Taylor has no classic high-rise design. It naturally comes in the extra wide-toe box. Core Ox is elegant for its complete black look.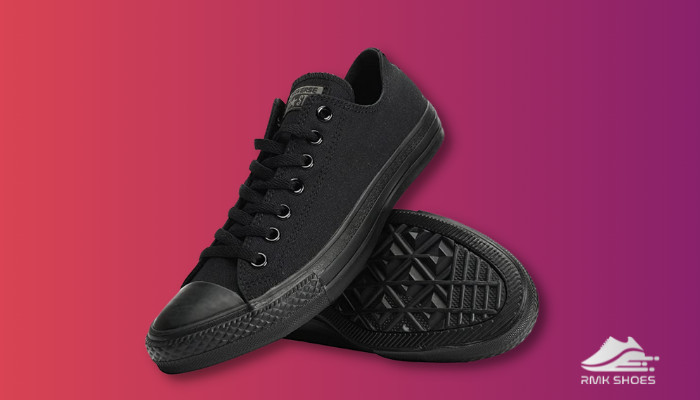 On top of that, This sneaker is always made of cotton canvas on the upper, sturdy rubber sole on the toe top, and sidelines with vegan leather.
3. Custom Chuck Taylor All Stars
My preference is that customization is the winner for special wide feet. And the custom Chuck All-stars are the best choice for those with wide feet.
The most exciting part is you can easily personalize your converse with different colors and designs. Along with the color and feature, you also can change their sizing, confirming your feet' structure.
But for customization, the brand charges more than $90 per pair.
Final Line
Converse blends with every attire – from running to going on a date, it covers all occasions. Luckily, they manufacture for wide feet squads as well, and they fit amazingly. So without any hesitation, pick a perfect size pair of converse before they stock out.
I hope you already find all your required answers in this article. For further questions about wide feet, just hit a comment below.
Till then, stay safe!