When we talk about casual sandals, Birkenstock is the first name that comes to our mind for its unique yet comfortable features.
However, a new brand called Woodstock came into the market with a similar outlook as Birks but at a cheaper price range!
Apparently, they look alike, but in terms of features, they're quite different.
So, when you choose one of them, it might invite some difficulties for you. In this article, I will try to reduce the confusion by providing authentic information about both sandals.
Keep reading till the end to find which one suits you better.
7 Key Differences Between Birkenstock & Woodstock Sandals
As we all know, a suitable shoe simply increases your whole outfit. We often want to wear a shoe from a renowned footwear brand with rich features.
Birkenstock is such a brand that introduces casual pairs in the shoe line with some useful features.
The brand always tries to beat the standard that it set before by providing comfortable yet casual-looking fashionable pairs for its prominent customers.
On the other hand, Woodstock launched their product inspired by Birkenstock's design, simple and subtle.
There are many things apart from the design, and those are different from each other. These characteristics enhance their beauty according to their own style.
Follow our guide to know can you wear Birkenstocks without socks.
Here are the differences between Woodstocks and Birkenstocks: 
Woodstock Vs. Birkenstocks – Materials
Birkenstock is always sincere in its material picking. They try to provide a quality product to make the best pair each time.
The making of Birkenstock is quite simple. They use leather, suede, and natural materials.
Naturally, The brand chooses thick and quality full leather for its shoe uppers. As a result, no matter how roughly you use them, the leather remains well-formed. Birks also uses natural cork, latex and jute for their soles.
They consistently use suede in the top layer of the footbed, which offers a comfortable seat for your feet. Sometimes they use EVA Soles too.
Conversely, Woodstock never uses the finely finished leather in the upper and EVA soles for footbeds.
The company used manufactured fabric for the upper and rubber for the outsole. They also provide cushioning footbeds, but the insole materials are unraveled.
Woodstock Sandals Vs Birkenstock – Price
The main difference between Woodstock and Birkenstock, according to my perspective, is the price variation. The price of both shoes is like the south and north poles!
Whereas Birkenstock charges a minimum of $40 per pair, the Woodstock range starts at only $10!
The highest price of Birkenstocks can rise up to $145 for its updated collection of shoes based on its fashion and features.
Woodstock charged less than Birkenstocks lowest price for its demanded pair.
The starting price is $10 only, and they appeal to $20 for their famous duo. Woodstock simply implies all of its major ingredients within such a minimal cost. They're just a cheaper version of Birks!
Read more to know are Birkenstocks good for sciatica.
Birkenstock Vs Woodstock Sandals – Durability
Costing more, Birkenstock holds its position by offering a unique outlook and durability. After a rough use, the sandals will still be dazzling and provide a presentable look.
For the same reason, I love Arizona as it has supported me since my college days when I first bought them in 2017!
Along with durability, it also opens a repairable option; you can change each part when you feel uncomfortable.
Woodstock also contains the durable quality along with all exceptional features. For their strong cork outsole and synthetic upper, you can use them randomly.
But to bring such durability, they may not provide the comfort Birkenstocks do.
Design Variation
Founding centuries ago, Birkenstocks has a huge collection of sandals with different designs and hues.
On the other hand, Woodstock has a limited collection of designs as a freshly-founded footwear brand.
On Birkenstock's website, you'll find around 600+ styles with a single strap, double straps, crisscross straps, slide type sandals at a time.
And each style of sandal comes with a large color variation like black, blue, brown, white, silver, golden, camo green, and so many others. Any of them you pick that goes with your every outfit.
Compared to Birkenstock, Woodstock has few designs and neutral colors for every design. They produce only single and double straps, slip-on and thong sandals.
Comfort
Birkenstock provides comfort from the first day to the last. It's very user-friendly and easy to put on and off. The suede footbed is exactly fixed like the new shoes after use ages.
They use Birkoflor to reduce the leather's harshness from uppers. It also offers a smooth and silky feel after wearing.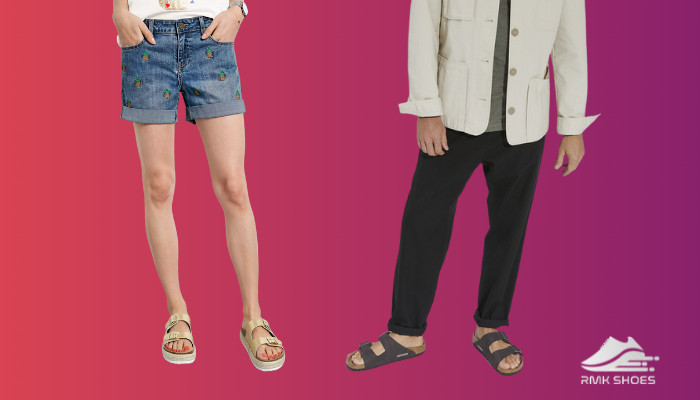 Recently Woodstock claimed that they manufacture the ultimate comfortable sandals in the footwear line. But a lack of fine leather and inner lining may sometimes make you feel a little unwanted.
Sizing
If you feel uncomfortable with a minimum size difference, Birkenstock is the best option to solve that issue, as they provide a half-size facility.
The size also comes with the foot type, like medium, wide and narrow for both men and women.
Woodstock, on the other hand, never offers half-size facilities in their sandals. But the sandals are true to size. So, if you never face any size-related issues, then you can pick the budget-friendly one.
However, these are the main differences between both Birkenstock and Woodstock sandals.
You may also like to read: can Birkenstocks get wet.
Pros & Cons Of Both Birkenstock & Woodstock Sandals
Both of them, Birkenstock and Woodstock, offer some attractive features for stylish people. But we all know there are advantages and disadvantages. Let's explore them as well:
Birkenstock
Pros
»

Vast designs and color variations.

»

Insulated all the premium material.

»

Long-lasting support.

»

Repairable feature.

»

Comfortable footbed.

»

Appropriate sizing chart.
Woodstock
Pros
»

Affordable price per pair.

»

True to size.

»

Overall comfy.
Cons
»

They didn't offer a half-size facility.

»

Materials are average.
Woodstock Sandals Or Birkenstock? Which One Should You Get?
Now you own full knowledge of both sandals after knowing all the facts. So, it'll be easier to reach a verdict, right?
If you like Birkenstocks but your budget is very tight, Woodstock would be the best alternative.
The shoe company offers such good quality at a minimal price. But they offer you just a few shades and designs.
On the other hand, if you want to purchase a stylish yet functional pair from a vast amount of design collection, then the birks will be preferable.
Many people prefer luxury fashion lines. For them, Birkenstock is the name!
Moreover, Birkenstock provides repair facilities along with all beauty and durable features. So when money is not your concern, then fashion and comfort can easily be blended in Birkenstocks for you.
However, I think the Woodstock sandal is the best option if you're a student and plan to purchase a sandal with your pocket money.
Check out our separate post on how to break in Birkenstocks.
Frequently Ask Questions
What is the most popular type of Birkenstocks?
Classic Arizona is the most popular model. The cork footbed and dual strap leather upper first came to mind when we discussed the Birkenstock.
Are Birkenstocks better for your feet?
Birkenstock is the full package with comfort and style. The cork and suede footbed offer a fixed seat for your regular wear.
Is Woodstock produced for kids' sandals?
Yes, Woodstock produces kid's sandals along with men's and women's collections.
Are Birkenstocks for hippies?
Birkenstock had earned a reputation as the hippies' preferred brand. Birks are the symbol of the 1970s counterculture revolution.
Can I repair Woodstock sandals the same way I repair Birkenstocks?
Woodstock never claims any official statement that their sandals are fully repairable like Birkenstock.
Final Thoughts
Birkenstock and Woodstock are both perfect examples of fashion and comfort.
Both sandals are full of high-quality products and offerings. The products are made by using very minimal accessories, but the ingredients are up to the mark in quality.
You can choose any of them, or if you have enough budget, you must pick both of them.
I hope you got all the information that you are looking for.
For further queries, comment below.