Birkenstock is the most versatile and fashionable footwear brand out there. For decades these sandals have offered comfort, support and are the perfect pair that you can pair up with any type of outfit.
If you own these iconic sandals or thinking about purchasing them, you must have the fear of damaging them if wet.
Yes, Birkenstocks get wet. They have their non-waterproof variants that get wet when exposed to damp weather or you accidentally wet them in the rain. The suede leather on the top absorbs moisture if it is not waterproofed.
So, if you get them wet by any means, all you have to do is dry them at a mild temperature.
After reading this article, you'll know everything about maintaining these high-fashioned sandals.
What Are Birkenstocks?
Birkenstocks is one of the most popular footwear brands for troubled feet, like flat feet, and perfect for any other kind of trouble you might have. It rooted its mark first in 1774 and still going strong.
To solve orthopedic problems such as foot pain, ingrown toenails, and calluses bunions, these particular sandals are recommended the most by experts.
Birkenstocks also reduce excess pressure on specific parts of your feet. Since their five-star collaborations with luxury brands, they are stated as the most desirable shoes for decades.
Designers made their own versions of Birkenstocks like Valentino, Givenchy, and Giambattista.
Recently in 2021, Birkenstocks group collaborated with fashion designer Rick Owens.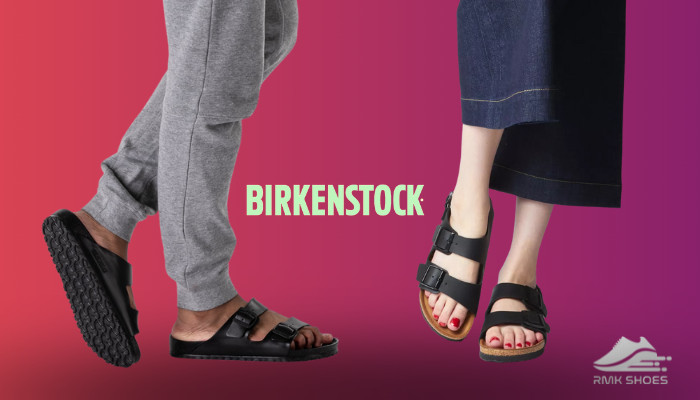 Check out our separate post: Are Birkenstocks Good For Flat Feet
Can Your Birkenstocks Really Get Wet?
When Birkenstocks are exposed to sudden moist temperatures or rain, they can get wet easily.
As Birkenstocks are made out of natural materials like jute, cork, and suede, which can absorb water and wet the sandal. If it is damp, it can be fixed by simply air drying.
Birkenstocks are not meant for water, but if you get them wet, they will not be ruined. All you need to do is keep them at room temperature and let them dry out on their own.
There are variations of Birkenstocks that are water resistant. You can get those to avoid the rainy season's dilemma.
What Should You Do When Your Birkenstocks Are Wet?
It is very common to wet your sandals while wearing them on a regular day-to-day basis. For your Birkines, the same occurrence can happen. If you accidentally do so, you should let them dry all by themselves.
Birkenstocks are not very suitable for extremely harsh weather. Too much heat or a dry environment can easily damage the natural materials they are made out of.
Owners are advised not to dry them on the dryer and also not to keep them outside in the sun for a very long time. This might crack the cork.
It's best to clean and dry them on the day you are not wearing them.
Follow our guide on Why Do Birkenstocks Turn Black
Should You Wear Birkenstocks In The Rain?
If the weather around you is damp or while you are planning to wear them there is a possibility to rain, avoid wearing these pairs.
But, even if you get wet in the rain accidentally while wearing your Birkenstocks, you don't have to do much to maintain them.
I have researched and found that most owners of these shoes avoid wearing them in the rain. If they understand that there is a possibility to rain they wear something else.
Not everyone is that lucky. In some places, the tendency to rain is more than in other places. In that case, you should get a Birkenstock care kit. This kit provides wax that you can rub on the cork, which helps to repel the moisture.
Can You Wear Birkenstocks To The Beach?
Birkenstocks are trendy because of their versatile use, design and the variation of colors they are providing the users. Day by day, these footwear brand is expanding at an alarming rate.
The design and structure are suitable for any kind of weather possible. From long walks to running errands to outdoor parties to casual wear, they are a perfect fit.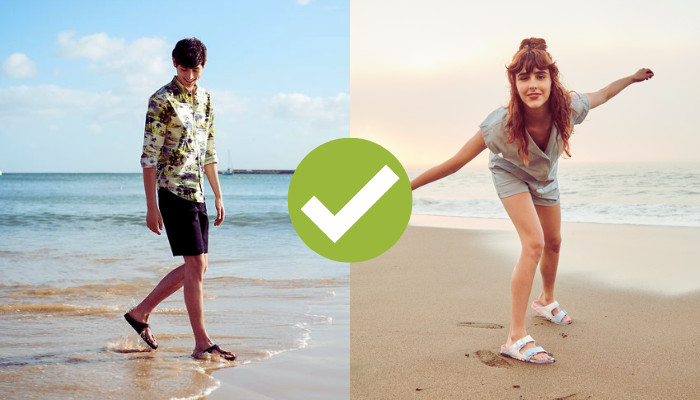 During the summer season, as they are breathable and can absorb moisture, they are the first choice. Birkenstocks are easy to slide on, and it looks good with any kind of summer outfit.
Birkenstocks are an excellent choice to wear in the beach areas. If you are wearing these bad boys on the beach, wipe out the sand afterward. You can also use a lightly damp cloth to wipe them.
In summer, the beach area is very dunny, and the temperature is very hot. You should keep your Birkenstocks away from direct sunlight because the heat from the sun can damage the cork and shrink them as well.
If you can maintain these precautions, you are good to go out on the beach wearing your Birkenstocks.
You may also like to read: Are Birkenstocks Good for Plantar Fasciitis
Birkenstocks Waterproof Models
Birkenstocks are popular for so many reasons. These versatile shoes provide comfort along with different styles and designs.
You can wear these sandals anywhere without damaging it with outside materials.
Recently Birkenstocks have launched their new waterproof versions. The EVA ( ethylene-vinyl acetate) sandals are as supportive and comfortable as the original Birkenstocks.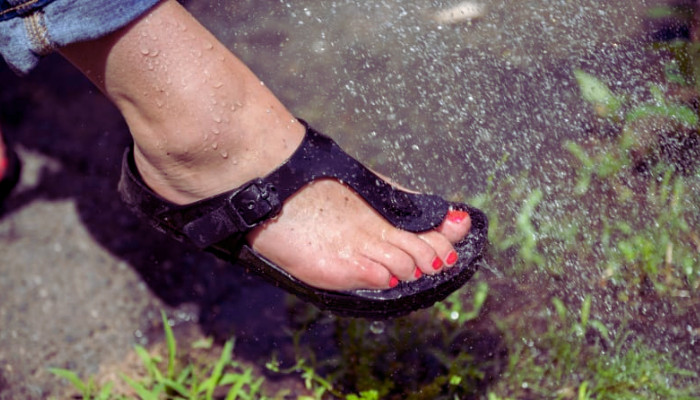 The vinyl material is specially designed to repel water and allows you to wear these sandals to go for any kind of water-related activities like pool parties and beach activities.
In summer, pool activities are most common than any other. So you can wear your waterproof Birkenstocks without any further tension.
Do Birkenstocks Smell When Wet?
As outdoor footwear, it is obvious that your Birkenstocks will get wet or come to contact with water and other liquids. So you must be wondering if they will produce an unpleasant odor while damp.
When you wear Birkenstocks for a while, your feet tend to sweat in the hot summer season, and that can cause your pairs to smell bad and unfortunately, they tend to last too.
If your sandals are wet and not cleaned and dried afterward, they will smell for sure. You need to be careful to use them to prevent odor.
You can mix baking powder and water together and then use this pest to clean the pairs. And then dry them at room temperature to maintain the fresh scent.
Also read, Are Birkenstocks Good for Achilles Tendonitis
How To Fix Wet Birkenstocks? Prevention And Maintenance Guide
Brand new Birkenstocks come with a waterproof sealer for the cork, and this layer will wear off and tear eventually in that case, you have to replace it.  The cork will absorb moisture and will be damaged.
To prevent the cork from damaging, you should use a cork sealer, and while applying the sealer, the sandals should be dry.
For the maintenance of the suede leather. There are also spray-on leather protectors you can find to protect your sandals.
You need to use water and stain repellent regularly. Water and mild soaps can remove stubborn stains. After that, use a cloth to wipe up the excess and let it dry for the next 24 hours for maximum results.
When it's dry, use a soft brush to brush the sandals.
Birkenstocks Construction Materials
It is well known that the manufacturers of Birkenstocks make these iconic sandals from natural elements. The upper soles are made up of four materials.
Let's find out about the main building materials of Birkenstocks:
Jute
Jute is used in between the two layers of the footbed. The first layer of the bottom is to stabilize the cork and latex. It increases the bond between the cork. The second layer covers the top of the cork.
The jute layer is very thick, and it makes the structure more durable and flexible. Jute can absorb water, and it helps to absorb moisture while wearing these sandals.
Natural Cork And Latex Footbed
The most important layer of the structure is the cork and latex footbed. Latex has a highly elastic quality that binds the cork materials properly.
Cork is very lightweight, and it provides extra comfort foot pressure. It also works as an insulator from cold, heat and moisture for your feet. It is also breathable as well.
Foam Insert
The foam insert has extra bubbles to provide the owner with extra comfort and relaxation. For a snug fit, it ensures a good molding structure.
Suede
Birkenstocks manufacturers use suede because it doesn't smell compared to fabric footbeds and absorbs moisture too.
This leather has pores that allow your feet to breathe, and they also don't wear out that easily.
Also, check out our separate post: Can You Wear Birkenstocks to The Beach
Final Thoughts
For daily wear, Birkenstocks are an excellent choice. As it is mostly used for outdoor purposes, it is sure to get wet several times.
To prevent these expensive sandals from getting damaged by moisture, you need to be careful about their maintenance, and if you have a Birkenstocks care kit, you are all good to go.
If you have previous experience of owning Birkenstocks, you are welcome to share your experience and thoughts in the comment section.