Imagine walking across the Finger Lakes with your partner – but unable to enjoy its natural scenario just because of stumbling and disturbance caused by your loose-fitting Hey Dude shoes.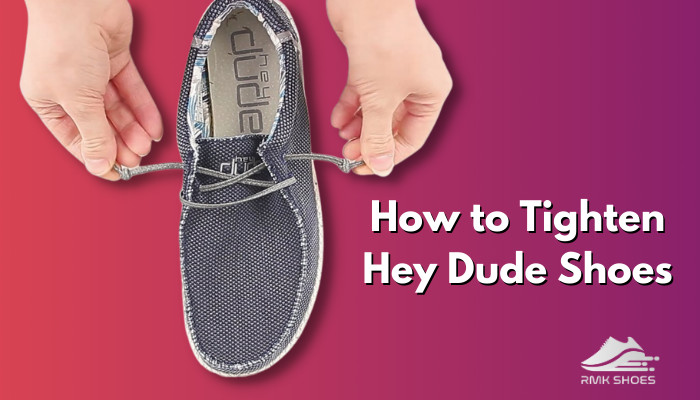 What to do in such an annoying situation?
Well, I'm gonna unwrap some ways of tightening Hey Dude shoes so that you get the desired fit and your struggle with loose shoes ends up.
So. Let's read ahead and find out the methods.
How to Tighten Hey Dude Shoes
Knotting the laces, wearing socks, or inserting the insoles – are the most effective methods to tighten Hey Dude Shoes. All of these strategies are hassle-free and a matter of a few minutes only.
The soft and flexible fabrics of Hey Dude shoes make the task of tightening simpler.
Let me discuss the methods in detail so the task will be a piece of cake and you get well-fitted kicks.
Here are the methods for tightening the Dudes shoes:
1. Tie Up The Laces
Put your feet inside the shoes and adjust the shoelaces according to your requirement. This is the most simple way of tightening slightly loose-fitting Hey Dudes.
But if the shoes are much looser, this method won't work. Moreover, tying the lace too tightly damages the laces and leaves marks on the upper fabric. So, make sure you're within a safe area while applying this method.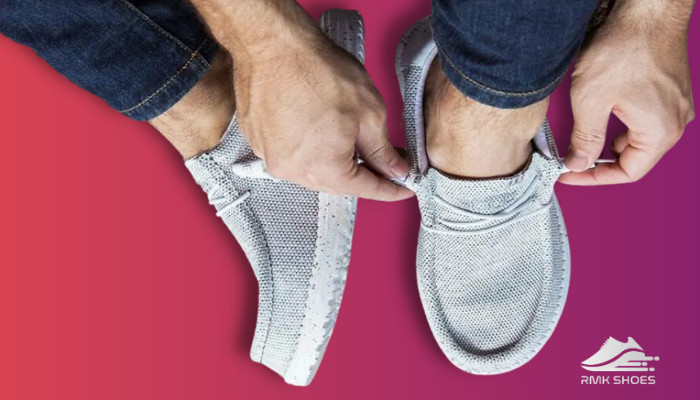 2. Change The Position of Lace Knots
There are several ways of knotting the shoelaces, such as single knot, double knot, bow method, cross-over loop, and side loop method. Pursue any of these configurations while repositioning the knots.
Here is the process of altering the loop position:
Untie the knots of the laces.
Drag the laces together and adjust the fit.
Make a knot on each side closer to the eyelets.
Check if the convenience is okay or not!
Put on the shoes and move on with your nicely fitted Hey Dude shoes.
3. Wearing Thick Socks
Wearing thick socks with Hey Dudes helps to obtain a snug fit. Just wrap your feet with one or two pairs of comfy socks, then wear your favorite pair of loose Dude shoes. Doing this will provide a tight fit as per your demand.
Another advantage of this method is you don't need to bend the laces. Hence its shape won't ruin at all.
Note: This method is not applicable in summer because wearing thick or more than one pair of socks in the summertime is unbearable.
4. Put Additional Insoles
The insertion of additional insoles takes hold of some space in the shoes which reduces the extra room. Therefore, the shoes offer a snug fit.
Here are the steps for putting insoles in Hey Dude:
Buy any good-quality padded insoles.
Loosen the shoelaces and adjust the tongue.
Properly Insert the insoles into your footwear.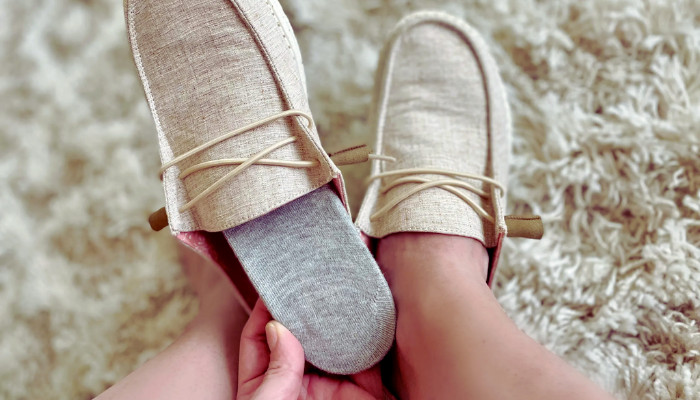 That's it! It's so simple, just like counting 1,2,3
A few days ago, I went shopping, and my eyes were stuck on the soothing design of wally sox Hey Dude. The pair was large on my feet, but the seller fixed the loose-fitting issue by putting a cushioned insole into it. You can also do this with your oversized shoes.
5. Wash The Shoes
The canvas-made Dudes are machine washable. And the shape of these shoes slightly reduces after washing and drying them.
Always use the hand wash cycle and a mixture of cold water with mild detergent to wash Hey Dude shoes. And ensure to dry them in a shaded yet airy place before using.
To learn more about cleaning, follow our article on how to clean Hey Dude shoes.
Do Hey Dude Shoes Fit Big or Small?
Hey Dudes fit varies according to shoe models and users. However, most of the casual Hey Dude shoes run true to size, and women's shoes fit somewhat loose. At the same time, some models fit small, and some are large. Moreover, it offers ultra-wide shoes for people with wide feet.
This trendy footwear ensures a firm yet comfortable and appealing outlook with its highly cushioned footbed and mesmerizing color combinations.
Consequently, the brand has acquired enormous hype among people of all ages, and you are never too old to wear the Dudes.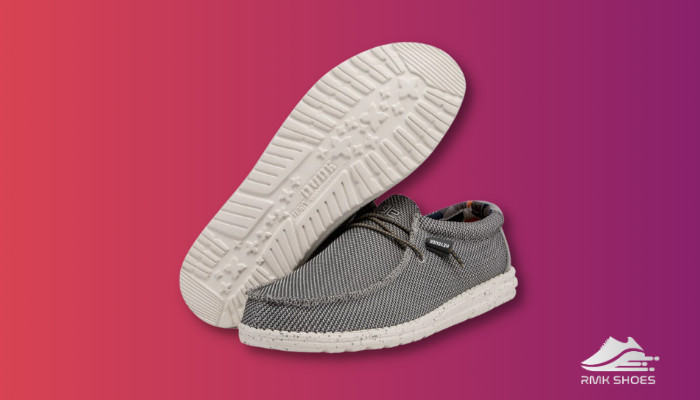 As Hey Dude shoes offer a different fit, it's obvious to become puzzled about their size while buying them. So, I recommend checking each shoe's size guide before making a purchase.
To know more about its sizing, go through another content do Hey Dude shoes run big or small?
Half sizes aren't available in the Hey Dudes collection. If you're stuck between sizes, opt for half size up for slightly loose fitting or half size down for snug-fitted shoes.
But what to do when you have already bought a pair of loose-fitted Hey Dude shoes?
You must change those pairs or follow some strategies to tighten the shoes. Tightening a pair of Hey Dude shoes is one of the easy things to do, and you must have realized it already.
Do Hey Dude Shoes Stretch Out?
Yes, the materials of Hey Dude shoes are stretchy, and the shoes expand after using stretching tools or applying the stretching spray.
Generally, most Hey Dude shoes are built with canvas. And this material stretches a little with time. You will notice this variation after the break-in period.
If you want to loosen your tight hey dude shoes, choose any of the methods such as: applying shoe stretching, using a shoe stretcher, putting peeled potato inside the shoes, or the shoe freezing method.
As Hey Dude shoes naturally stretch a bit, it won't turn into a big concern.
Still, if this little stretch seems disturbing to you, just wear socks or follow the tightening method noted in the previous segment.
Wanna style with similar shoes like Hey Dude? Then opt for reef shoes. See this article to compare Hey Dude and Reef.
FAQs
Will washing Hey dudes shrink them?
Proper methods of washing limit the shrinking of Hey Dude shoes. But washing and drying them in the wrong way greatly warp the materials and damage the shoes.
Are you supposed to wear socks with hey dudes?
Yes, you can wear them with or without socks. It's all about your preference.
Should you size up or down in Hey dudes?
Since Hey Dude shoes run large, small, wide, and true to size, there's no direct answer that you should choose one size up or down.
Closing Thoughts
Dudes are incredibly lightweight and cozy to wear everywhere with any outfit.
So, don't throw away your loose-fitting yet fashionable Hey Dude shoes. Rather, follow any of the shrinking methods mentioned in this content and style with your well-fitted shoes.
Knock in the comment section for any further queries.