Both Skechers and Allbirds emerge as front-runners when you look for sustainable yet comfy footwear.
But to pick the best one between the two, you should be aware of their differences in detail.
And in this article, I'm gonna enlighten you on how Skechers and Allbirds shoes have different approaches to comfort, style, and durability.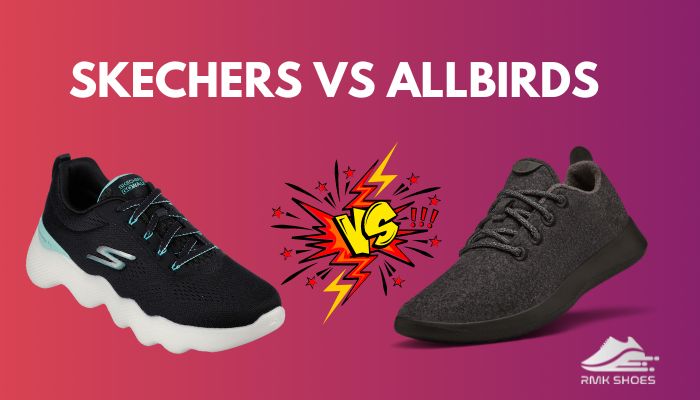 So, buckle up and get ready for a hassle-free shopping experience!
Follow our guide to wash Skechers memory foam shoes.
A Quick Overview Of Skechers And Allbirds
Although both Skechers and Allbirds shoes have become increasingly popular in recent years, they do have their own differences. But before pointing out every single detail of them, you should know a little bit more about the brands.
Let's get to the world of Skechers and Allbirds:
Skechers
Founded in 1992, Skechers has been a popular athletic footwear brand for years. And with their extremely comfy shoes, they have become one of the leading athletic shoe brands in the US.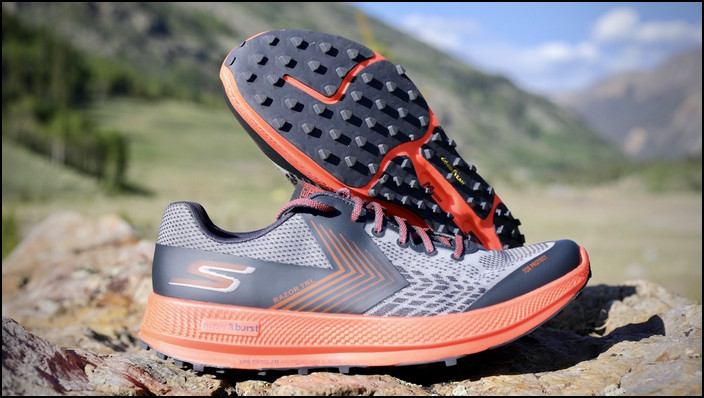 They offer a wide range of styles, from casual sneakers to athletic shoes, and they're immensely famous for their comfortable memory foam insoles.
While using recycled materials in their products, Skechers commits to sustainability and ethical manufacturing practices.
Also, to help the kids in need, they run the Skechers foundation, which has donated funds to more than 50 charitable organizations.
Allbirds
On the other hand, Allbirds is a newer brand founded in 2016. They're known for their minimalist, eco-friendly shoes made from sustainable materials like merino wool, eucalyptus tree fibers, and sugar cane.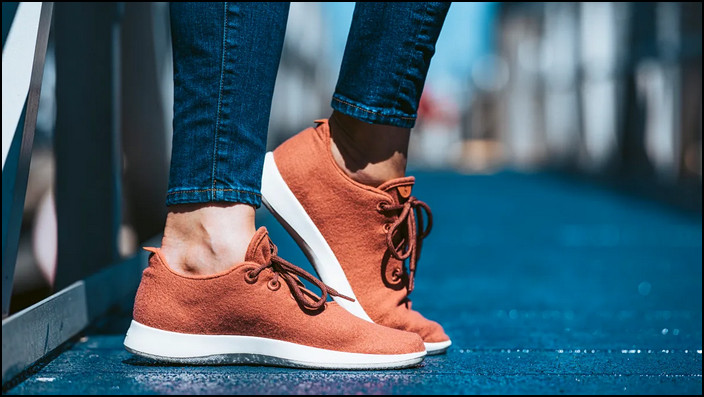 Allbirds has a solid commitment to quality and comfort. And they even have a carbon-neutral certification for their products.
However, they consistently prioritize comfort, making shoes that feel like walking on clouds.
Go through our epic guide about Crocs Vs. Skechers.
Differences Between Skechers And Allbirds Shoes
Skechers and Allbirds may resemble in some aspects, but they differ in their approach to design, marketing, and overall brand ethos. And finding out these differences can help you to make the right pick from these two popular brands.
So, let's take a closer look at the key differences between Skechers and Allbirds shoes:
1. Type of Material
The main difference that you will find between Skechers and Allbirds shoes is in the material they use.
Skechers uses a variety of materials, including synthetic materials, leather, plastic, rubber, and canvas. They also use recycled materials in some of their products.
Allbirds, on the other hand, is known for using nature-based materials in their products, including merino wool, eucalyptus tree fibers, and sugar cane.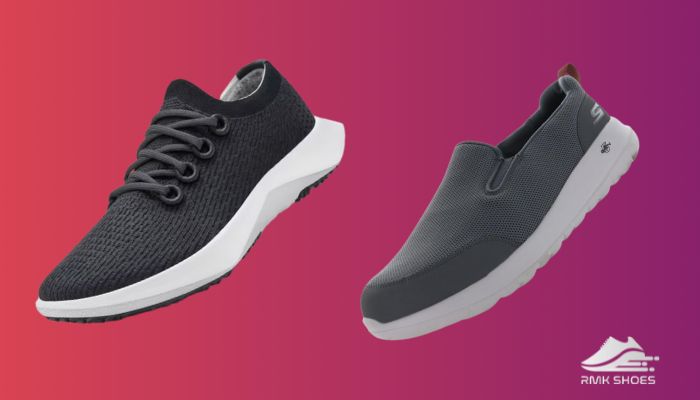 Also, all materials used in their shoes are environment-friendly and biodegradable, making them a great choice for eco-conscious consumers.
When it comes to leather, Skechers mostly use suede leather for their shoes. But Allbirds use plant-based leather for that due to their strong commitment to stand as an eco-friendly shoe brand.
So, being a nature lover, if you want shoes entirely made with biodegradable and natural materials, just go with Allbirds.
Read more on the difference between Merrell vs Skechers.
2. Style and Design
One of the key differences between Skechers and Allbirds is the purpose of their shoes.
Because while Skechers is more like an athletic shoe brand, Allbirds focuses on releasing comfy shoes for everyday wear.
In terms of style and design, Skechers offers more varieties of footwear than Allbirds. From boots to slip-ons or athletic sneakers to slippers, you can find a lot of styles and designs in Skechers.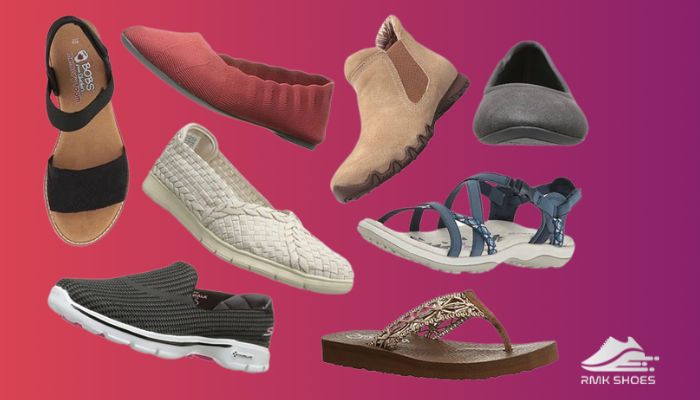 Allbirds also offers a variety of styles like casual sneakers, slip-ons, or hiking shoes, but they don't have high-tech athletic shoes that you can find from Skechers.
3. Level of Comfort
When it comes to comfort, both brands have their strengths.
Skechers is known for its memory foam insoles, which provide extra cushioning and support. With the breathable yet flexible upper and cushioned midsole, Skechers is the best choice for all-day comfort.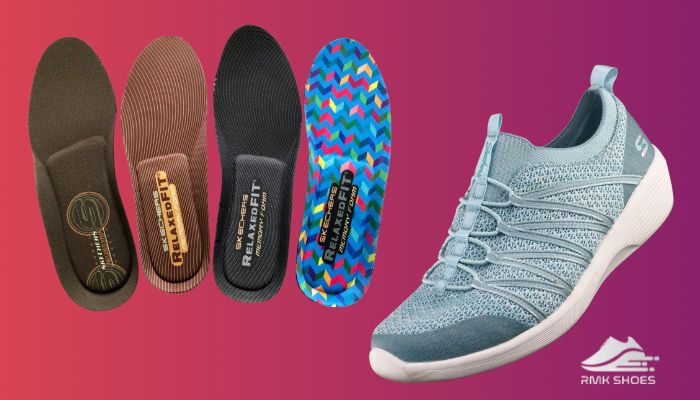 These shoes are comfy yet very easy to put on, and you can wear Skechers with or without socks.
Though most Skechers are lightweight, some recent models, like Skechers Work Relaxed Fit Cankton ST, feel slightly heavier and may cause discomfort to runners.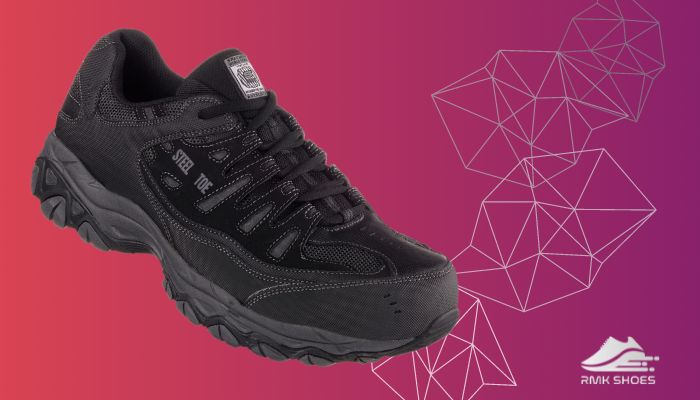 Allbirds, on the other hand, use a proprietary foam insole that molds to your foot, providing customized comfort. They even claim to be the most comfortable shoe brand in the world.
In my experience, Allbirds Wool Runners feel incredibly soft and comfy to wear with their merino wool upper and lining.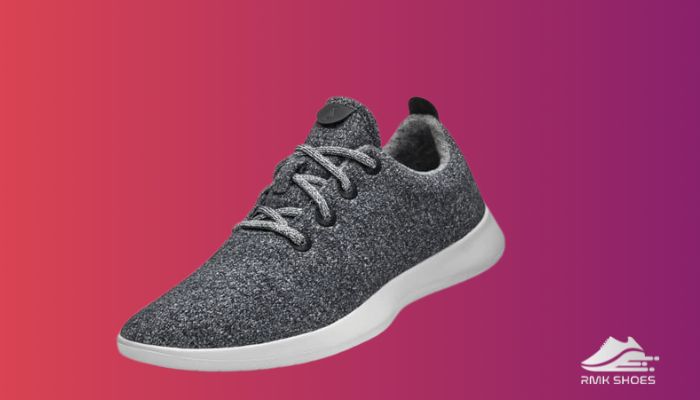 However, I've found a little flaw in their Tree runners model. They use merino wool lining even on the heel cups, which peel easily and start to feel discomfort while rubbing against your heel.
4. Durability
In terms of durability, Allbirds will get all the points.
Due to its durable materials, Allbirds is known for creating shoes that last pretty long. I've been wearing my Wool Runners for 3 years now, and they still serve quite well. Also, their shoes are machine-washable, making them easy to clean and maintain.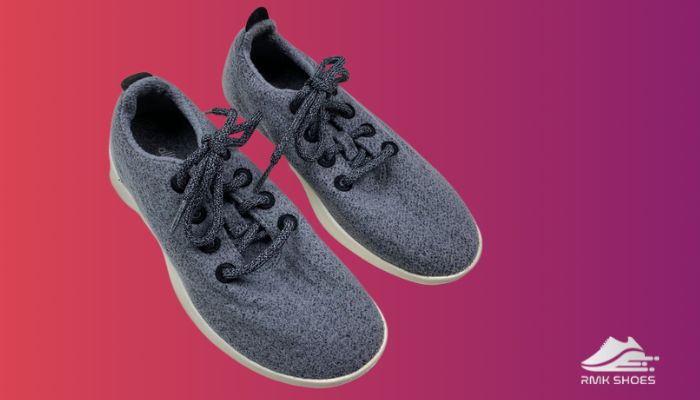 But one downside of Allbirds is that the sole treads wear out too quickly while losing the required grip. And they are not repairable at all.
Skechers shoes are also durable but may not last as long as Allbirds. This is because of the use of synthetic and fabric materials, which may not last that long with normal wear and tear.
But a good thing with Skechers is that they have repairable models. Thus, you can increase their longevity with a little servicing.
5. Supportive Sole
As Allbirds mainly focuses on making casual shoes, they don't offer specialized soles that you can find with Skechers.
Skechers offer supportive shoes with their signature Hyper Burst® cushioning, hyper Arch midsole, and Goodyear® Performance Outsole. This means the shoes can protect your feet while absorbing the impact and shock of the ground.
Also, with the super grippy outsole, most Skechers shoes are non-slip.
Conversely, Allbirds offers a moderate level of cushioning to their running shoes but still fails to provide enough arch and heel support.
And except for their running shoes, most Allbirds models don't offer grippy treads. That means Allbirds may not be as good as Skechers at walking on slick surfaces.
6. Sizing and Fit
Both Allbirds and Skechers shoes come in a wide range of sizes.
Typically, Skechers runs true to size for regular to narrow feet. But they will fit tighter on your wide feet.
In that case, you can go a half or full size up. And the availability of half sizes makes it easier to find your perfect fit.
Like Skechers, most Allbirds shoes also fit true to size for average feet, except the Plant Pacer models. The brand recommends sizing up if you are between sizes or have wider feet.
And for Plant Pacer shoes, they recommend sizing down.
But the problem with Allbirds is that they don't come in half sizes, making it quite challenging to find your right fit.
7. Waterproof Ability
One more difference between Skechers and Allbirds is how they protect your feet from getting wet.
Skechers offer water-repellent models like, Go Run, Escape Plan, and Hillcrest, which can keep your feet dry even in heavy rain.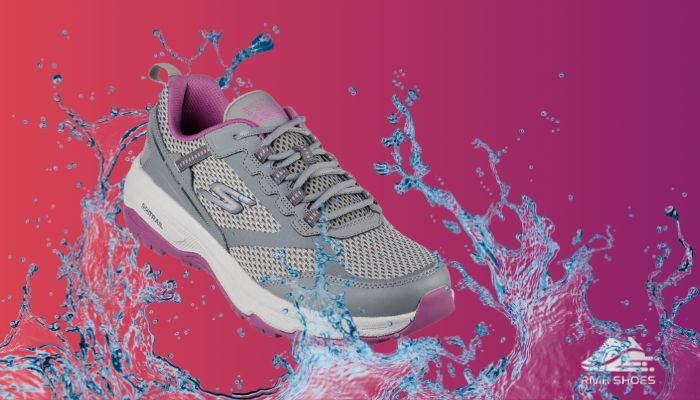 Materials used in Skechers shoes are not totally water-resistant. Although, with my pair of Go Run, I've seen that when the upper absorbs water, my feet still stay dry while walking in the rain.
Allbirds, on the other hand, don't claim to have waterproof shoes. But some models, like Wool Flyers and Wool Runners, can survive light to moderate rain with their bio-based water-repellent shield.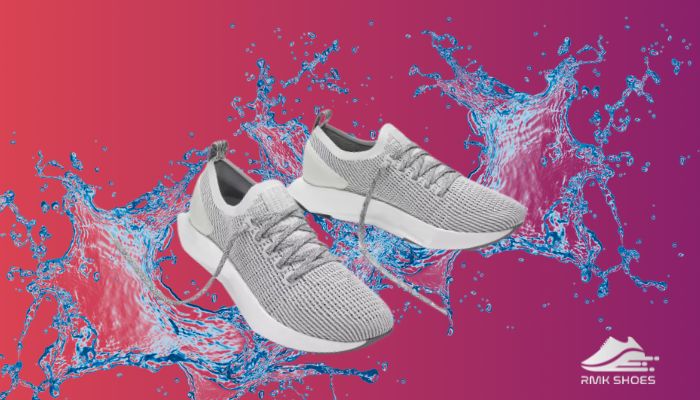 8. Price
When it comes to the price, there's a big difference between Skechers and Allbirds shoes. Though both brands offer affordable and expensive shoes, Allbirds shoes can be pricier than Skechers.
Skechers offer shoes at feasible prices because they use traditional synthetic materials. However, their price can range from $17 for kids to over $210 for many expensive adult models like Go Run Speed Freek.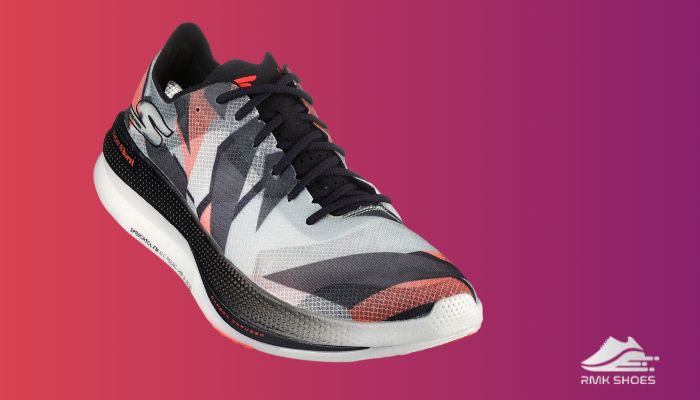 Yet, most of their famous models are available at affordable prices. For instance, my pair of Mountain Tops cost me 89 bucks.
On the contrary, Allbirds uses 100% natural materials like merino wool, plant leather, and plant fibers, which aren't cheap at all.
However, depending on the model, Allbirds can cost you from $30 to over $160. But you won't be able to buy any of their famous models for under 100 bucks. For instance, I got my Wool Runners for $110.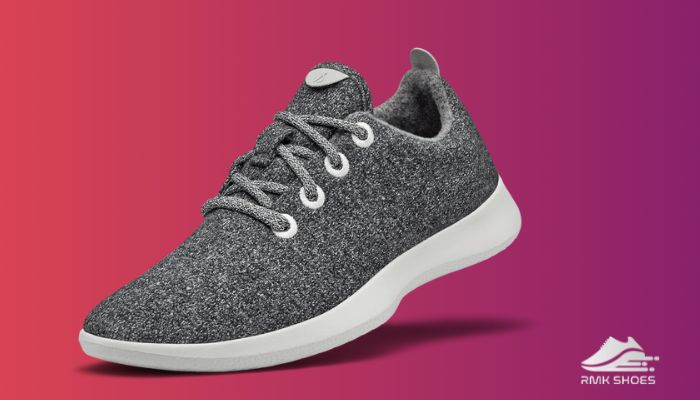 Overall, both Skechers and Allbirds have their own strength and weaknesses. But before choosing your next favorite brand among the two, consider these crucial factors.
Pros and Cons of Skechers and Allbirds
Now that you know their differences, listing both brands' pros and cons may help you make the right decision.
So, let's find out what the pros and cons of Skechers and Allbirds are:
Allbirds
Pros
»

Very comfortable for daily wear.

»

Eco-friendly materials.

»

Durable and sustainable with 100% natural materials.

»

Wide range of styles.

»

True to size.

»

Easy to wash.
Cons
»

Most models are not waterproof.

»

Insufficient cushion support.

»

Lack of soles tread.

»

Don't come in half sizes.
Skechers
Pros
»

Available at affordable prices.

»

Incredibly comfortable.

»

Comfy soles with extra cushioning and memory foam insoles.

»

Wide toe box.

»

Grippy soles.

»

Water-repellent.

»

Easily repairable.
Cons
»

Not so durable due to the synthetic materials.

»

Don't offer eco-friendly products.

»

Shoes wear out pretty quickly.
Ultimately, both Skechers and Allbirds have their pros and cons, and the best choice depends on your personal preferences.
Which One to Choose Between Skechers And Allbirds?
After knowing all the differences between Skechers and Allbirds you may still wonder which one will be right for you.
Well, it really depends on your priorities.
If you're looking for a wider range of styles, a more affordable price point, and shoes that provide extra cushioning and support, Skechers might be the way to go.
But if durability and eco-friendliness are important to you, and you want incredibly comfy shoes that can give you the feel of walking on clouds, Allbirds might be the better choice.
After all, both brands have their strengths and weaknesses, so try on a few pairs and see which one feels best for you.
Bottom Line
Skechers and Allbirds both, however, offer a range of sustainable and comfortable shoes.
But to pick the right one for you, I would suggest you pick the one that gives you a perfect fit while meeting all your needs.
I hope this article will help you to make the right decision and for any further queries just leave a comment.
Happy purchasing!