When you're always in a hurry and clumsy like me, you gotta know what your shoe offers in terms of support, right?
Likewise, if you love Skechers or would love to buy a pair soon, knowing their slip-resistant feature is a must. But how to know if you haven't experienced any yet?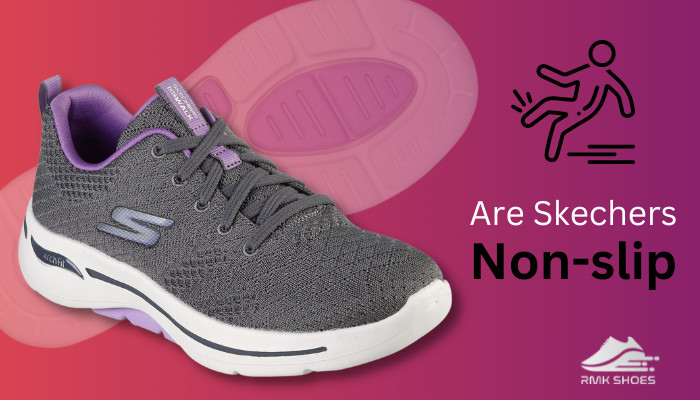 Worry not, I'm here to share my year-long experience with Skechers shoes and answer all of your questions about this brand.
Let's start!
What are Slip-resistant Shoes?
Slip-resistant shoes are especially created footwear that keeps you from slipping on a wet and slippery surface. These shoes' soles provide traction, which offers stability.
Moreover, it assures you to work all day in a variety of conditions and weather. if your profession requires you to be on your feet from dawn to dark, you must own such a pair.
Note: There is a slight confusion between non-slip and slip-resistant shoes. Both are the same. In this world, no shoe brand can ensure that you never fall wearing their shoes. So, brands avoid the intense word non-slip and use slip-resistant in their features. However, slip-resistant shoes are enough to provide maximum support that saves you from falling. 
Are Skechers Shoes Non-Slip?
No, not all Skechers are non-slip. But most of their widely used models are slip-resistant.
The Skechers work shoes & boots are made with nonslippery materials for those who stand on foot all day long. But casual shoes usually don't offer this feature.
If you're looking for casual yet trendy sneakers to rock with your daily outfit, try Nike Air Force 1 as they're proven to be a non-slip footwear.
However, delivering maximum comfort, Skechers designed 100+ men and 90+ women slip-resistant shoes. While checking their website, you can see that they have a versatile collection of non-slip shoes. Here, I am writing about some of them.
Read the list of the most amazing Slip-Resistant Skechers:
Skechers For men:
Skechers Work Stamina Airy SR Men's Shoes: This shoe might be your ultimate protector. It's not only slip-resistant but also oil-resistant. Another attractive feature is that it's electric hazard safe and provides maximum comfort during work.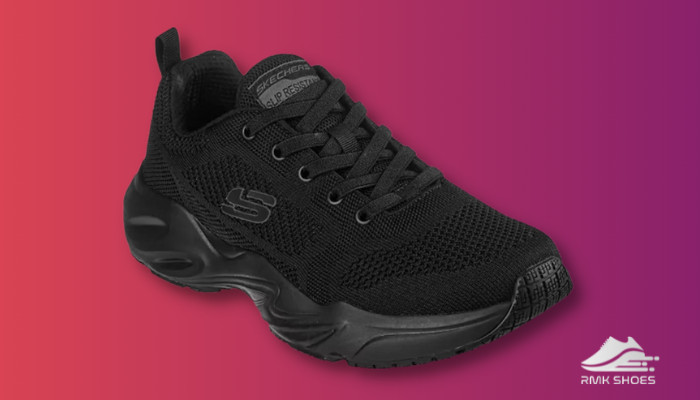 Skechers Men's Diameter Murilo Shoe: Providing outstanding traction, the outsole of this lace shoe is cool in style and its midsole work as a low-profile shock absorber. Moreover, this pair can serve you well for an after-work party because of its fashionable designs and flexibility.
Skechers Work Relaxed Fit Cottonwood Ekel Men's Shoes: Like its name, this shoe is that comfy with slip and oil resistance. It's also EH-safe designed.
Skechers For Women:
Skechers Women's D'Lites Interlude Sneaker: With slip-resistant facilities, this shoe has a sporty look, which might be perfect for a casual outing to early morning walks.
Work: Uno SR – Deloney: This anti-slip Skechers shoe featured with Composite nonmetallic safety toe as well as EH safe and its Air-Cooled Memory Foam cushioned comfort insole that comforts you during work.
Overall, after researching a lot of slip-resistant Skechers I have provided the popular shoes. Hopefully, they will help you to choose one.
What Makes Skechers Non-Slippery?
The main difference between non-slippery and slippery shoes is in their sole. The materials or design of the outsole are mainly protected from sliding.
Different brands provide special features to make their non-slip shoes unique. Likewise, Skechers also have some of their own features to provide maximum security. And now, I'm gonna describe those.
Read the 4 interesting and essential features that make Skechers non-slip:
1. Outsole material:
Skechers use EVA material in the outsole which is made from rubbery materials. Such rubber or synthetic material enhances slip resistance. In addition, these materials are flexible and help to obstruct water so that water cannot pour into your shoes. The outsole of Skechers is made in such a way that helps to achieve the non-slip procedure of shoes.
2. Outsole design:
Along with the material, the outsole design is also one of the most substantial segments to increase the shoe's traction.
The grippy treaded outsole keeps you stable on wet and slippery surfaces and also prevents you from injuries. And excellent gripping and intensive traction on their non-slip shoes makes them a superior non-slip shoe brand.
3. Outsole Patterns:
Patterns always play a vital role everywhere. And when it comes to the shoe's outsole, it's no difference. However, variety in outsole patterns increases shoe friction.
Skechers experiment with fascinating patterns like hexagonal and circular shapes on their outsole providing incredible friction.
These curlicue grooves indicators on the bottom of the sole make your shoe more secure and maximum anti-slip.
Note: You should know that the smaller the pattern is, the better friction there will be underneath your shoe. And with Skechers, you're gonna get just that!
4. Padded collar:
A padded collar is another feature that helps to hold your foot in place.
For ultimate support, Skechers have an orthotic footbed and cushioned insole.
These features of soleplates make shoes anti-slip and prevent you from unexpected sliding. Like Most anti-slip shoes, Skechers soles are soft, rubbery, and durable, providing ultimate comfort and less stress on your precious feet.
Are Skechers Boots Slip-Resistant?
Yes, all the specific Skechers working boots are slip-resistant.
The brand designed 50+ water-resistant work and safety boots. It provides comfort and safety together. Moreover, the company ensures that they produce the best slip-resistant shoes, so you don't need to be confused about buying Skechers boots, whether they are slip-resistant or not.
Even if you are on a budget, this brand offers fantastic work boots from $63 to $125.
Thus, Skechers can be a good option if you're a boot lover who needs some functionality.
Anyways, if you wanna go rather to some stylish boots, check out Ariat boots and their anti-slip features.
Are Skechers Sports Non-Slip?
Most of the Skechers sports shoes are Non-slip. Though some of the features that make a footwear anti-slip are missing in their sports versions. You can still grab them as not every sport requires slip-resistance shoes.
When it comes to athletic shoes, Skechers doesn't follow the non-slip features properly which I mentioned above.
And honestly, Skechers sports manufacturers have no intention of acquiring you good friction on walking. So, if your demand is non-slip sports shoes, just avoid the Skechers line.
However, if you're into running and wanna grab a perfect pair then try Nike Air VaporMax for running. These Nike sneakers are lightweight and breathable yet supportive to provide maximum utility in your running pursuit.
How Do I Know If My Skechers Are Slip Resistant?
Generally, both the safety and casual boot lines of Skechers are non-slip so the rest of the Skechers are not slip-resistant. However, to know whether your Skechers pair is resistant to slip, follow the tips given below.
But with so many variations, how would you be sure if your beloved pair contains anti-slip features? Here, there's the solution and I'm gonna serve those in this section.
So, keep reading to know whether your Skechers pair is resistant to slip.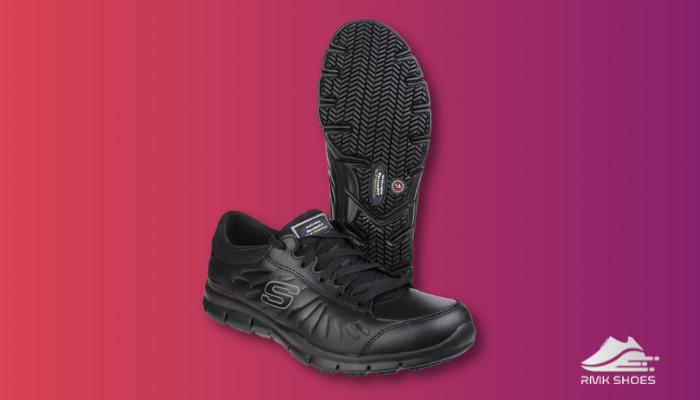 Here are the ways to know if your pair is non-slip:
Box label: You can know it by reading the detail on the shoe box, on the website, or asking the seller. If the footwear incorporates such features, you'll see them labeled somewhere on the shoe box or on the shoe itself.
Sole material: Slip-resistant shoe soles are mainly made with rubber or synthetic materials which protect from slip. Check the soles and understand them by yourself.
Outsole pattern: You may observe a circular/hexagonal grooved pattern on the bottom of the shoes, which provides friction. If it's present on the outsole, then yes, it's your required Skechers shoe!
I think tips will help you to recognize the slip-resistant shoe properly.
How to make your Skechers slip-resistant?
What if, your favorite sketcher is not slip-resistant, and you are afraid to wear it in wet weather? You must wanna know the ways how to make them anti-slip if there are any, right?
I have the exact solution for you. Make your pair non-slippery and wear it when you want by following the methods I'm about to uncover.
Let's read 4 ways to make your shoe slip-resistant:
Scuffing the Outsoles with Sandpaper: Rub the bottom part of the shoe with sandpaper for a few moments until you feel the base's surface is rough enough.15-50 grit sandpaper will be perfect for doing this job.
Be aware, don't rub out the material of the shoe! 
Scoring the Bottom: Use a knife and cut the bottom to create a diagonal/vertical or snake pattern groove line. This hack refers to your shoe's excellent traction.
Clean before doing it, and after doing this can use traction spray for good results.
Using Specific shoe traction spray: If you are not in the mood to do rubbing or scoring and also on a budget, just buy a traction spray and spray the bottom of the shoe and you are good to go. A bottle of traction spray Would cost you only $9.
Applying salts, Sand, and glue: When you have enough time for a DIY project then mix salt and rubber glue(1:1), apply the texture on the bottom with a brush, and let them dry. It will create grooves on the outsoles that must prevent falling on slippery surfaces.
These are the possible ways to make your shoes anti-slip. Try them at home and see the result if it works for you. And don't forget to share 'em with me!
Alternative slip-resistant shoes
Not only Skechers but also different brands design anti-slip shoes for all. You just have to survey and decide which brand's feature suits you.
If you plan to buy a shoe that will provide you with a long-time service and not have a budget issue, then Doc Martens boots are a good deal as they're water resistant.
Other famous brands like Nike and Adidas has its slip-resistant line; you can check them out too. And if you are on a budget, Walmart is a good option.
Conclusion
This 27-year-old brand Skechers is mainly famous for making utility boots and shoes focused on providing comfort and fashion.
They're well known for their excellent performance, versatile design, and ultimate comfort. So, if you want water-resistant shoes Skechers are the best choice.
I have tried to provide all the necessary things about it. For further queries just leave a comment below.