If you want to explore the vibrant cities, vast sand islands, and the quirkiest wildlife of Australia in comfy shoes, there is no better choice than RedBack boots.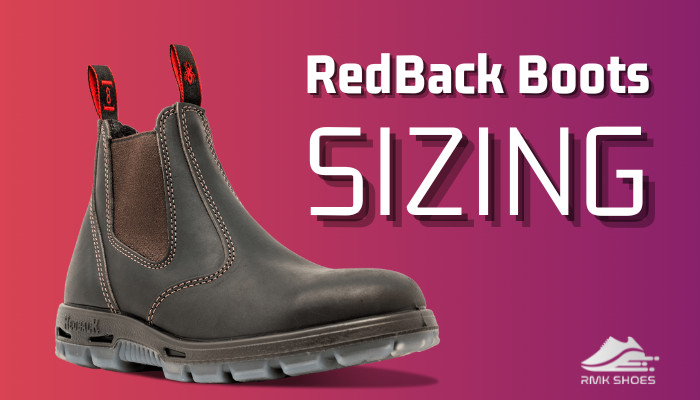 Along with comfort, you must know the sizing criteria of these unisex pairs to enjoy your RedBack time.
From this write-out, you will know every sizing detail and the conversion process, along with the effect of various models on size.
So, stay put.
RedBack Boots Sizing Guide
As an Australian brand, RedBack manufactures its boots in UK sizes. To buy your boots, you need to know how you can get the perfect fitting if you are used to wearing a US size.
UK sizes are 1 size smaller than US sizing. So to convert your shoe according to the RedBack size chart, you have to get one size smaller pair and vice versa.
For instance, a US 4 is a RedBack 3. So, when I got my RedBack unisex-adult Ubbk I went down one size and the fit was great. I'm a US 6 so I ordered 5. I can work all day wearing them without any foot pain.
This particular review from Amazon will clear your confusion while giving you the proper idea about which size you need to get,
"Best boots I've ever owned. I'm an aircraft maintenance engineer, I work indoors and outdoors in any temperature and on many surfaces. The boots hold up well against oils, greases, acids and cleaners. Exceedingly comfortable. Only complaint is they fit larger than you expect, and they stretch out about another 1/2 size. I had to purchase a set of insoles.
Make sure to get a good leather conditioner to keep it supple."
So, it's clear that RedBack unisex-adult Ubbk will stretch and there is a possibility that the fit will loosen over time. I got my actual size 5, and as I use a leather conditioner, the snug fit is still the same after almost one year.
However, US women's size is also different in UK parameters. To be exact, RedBack Female boots are 2 to 2.5 sizes smaller compared to US sizes.
Let me clarify for you.
My friend wears US 5.5 boots and RedBack 3 fits her perfectly. Later when she bought a different model, size 4 fitted her and 3 felt smaller so, she ended up getting size 4 in RedBack.
Therefore, the best solution is to try these boots before buying and follow the sizing chart provided by RedBack otherwise, the fit may vary, and you won't get the exact size.
RedBack size chart:
| RedBack UK | Men's US | Women's US | Foot Length mm |
| --- | --- | --- | --- |
| 3 | 4 | 5.5 | 230 |
| 3/4 | 4.5 | 6 | 230/235 |
| 4 | 5 | 6.5 | 235 |
| 4.5 | 5.5 | 7 | 235 |
| 5 | 6 | 7.5 | 245 |
| 5.5 | 6.5 | 8 | 245 |
| 6 | 7 | 8.5 | 250 |
| 6.5 | 7.5 | 9 | 250 |
| 7 | 8 | 9.5 | 260 |
| 7.5 | 8.5 | 10 | 260 |
| 8 | 9 | 10.5 | 270 |
| 8.5 | 9.5 | 11 | 270 |
| 9 | 10 | 11.5 | 280 |
| 9.5 | 10.5 | 11 | 280 |
Again from the chart you can see, for half sizes(0.5) there is no difference in mm. So if you are converting your foot size to millimeters, make sure you follow the table very carefully.
Most brands like the Red Wing Boots have their size guide to lead you towards your perfect fitted boots for any occasion and season as well.
How Should RedBack Boots Fit?
RedBack boots fit perfectly. RedBack fits from sizes B through EEE width. So they can feel a bit loose, wearing a thick pair of socks will solve your problem in minutes.
These boots also offer leather insoles, my father is all about finding safety and comfort. So you guessed right, he attached RedBack leather innersole to his Easy Escape Steel Toe work boots. It added a layer of cushioning along with the slightly wide-fitted boots.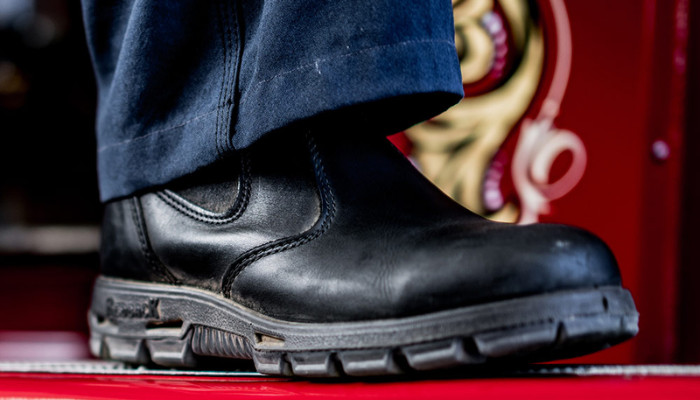 If you are into a wide fit, RedBack boots are a perfect choice, because you don't have to worry as you do for Nobul shoes whether they are good for wide feet or not.
RedBack boots tend to stretch, unlike Cowboy boots, so you can wear them with ease afterward.
Let's see the fitting tips for RedBack boots:
Fitting Tips
You already got the main ideas about the fit of these work boots. Yet, these tips will come in handy.
Wear thick socks if the fitting feels loose, or wear them for a longer period.
Remove the previous insole and attach the new Leather one for more comfort.
To get a more snug fit, get a half-size smaller boot, and wear them with thick socks.
Moreover, if you are a sneakerhead, before entering the world of sneakers, go through Adidas fitting guide preciously to get the fit you want.
Do RedBack Boots Run True to Size?
Generally, RedBack boots run between a half size smaller to true to size. The variation is due to different models and their manufacturing processes. Moreover, as RedBack comes in unisex sizes, they can be a bit roomy for women's feet but are a perfect fit for wide feet female customers.
Whether you are a male or female RedBack lover, knowing what shoe width letters means is the basic ABC of getting a truly fitted boot.
One thing you must remember while thinking of buying RedBack boots is, they come in UK men's sizes.
So go down one size than your US men's and 2/2.5 size smaller than your US women's boot size to obtain your true-to-sizing pair.
Otherwise, you will have to search for ways to make your big shoes fit.
FAQs
Do RedBack Boots Fit True to Size?
RedBack boots fit true to size. Generally, these are quite spacious and, as a result, can be a little loose sometimes. But it differs from model to model. So while purchasing, get your exact size and wear socks to get a snug fit.
Do RedBack Boots Stretch?
Yes, as RedBack Boots are made of leather, they tend to stretch due to overuse. To prevent such situation, use a leather conditioner to maintain the leather quality.
Final Thoughts
Rather than RedBack boots coming in UK sizes, there are no such issues that will work as a downside for these comfy boots.
As they are in different sizing criteria, men need to go one size and female's 2 to 2.5 sizes smaller than US sizes. As the toe box is quite spacious, with medium-wide feet you don't have to go through bigger size issues.
You got everything about RedBack's sizing, for more queries, comment below.