When it comes to versatile running shoes, both Nike Pegasus and Brooks Ghost take the front-row seat due to their unique individualities and applications.
So the struggle is real if you need to select one out of these two!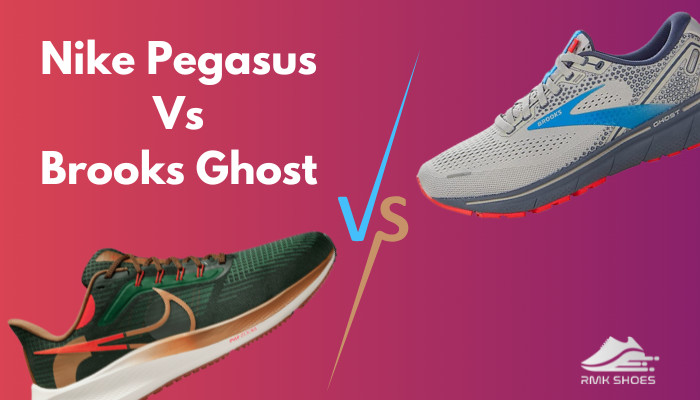 Don't worry. In this article, I have elaborated on every feature of Nike Pegasus and Brooks Ghost in detail, along with my personal experience, so that you can choose the best daily trainer for you.
Brooks Ghost Vs Nike Pegasus: A Quick Overview
Shoes like Pegasus and Brooks Ghost stand out on their own, along with their different specifications. From your daily activity to regular long runs, these shoes do their jobs to the point.
Let's take a closer look at Nike Pegasus And Brooks Ghost:
Brooks Ghost
Brook Ghost is an excellent trainer who paved the way for a 107-year-old company, which is still going strong.
This brand has established itself as an excellent and comfy shoe enterprise. Their Ghost series is versatile and comfortable and is mainly known for its streamlined cushion design.
You can choose from various color options, and those are the most hyped ones. I must say these colors are trendy. So among youngsters, it's getting more popular.
Even my niece has a Brooks Ghost 14, the black, pink, and a hint of white combination.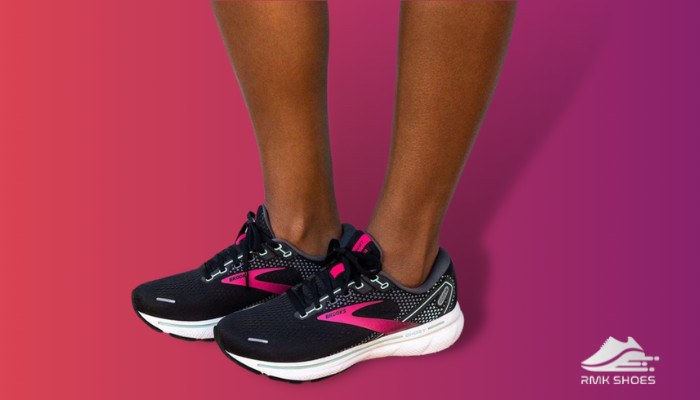 For Marathon runners and professional hard-track sprinters, this shoe is the best option as it is durable and provides ultimate comfort.
Nike Pegasus
Ever since my childhood, the name Nike has been there. Till today the reputation has remained strong.
Nike Pegasus is one of the most famous lines from this renowned brand. Since they collaborated with famous figures like Travis Scott, Michael Jordan, and Kendrick Lamar, this brand has been unstoppable.
For working out and other physical exercises, it's an ideal choice.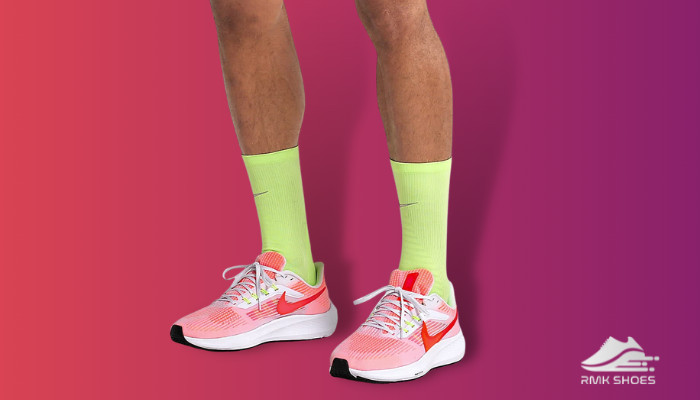 Key Differences Between Nike Pegasus And Brooks Ghost
Sneakers from Nike and Brooks are pretty trendy as running shoes. Along with similar qualities, you will find major differences that make them unique on their own.
Let's take a closer look at the differences between Nike Pegasus And Brooks Ghost:
Midsole
Nike features full-length react foam, and there is also a ForeFoot zoom unit which is mainly an airbag.
The zoom unit makes Nike shoes more responsive on the toe-off.
You will find a full-length DNA loft in Brook Ghost shoes, which is quite nice for your feet. You can choose any of these shoes according to your preference.
Tongue
A few Pegasus shoes have a slightly padded tongue, and this is where some are heavier than others. You won't find padded features in most Ghost pairs.
For example, the tongue of Pegasus 38 is a bit more padded and heavier than Ghost 14.
It's not like every model is the same, but the tongue feature is very similar for specific versions of both these brands.
Heel Counter
The heel counter is not so flexible for Pegasus shoes, but you can bend them according to your need.
On the contrary, the case is the opposite in Ghost footwear. You will feel a piece of plastic inside the heel counter, giving the heel counter a rigid look and support.
In this case, I like Pegasus as I can move more comfortably in them.
Heel Collar
For this particular feature, Pegasus is the winner. In pegasus, the heel collar is thinner than in Ghost.
At first glance, you won't notice the difference. But If you look closely, you will see there is more padding in Ghost shoes than in a pegasus. However, they both feel the same to me.
But the pegasus has less material, so it's lighter than Brook Ghost.
If you are interested to know the differences between Hokas and Brooks, this is the perfect time to choose before buying.
Price
For daily trainers, both of these models are a perfect fit. You will see the price difference, as Brook Ghost is slightly more expensive than a pegasus.
But, it is clear that both of these brands are affordable, and you can find the best options at such prices. Brook Ghost 14 is on the pricier side(109$). Before purchasing your pick, check the prices to be sure.
As another famous Nike sensation, The Air Max is pretty expensive than the Pegasus.
Similarities Between Nike Pegasus And Brooks Ghost
Though there are so many dissimilarities, you will still find similar features that you can look into to choose the right pair for your needs.
Let's find out the similarities between Nike Pegasus And Brooks Ghost:
Upper
The similarities are very visible here, In Brook Ghost, you will find laser-cut 3D holes running vertically, and in Pegasus, the 3D holes are there but on the diagonal.
The inside of the upper is in a mesh fabric. And to be more specific, these meshes are double-layered in Pegasus. The dual mesh makes your feet warm and cozy.
So, if you are not a fan of warm feet, you need to think before purchasing.
Flexibility
Both sneakers from Nike and Brooks are flexible and easy to wear on a daily basis.
As running shoes are known for their flexibility, you won't be uncomfortable wearing any of these two shoes. These shoes will allow you to move your feet while engaging in quicker movement.
So, you won't have any issues flexing in both of these sneakers.
Outsole
Both Ghost and Pegasus sneakers have a similar outsole setup. To save weight, both these shoes feature full-length rubber on each side of the shoe.
For this rubber, Pegasus and Ghost shoes last longer, and you can easily go for 60 miles. If you are a beginner, you can choose any of these shoes.
Whichever you go for, you will be comfortable.
Pros And Cons Of Brooks Ghost And Nike Pegasus
Nike and Brooks are both ideal choices when you want to find a good pair of shoes for your daily activities or regular runs. Their specific features made them stand out on their own.
Nike Pegasus
Pros
»

Durable structure.

»

Ideal for a slow pace.

»

Perfect for gym activity.

»

The proper amount of cushioning.
Cons
»

Narrow feet structure and not suitable for wide feet.

»

Poor ventilation and not so suitable good for speed workouts.
Brooks Ghost
Pros
»

Smooth use.

»

Lots of padding.

»

Great grip.

»

True to size.
Cons
»

For summer it is not so breathable.

»

Not suitable for long walks.
Verdict
Shoes from these famous brands are outstanding, and the manufacturers are still trying their best to maintain the quality they guarantee.
Nike shoes are soft and comfy because of the air gap in the heel region, and you can train in these bad boys efficiently.
In the meantime, Brook Ghost models are challenging to beat. You can do both for shorter to longer runs by wearing these shoes. For your daily workouts, they are ideal too. As they have excellent grip, you can move your feet comfortably.
No matter which shoes you pick, you will be benefited from their unique features, and in both cases, it's a win. So, you need to choose according to your needs.
FAQs
Do Nike And Brooks Fit The Same?
Yes, both shoes fit well. But it would be best if you sized up for both of these sneakers to fit you perfectly.
Are Brooks Good For Walking?
Yes, Brooks is good for walking. The manufacturers made these shoes as running shoes, and there are a few specific versions that are meant only for walking.
Does Nike Pegasus Have Good Arch Support?
Nike Pegasus has little arch support. Across the sole, these shoes are a bit flat. For running, Pegasus 39 is the best option so far.
What Are Brooks Shoes Made Of?
The midsole of Brooks shoes is made of ethylene-vinyl-acetate (EVA). This material is artificial and known worldwide for being lightweight and low-density.
Parting Thoughts
Nike and Brooks are on the market and still reigning as they have offered the best on their behalf.
The Brook Ghost series is best for quicker movements and workouts, whereas, with Nike Pegasus, you can cope with your daily activities.
I hope you got all the information to choose the best option. For any further queries, comment below.