If you're a regular runner, you must hear two of the most popular names in the running world – Brooks and Hokas!
They are currently the most popular and widely accepted name for running shoes.
From the technical point of view, Brooks and Hokas are both loaded with some top-notch features.
And you'll never find any funky element used to build either in Brooks or Hokas shoes. Both of them provide most of the features that every runner needs.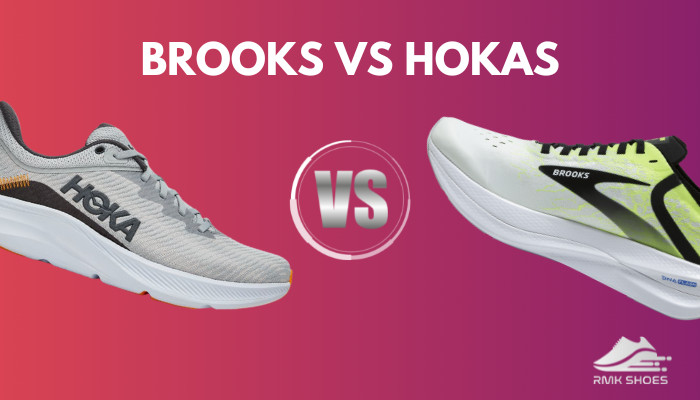 But when comparing one with another for choosing the best one to buy, you must inspect it in detail.
That's why I conducted in-depth research and prepared an inclusive comparison of Brooks vs Hokas that made all the differences.
So, read till the end to know which one is the best running shoe for your purpose.
Brooks vs Hokas: The Key Differences
All kinds of runners – casual, regular, new, ultramarathoner, high-arched or flat foot, both Brooks and Hokas shoes are well-suited.
You'll find every basic running shoe feature within both of them. While the similarities are identical, you'll find some subtle differences that can be the game changer. I've put together a comprehensive comparison between Brooks and Hokas shoes. Before diving deep into that, let's scan through some key differences between Brooks vs Hokas.
Brooks Running Shoes:
Traditionally designed running shoes.
Wider toe box.
Decent cushioning.
Lots of options in design and color.
DNA loft and BioMoGo DNA were used to build the sole.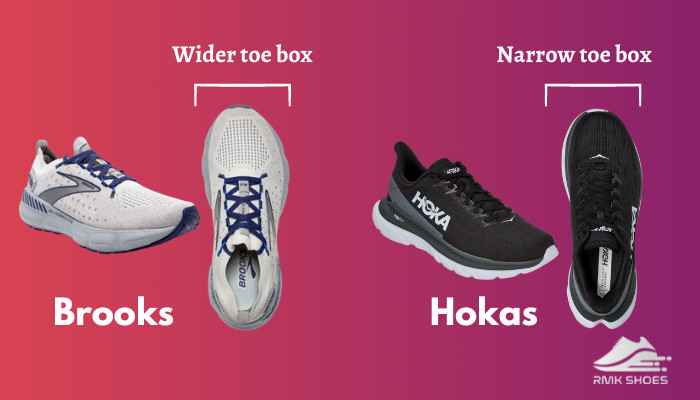 Hokas Running Shoes:
Maximal Shoes.
The comparably narrow toe box.
Maximum cushioning.
Wide variety of styles and functional shoes.
PROFLY is used to build the sole with full compression EVA.
These are some of the key differences between Brooks and Hokas shoes as a whole.
Check out our separate post: Brooks Adrenaline Gts 18 Vs. 19.
Brooks vs Hokas: Every Features Compared
All running shoes have some similar kind of features that made them running shoes in the first place. Likewise, Brooks and Hokas have some identical features.
Both of them are very popular names in terms of running shoes, and they've been in the business for a long time.
They both provide maximum comfort, soft cushioning, stability, flexibility and support for running events.
But when comparing them to one another, we should look out for those subtle dissimilarities, especially when there's a noticeable price gap between the two.
So, let's uncover the differences between Brooks and Hokas:
Shoe Construction
The shoe construction of both Brooks and Hokas shoes is nearly the same. Both of them have a natural counter, decent heel drop, excellent cushioning and comfort.
However, there are some differences in the core materials used to build the upper and soles. Let's break them down part by part:
Upper-
Both Brooks and Hokas shoes used mesh fabric to design their upper to give you maximum breathability.
Though Hokas are popular for their maximalist design, they keep the upper design minimal. On the other hand, Brooks leaves the upper thick enough to make more room in the toe area.
So, if you're looking for something that's wider, then pick Brooks. But for those who prefer minimal upper, Hokas can be your pair.
Midsole-
When it comes to midsole quality, Brooks has the traditional DNA loft and BioMoGo DNA EVA midsole. They leave a larger room in the toe area than Hokas. Overall construction made Brooks well-balanced in both cushioning and responsiveness.
On the other hand, Hokas are popular because of their heavy, oversized midsoles. Despite being heavy-looking, Hokas shoes are super lightweight in reality. And they're perfect for long-distance coverage.
Their midsole build is very soft yet stable. They got rid of the extra room in the toe area to increase the shock absorption and cushioning.
So, if you need to cross a long mile, undoubtedly Hokas is best for you. But for a casual runner like me, Brooks will fit well.
Outsole-
Both Brooks and Hokas have the wide outsole to connect extensively with the ground. Both of them have extra room in the outsole to help riders with stability.
However, an increasing webbed outsole of Brooks provides a more accurate distribution of the weight.
On the contrary, Hokas is more concerned with stability and support.
While Brooks has a complete rubber outsole build, Hokas has springy foam construction. Thus, Brooks becomes a good trail runner when Hokas is perfect for uneven surfaces and wet conditions.
Though there are more similarities in the sole construction, Brooks is more traditional than the Hokas shoes with 10-12mm heel drop.
On the other hand, Hokas showed their bravery and went out of the box by designing top-notch running shoes. They left only a 5mm heel drop in the Hokas shoes and let them adjust with the natural flow.
Comfort, cushioning, shock absorption, traction and grip are the top priority for a runner. And all of these features are better in Hokas shoes than in Brooks.
You may also like to read: Brooks Ghost 11 vs 12.
Moreover, Hokas will give you extensive mileage.
So from the core construction point of view, Hokas shoes are the winner.
Durability
If the shoe construction can't convince you to settle down on a shoe, then durability is the next thing you can consider.
It is a widely accepted notion that Brooks shoes are reliable in terms of durability. They'll give you at least 300-400 mile coverage while Hokas may not fulfil this area.
Hokas can still provide 300 mile coverage, but it'll highly depend on the surface you're about to run on.
As Hokas left the midsole open, it's highly possible that the shoes will wear away sooner if you give it a hard time on the surface.
After considering the durability factor, I wanna land on Brooks!
They're decent in providing comfort and with the money I'll get longer lasting shoes. So, why not?
Overall Fit and Comfort
Your feet will find its home if they can fit well and get the optimum comfort from a shoe.
In that case, both Brooks and Hokas can provide you the best experience.
However, you'll get an extra benefit in Brooks if you have narrow feet as they provide a wider toe box and extra layered upper.
On the other hand, Hokas claim that they cut down the extra room to adjust with their heavy cushioned foamed midsole.
Anyway, both shoes will fit well unless you have the narrow feet that a Hokas shoes can't make space for.
And for comfort, Hokas used the best technology to boost the quality. Their deep heel cup, thicker sole, and a proper ventilation made Hokas best running shoes for comfort.
But Brooks are not that far behind in terms of comfort. They can too provide you the desired comfort while running.
Both Brooks and Hokas are the winners in this category to me.
You'll never have to face any issue fitting those shoes and comforting your feet.
Cushioning
When it's the matter of cushioning, both Brooks and Hokas have the top class materials to provide you with. But, as Hokas are famous for making everything oversized, their cushioning is also beyond the average.
Brooks used DNA Loft and BioMoGo DNA with a thermoplastic EVA coverage. And Hokas used the PROFLY technology to build the springy foam for the extra cushioning.
First I thought the oversized sole and extended heel cup would make Hokas heavy. But after spending last summer on them, my opinion has changed dramatically.
I've realized that the exaggerations are what made Hokas special and functional. Thus, extra cushioning of Hokas will give you a comfortable landing and stability.
If cushioning is something you desire for, then Hokas will be your pair!
So, in this category Hokas is the clear winner.
Price
Both Brooks and Hokas are the name of affordable running shoes as they come at a comparably lower price than the big names!
Brooks' price range starts from $100, and you need to spend $20 extra to get the cheapest pair of Hokas.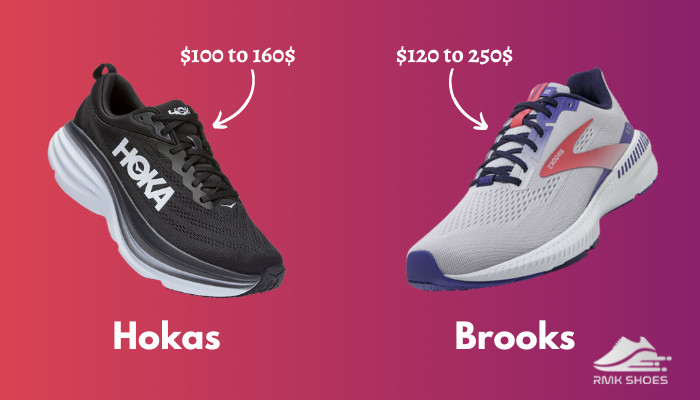 Starting from $120, Hokas can go up to $250 while the highest priced pair of Brooks comes at $160.
However, the most popular models of both Brooks and Hokas are priced at $150.
When it's a matter of price, Brooks are cheaper than Hokas. So the winner is clear here!
Functions and Stability
Brooks are popular as the neutral running shoe while Hokas are popular for providing maximum comfort and stability.
The traditional build and reliable quality makes Brooks the shoes for regular runners as well as ultramarathoners. They're also very functional in foot conditions.
The GuideRails technology made Brooks perfect for supporting hips, knees and joints as they can move naturally on a pair of Brooks shoes.
On the other hand, wearing Hokas during the run makes the injury less likely to happen.
In terms of versatile functionality, Brooks are the winner. And for providing stability, Hokas are better.
Additional Services (Add-ons)
What I've discussed so far states the core functionality and benefits of both Brooks and Hokas shoes.
Besides them, both of the brands are offering something extra that you may be interested in. Also, these add-ons can help you to draw the final line if you're still confused about picking one.
However, Brooks offers a 90-days trial policy where you can return the shoes back if they can't meet your satisfaction. Moreover, being able to reduce 7% energy, Brooks are well recognized for their eco-friendly manufacturing process.
On the other hand, Hokas are an APMA (American Podiatric Medical Association) approved brand that ensures foot health.
Pros and Cons – Brooks vs Hokas
When brands are always offering something extra that they can cover up the price with, it's inevitable not having any drawbacks.
Thus, both Brooks and Hokas have their pros and cons. Here in this section, I'm gonna point out them precisely.
Brooks Shoes:
Pros
»

Signature DNA loft and BioMoGo DNA foam technology

»

Eco-friendly build

»

Traditional yet reliable shoes

»

Perfect heel drop for support the landing

»

Highly durable

»

Mesh fabrics add the breathability

»

Wider toe box for the narrow footed individuals
Cons
»

Not as deep heel as Hokas

»

Not good for crossing long distance

»

Can be uncomfortable in wet and muddy surface
Hokas Shoes-
Pros
»

Heavy cushioning makes it comfortable

»

Highly stable and supportive mid and outsole

»

Full compressive EVA built

»

APMA (American Podiatric Medical Association) certified brand

»

Ultra-durable
Cons
»

Narrower toe cup

»

Can be looked bulkier

»

Bold design with unconventional looks

»

After 300 miles, Hokas will start to degrade its quality

»

A little bit pricey
Know More About Brooks
Brooks came out in 1914 as a sports equipment brand to design and market sneakers, clothing and accessories.
But due to their growth failure, Brooks minimized its operations and shifted the focus entirely to running shoes in 2001.
Since that transformation, Brooks has thrived in the running shoe market, owning a 25% market share by 2017.
DNA loft, BioMoGo DNA, soft cushioning, decent heel drops, comfortable move, flexible engineering, eye-catching designs, and of course, the affordable price — all these attributes made Brooks running shoes one of the best in the market.
Brooks even achieved awards for being the best women running shoes and best winter running shoes.
Moreover, Brooks is a well-recognized brand for a sustainable and environment-friendly shoemaking company.
Some of the popular Brooks models-
Hyperion Elite 2, Hyperion Tempo, Ghost, Catamount, Revel 5, Adrenaline GTS 21 and Glycerin 19.
Know More About Hoka One One
Hoka One One is a French company founded in 2009 to design and market the maximalist concept of running shoes.
When there was minimalism in practice, Hoka One One showed their courage by designing oversized outsoles with extra thick cushioning and such.
Though Hoka One One made their running shoe with maximum cushioning, this feature didn't make their shoes heavier. Rather, you'll find a lightweight feel just like they say, "fly over the earth"!
Some of the popular Hokas models-
Hoka Clifton 7, Hoka Carbon X, Hoka Elevon 2, Hoka Arahi 5, Hoka Bondi 7 and so on.
Brooks vs Hokas Running Shoe Comparison- Wrap Up
When you need extra cushioning then Hokas is where you should go. But in terms of reliability, consistency, and variety, Brooks will be unbeaten.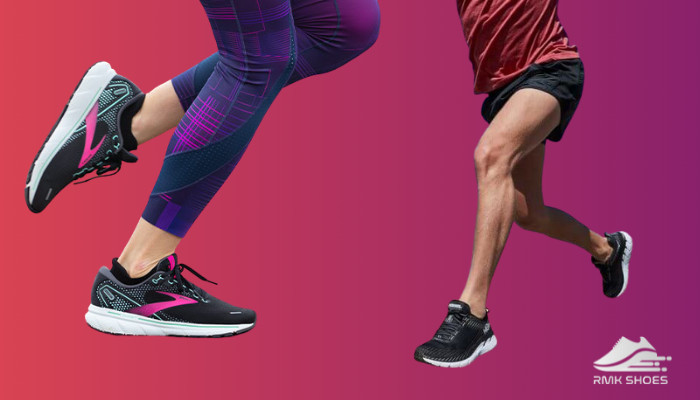 Hokas can't offer the same Brooks are offering at $20 less in price. Also, there's a strong fanbase of Brooks who are loyal to this brand. It was for nothing they could manage to own 20% market share!
However, Hokas are not that useless either. They have their features and functionality, just not as same as Brooks.
But I can assure you one thing, whether you choose Brooks or Hokas, you won't lose the worth of any penny you spend!
Verdict
Brooks are more traditional and science-driven shoes whereas Hokas are unconventional maximalist shoes that give an oversized cushioning and extended heel cup.
Though both of them are well-functional, you can pick Hokas if you need some extra support, stability and comfy feeling.
But if you need something reliable and traditional, and consistency then Brooks are the best in price.