As a running shoe, brooks adrenaline gts 18 and 19  can be the best choice on your list.
Now, between them, which one should you pick? or which one will get you the proper ankle support? Are they even affordable or not?
In this article, You will get all those answers to solve your problems in a shot!
And hopefully, these answers might help to find out your best-running footwear.
So keep reading till the end to know everything I know about them!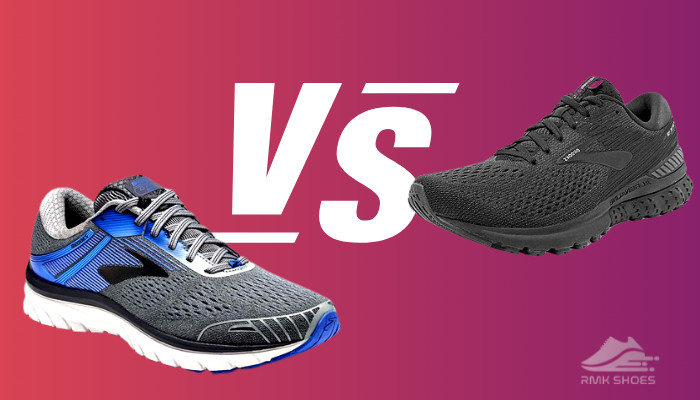 Overview Of Brooks Adrenaline
As a running shoe, Brooks hit the market first with adrenaline gts(go-to shoe) in 1999.
At the time, Brooks developed the Adrenaline GTS to meet the demands of retailers.
Brooks always focuses on the needs of its customers and based on that, it improves product quality. Keeping runners in mind  Specifically, Brooks developed the Adrenaline GTS Running Shoe.
Adrenaline provides extra flexibility in the forefoot and seamless smoothness from the heel to the forefoot, which provides you enough support while running.
Brooks Adrenaline Gts 18 Vs. 19: What Are The Ultimate Differences?
These two running shoes may look the same but differ in their properties, materials and qualities. For your better understanding, I have classified their differences.
Once you know the details, you will confidently differentiate between the two pairs!
Here's how they differ:
Arch supports
First of all, let me know you what the arch support is!
It's the implant on your shoe that supplies great support to the arch. And if your running shoes get you the perfect arch support, you can stay out of many foot problems and heel injuries.
In gts 18, it has a flat to medium arch that requires limited arch supports. which all feet will need commonly.
That means, whether you have flat feet or regular feet, it will be the best option for you!
On the contrary, gts 19 offers medium to high arch support. As a result, this pair of shoes will fit both people who have regular or severe arched feet.
Sole Of Adrenaline Gts 19
Brooks experimented over the years to make their products more structured and comfortable. There are a few things they attached in gts 19 soles that were not featured in gts 18.
Midsole
Basically, Brooks's adrenaline gts 19 was an updated version of adrenaline gts 18.  As brooks are working for heel injuries, they added BioMogo foam, DNA loft, and heel crash pad in adrenaline gts 19.
BioMogo foam is a technology of non-toxic natural addition that stimulates anaerobic bacteria to move away 50 times faster after hitting an active, surrounding landfill.
DNA Loft provides you soft experience in your shoe. It's made with a combination of rubber, EVA foam, and air. EVA foam is the main material for cushioning pads which makes your running shoe most comfortable to wear.
A seamless transition is a combined segmented crash pad that provides any foot landing and gives a smooth heel-to-toe transition.
Sole Of Adrenaline Gts 18
Midsole
Brooks adrenaline gts 18 version equipped with tri-density midsole with DNA loft.
As I described, DNA loft was the best supportive midsole ever created by brooks which offers you comfortable rides on any surface.
The midsole cushioning of gts 18  was much softer and more supportive than their previous model.
It also included a segmented crash pad that holds up your landing and heel-to-toe transition when running or walking.
Perfect Cushioning 
Running shoes are provided with extra cushioning rather than any other shoes. As they require the proper protection for your ankle, the cushioning must have to be soft and comfy.
The adrenaline gts 19 has the BIOMOGO midsole, including a DNA loft cushion, which offers you the maximum level of comfort and adjusts itself to your running style.
Moreover, DNA loft is softer than Biomogo foam, so you will be benefited as gts 18 with extra softness and responsive influences while running.
Pumps
Inside the insole, the additional pumps get you the great softer feelings in your running shoes. It also contributes arch support and pleasant heel structure to the insole.
The pumps help to save your feet from being sweaty as they absorb the wetness easily. So it helps you to remain your feet dry and fresh.
Brooks adrenaline gts 19 requires these pumps to be extended to the insole quality.
Outsole
A shoe's main part is the outsole which comes in direct contact with the ground. The outsole is very sturdy and comfortable when it comes to running shoes.
The GTS 18's outsole features a retro midsection that separates the forefoot from the rearfoot; This lifted portion makes the medial side more firm and structured and protects your feet's structure while running.
On the other hand, gts 19 changed its outsole design. there is no extra portion on the medial sides to separate the forefoot from the rearfoot.
gts 18 used hard carbon rubber features on the heel and soft blown rubber on the forefoot. They added extra durability and grip while running. As they are redesigned with grooves and treads, they contribute reliable traction without involving flexibility.
With this impressive traction, you can run even on wet surfaces too!
The only minor problem with the sole was that small stones got stuck in the grooves, But they are easy to remove. So you don't need to worry about that.
Heel Structure
By applying technology, Brooks discovered a new approach that holds the runner's individual responses and running stride. That new approach was guide rails.
Guide rails are special plates that allow a runner's hips, knees and joints to move in their own way. This special approach supports the natural connection between your feet and joints.
Also, believe that no shoes can't hope to overtop the human body.
Brooks adrenaline gts 19 raised Guide Rails on either side .12 mm heel-to-toe offset, which gives the runners the best pleasure while running.
On the other hand, gts 18 doesn't have any guide rails with the medial post .12mm heel offset. So, gts 18 doesn't offer that much flexibility like gts 19.
Weight
Both running shoes are lightweight and cozy, as they are made to protect your heel from pain and make your running experience better.
Brooks Adrenaline gts 19 is a little heavier than gts 18. The gts 19 weighs only 1 oz more than the 18.
283.5 gms/ 10 Oz(GTS 18)
312 gms/ 11 Oz(GTS 19)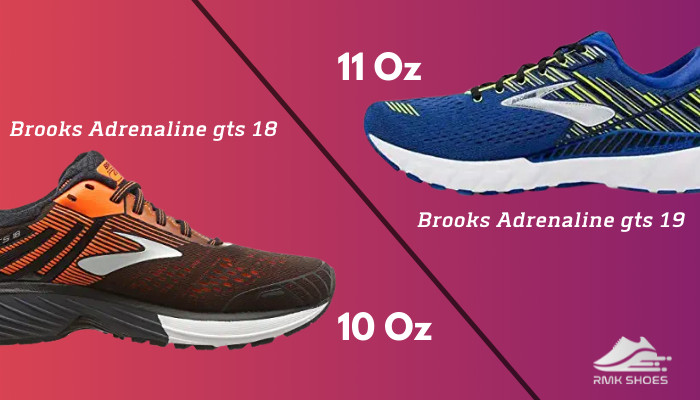 As they are lighter than any other running shoe brands So, you will easily define which lightweight pair you want to buy!
Fit and comforts
In addition to high-level support, the adrenaline GTS series is widely known for its perfect fitness and comforts. They worked on their products with new technologies to establish their name for runners.
Both gts 18 and 19 have the same level of comfort as their materials are stretchy and breathable. It keeps your feet cool and dry, which ensures the best comfort for long or short runs.
In size and fitting, both gts 19 and gts 18 Won't differ much. If your size is 8 in 18, then it will also fit in gts 19 as well. Coz Their engineered mesh technology makes more space in your forefoot portion. And creates a toe-box for any shaped feet.
Check out our separate post on Brooks Ghost 11 vs 12: Who's the Ultimate Winner?
Brooks Adrenaline Gts 18 Vs. 19: What Are The Common Similarities?
Types
These are the road running shoe type footwear. A running shoe must-have heel drops, soft cushioning and extra room for the toe section.
It contains as well as durability, comfort and arch support to prop up your movements effortlessly.
It's recommended to buy an extra size than your actual size because they must have enough surface for your toes room to wiggle.
If you find excellent wiggle room in your real size, then it's fine!
Styles/Designs
As they were designed for running or sports, their styles won't suit normal outfits. Their stretchy and breathable materials change their outlook completely.
So, Gts 18 and 19 both may match your everyday wearings.
Upper
Both gts 18 and 19 upper used the same technology and stretchable material to fit any kind of feet in them.
Whether you have flatfeet or not, adrenaline gts 18 or 19's synthetic material hugs your feet most welcomely. And ensures your forefoot's comforts in the proper way.
Moreover, Brooks added the same engineered smash technology in the upper for these running shoes. The gts 18's has the engineered smash with fused layers, which requires comforts only.
But the gts 19's upper is upgraded with a 3d  fit print engineered smash that gives more compound in your running shoe's forefoot.
Gts 19 upper also has a limited water-resistant capability. If your gts 19 pair gets wet in the rain, they dry faster than the previous versions.
So every time, it will save your feet from getting sweaty and provides you a fresh feeling in your feet.
Also, their seamless stitching will ensure your feet the best comforts.
Tongue and collar
The gts 18 and 19 both have a soft and well-padded tongue and collar in their upper.
Which protects yourt feet from minor injuries and provides many more comfortable running experiences in your run.
Lacing
The lacing style is open for both gts 19 and gts 18. But this won't affect your comfort anyway!
Durability
In the question of durability, Adrenaline gts 19 is more durable than gts 18.
As I said, gts 19 is an updated version of gts 18. They added extra cushion technology and a 3d fit print in the midsole, so they present extra durability unexpectedly.
Also, the addition of guide rails in gts 19 has increased the durability more than in past versions. It dries faster with its breathable materials.
Running shoes are more durable rather than any other shoes as they are road running shoes. So both gts 18 or gts 19 is long-lasting.
But if you have to choose one pair between them, you must pick the gts 19 for their extended durable strengths.
Colors
There are a variety of colors for both footwear in between; you can choose your ones. The gts 18 have 3 colors, and gts 19 have 4 colors on average.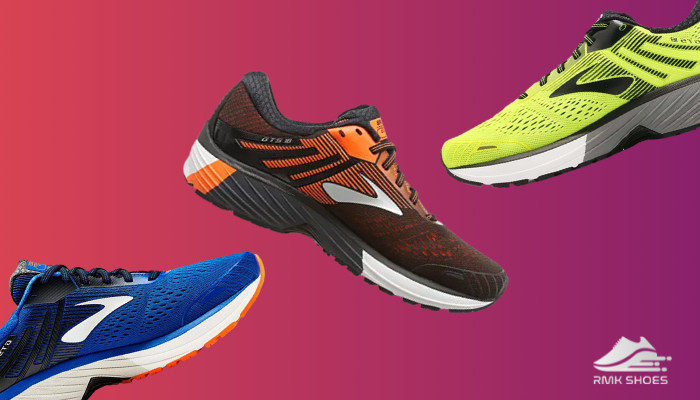 Performance
As adrenaline gts 19 is reformed with new technologies and upgraded material, thay are unlike any previous version of it.  It still has a dual density .12mm drop midsole, but they are completely different types.
Unlike the GTS 18, which had a solid medial post attached to a single-density midsole, the GTS 19 features a DNA Loft crash pad on the outside.
So, the only intention of this footwear is to make sure your all comforts during running.
The DNA loft wedge used in gts 19 is the main focal point for rearfoot strikers, but
It's harder than the midsole of gts 18.
However, brook says that DNA loft is softer, but it's not the softer foam. Even it's harder than the Biomogo foam used in gts 18.
The insole contributes some Cushioning inside the sole, but after passing it, you will feel the firmness of the midsoles.
It's interesting to know that the outsider guide rails foam is softer than the arch side foam. And you won't notice it until you touch it. The foot rolls inward during the gait cycle, so the outer guide rail is not part of the sensory experience.
One more thing, without having guardrails, adrenaline is still reliable.  The DNA Loft crash pad makes the sideways stiffer than the 18.
Pricing
Comparing their price from different sources, I found that gts 18 is less expensive than gts 19.
Gts 19 was the advanced version of gts 18, and they added a top combination of material and technology. That's why it cost a bit more than gts 18.
Although brook's adrenaline gts 19 costs a lot, Its added features will be worth every penny of yours!
Brooks Adrenaline Gts 18 vs 19 For Men and women
Brooks was working on the progress of their running footwear. They added verities of combinations in men's and women's sections over time.
Besides, They included different colors and styles in gts 18 and 19 for the men and women segments.
Brooks categorized both gts 18 and 19 for men and women. As I mentioned earlier, brooks co-operate with retailers and improvise their product on a customer review basis.
They also created different styles and colors for men's and women's shoes gts 18 and 19.
Pros And Cons Of Both!
If you are still stuck between gts 18 and 19, which one should you go for?
Then you can take a look at the pros and cons of this footwear.
GTS18
Pros
»

Using stretchy and breathable upper materials.

»

Made as lightweight and cozy.

»

Ensures the most arch support.

»

Fits with different widths of the foot.

»

Effective and minimal outlooks.

»

Assures durability and freshness inside the shoe.
Cons
»

Doesn't have the responsive midsole.

»

Grooves on the sole can hold small stones.
GTS19
Pros
»

Provides stable stance and stride.

»

More responsive than gts 18.

»

Highly comfortable to wear.

»

Quick drying up the breathable upper mesh.

»

Outsole's full ground contact.

»

Includes softer and flippy midsole.
Cons
»

A bit heavier than gts 18.

»

It might feel warm as it touches every inch of your foot.
Brooks Adrenaline Gts 18 Vs. 19: Which One should you Choose?
If you are planning to start exercise or jogging, you will need a good pair of running footwear first. In that case, there will be hundreds of questions across your mind.
Well, I'm here to help you out with confidence!
If I were in your place, I would choose the gts 19 over 18  because of its extra comfort and durability. Gts 19 is mainly a replacement of gts 18 model.
All the missing features of gts 18 were built in gts 19. Therefore, being a bit more expensive than gts 18, it would be my first choice.
Final thoughts
In the end, you know all the exact differences between brooks' adrenaline gts 18 and 19. The truth is, you will always get better results if you use the right equipment for any activities.
Your performance will be better and more enjoyable if you use running shoes for running.
Now you know the ultimate differences between guide rails, cushioning and flexibility between gts 18 and 19. So, hope you can choose your desirable running shoes easily.
Do let's know about your experience!