When you need a cushy yet affordable option for your daily running, undoubtedly, Brooks Ghost is your station!
Brooks is frequently launching new lines while adding new features and technologies to improve user experience. Likewise, Ghost 11 and Ghost 12 are two of their most popular models.
But when it comes to choosing one, you're most likely to get confused about which one will best suit you.
Don't worry. As a shoe freak, I've explored the ins and outs of Brooks Ghost 11 and 12 and put together this well-researched comparison.
After reading this comparison, you'll know everything about Brooks Ghost 11 and 12 and will be comfortably able to pick the best one for your usage in no time.
So hang tight till the end.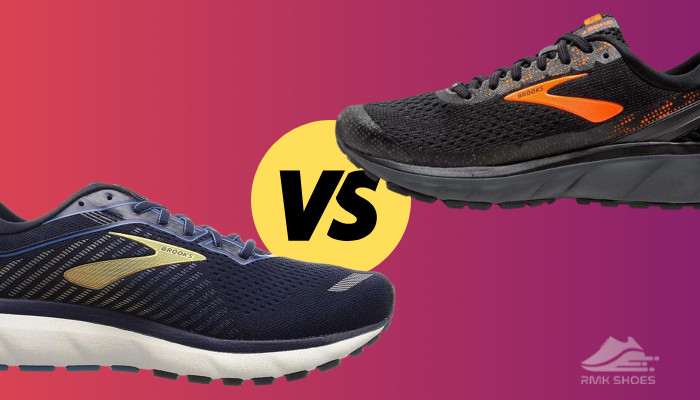 An Overview of Brooks Ghost 11
Before digging deep into the comparison between Brooks Ghost 11 and 12, let's get to know the models individually-what they are, how they function, and what materials are used to build these shoes.
Ghost 11 got a huge shoutout from the runners when it launched for the first time.
The Brooks' engineers left no stone unturned to design this Ghost model. They've added maximum cushioning while providing the most lightweight midsole.
Without compromising the softness, they were still able to maintain the balance. The 12mm heel drop made Ghost 11 very comfortable for running a longer distance.
Also, check out our separate post on Oofos Vs Crocs: An Epic Comparison Guide
An Overview of Brooks Ghost 12
The Ghost series from Brooks is very popular among runners.
A year after the release of Ghost 11, Brooks unveiled the updated model, Ghost 12.
But when I compared these two shoes, I didn't find any significant difference in features.
The same soft yet well-balanced structure with the same lightweight midsole was found in both models.
But when you're paying some extra bucks, you should get some add-ons, right?
Keeping this in concern, Brooks got rid of some loads from Ghost 12.
For those who prefer a lighter version of running shoes on the go, the extra bucks for Ghost 12 will be worth it.
Brooks Ghost 11 vs Ghost 12- What are the Similarities?
When brands launch a series of shoes, the possibility is you will find more similarities in them than differences. Likewise, there are some identical features both Ghost 11 and Ghost 12 have in common.
Here are some of the similarities between Brooks Ghost 11 and Ghost 12:
Build
So, the build quality of both Ghost 11 and 12 is pretty much similar. Both of these shoes have soft cushioning and a decent heel drop.
Both Ghost 11 and 12 used the DNA Loft and BioMoGo DNA Foam to build a perfect midsole. This cutting-edge technology is able to provide an effortless transition from heel to toe and absorb the shock while landing.
Brooks used the mesh fabric made of nylon or polyester yarn, which makes it super breathable.
Both 11 and 12 have this fabric in their building materials. Using mesh made the Ghost series very attractive looking yet super comforting.
Moreover, it helps to keep the dirt away.
Softness
With the addition of updated DNA Loft and BioMoGo DNA Foam, both Ghost 11 and 12 have a softer mid and outer sole. The nice, soft, and springy midsole and blown-rubber outsole will make you fall in love at first wear!
Both Ghost 11 and 12 were built with such materials that made both the shoes user-friendly.
As a result, any pair of shoes you pick will be soft, breathable, and full of comfort in terms of usage while running.
Follow our guide on how to Spot Fake Vs. Real Crocs
Balance- Heels Drop
Heel drop is a very important measurement that defines the distance between heels to toes. The more accurate the heel drop, the more perfectly you'll land while getting busy on the track.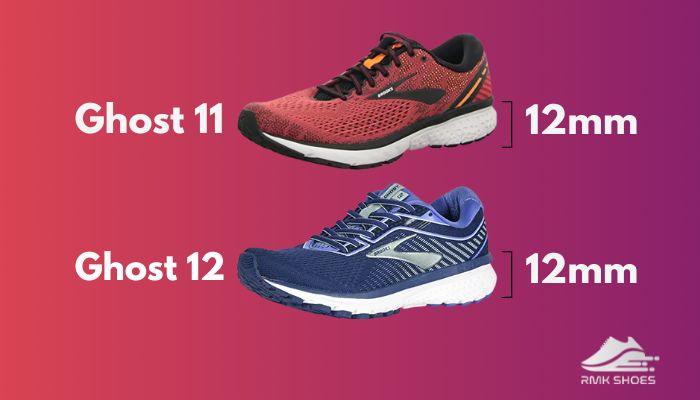 Both Ghost 11 and 12 have 12mm heel drop. It gives you the maximum level of grip on the ground, so you don't have to worry about balance while running an extra mile.
Comfort
If comfort is your main priority, then both of these shoes would be amazing. The sturdy yet soft cushioning made both models well-balanced and flexible.
With exceptional building materials and high-end finishes, Ghost 11 and 12 can give you the coziest feeling whether you go for a long run or a power run.
Durability
In terms of durability, both Ghost 11 and 12 are top-of-the-line stuff. The materials used in those shoes are top-notched. Using blown and carbon rubber on the outer sole made these shoe sturdy.
When it's the question of durability, both of these models are solid winners!
What is the difference between Brooks Ghost 11 and 12?
Though there is more than a single similarity between Ghost 11 and 12, some major differences are there for you to assess.
Here are the major differences between Brooks Ghost 11 and 12:
Looks
Obviously, Brooks changed the design and outlook of Ghost 12, which is more updated. In terms of looks and exterior design, Ghost 11 and 12 have major differences.
The Design Patterns and printed overlays of these two shoes are totally different.
While some of us loved and adored the older design, Ghost 12 became so popular among runners for its sleek, modern look and attractive design.
Follow our guide on Nothinz Vs Crocs
Weight
When it comes to the weight, Brook's engineers got rid of some extra loads and made Ghost 12 a little bit lighter than the previous model.
The weight of the Ghost 11 was 10.90 oz, making the 9.3 oz Ghost 12 the lighter option.
For those who need to have a lighter version of the most affordable running shoes, Ghost 12 can be the solid winner for the additional bucks!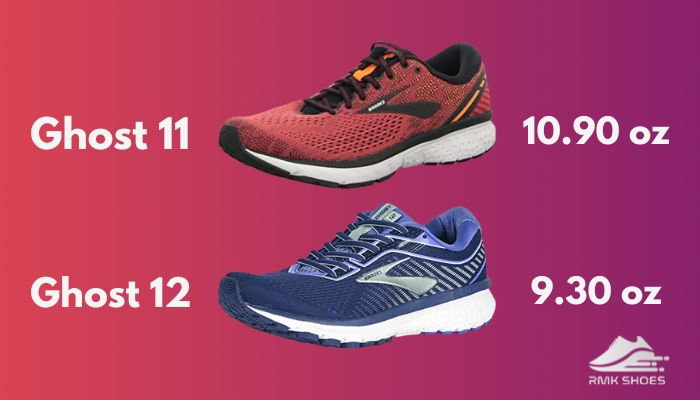 Upper Heels
A major concern with the Ghost 11 model is that it has a narrower upper heel that can make you feel uneasy if you have wider feet.
In that case, Ghost 12 came up with a stretchier upper that will give you a sock-like fit. It also has an additional heel cup that gives 12 an edge over the earlier one.
Though the narrower function in 11 was added to enhance stability and balance, some users may find it uncomfortable on the move. But if you're a regular like me, it'll feel nothing on your feet at all!
Price
Initially, when launched, Ghost 11 was priced at $120 back in 2018. And then they released the Ghost 12, which was priced at $130. For $10 more, the updated features you would get were decent.
If the price were the same as the original, I'd go for Ghost 12. But nowadays, due to the unavailability of Ghost 11, the price of this model has risen a little.
For a pair of men's Ghost 11, you'll have to spend $149. And there is very limited stock only on amazon. So if you must buy a Ghost 11, you better hurry!
Pro Tip: You can get a pair of Ghost 12 at as low as $110 since a sale is going on various platforms!
Pros And Cons Of Brooks Ghost 11 And 12
No matter How good a product can be, it always carries some drawbacks and some edges. Likewise, I have found some specific pros and cons of Brooks Ghost 11 & 12.
Check out our separate post on Levis vs Timberlands Boots
Read below to know what's good and what's bad about Brooks Ghost 11 and 12:
Brooks Ghost 11
Pros
»

The dynamic cushioning system with the latest DNA Loft and BioMoGo DNA foam.

»

Perfect heel drop for a comfortable landing.

»

Better traction and grip.

»

It's highly durable.

»

Mesh fabrics for adding a good look and breathability.
Cons
»

A narrower upper heel might raise concerns.

»

Brooks no longer makes Ghost 11.

»

Nearly out of stock right now.
Brooks Ghost 12
Pros
»

Soft and comfortable riding with better cushioning.

»

Stretchier upper that can adjust the widest parts of your feet.

»

Perfect heel drop.

»

Ghost 12 is very lightweight.

»

Firm structure for better traction and grip.

»

Ghost 12 is also a highly durable and long-lasting running shoe.
Cons
»

It can be a little more expensive than similar kinds.

»

Difficulties on rough surfaces.
Brooks Ghost 11 vs Ghost 12: Which One Should You Pick?
Both of the Ghost models are from the same Brooks company, so the similarities were inevitable. But there are some things we should take a closer look at while picking one for the final purchase.
After having a detailed discussion, we now know that Ghost 12 has the same features as Ghost 11.
However, the updated model has some improvements, like a stretchier upper heel, updated engineering in the midsole, well-designed mesh fabrics, and so on.
Also, the price has changed since the first release of both models. The earlier model has a little price hike than the later version.
So if we take all these factors into consideration, Ghost 12 should be the ultimate winner!
Check out our separate post on Timberland Vs Caterpillar Boots
Also, I'm happy to let you know that Brooks has recently been launching some of their best Ghost models with top-notch functionality and some special tweaks.
Ghost 11 and 12 are comparably older models as there are already 13 and 14 out there. So if you're someone who's always looking for the latest model, you can explore Brook's latest models. I'm sure you'll love them as well!
If some of you are super excited about the Ghost 11 and passionate about its design, you definitely will buy this pair.
What are you waiting for? Hurry up! You don't want to miss the last pair on amazon!
FAQ
Are Ghost neutral running shoes?
Yes, Brooks Ghost is one of the best neutral running shoes out there for regular runners.
Does Brooks still make Ghost 11?
Unfortunately, Brooks stopped making Ghost 11 after releasing 12. And currently, it's almost out of stock on amazon.
Is Ghost 11 any good on wet surfaces?
Yes, Ghost 11 is well-suited for wet surfaces as it can grip well in light mud and wet grasses. It also can handle the grits very well.
What is the drop on Brooks Ghost 11?
Both for the Ghost 11 & 12, the measurement of heel drop is 12mm.
Is Ghost 12 worth the money?
Yes, Ghost 12 comes with all the features as the previous one, plus some additional improvements.
Are Ghost series good for covering long-distance running?
Yes, the Ghost series is good for covering long distances as it has both comfortable and durable materials.
Is Ghosts ideal for training and running marathons?
Of course! The Brooks Ghost was specially made for running and light training. Both 11 and 12 are very comfortable yet well-balanced running shoes, perfect for running marathons even!
Conclusion
Both Brooks Ghost 11 and 12 are well-balanced shoes in terms of running and everyday training. It also came up at a fair cost!
So if you wanna have such all-in-one running shoes at reasonable prices, then the Brooks Ghost series is for you.
I hope you have found this article helpful and made your decision undoubtedly.
Which one would you choose between Ghost 11 and 12? Let me know in the comments.
Also, check out our separate post on Timberland vs Carolina
If you wanna know more about Brooks Ghost's latest shoes, then keep an eye on our website.