Vans are the safest option when you're heading out for a party because of their vibrant, eye-catchy look.
But the most unwanted part is Vans get dirty easily, and a dirty pair can ruin your whole preparation within a second. So, cleaning Vans is mandatory.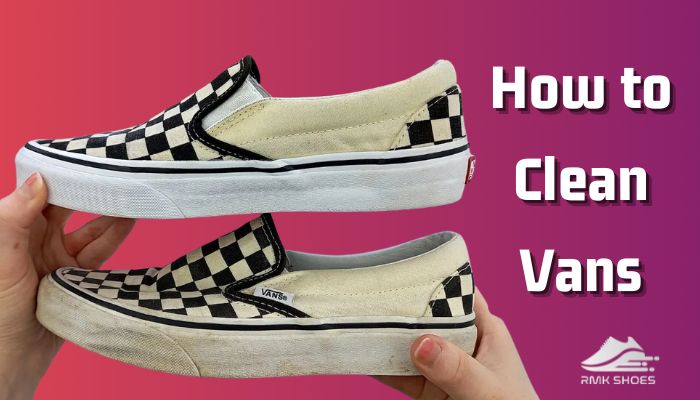 In this article, you'll find a variety of vans cleaning methods that I already apply in my pairs. And each technique works tremendously.
So, read along!
How to Clean Your Canvas Vans
Vans offer a vast amount of materials and design variations. But, the canvas model of vans is gaining a lot of popularity in the skate field compared to other vans ranges.
A little effort can make your shoes clean, like a fresh-out-of-the-box look. So, in this segment, I'll provide all the cleaning ways, including strip cleaning.
The needed element to complete this method:
Bleach
Magic eraser
Rubbing alcohol
Acetone (nail polish)
Hydrogen peroxide
Baking soda
Lemon
Clean the White Strip of Vans
The most sensitive part is the rubbery white sole, we all know white shoes catch dirt easily. And you can clean them with some accessories at home.
Try to place your shoes in a towel-covered area. And gathered all the equipment for cleaning in one place. Apply the cleanser with a toothbrush or a shoe brush.
Use a double-layered cover for the surface when you want to apply bleach to your shoe interior to remove any deep spots.
Use masking tape to cover the shoe upper if you own a colorful canvas. Because the bleach and cleanser are manufactured with harsh chemicals that can ruin the shoe color.
After covering the canvas upper, dip the toothbrush in the cleanser and rub it on the white surface of your canvas. Try to rub in a circular motion, which works better in the cleaning process.
Finally, wipe the liquid and dirt with a clean cloth and lukewarm water. You can rinse your shoes with fresh water if needed.
Pro-tips:
If you use acetone or bleach for cleaning, try to apply them in a well-ventilated place.
You can apply bleach as an alternative to your cleanser, but personally, I don't prefer them for my soft vans.
Quick Cleaning Process of Canvas Vans
Quick cleaning is the most used process yet effective. Most of us usually apply this technique to our shoe cleaning.
Let's check out the quick cleaning process of Vans:
First, take a dry brush and dust off the excessive mud and debris. If the shoe dust is still muddy, dry them thoroughly before brushing.
After brushing them, hold the pair where you can shake off the caked-on dirt of your shoes.
Make a cleansing mixture where you only need two elements, warm water, and mild dish detergent. You can use 15 to 30 ml of the mild dishwasher and stir the mixture until the suds are visible.
Use a toothbrush to complete this process. Dip the soft brush in the sudsy mixture and rub the spots. If your pair hold a lot of specks of dust, scrub back and forth on the whole shoe surface.
After scrubbing the area, rinse each shoe with fresh warm water. Make sure to use lukewarm water, neither cold nor boiled water.
Completing the rinsing step, dry out the shoes thoroughly. Lay down the pair in a dry towel and cover the wet shoes properly. And press the shoes to extract the excessive water.
Finally, you have to place your shoes in an open place to air dry. Additionally, You can insert some stuff like newspapers and clothes to speed up the drying process.
Pro-tips:
For this technique, you should use a soft brush to reduce the tearing chances.
If your vans have any bending marks on the shoe upper, stuff things while you are drying them.
Try to avoid direct sun exposure if you apply this process on colorful vans pair.
Deep Clean Your Canvas Vans
You only apply this deep cleaning process to your canvas shoes because the leather and suede can lose their natural moisture by using this process.
In this deep cleansing technique, I'm going to describe a guide where I'm using a washing machine. And this technique is quite trickier than the other, but don't worry, I'll have your back.
Let's check out the steps for deep cleaning your vans shoes:
If your shoe has any deep stains that need special care, directly use an enzymatic stain remover on that spot. You also can use some commercial pre-treater for removing gotten oil or grease marks.
Leave the shoes for a while after applying the remover, and this step is mandatory before you put your shoes into the washer.
Prep your washing machine, and set a gentle cycle with normal water.
Many users, who previously applied this method, use a pillowcase for a secure washing process. Because they are afraid of losing the glue and seams of vans' shoes. They put the van's shoes in the pillowcase before starting the machine.
Try to remove the inserts or liners, it's better to wash them separately.
Use mild liquid detergent to wash the canvas pair. Or use the half portion of normal detergent powder that you use on your regular days.
Leave the shoes in a dry place and extract the water as much as you can.
Do not use a dryer for drying your shoes, that can be a time saver but not a lifesaver. It can lead to severe cracking tendencies If you use any machine for drying your canvas shoes. You can try other methods of drying after washing your shoes in the washing machine.
Pro-tips:
Do not repeat this technique within six months, it will increase the risk of shoe damage.
Never try to wash your shoes with your cloth in the same washer, the shoe can tangle the cloth shades easily.
These are the techniques that you can use for cleaning your canvas pair after determining the dirt quantities. You can apply any of them without any hesitation. Each process only needs a minimum product and delicate hands.
How to Vanish Spots From Your Leather Vans
As I have already said, vans have a lot of options, and they diversify the models according to their built-in material.
Recently, vans' leather models have come into the limelight for their casual with formal touches. But the leather vans have creasing tendencies, which also can cause dirty spots.
Here are the steps for stain cleaning from your leather vans:
First, remove all the added parts from your shoes, such as inserted soles and laces.
After removing the attached element, Dust off the loose dirt and debris by using a soft suede brush.
Made a paste with baking soda and warm water. Take one tablespoon of baking soda and half the amount of water and create the cleansing mixture.
Dip a toothbrush into the paste and scrub the total outer surface of the leather vans in a circular motion.
After scrubbing, take a clean microfiber cloth and wipe out the paste.
Repeat the step, but this time rinse the cloth and wring it out properly. Now you can wipe your leather shoes with that damp cloth.
You can use the same paste for cleaning your vans' outsole, and for tough spots, it's better to try a magic eraser to clean them thoroughly.
Before using an eraser, you should wet the pad and squeeze the excess water after dipping. Then try the eraser until you get your desired result.
Place your leather vans in a cool place where you can dry your shoes in a natural airflow.
Finally, try to apply a leather conditioner because the cleaner paste can reduce the natural moisture from the leather. Conditioner generally provides good protection along with shine.
Pro-tips:
Avoid direct sun exposure while you are drying your shoes.
It's a very simple yet effective technique for cleaning leather vans shoe. Not only vans, but you also can apply this guide for cleaning your other leather pair, and trust me, it works amazingly.
How to Clean Your Suede Vans
Suede shoes are famous for their durability and splendid features. Yet, this material can get stained easily. And the chances are increased when you try to stretch your vans in the outdoor field.
Fortunately, you can get rid of the stain by doing minimum steps of cleaning.
But this process is a little different because you have to complete this technique without any liquid materials.
Here are the steps for cleaning your suede vans:
Use a paper towel to blot out the dirt and stains from your suede upper. Do not rub over the stain, just blot with gentle hands.
Sprinkle baking soda and leave them for at least a whole night. This time is needed for absorbing the stain marks from the shoes. The next morning, brush away the soda with a suede dusting brush.
After applying soda overnight, if you still find stain marks. Then try some suede cleaner, for instance, cleansing. Experts find kiwi suede cleaner as an ideal product.
In this technique, you should brush the suede upper for restoring the suede nap. Do not use the brush on the circular motion like other methods. Keep brushing in one direction. Otherwise, back-and-forth brushing can damage your vans.
Rub the rubber outsole with a magic eraser for cleaning the stains. Before using the eraser, wet the padded sole and squeeze them and separate the excess water.
Finally, you should apply a well-balanced suede protector, which protects your suede vans from further stains. Also, it can reduce the chances of other damages.
In my view, this is the easiest and most demanded method of cleaning your van's pair. All you need in this technique is proper concentration with the branded cleaning products.
Parting Thoughts
After the above discussion, you now have enough knowledge with effective guides for cleaning your variety of vans.
I hope you have already chosen your asking methods while reading this writing piece and are getting ready to apply them. If you face any obstacles, let me know in the comment section, and I'll be there for you.
Till then, happy cleaning!