If you want to know the exact weight of army boots, then you've come to the right place.
After a period of comprehensive research and weighing up different army boots, I've compiled this informative guide that'll answer all your questions.
To begin with; how much do army boots weigh?
The lightest of army boots (single piece) weighs 1.2 lbs. The number gradually increases depending on the material and construction. The heaviest ones (single piece) weigh 2.4 lbs. So, depending on various factors, a pair of army boots weigh from 2.4lbs to 4.8lbs.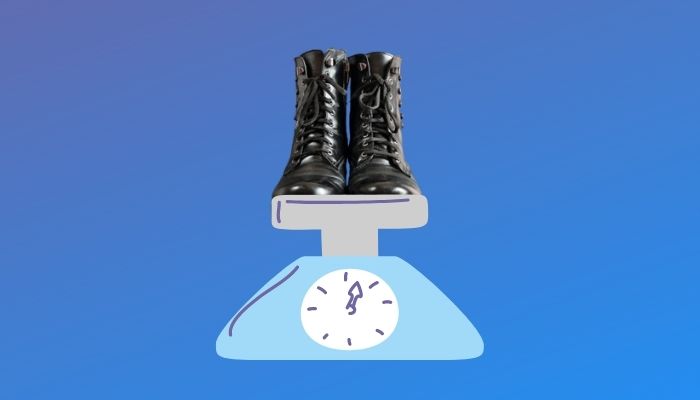 But wait! There's more to know regarding this interesting topic. Keep on scrolling to know them all.
How Much  Do Army Boots Weigh?-Answered
Army boots are the line of defense that protects a soldier's feet from various factors on different terrains.
While the uniform grabs most of the attention, the boots tend to go under the radar at times; especially the weight. Since you're here, I suppose you've quite the curiosity. And frankly speaking, I'm glad you do.
Otherwise, with whom would I spread my knowledge? Wink.
Army boots come in different shapes, sizes, and weights. If you want a standard weight, then a pair of army boots would weigh 2.4 lbs. 
In general, army boots are lighter than other forms of boots. Hunter boots, hiking boots, even cowboy boots have more weight compared to army boots. I mean why wouldn't they be?
Follow our guide on How Much Do Steel Toe Work Boots Weigh.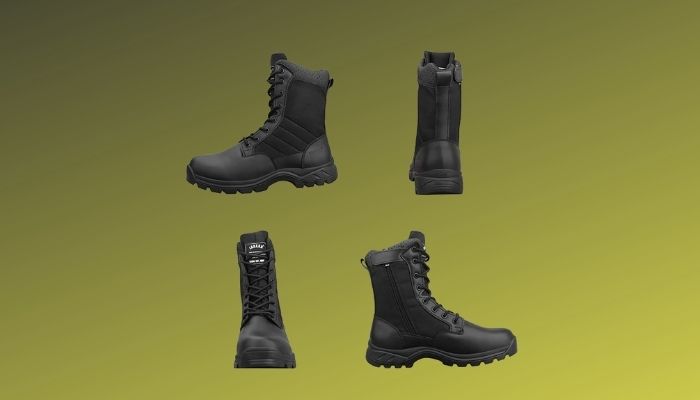 Army boots, AKA traditional combat boots are made light so that soldiers can make a brisk movement without having to deal with the burden of extra weight on the battlefield.
They're usually made of high-quality leather or nylon fabric, they also come with rubber or synthetic material with medium to high arches; all depending on the purpose.
As for the variation of weights, the lightest pair starts with 2.4 lbs, then gradually increases to 3lbs, 3.4lbs to all the way to 4.8 lbs. It all depends on the type of material used and the purpose.
Tactical Boots weigh less than traditional combat boots. Why? It's all due to the advanced materials used in construction and the purpose, as they're mainly used during peacetimes.
Steeltoe army boots weigh more than the ones without steel toes. If you feel the need to buy a pair of combat boots, be sure of your purpose and choose the right kind.
Check out our separate post on How Much Do Work Boots Weigh.
Factors that Affect The Weight of Army Boots
As I mentioned earlier, the weight of a pair of army boots depends on multiple factors. It could be the material, the design, the sole, etc. For your convenience, I've listed down the main factors that affect the weight of army boots.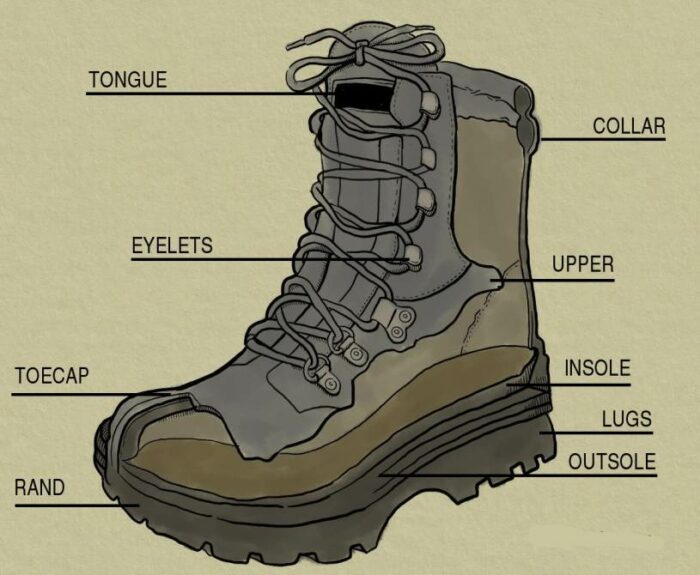 Here are the main factors that affect the weight of army boots:
Material
Let's start with the fundamental part; the material. Traditional army boots are made using leather, which has its pros and one of them is durability. On the other hand, combat boots made using synthetic tend to be lighter than the traditional ones. Leather as a material is heavier compared to the other two, hence the obvious difference.
Go through our epic guide How Much Do Timberland Boots Weigh.
Padding
Padding plays a big role when it comes to the weight of army boots. Let me give you the simplest of examples, winter combat boots are heavily padded to keep your feet warm during colder temperatures. The traditional ones are much lighter since they've less padding.
Outsoles
Another crucial aspect is the outsole. Army boots with synthetic outsoles are lighter than the ones with rubber outsoles.
Construction
When it comes to weight, construction plays a big role. Combat boots with higher shafts, thicker soles, and more padding usually have more weight.
Insulation
It's sort of common sense. Insulated army boots will have more thermal lining which will add more weight.
Shank
Shanks are used in different types of boots to add an extra layer of protection. Army boots with steel shanks are heavier than ones with nylon or fiberglass shanks.
Follow our guide on How Much Weight Can Composite Toe Take.
Army Boots VS Tactical Boots- Which One Weighs More?
Congratulations! If you've made it to this part of the segment. Because in this part of the article you'll get the true idea as to why traditional army boots weigh more than advanced tactical boots. 
Traditional army boots are usually made using leather or nylon fabric. They're made with the intention to last long. They're more prone to wear and tear compared to tactical boots.
On the other hand, tactical boots are generally made using either thin leather or synthetic with a mix of mesh linings. You get better mobility and breathability.
Another major difference you'll see is the shaft height, tactical boots usually come with shafts, which are just past the ankle. Traditional combat boots have higher shafts in comparison.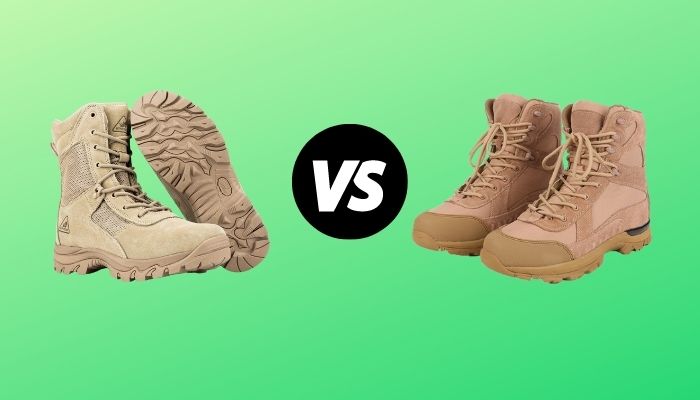 Tactical boots come with only one sole whereas army boots have a midsole and an outer sole.
Due to the way they're built and the materials used, tactical boots tend to last less than traditional combat boots.
Tactical boots are ideal in scenarios where there isn't any hand-to-hand combat or having to deal with explosives. Army officers or gunmen sometimes wear them.
Army boots on the other hand are built to last in the toughest of terrains in the harshest of conditions. They last longer due to their sturdy materials. They're great when it comes to hand-to-hand combat and protection against all sorts of dirt and debris.
Do check our latest post on the Can You Wax Nubuck Boots.
Compared to tactical boots, combat boots offer better overall protection.
How Much Do Army Uniforms And Boots Weigh?
I think you have the answer for the boots, then again a bit of revision won't do any harm now, would it? A standard pair of army boots weighs 2.4 lbs.
What about the uniform? Well, let me give you a hint; they weigh lesser than they used to 2-3 years ago. During that time, army uniforms used to weigh 8 pounds! Now, that's heavy.
Thankfully, army personnel nowadays won't have to deal with such weights. Standard army combat uniform now weighs 650 grams or 1.4 lbs. Can you imagine the difference?
It all has to do with the advancement of technology. The material/fabric is much lighter and efficient, which gives soldiers better mobility.
Different Army Boots And Their Weights
Apart from the traditional combat/army boots, there are different types of military boots. To give you an idea about their weights, I've made a comprehensive list.
Here are the weights of different army boots:
| Boots | Weight |
| --- | --- |
| Army boots | 2.4 lbs |
| Desert combat boots  | 1.5 lbs |
| Bunny boots | 3.2 lbs |
| Mid-calf Jungle Boots | 3.0 lbs |
| Military steel Toe Boots (made of leather and fur) | 4.5 lbs |
| Military 6 inch steel Toe Boots | 5 lbd |
| Swat Boots | 2.4 lbs |
| Airforce Boots | 2.4 lbs |
| Winter Combat Boots | 2.8 lbs |
How Much Do Belleville Boots Weigh?
Belleville is one of the most popular army boots out there. The weights usually vary from 1.1 lbs to 2.4 lbs each depending on the built and materials used.
They've a very good reputation on the market for being one of the best when it comes to service. They've army boots of all kinds and shapes, and the weights vary accordingly.
Take for example the Belleville 700 Waterproof Black Duty Boot, thsese bad boys will offer you protections from all kinds of wetland cold conditions. They'll keep you warm and dry in cold winter-night patrols.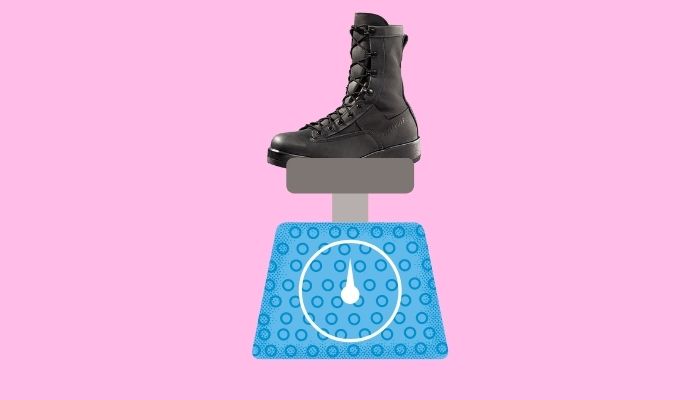 It has the famous GORE-TEX® lining, which keeps melted snow and all kinds of moistures away. They weigh approximately 2.1 lbs.
On the other hand, if you look at Belleville boots with fortified steeltoes, then they'll weigh approximately 5 lbs.
Consequently Belleville Arm Your Feet Men's C390 8″ Army OCP ACU Active-Duty Military Hot-Weather Combat Boots, which are used by the US Army and Air Force weigh about 4 pounds.
How Much Does BMT Boots Weigh?
When the the Army and Marine Corps wanted boots for BMT, their threshold was between 1.7lbs to 2.3lbs for each pair.
Bates Footwear came into the  fray with water-resistant leather boots with multichannel design with drainage ports and anti-microbial lining. Each pair of their boots weighed 3.2 pounds. Which meant each boot weighed 1.6 lbs.
Belleville Boot Company came up with waterproof boots with a combination of breathable 1000 Denier nylon and flesh-out leather with high-traction rubber outsoles with triple stitched seams for better durability. Each of those pair weighed 3.9 lbs.
Final Thoughts
A standard pair of army boots weigh 2.4 pounds. The weight may vary depending on the constructions and the types of materials used.
There're different types of military boots each with its own purpose. So, if you ever plan on buying a pair of these boots, know your purpose well and then select a pair.
Army boots tend to last long, therefore they(usually) make a good investment. That's all from me today. Hope you had your answers. If youdidn't,don't hesitate to tell me down in the comment section below. Take care