Wanting to buy an authentic pair using online is quite obvious.
But the situation becomes tricky when you're searching for a legit website or finding something that sells original shoes.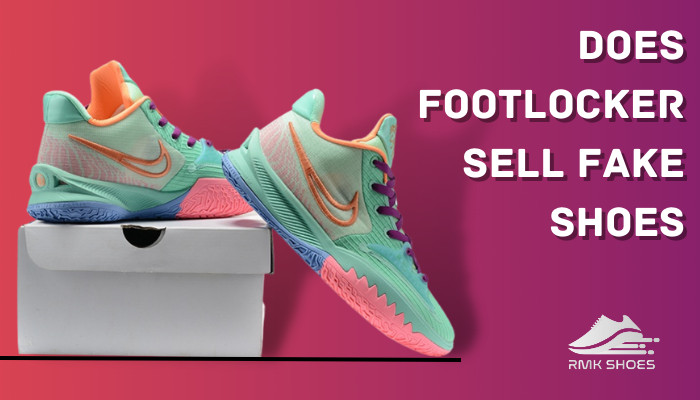 You might be thinking of Footlocker for getting your desired shoes. And before placing an order, you're asking whether they sell authentic or fake shoes. Right?
Well, In this article, you'll find the compiled answer with customers' ratings, including my own experience with footlocker.
Let's, dig in for the truth!
Does Footlocker Sell Fake Shoes?
There is no specific answer about footlocker that they're selling fake shoes. Also, they have no authentic justification for their original footwear. Customers found both original and B-Grade shoes, but no one claimed that they were selling fake shoes.
Footlocker is a famous authorized US-based brand, that was launched in 1997.
Initially, they only sold athletic shoes from renowned apparel organizations. After gaining popularity, they include various products and shoes on their website.
I think the management can not handle the pressure of a vast brand's amount properly and for this reason, the customer got faulty products from them. But they tweet in customer replies and claimed they did not sell fake shoes.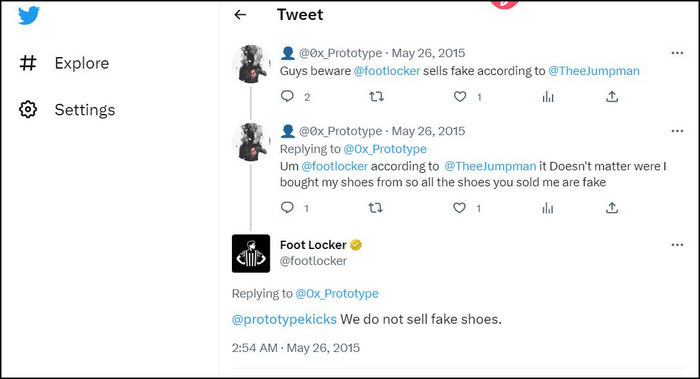 After finding so many controversies when I bought from footlocker, I also found a doubtful Nike pair. I did not say my Nike are fake, but they are not A1 products for sure.
After that, I always tried to buy shoes from a legit platform, like 6pm. You also check that website for risk-free shopping.
What Customers Say About Footlocker?
According to customers' feedback, footlocker is not an authentic brand for footwear. Footlocker got only 1.6 stars from Trustpilot, which is clearly bad compared to other websites. 83% of people rate them 1 for their b-grade product and poor customer service quality.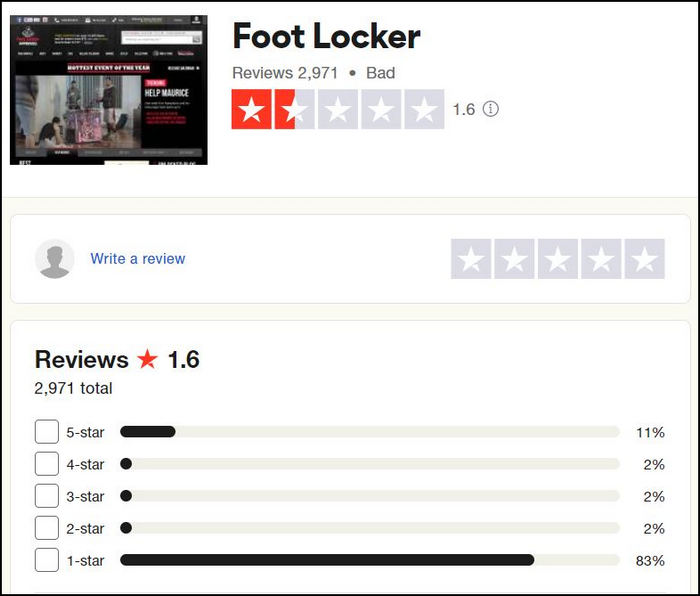 However, if you check vigorously you will find some positive reviews, which are minimal compared to negative feedback.
Let's check out the customers' complaints about the different sectors of footlocker:
Worn Products
Footlockers lead a controversial life, for their cheap footwear quality. Not only shoes but also they receive massive complaints about their other products.
People reviewed, 'They sent worn shoes with a visible hole in the bottom.' For better understanding, I also attached the review with my statement.

Delivery Lacking
The delivery procedure is the worst part of Footlocker. I don't know How can a brand do such careless service. When I ordered from them at first, they took the order and canceled.
And they always receive orders before checking their availability.
Additionally, the most disheartening part of their delivery is there is no fixed time limitation. You will find your product within 2 weeks, or maybe you will wait a month for your desired pair.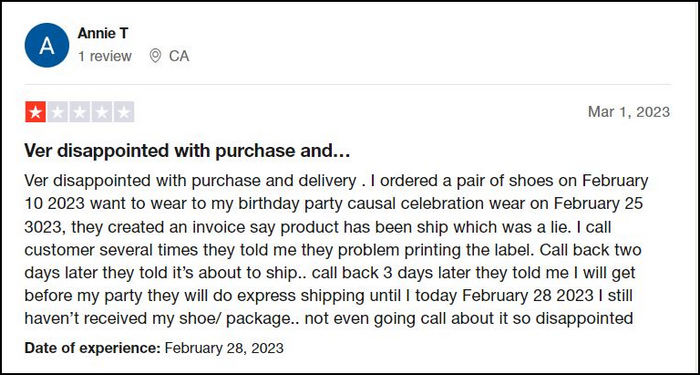 High Priced Return Policy
The blind fan base of Footlocker suggests the website for its return policy, and I also agree. But did they ever use the return policy?
The return policy is quite pricey and time-consuming. They create so many issues after complaining about their products. Moreover, the refund charges will always be for customers, which is very high.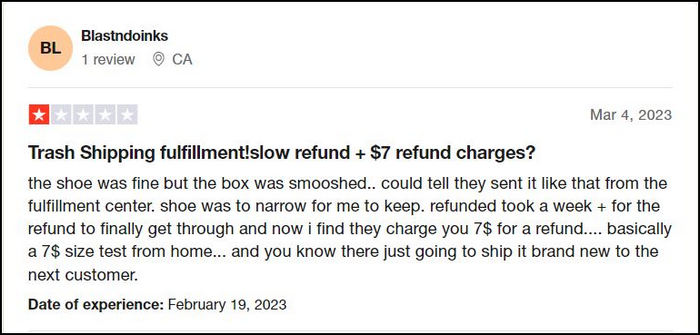 You can see, the person has been paid $7 dollar to return her shoe.
These are the recent reviews of Footlocker that I found on different websites. I recommend you avoid the website, you can check the Rack Room shoes if you wanna buy legit branded products with some offered discounts.
Why is Footlocker So Cheap?
If you check footlocker's official website, you will find branded shoes with a minimum asking price. And people are curious about how they can manage this low price. When a brand uses b-grade material for making shoes, the product cost is simply reduced, and the asking price is too.
So, they ask for cheap because they deliver cheap.
After getting my pair, I can understand the reason behind their low-cost product.
Besides, you can consider the pricing as a marketing strategy, they want to attract people by setting a catchy eye pricing. Depending on others' feedback, try to avoid their discount offers if you wish to get a quality product.
Is Footlocker a Legit Website?
Yes, you can consider footlocker as a legit website. But if you think about their legitimacy depending on their products, they are not a legit platform at all. They collect only 11% positive reviews from their 2971 individual customer feedbacks.
It's your preference, which part matters most, paper-wise legit, or product-wise.
For me, they are not legit because product quality ensures the brand's reputation. And standards are key components of a legal brand, the standard of footlocker has already fallen.
People always tweet against Footlocker, they say the website sends doubtful shoes. Moreover, the online service is quite inconvenient.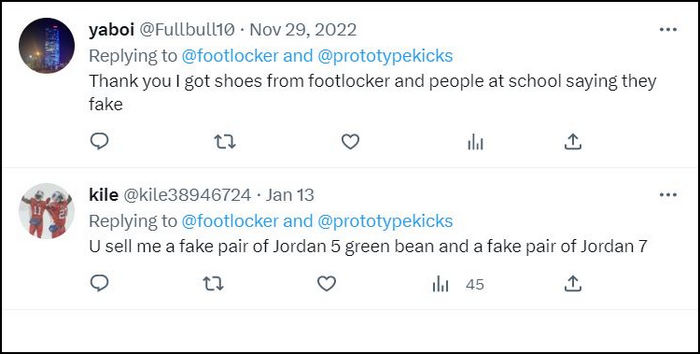 You also find other websites like Shiekh shoes which claimed legit but never show any proof that justifies their words.
Luckily, you also found many legit websites for your desired pair. For instance, Fight Club is the most legit and authentic platform for apparel.
My Own Experience with Footlocker
From the beginning, you already found everywhere my aspects about footlocker and their poor quality product. Now, I'm describing my own experience, which is close enough to others' complaints.
Last year, their review quality was not that much bad as now.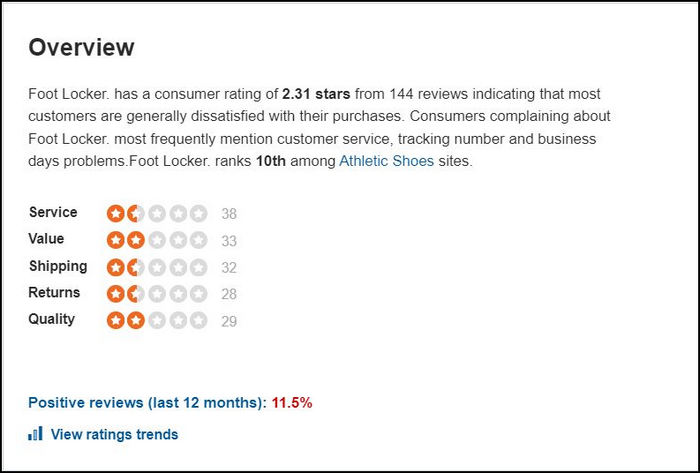 And I ordered a Jordan 1 blue sneaker for my basketball tournament. At first, they placed my order, but a few days later, they canceled my order due to their shortage of products.
After a few days, again I placed an order for the same pair. And Finally, I got my product probably 22 days later.
Color-wise, they were pretty similar to my original pair, yet they have a lot of material differences from my original shoes.
Now, I define the differences between original shoes and Footlocker shoes:
The upper leather is quite different. In my Jordan pair, I found full-grain leather, whereas the footlocker Jordan is manufactured with normal leather.
The upper holes are different in size. The original has large holes compared to the Footlocker pair.
Nike brand always uses tumbled leather for making their swoosh, on the other hand, footlockers use temporary leather.
If you check vigorously, you can see both shoes has a microscopic change on the tongue. And that is the original shoe tongue overlapping the upper threads, whereas the others don't.
The lace packaging is also different for both shoes.
After finding these mismatches, I thought they were not the original pairs for me. I don't claim they are fake, but it seems they sell b-grade or rejected shoes.
Now, it's totally your preference, to use Footlocker or avoid them for hassle-free buying.
Last Line Before You Leave
Maybe this article already cleared your thoughts about the footlocker deception. There are no specific words that they sell fake shoes, yet they do not prove their authenticity.
So, for secure shopping, skip them until they increase their product and service quality. Knock me in the comment box for further queries.
Till then, Happy Shopping!