Hiking is a tough job to give to your footwear. Thus, choosing the right pair of shoes for the purpose should be careful. And there are many specialized options available in the market for hiking.
But not everyone can afford it, nor does it suit all hikers!
Trail running shoes can be the better alternative, as they got a huge shoutout in the 20s!
And the popularity of using these shoes while hiking is increasing daily.
But are they really as useful as they seem? Or it's just the hype?
In this article, you will learn everything about trail running shoes and whether you can use them for hiking or not.
Can You Use Trail Running Shoes For Hiking?
Yes, you can use trail running shoes for hiking. The grippy bottoms provide better traction, and the rock plate can protect your feet and provide comfort on rough surfaces.
If you try on trail shoes, you will see that these are designed to survive on tricky roads. Your feet get the proper amount of protection while you're wearing them.
What more can a trail shoe offer?
You know that we can train our bodies according to our needs, and your feet are no different.
Manufacturers of trail running shoes designed them, keeping in mind the obstacles a user might face during the trip. And that's why trail running shoes are on the checklist of every adventure lover.
Follow our guide to know are UltraBoosts good for running.
Why Trail Running Shoes Are Good For Hiking?
Boots are considered a fort to protect your feet. But a recent study shows that most hikers switched to trail running shoes from boots.
What can be the reason for this sudden trend?
To answer that, you need to know the features of Train Running shoes thoroughly. Only then you'll properly understand their functionality.
Here's the reason why trail running shoes are good for hiking:
Comfort
Trail running shoes are more comfortable to walk into. You can go on for hours in these and won't feel much pain.
But with boots, I can't say the same. I wore trail running shoes and boots for hiking. But now I go for trail shoes rather than boots.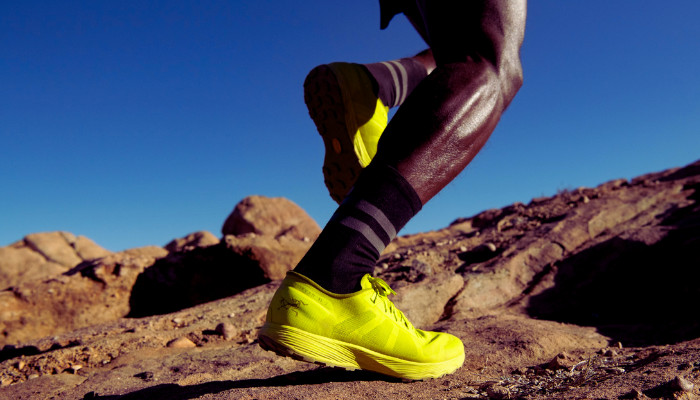 With trail running shoes, I stopped carrying extra comfy pairs. One is more than enough for my daily run.
Go through our epic guide to know are VaporMax good for running.
More Breathable
Materials are a key factor when it comes to breathability. And trail running shoes have mastered this sector.
Your feet can sweat up to half a pint per day, and boots are normally waterproof or water-resistant, so through this build-up structure, moisture doesn't escape pretty well.
Here trail running shoes get the winning prize. The breathable mesh upper helps to keep your feet dry and itchy-free during the hunch.
Quick Drying
Shoes made with mesh upper dry more quickly than leather-made ones. This is why trail shoes will dry quickly, as they are designed to let air in and out fast.
Boots are not much breathable due to their construction.
After a rainy day or any water incident, you don't have to deal with wet footwear with trail running shoes.
Less Weight
Hiking in lightweight shoes is easy and comfortable as you don't need to deal with the extra weight that boots carry.
Some hiking boots weigh as much as trail running shoes. But most often, that's not the case. For faster movements, these trail shoes are the ideal choice.
 Less Injurious
If your shoes rub too much, you can get blisters, and it gets worse with moisture trapped inside your shoes.
I cut my feet once and thought it was not that bad. But after wearing boots for a few hours made it worse than it should be. As trail running shoes dry up super fast, that risk decreases.
Check out our separate post: are Nike Air Max good for running?
When To Wear Trail Running Shoes?
There is no such thing as proper timing. For Trail Running shoes, it's no exception. You can wear them to hiking, running, jogging, yet a few situations are exceptional.
Let's see when it's better to wear trail running shoes:
When you are going hiking on days, it's better to wear trail running shoes rather than any other one.
In less cold weather, trail running shoes are the better option for hiking.
Trail running shoes are comfortable for walking longer times with less discomfort.

If you are someone struggling to keep your balance and strength, trail running shoes are the perfect fit for your hiking trips.
In these situations above, you can wear trail shoes without thinking too much about any obstacles. And actually can enjoy the time you wanna invest in wearing them.
What are the Top Trail Running Shoes for Hiking?
During hiking, your feet need the proper protection and comfort at the same time. Trail running shoes offer the best they can. Yet not every other shoe out there is best.
Several models focus on specific needs and are made that way.
Here are the top 5 trail running shoes you can count on:
Hoka Speedgoat 4
Speedgoat 4 has the best cushioning. Your feet will be able to breathe in this pair. The hard-wearing outsole can tackle any situation.
Its insane traction feature is what a hiker needs most.
Altra Lone Peak 6
For underfoot protection, Altra Lone 6 has updated StoneGuard.This model has a wide toe box that helps to relax your toes.
Another great feature of this shoe is its laser-cut holes for quicker drying. The balanced cushioning is all a hiker needs while going through a rough road.
My uncle recently went on a hiking trip and took Altra Lone Peak 6. After returning, he said he is never going back to any other shoes.
Salomon Speedcross 5
Salomon Speedcross 5 is a true example of stability, balance, traction and responsiveness.
This pair is designed with removable OrthoLite footbeds to provide shock absorption and is coated with antimicrobial treatment to prevent odor. To get a snug fit, these shoes have SensiFit arms.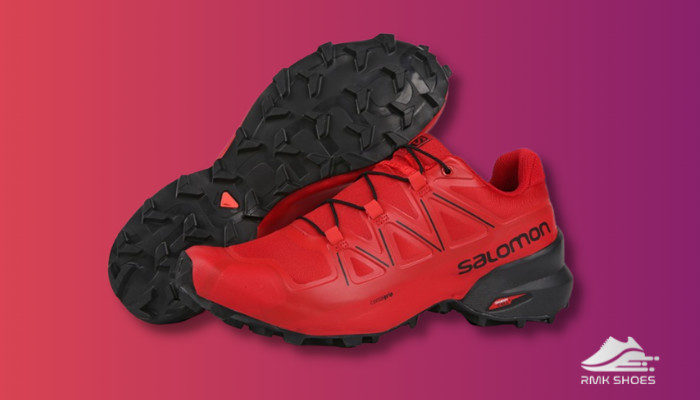 Overall, for backpacking and trail running, Salomon Speedcore is the best and also for those with narrow feet.
Altra Lone Peak 5
This model is extremely popular for long-distance hiking. It promotes a natural gait and has a roomy toe box with a zero-drop design. You can put your faith in these shoes for walking to a distant location.
This model is designed to provide maximum comfort and traction.
Brooks Casadia 16
With 3D fit uppers, Brooks Casadia provides an extremely breathable upper that dries quickly in any weather.
You can get hurt if too many rocks, roots and other stuff are on the road. The built-in rock plate saves your feet in any rough hiking.
Brooks Casadia is a popular model that comes with a new updated model.
Checking out the new version is not a bad idea if you prefer this shoe.
You may also like to read: are Yeezys good for running?
Are Nike Trail Running Shoes Good For Hiking?
Yes, Nike Trail Running shoes are without a doubt, worth trying. These shoes are lightweight and give the perfect amount of grip for a comfortable pair.
Nike specializes in so many sectors of shoes, you will find Trail Running shoes are no exception. These shoes are weightless and grippy enough for you to enjoy them to their fullest.
Let's dig deeper, shall we?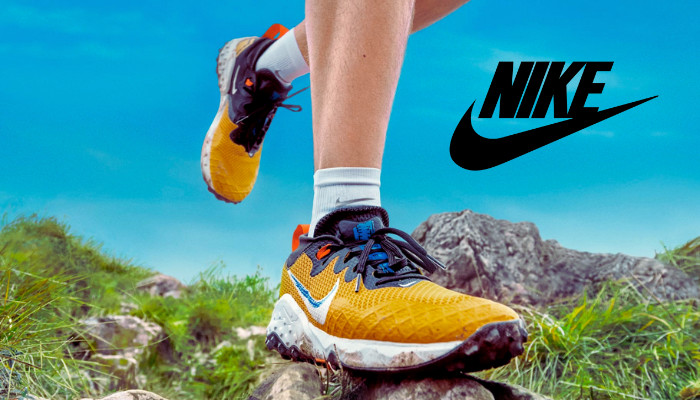 For outdoor activities like hiking, these shoes have grippy treads in the sole for better movements without the tension of falling.
You won't be uncomfortable wearing these trail shoes and can say goodbye to foot pain.
Drawbacks Of Hiking In Trail Running Shoes
As much as you wanna wear your trail running shoes for tougher outdoor activities, it's not an ideal option in specific situations.
In lingering snowy days of winter, your shoes will be uncomfortably cold to walk in. Once, I made this mistake and boy, I was wrong and got my lesson. Even an extra pair of socks and plastic bag lining didn't do the trick.
In terms of durability, they are also lagging behind.
While hiking on rocky trails, these shoes can't replace the usefulness of boots.  But, if you can change them quite often, that's a different case.
Can You Use Trail Running shoes for Walking?
Not all your roads will be a bed of roses. For muddy and off-road walks, Trail Running shoes are a perfect fit.
If you walk to maintain your health or any other sorts of issues, you must know that not all roads are smooth. Suppose you will go on a trip to a hill, and in the morning, you will go for a walk.
In situations like that, you need trail running shoes to provide better support and traction than running shoes.
Trail shoes provide good support, and the footbed is comfy to solve the aching foot issue when walking. Again these shoes are durable enough to protect your feet.
Related content you should read: are Doc Martens good for hiking?
Verdict
Trail running shoes have come a long way to win the heart of hikers who used to prefer tough, rigid boots to go on an adventure.
It changed that trend, and the functionality speaks for itself.
In outdoor activities, where your shoes play the most vital role, trail running shoes are making their way, and the relief they provide is second to none.
I hope you got all the answers you were looking for, and for any further queries, write them down in the comment section.
I will get back to you soon.