As an adventure lover, you may hear the calling of a hill in this beautiful weather.
If so, then what are you waiting for? Get ready for your next hike.
However, when you plan for hiking, you should know that the choice of clothing, especially footwear is very crucial. Comfort and support are very essential attributes to have in your hiking pair.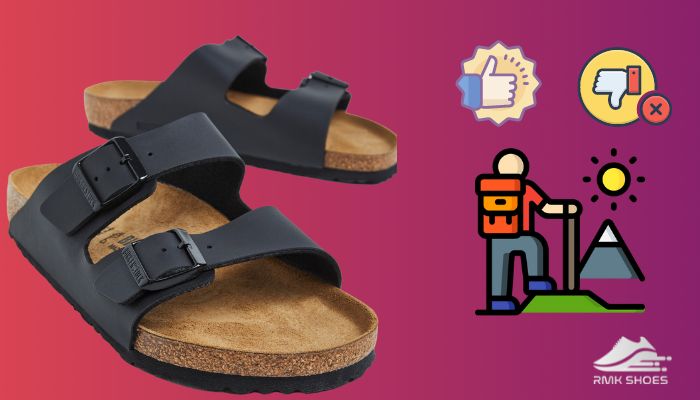 As a birks lover, I know the urge of wearing Birkenstocks while hiking. But then the question comes to mind that 'Can you really hike in Birkenstocks?'
There is a little debate on hiking with Birkenstocks. So, I researched in detail to answer all your questions about whether or not you can wear Birks on a hike.
After reading my article, you'll be able to decide what your hiking pair should be.
So, keep reading till the end and fix your preferences!
Are Birkenstocks Good for Hiking?
Birkenstocks are ideal for long walks or as a go on pair. People use birks in their daily life activities. So, it seems like it would be a better option for hiking or adventurous actions.
Though Birkenstocks allow your feet to breathe,it might not be that good for sloppy walking. Actually, Birkenstock is made for rough use in plain land or slightly rugged area.
The authority on hiking always suggests not choosing a sandal for hiking. As the sandals become uncomfortable in the hilly landscape. In hill or higher land types, your feet are most vulnerable to nature.
Stones, mud or any natural disturbance can affect your feet. You need proper balance, grip and well as support from your footwear when you are in any adventurous activity.
Birkenstocks sandals might not offer you the essentials. So, it will not be wise to select a pair of Birks as your long backpacking shoe.
According the user of Birkenstocks I found some disadvantages as well as advantages of using Birkenstock as a hiking pair.
Check out our latest post about should you wear Birkenstocks to Disneyland?
Advantages of Birks While Hiking
Birkenstocks are not proper for hiking even if you want to use them there will be only two major reasons behind it.
Here I will explain the reasons for choosing a birk sandal for hiking:
Can avoid blistering: You may know that the sole and outer part is quite solid and hard which is necessary for climbing. But this can create blisters on your feet. Blisters are painful and quite troublesome to manage with.
In this case, to avoid this problem of rash and uncomforted, you can choose a birks sandal over hiking boots.
Allow your feet to breathe: If you have a sweat problem, it will make a serious uncomfort in long term use of any boots as well as infection or rash. So, you can use Birkenstocks to get rid of your sweat problem.
Birkenstocks are popular for their ventilation property. Its open style will give you a nice breeze which will protect your feet from getting sweaty and it will make you more confident in your adventure.
Besides that, there are some other advantages to using birks as your hiking sandals. The advantages are easy adjustment to different types of environments, lightweight and efficiency, better for maintaining foot health and so on.
Drawback of Birks While Hiking
You might know that birkenstocks are not good enough for hiking and climbing. But why?
Well now I will talk about this angle of birkenstocks.
Here are some drawback of birkenstocks as a hiking pair:
Less supportive: Birkenstocks can't provide as much support to your ankle as the hiking boots. Hiking boots are specially made for hiking. So they will provide great support and slip resistance in climbing or hiking.
You need enough ankle support in a rocky area. Your feet should not move in any unwanted way. A proper hiking boot will give you that support in an exact.
But, while you select a sandal, even Birkenstocks, you can't find that perfaction in such particular criteria.
Birks are open toe sandals. It can be the cause of twisting your heet or hurting your toe. As a result a serious split or break of bones.
Less traction: Hiking boots have good traction while climbing or hiking. It will provide a proper draw in loose ground as well as slippery areas. The sole traction is very required on a snowy hill.
Birkenstocks will not satisfy you with the traction of the sole. It will get slippery in muddy or snowy places.
The sole of Birkenstocks seems like a great traction provider but in practice they will not. So, you should avoid sandals for rock climbing as well as hiking.
Sunburn: As most of your feet will open while you are wearing a sandal, it will annoy you with a dark sunburn.
During hiking you must roam under direct sunlight. Therefore you will get exposed to the obvious suntan.
So, you should pick a covered boot to avoid this problem.
Natural venomous creature: When you are in upland or in a holt, there will be any kind of venomous creature like snakes, insects, even trees. You need to protect your feet from this hazard.
So, you should go for fully covered shoes instead of Birkenstocks.
Along with the above reason there might be some other issues like extreme cold,sharp objects, stubbed toes and so on. To get rid of those problems you should choose hiking boots over birkenstocks.
Do Birkenstocks Make Hiking boots?
After a huge demand finally, Birkenstocks launched its new collection. With that you can actually go everywhere even in upland trails.
But you should know that the new lounched birkenstocks are not hiking boot even a back strapped sandal. According to the Birkenstocks they are more water resistant in nature. They replace the traditional cork with polyurethane as their footbed.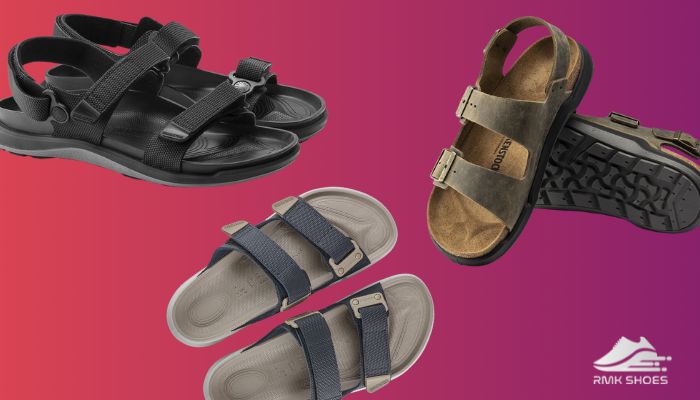 In my experience this different polyurethane footbed is as comfortable as the cork one.this injection of new technology in their outdoor collection makes Birks waterproof. And you may call them a backpacking collection now.
Lookwise it may remind you about your father's pair. But I think this is cool as well.you might compromise the look for some more supportive and actually comfortable staff.
The collection includes several models. They are Kalahari, Atacama men, Milano rugged men and so on.
Another attractive feature for me is the self cleaning lug. You will enjoy an adjustable hook and loop with classic cork footbed covered with a protective bumper outsole.
The new technology of polyurethane adds the self cleaning lug into it. Which is very useful for outdoor traveling. With that it assembles more grip and durability across varied terrain.
So, if you are a Birks lover,it will be easy to go to the hill with a Birks pair. It might bring a smile on your face as you can wear a Birks pair on a hike.
Also, check out our separate post about are Birkenstocks good for flat feet?
Are Birkenstocks Good for Walking?
Birkenstocks are sandals that appear for walking. People love Birks as a casual wear. For all aged people Birkenstock looks appealing to choose for their daily use.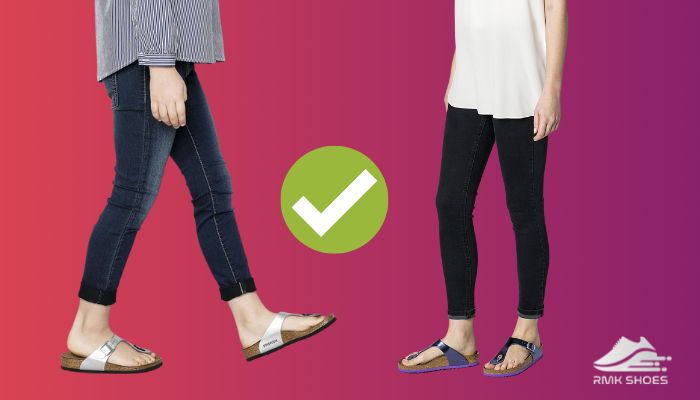 As Birkenstocks are comfortable it is best for long walking or leisure time. If you decide to travel to any warm place then birks are the best option for you. As in warm countries boots or shoes are not that comfortable. Birkenstocks sandals will allow breathing to your feet.
I personally love birkenstocks for my evening walk or any casual party. I wear them to go shopping or somewhere on an everyday basis.
So,Birkenstocks are perfect for exploring new cities. You might consider them as you go on a walking pair.
How Long Can You Walk in Your Birkenstocks?
As any other sandals Birkenstocks have break in period. For the first day you will go for at most 30 to 40 minutes. Over use on the 1st day will hurt your feet.
After molding with your feet you can go for a long walk with your birks. The cork footbed provides cushioning and fine arch support on your feet. You might like them for taking a round of your city or traveling.
With proper care you Birks will last for years. You can consider them as a lifetime pair.
For outdoor use you might like Birks for all kinds of use. Birkenstocks are airy , comfortable and supportive for daily use. Even if you have any problem like bare feet or any kind of muscle trouble you might consider birkenstock as a prescribed pair.
Almost all the pairs of Birkenstocks are water proof so you can use them for your beach tour. When you go for a poolside party,Birks will be the perfect choice for you.
The salty water and sand of the sea beach can hamper your birkenstocks health. In that case,you should take proper care of your loving pair of birks.
Can You Wear Sandal While Hiking?
As hiking is an adventurous activity, you need a great support on your feet during hiking. Besides, you have to meet different land types while hiking. So, for upland climbing you need multi purpose shoes or boots.
If you want to choose a sandal as your hiking pair this might not be the right decision. After some research, I will list some of the reasons behind not picking a sandal for hiking.
Here are the reasons why sandal is not ideal for hiking:
Less arch support.
Less ankle support.
Not much durable in rough terrain.
Not much traction support provided.
Though there is some trouble choosing a sandal when hiking , some travelers like sandals for short height hiking or short traveling.
So, you can pick your backpacking pair according to your travel location and type.
Final Thought
After all the discussion above you might understand that Birkenstocks are not that appropriate for hiking or climbing. Not only Birks but also any other sandal is not ideal for upland terrain. Rather you should go for a proper hiking boots.
However you can keep the newly launched outdoor collection of Birkenstocks on your mind. They can help you for a short trail or less height tracing.
For me, I will prefer a proper hiking boot instead of any sandal even if I am a Birks lover.
Comment below and Let me know about your choice as a hiking pair.