UltraBoosts are the flagship of Adidas. To cope with the extensive demand for specialized running shoes, Adidas launched Ultra Boosts in 2015.
As an Adidas lover, you might think about Ultra Boosts and want to have a pair of them. Like othrer folks, you might wonder, 'Are Ultra Boosts good for running?'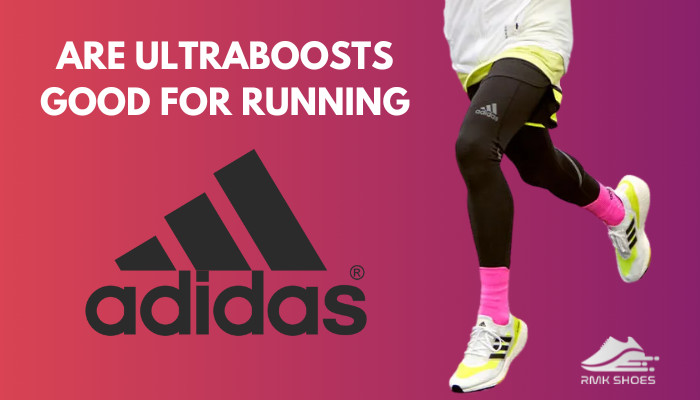 I was also thinking about this and researched for a long time to find the actual truth. I then got a pair of UltraBoosts to check it out myself and went for my daily runs.
Now I will discuss the fact of whether Ultraboosts are suitable for running or not.
So stick till the end!
Are UltraBoosts Good For Running?
Ultra Boosts is a purpose-building pair for running.
The soft, light and bouncy outsole offers the user an incredible running experience. Ultra Boosts are comfortable and shock resistant. By this time, It becomes a mass-loving pair among the runner community.
When Adidas tried hard to find new technology for their upcoming enthusiast, NASA became a savior. NASA uses the ARAMIS motion capture technology for their space shuttle to balance the anatomical virtue in space.
Adidas got inspired by this technique because Adidas needed an ideal pair for running. As a result, the line has been created and named Ultra boosts.
Check out our separate post: Do Adidas Run Big, Small or True to Size.
Why Are UltraBoosts Good For Running?
Most shoe companies use EVA to make their sole cushioned and soft. But comfort is not enough for running shoes.
Adidas started researching E-TPU, polythene with a rice grain shape capsule, to figure out this problem. This technology creates the perfect cushioning for running shoes. This material is easily compressible and has excellent elasticity and softness.
Scientists combined thousands of E-TPU capsules and converted them into an ideal midsole for running shoes. During its invention, the midsole was called Energy boost.
In 2015 Adidas launched a series of running shoes called UltraBoosts.
And this series is the fruit of Energy midsole. Adidas redesigned the heel according to the runner's requirements. The Torsion System used in the shoe base adds another feather to Ultra Boosts as a running shoe.
Thus Adidas UltraBoosts become a perfect pair for running.
Here are the key features of Adidas UltraBoosts as a running pair:
Super Comfortable
UltraBoosts are different from EVA-soled shoes. EVA is comfortable but relatively complex while running. But in Ultra Boost, you will drop into it but feel the support.
The midsole of UltraBoost is compy, and it will entertain you with additional features.
Ultra Boost is durable for the long term. You will feel the proper cushioning, but the shoe's height is not excessive. Every pair of UltraBoost surprises you with the same performance.
Moreover, you can enjoy temperature conditioning in this pair, which refers to different behavior in different temperatures. These shoes act stiff at high degrees and serve soft at low degrees. While running, it will mold with speed.
With more rate, the temperature will increase, and Ultra boost will feel softer.
Flexible Stretch
Flexible Stretch means changing the shape according to the runner's feet while running. Adidas renovates the outsole of Ultra boosts. They add a grid-type rubber pattern as their outsole.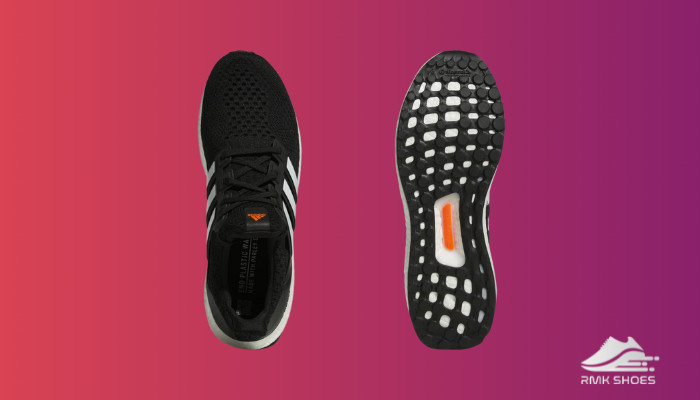 This pattern is called the name 'Stretchweb.' This design is like many rubber bands together when the runner moves differently; this outsole stretches and flexes with the movement and posture of the feet.
The shape of the feet for every runner is not the same. This technology helps to provide the same flexibility to all types of feet.
Boost Energy
Adidas's unbeatable technology and dedication are just to ensure runners' satisfaction. Every part of the Ultraboosts is for rebooting the runner's energy while running.
The E-TPU midsole and Stretchweb outer sole push Ultra Boosts in different levels of running shoes. It allows the user additional flexibility and elasticity. When you start running with it, you can feel the energy releasing of this pair.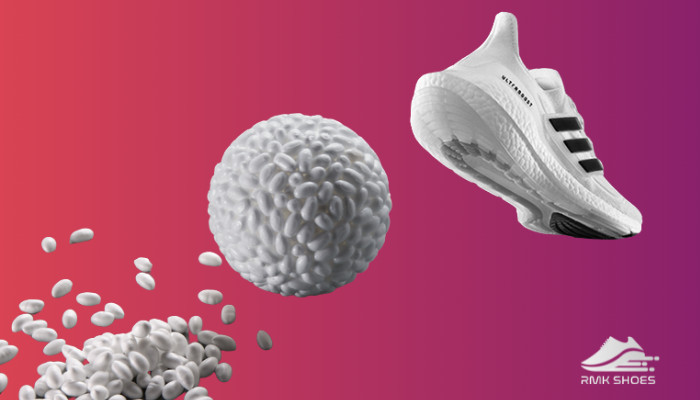 Light Weight
Adidas UltraBoosts offers comfort, height and flexibility, but it is not a heavy pair.
Light pair is appropriate for running. And Ultra boost is the most lightweight pair in the rack of running shoes.
When I start running with my Ultra boost, I feel like flying in the air. This makes my running speedy. These sneakers are easy on your knees and provide an extraordinary running experience.
You may like to read: Adidas vs. Nike Sizing.
Can You Start Running in Ultra Boosts?
If you are new in the running community and are thinking of starting running, Ultra boost is an ideal pair for you.
Ultra Boost will change your running experience and give you the inspiration to run further. The bag-shaped upper and the plastic lacing system add an animated feature to these shoes.
Adidas adds a female version of Ultra Boosts with charming color and style.
Here are some popular pairs of Ultraboosts if you want to start running:
UltraBoosts 19
Ultra Boosts 19 is the first pair of the Adidas running series. When the fashion world demanded actual running boots, Adidas marked their name in the queue by releasing Ultra Boost 19.
Midsole, outsole, vamp and heel area are these four parts of Ultra boost, making them an excellent pair for running. These pairs boost 20% of energy while running.
A Primeknit 360 upper replaces your socks, and a 3D heel frame is a reason behind the beautiful fitting.
In Ultra Boost 19, the lace knitting gets deleted. The rigid mesh eyelets replace the lacing system. Above all, you don't need to worry about the fitting because this pair is tight.
UltraBoosts 20
In my personal experience, Ultra Boost 20 is much more runnable than 19.
Obviously, the updated version will be more valuable than the previous one. For Ultra Boost 20, this is so true. Adidas rearranged almost all strategies while making 20.
The new design of the upper, which is used in Ultraboost 20, gives it more access to running. The heel cup is longer than 19. Another key to change is height.
Though it is only 7 millimeters lesser than 19, it creates a significant difference and offers more comfort.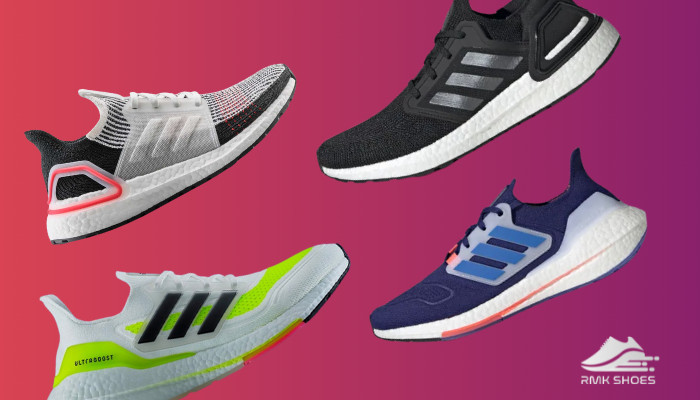 Follow our guide to know Are Yeezys Good for Running.
UltraBoosts 21
This boot was made to provide more comfort and Boost for running. In this pair, Adidas added more boost in the midsole.
As a result, the look of UltraBoosts becomes chunky, and it feels heavier.
Personally, I don't like this pair only because of its bulky feeling while running. I don't suggest this pair for you if you just start running.
Adidas adds a 6% boost in the midsole to make them unique. You will see the curved heel area of Ultraboost 21. But I think lightweight is more valuable than curved heels for a running shoe.
UltraBoosts 22
UltraBoost 22 is an upgraded version of 21. This is more speedy in the running. The 4 max cushioned midsole adds more comfort to it.
You will enjoy a 5.30 per kilometer speed in the Ultra Boost 22. Though this pair cost you some extra bucks, it is worth it. All the features of Ultra Boosts have been updated in 22, including the heel area, lacing system, etc.
Ultrsboosts 22 has a female version of running shoes. Adidas modified their running models according to female user tests and named them Ultra Boost 22.
The charming color and attractive upper design make them significant for women.
Related content you should read: Adidas Shoes Fitting Guide.
Are Ultra Boosts Worth The Hype?
Ultra Boost is a runnable sneaker from Adidas. People love them as a perfect running shoe. Adidas claims that UltraBoost is the best Adidas running shoe for every type of runner.
But some people find them quite uncomfortable because they feel the upper hard and tight.
For me, Ultra Boosts is worth its hype. This pair is shock resistant and provides a lightweight bounce as well.
Though Ultra Boosts are pretty costly, it's valuable for their quality. You can also use your Ultra Boost in the gym and the office.
Are UltraBoosts Good For Sprinting?
Adidas Ultra Boost is perfect for sprinting. Sprinting refers to jogging or gyming.
As a trainer, you will love Ultra boost for your day-to-day routine.If you like a low-profile shoe for athletics, you should go for Ultra Boost. Ultra Boost 20 is so much for sprinting.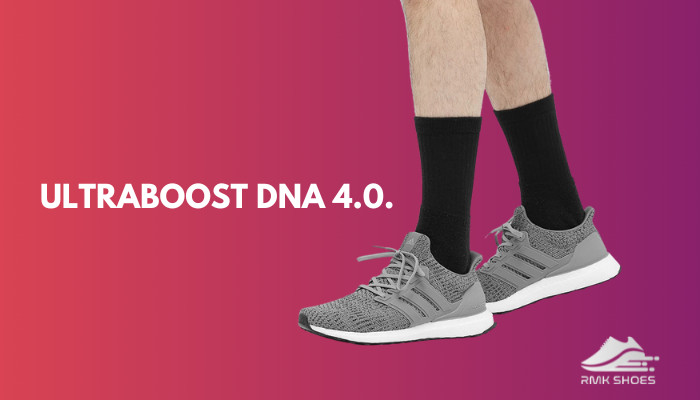 You might hear about Ultraboost DNA 4.0. It is a road pair, meaning you don't need any break in time to use joggers or run with the DNA 4.0.
Athletes like DNA 4.0 for its aesthetic look and lightweight appearance.
Is Ultra Boost Good For Exercise?
Ultraboost is comfy, cushioned, durable and lightweight. As a gym pair, Ultraboost is perfect. You can do various activities wearing this pair in the gym.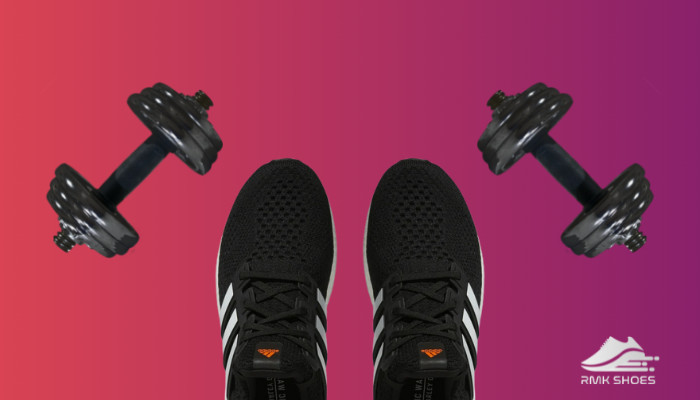 Moreover, this is shock resistant, and you don't need to wear socks with Ultraboosts.
I usually wear UltraBoosts for the gym all day. But I feel some problems while squatting with them. Basically, Ultraboost is a running shoe, so they perform well in standing walking activities of exercise.
Also, check out our separate post: Adidas Pure Boost VS Ultra Boost.
Verdict
To wrap up, I would say that Adidas Ultra Boost has enough quality to consider them running boots, and the company also claims them as perfect running shoes.
Though Ultra Boosts are pretty expensive, it is worth the money.
You can use your pair for years even if you wear them daily. So, if you are interested in proper running, choose your favorite model from the Ultra Boosts cabinet and start going.
Comment below and let me know your experience using Ultraboosts as a running pair.