Nike Dunk shoes have spread their wings from basketball to the fashion industry with outstanding features and functionality.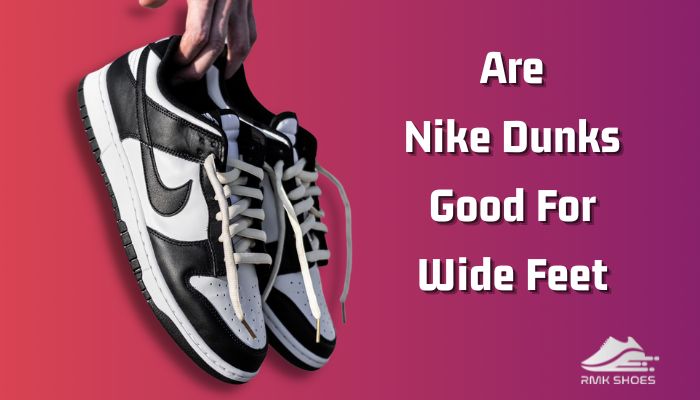 But can you get the same service from these versatile sneakers if you have wide feet?
In this context, I will highlight your concern, about whether Nike Dunks are wide enough to fit wide feet or narrow.
So, stay put.
Are Nike Dunks Good For Wide Feet?
Yes, Nike Dunks are good for wide feet, so you can say yes to these shoes with your eyes closed. The all-over cushioning, wide toe box, ankle support, and structure makes these shoes an ideal choice for those with broad feet. Dunks protect and give your feet ultimate comfort.
Whether you have a Nike Dunk High Retro or Nike Dunk Low, your broad feet can find comfortable landing space in these top-quality sneakers.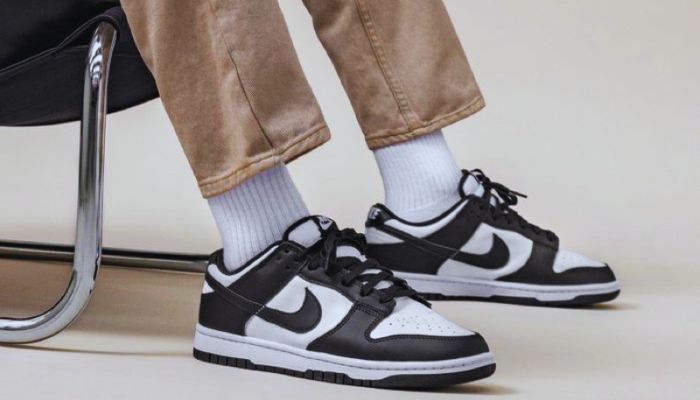 Whatever color and model you choose, your foot's movements will be easy, and your toes will not get squished altogether.
I don't have wide feet, but my best friend does. When he wore my Dunk Low-top, he got a snug fit that he loved and got his own pair after a few trials.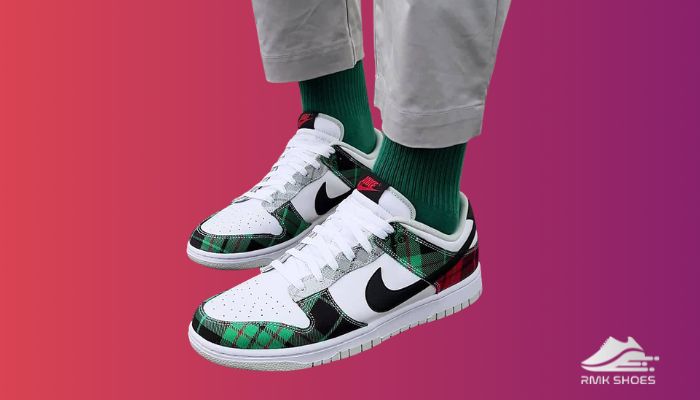 5 Reasons Why Nike Dunk Is Ideal For Wide Feet
It's pretty standard that many famous and comfy shoes are off-limit for you if you have wide feet, as most models don't come in wide shapes.
But luckily, with Nike Dunk sneakers, you don't have to worry as these sneakers will fit you properly because of the features, wiggling toe room, comfy cushioning, and not to mention the breathability.
Let's find out why Nuke Dunks are good for wide feet:
1. Building Structure
One of the main reasons Dunk shoes are popular among the broad feet community is the building structure of these versatile sneakers.
Dunk shoes come with a broader structure to fit your large feet, along with the support and protection to wear on a daily basis.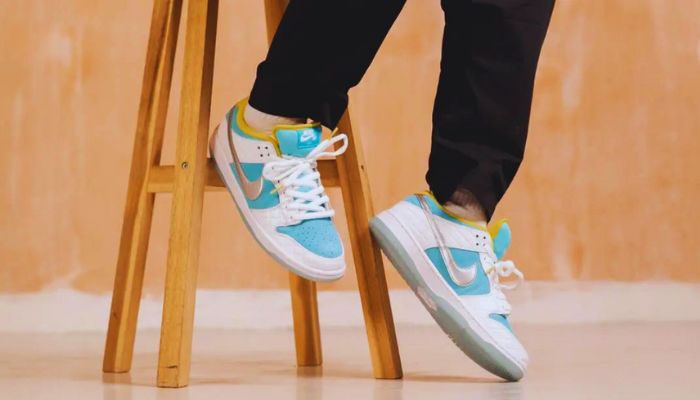 You will get enough support for your arches, toes, heels, bridge, and even for Achilles from your high-top Dunks. With its extra cushioning, this spacious silhouette protects your toes from bending and collapsing the arches.
The tongue and collar construction maintains the balance of cushioning with responsive padding.
2. Extensive Toe Box
Nowadays, pointy shoes are the most trendy of all.
But a pointy toe is a nightmare as it clusters the toes, and the body weight's pressure results in bunions, bone damage, cuts, and even bruises. You don't have to face any of these discomforts wearing Nike Dunk.
The toe box is spacious enough to relax your broad toes and gets the right amount of protection through the design and padding.
Dunk's extensive toe box is a blessing for sure.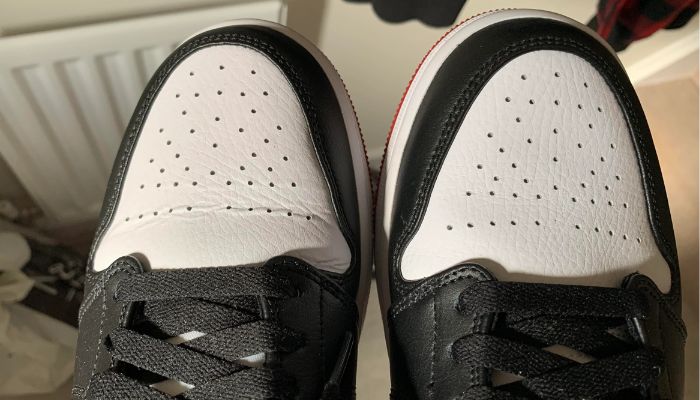 3. Comfort
Even with vast toe areas, some sneakers could be less comfortable. However, Nike Duck will not disappoint you; the comfort you will get from these wide feet friendly shoes are fantastic.
This shoe has a comfy upper that prevents your toes from squashing and provides enough space for your feet.
Even the shoelaces are designed flat to lower additional pressure on your feet for better comfort.
You will get ultimate comfort with various flexible uppers such as canvas, leather, and slub leather, along with foamy inner and midsole.
The manufacturers even designed cushioning all over the shoes. Moreover, If you are into animal cruelty-free products, you must know if Nike shoes are vegan or not.
4. Ankle Support
Getting proper ankle support is crucial for wide feet. Otherwise, it can seriously damage your feet's posture. The ankle-length of Nike Dunk supports your ankle during various movements and long-time wear.
The rubber sole balances your body's weight and guards the feet against slipping.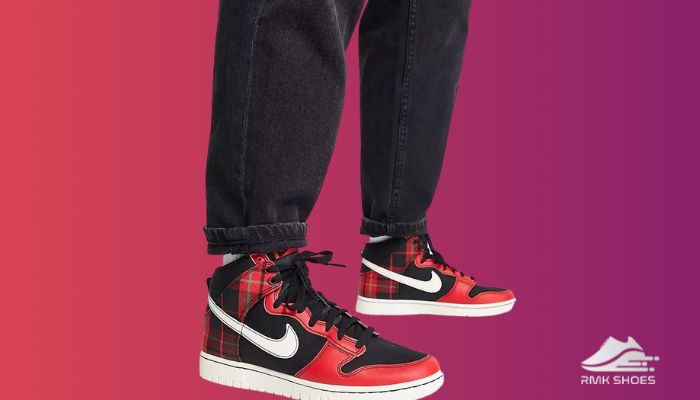 The flat outsole puts less pressure on your ankle and arches. High-top versions support your ankle, and the small opening helps to adjust the shoe's tongue and laces for a better experience.
If you are into Nike, you must check whether Nike Air Force is comfortable before your purchase.
5. Overall Cushioning
The main reason for Dunk's comfort comes from the cushioned layer all over the sneaker.
These models have heel cushioning, extra tongue, and forefoot. The padding helps the upper to protect your tarsal and metatarsal area adequately.
The cushioning helps to flex your Dunk according to your feet's movement, even decreasing the break-in time. What more is needed, right?
Nike Dunk's Fit Compared To Other Shoes
Dunk sneakers are a good pair for wide feet and are notably comfy shoes. As our feet's shape varies, your expensive Nike Dunk's fit also differs. And if you compare among other shoes, the variation becomes more visible.
I also own a pair of Air Jordan 1, and when I looked closely, the shape and width of my Dunk Low-top were similar.
I felt Dunk's toe box has more depth than Jordan's. Still, both of these pairs nailed a variety of looks I have opted for so far with a perfect fit.
Even though Dunks are slightly narrower, you don't need to alter your sneaker's size. For a regular-shaped foot, I didn't have to change my shoe size for these true-to-size pairs.
My brother wears Nike Air Monarch for his extra wide feet. Even when I put these shoes together, Nike Dunks are regular width, not too tight, and not too narrow.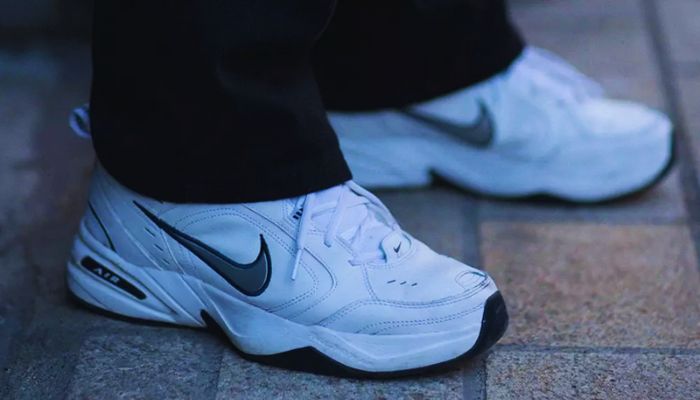 For your super wide feet, go half-size up for a better fit.
Even New Balance 997H shoes have almost the same toe box shape as my Nike Dunk.
Mine was making odd sounds during the break-in period, so I applied the ways that work very well to stop the squeaking of my Nike shoes.
FAQs
Are Nike Dunks Narrow?
Nike Dunks tend to run a bit narrow, but not too much, so you need to change your shoe size. Most of the shoes are true to size. Depending on your feet's shape, the fit can seem narrow.
Do Nike Dunk Fits True To Size?
Yes, Nike Dunks fit true to size, and it goes for all the Dunk models, high-top, low-top, and mid-top. Going half a size up or down is a good idea, depending on how snug you want your shoes.
Are Nike Dunks Comfortable?
Yes, Nike Dunks are comfy daily wear shoes. Though these sneakers are less ideal than sportswear, you can wear them regularly, so keep that in mind.
Final Words
Without any doubt, Nike Dunk is a perfect wide feet shoe. In terms of comfort, cushioning, and toe space, these sneakers from Nike lack nothing.
You don't have to change your shoe size except you have extra wide or narrow feet to wear Nike Dunks.
I have provided every logical explanation for why you can enjoy this retro sneaker with broad feet comfortably.
For any additional queries, comment below.