Hey dude has been at the top of the loafer's list for years.
People who enjoy comfort and stylish outlooks together, hey dudes created a golden opportunity for them. They are outstanding in providing such convenience and fashionable outlooks.
When you choose dudes as your everyday wear, one question must stand there. Are hey dude shoes waterproof? Or can you wear them on rainy days?
To resolve all your confusion, I tested a pair of shoes in the pool and researched for some hours to dig out the answer. I will share the result here to help you out from the confusion.
Now keep reading to know whether hey dudes are water waterproof or not.
Can Hey Dude Shoes Get Wet?
Obviously! As hey dudes are made of canvas fabrics, they can get wet, but this won't harm the shoe materials.
Hey dudes are highly flexible to wear on any occasion or weather. The stretchable upper cotton provides extra comfort and flexibility. Also, they feature thick memory insoles, which are made of EVA foam.
Your fabric-made dude shoes can get wet while washing them or wearing them during the rain without ruining the elements.
But there are some specific editions of hey dude shoes made from suede, wool or leather. If you want to wash them, you must contact Hey dude customer care to get the instructions first.
However, you can wash or soak the cotton material hey dude shoes, but the inside memory soles are usually not washable.
You must know the cleaning method of the memory insoles before taking them to wash.
Follow our guide on how to Spot Fake Hey Dudes.
Are Hey Dude Shoes Waterproof?
As dudes are washable and can be soaked in water, you can think they are waterproof. But I think the truth will upset you.
The brutal truth is, Hey dudes are not waterproof or water-friendly in the rain.
You can wear dude shoes for rain, but they won't hold out the water. They will be saturated with water, and your feet will get wet inside them.
But don't worry, they will dry faster than any other ordinary fabric material shoes.
Dudes are stretchy and breathable to absorb water quickly. Even they have featured a sweat-absorbing method. So if your hey dude gets wet, they will naturally dry themselves.
However, it will take a little time to dry out properly!
It's like you can wash the dude's shoes in the washing machine without getting any harm, but they won't be waterproof at all.
Here are the reasons of dudes not being waterproof:
Lack of Hydrophobic Canvas
Dudes are exceptionally lightweight and breathable because they are made from canvas fabric. In the rainy season, it won't be practical to wear dudes outside.
But the canvas fabric upper of dude shoes will dry faster if they get wet by any chance.
Hey dudes are not waterproof, and the main reason can be not using the hydrophobic canvas material on them.
But they are water-resistant, which can help to increase their durability and makes them long-lasting. Usually, the designers use gore-tex or PVC material to make the shoes waterproof.
But dudes are made of soft canvas elements, and these canvas elements are not capable of putting the water out. So you will miss the waterproof feature while planning to wear them in the wet area.
Unwaxed Coat Canvas
For shoes that use delicate fabric in manufacturing their shoes, the outer wax coating method is a must for making them water-repellent.
Unfortunately, Hey dudes avoid wax coating in their production.
The waterproof shoes and boots also use a silicone-based spray to make the outsider coat. In most cases, the shoe materials are waterproof on their own.
So if you are looking for good waterproof shoes, hey dudes are not for you.
Because, hey dudes don't follow waterproof manufacturing. That's why you won't find them watertight except for some specific models.
You may also like to read: Hey Dude Vs Reef.
Can You Wear Hey Dude Shoes On The Beach?
Dudes are incredible to wear any outfit and any place. You can also wear them on casual office days or at a beach party. They will match your every outfit confidently.
While wearing them on a beach, one question will arise in your mind. Are dudes suitable for wearing on the beach?
The answer is yes! You can wear hey dudes on the beach with your desired outfits.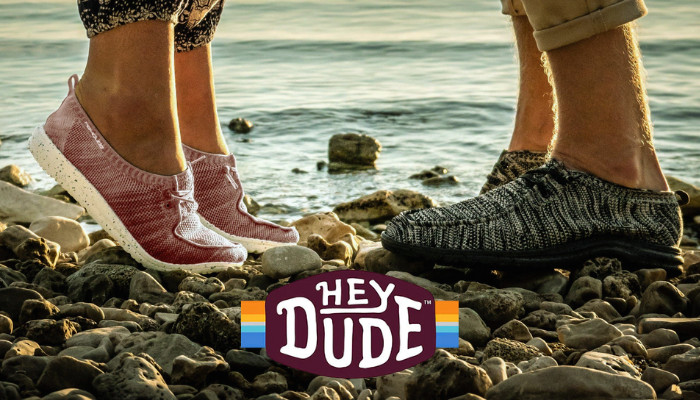 Though dude shoes are not waterproof like beach sandals, they will be efficient on a sunny beach day. As I mentioned earlier, dudes are water-resistant. So getting them wet at the beach won't be worthless at all.
Also, the dudes are slip-resistant. That means they will provide effective results in wearing them in wet areas.
Are Hey Dude Shoes Machine Washable?
Yes! Of course. You can wash your loveable hey dudes in both washing machines or apply the traditional washing methods.
Though the dude shoes are washable, machine washing can sometimes decrease their longevity. Even the extreme load of machine washing can defect your shoe material.
So you must be careful while putting them into the washing machine. Let's discuss the steps of cleaning methods to avoid ruining the shoe fabric elements.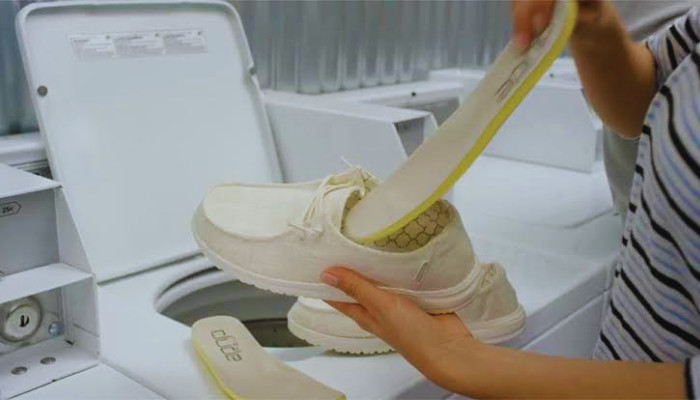 Here are the steps for cleaning hey dude shoes:
Inspect materials
If your favorite dude shoes demand for washing them immediately, you can clean them by maintaining the washing manuals. But first, check the materials to ensure they are washable.
Although most dudes are washable and water resistant, if the shoes are made of different materials like suede, wool or leather, don't dare to wash them in a washing machine.
Because washing these shoes will damage the materials, you must double-check the shoes' materials before attempting to wash them.
Check out our separate post: Do You Wear Socks With Hey Dudes.
Brush away the dirt and prepare the load
After checking, if you find out that the material is washable, you can prepare the load to brush away the dirt.
Remove the dirt stain with a soft brush for effective and fast washing results. Before preparing the load, you must keep in mind that the memory foam insoles are not washable.
So removing the insoles will be your first attempt to prepare the load.
Then separate the laces from the shoes and put them together in a mesh bag. Tie the bag with a hard knot.
That's it; they are ready to wash.
Select a regular cycle and cold water
To avoid harm, you must use a gentle cycle of washing machine and cold water. Because the rough cycle will damage your shoes, and the warm water will make your shoes extremely stretchy.
You can use the manual washing method instead of using a washing machine. There won't be any risk of getting the shoe damaged.
One more thing you must remember! Skip using any mild detergent in washing the shoes. Or else your shoes will run down before you find out the reason.
Dry the shoes naturally
If your washing cycle is done, hang the shoes tightly in a sunny area and let the shoes dry.
Meanwhile, you can dry out the insoles in sunlight. Drying the insoles will help you to get fresh and odor-free insoles.
Are Hey Dudes Good for Snow?
Not really! Dudes are not suitable for wearing in snow as they are not waterproof.
If you are very comfortable with hey dudes and love to wear them everywhere, you will have one more fact to know.
Are dudes suitable to wear in winter or in the snow?
They are not perfect to wear in winter or the snow. Even the models made specially for winter, you can not wear them in the snow.
Because hey dudes are not waterproof; they can be poured with water and will feel your feet cold in the snow. So I think putting the dudes in the snow won't be a good idea.
Related content you should read: Hey Dude vs Sanuk.
Final Line
It's true that hey dudes are not waterproof and can be soaked in water, but they will dry sooner than you expect.
They are water-resistant and non-slippery. So you can wear them even in damp areas, and the water won't ruin them. Though dudes won't protect your feet from getting wet, they won't affect your comfort.
You will find the same coziness and flexibility after drying.
I have described exactly why dudes are not waterproof; if you have further inquiries, you can ask in the comment section.